02-07-2023, 11:06 PM
The fascinating story behind Ford's return to Formula 1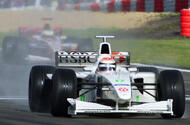 Ford's F1 story is one of the best, yet most tumultuous, of them all – kudos to the execs for breathing new life into it
Nearly 30 years ago, in the middle of the 1990s, Sir Jackie Stewart convinced Ford to bankroll the creation of a new Formula 1 team.
Stewart Grand Prix, based out of an industrial estate in Milton Keynes, existed for all of three seasons and scored a single race victory (Johnny Herbert, the Nürburgring, 1999) before Sir Jackie sold the team back to Ford. Yes, the one it had paid to build in the first place. Canny work.
The team then morphed into Jaguar Racing – 'The Cat is Back' was the hype – whereupon Ford management set the standout example to every car manufacturer exec that has considered entering F1 since how not to tackle F1. Between 2000 and 2004 Jaguar Racing proved an abject embarrassment to the great name and its proud traditions. The best decision Ford ever made in those years came when it chose to sell the team on to Dietrich Mateschitz, an ambitious Austrian entrepreneur with a vision based around his caffeine-fuelled, sugary energy drink.
Read more: Ford to partner with Red Bull for 2026 F1 entry
Five years later, Red Bull Racing won the first of four consecutive world championships with Sebastian Vettel, from the same Milton Keynes base and with many of the same workforce who'd worn Stewart's tartan.
Now Ford has announced it is taking the plunge back into F1 – as partner to the very same team it paid to create all those years ago. You couldn't make it up.
A qualified commitment 
The deal, which will properly kick in for the 2026 season and will last until at least 2030, represents the ultimate expression of the so-called 'Netflix effect'. The streamed Drive to Survive documentary TV series has been credited as the primary source of F1's boom in popularity in the US – a country that remained immune to grand prix racing's European-flavoured charm for decades. Three US grand prix per season, one in Miami and from 2023 another in Las Vegas… and now Ford has taken the bait, too.
Vindication is complete for Liberty Media, the US media giant that deposed long-time ringmaster Bernie Ecclestone in 2017. Ford back in F1 is as big as it gets, and has to be considered a major coup.
But what does it really mean? After all, it could and should have been Red Bull-Porsche from 2026 – until at the 11th hour team principal Christian Horner nixed the deal that would likely have spelled the beginning of the end of his tenure in Milton Keynes. Porsche was never going to accept a role as a largely silent partner, and Horner knew it. In contrast, Ford might well prove more… malleable. After all, there will be no appetite in Dearborn to risk a repeat of the Jaguar years, hence a deal that means Ford is in – but not up to its neck.
Red Bull has already invested and created its own Powertrain division on its Milton Keynes campus. It's not reliant on Ford to build it a new F1 engine. "Starting from 2023, Ford and Red Bull Powertrains will work to develop the power unit that will be part of the new technical regulations, including a 350kW electric motor and a new combustion engine able to accept fully sustainable fuels, ready for the 2026 season," reads the carefully worded statement.
Horner's quote reveals more. "As an independent engine manufacturer to have the ability to benefit from an OEM's experience like Ford puts us in good stead against the competition," he says. So it's more than the 'stickers-only' sponsor arrangement that currently exists between Alfa Romeo and Sauber. But independent is the keyword. Like the M-Sport World Rally Championship team, Red Bull still stands apart from Ford – fiercely and by choice.
Honda's part in the play
The Ford announcement follows Red Bull's double world championship success in 2022 for the team and its star driver Max Verstappen – achieved with a Honda powertrain. The Japanese car maker officially withdrew from F1 after propelling Verstappen to his first F1 crown in 2021, sold its IP to Red Bull, yet remained a vital support last season to ease the team's transition into independence. There was talk of a Honda U-turn and a renewed Red Bull partnership. Instead, Ford will now benefit from its hard-earned experience with a powertrain evolved directly from its technology. That wasn't in the press release.
Echoes of the DFV
But does it matter? It won't if Red Bull-Ford wins a world title in the second half of this decade, as well it might. It didn't matter either in the 1960s and '70s when Ford made its single greatest contribution to F1, and all of motorsport. Between 1967 and '83 the Ford-Cosworth DFV (Double Four Valve) V8 won 155 grands prix and was the power behind 12 drivers' world titles and 10 constructors' crowns – an era-defining F1 engine without equal.
Yet it only existed and carried the Ford oval because its UK press officer was intuitive enough to recognise the opportunity presented to him by the combined genius of Colin Chapman and Keith Duckworth. Without Walter Hayes, Ford wouldn't have stumped up the £100,000 that was required to create the DFV. It turned out to be the best £100k anyone in motor racing – or surely in the whole automotive world – would ever spend. The V8 became near-ubiquitous through the 1970s and always carried the Ford badge.
Yet beyond that initial financial spark, the DFV story was centred far from Michigan and instead around Northampton-based Cosworth, plus an elite band of British 'indie' tuners such as Nicholson McLaren and Judd, who between them extended the V8's life beyond a point even Chapman, Duckworth and Hayes could have imagined in 1967.
Little is rarely as it seems in F1. It never has been. But what matters is the story, and Ford's is one of the best, yet most tumultuous, of them all. Kudos to the execs for breathing new life into it – although they'd better brace themselves. It won't be dull.
https://www.autocar.co.uk/car-news/motor...-formula-1