10-20-2021, 03:24 PM
The many faces of modern car crime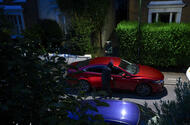 Familiar old activities have been joined by some scary new ones
It's come to something when not even Ethan Hunt, fictional hero of movie franchise Mission Impossible, can prevent his BMW X7 from being stolen. That's what happened one night in August when Tom Cruise's SUV was pinched from outside the Grand Hotel in central Birmingham, where he had been staying. The car, which was equipped with a tracking device, was recovered three miles away a short time later. CCTV footage showed three people leaving it with a bag containing some of its contents.
The actor was reportedly furious about the incident, and we British motorists should be concerned too. At the time, a relay attack, where the car's electronic security is fooled into believing the key fob is present, was the favoured explanation. However, weeks later, the police don't know exactly how it was stolen, only that its electronics were compromised.
The incident appears to show that for all their sophistication, today's cars are seemingly as easy to steal as their forebears were in the 1990s, when more than 300,000 were pinched each year in England and Wales. In 2020, 'only' 89,000 cars were stolen, 24,000 down on 2019 – a fall credited to fewer journeys being undertaken during the lockdowns, as well as to improved vehicle security, heightened public awareness and more effective policing. For example, West Midlands Police says that it has identified and closed down more than 100 chop shops – where stolen cars are broken for parts by organised gangs – in the past 18 months.
That's the good news, but the bad news is that last year's figure is still 20,000 higher than that from 2013. Indeed, the National Police Chiefs' Council (NPCC) recently reported a 3.1% year-on-year rise in vehicle crime between May and June.
It's a confusing picture, but not as confusing as the methods criminals employ to steal, and steal from, cars. Here, we survey the state of affairs...
Thefts of and from vehicles: the numbers
85% of thefts happen during the night, and 39% happen on the owner's home street
72% of stolen vehicles are never returned to owner
30% of stolen vehicles are written off
The entry method in 44% of thefts is opening unlocked doors, with 36% being by manipulation of a remote-locking signal
39% of items stolen from vehicles are valuables
37% of stolen vehicles are more than one year old but less than five years old
The most commonly reported emotional impact of vehicle-related theft is annoyance, at 76%
Figures courtesy of the Office for National Statistics, from Crime Survey for England and Wales, April 2019 to March 2020
Electronic compromise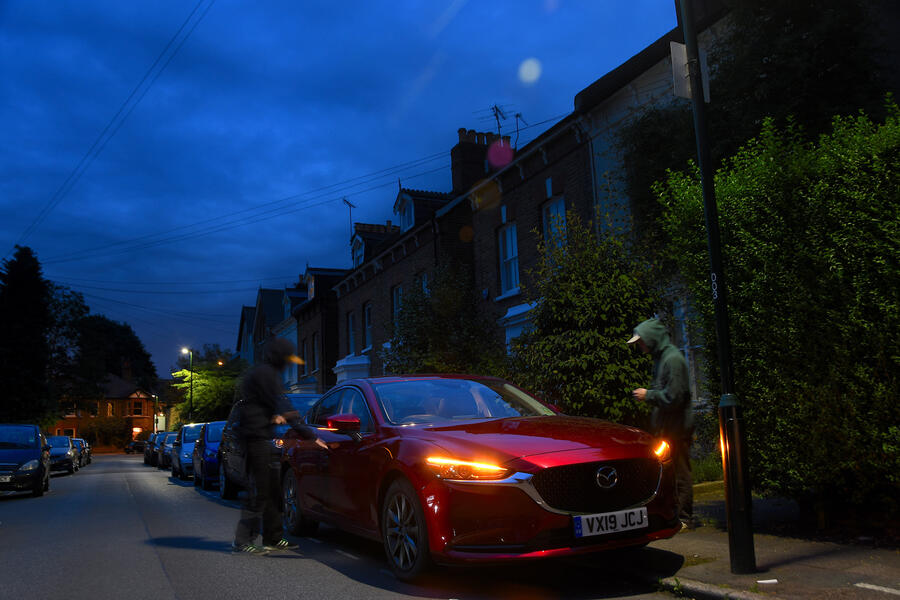 Electronic compromise is the term for gaining control of a vehicle by hacking into its electronic systems. Relay attack is one of the best-known methods: a criminal holds a device against the door of the car, amplifying the security signal that the vehicle transmits. Another stands near the owner's home with a device that relays a pairing signal from the vehicle owner's key to the accomplice, who then opens the car's door and starts the engine. Relay attacks often take place on a vehicle owner's driveway. In a disturbing twist, it appears that some crooks are now disabling home owners' wi-fi to prevent doorbell video footage being captured as evidence.
The NPCC says that relay attacks accounted for a large share of the increase in vehicle crime during May and June 2021. How large can be gauged by the fact that in 2020, 93% of the vehicles recorded as stolen by Tracker, a vehicle tracking company, were taken as a result of a relay attack.
Thankfully, car makers are fighting back. In 2019, Ford introduced 'sleeping key fobs', which become deactivated when not in use, on the Fiesta and Focus, and earlier this year extended the technology to the Kuga and Puma. These can't be activated by a relay device. Since their introduction, Fiesta thefts have fallen by two-thirds.
Other forms of electronic compromise include having an additional key programmed to the vehicle, manipulating the car's electronics via the on-board diagnostics port and swapping out the vehicle's engine control unit. Many of the devices that thieves use are available to buy online.
Pleasingly, there's little honour among criminals, as a security source explained: "A contact told us that he broke into a new Range Rover with a system that he had purchased for £12,000. It enabled him to get into the vehicle, but it didn't have the promised firmware that would allow him to start it. He's now worried that if he returns the device for the update, he might not get it back."
Stay safe
Have your car's windows etched with its registration and VIN.
Park in a well-lit place and, if on your driveway, facing your house so that the thief will have to reverse the car.
If your car has keyless entry, check if you can disable the system; and if not, if a software update is available enabling you to.
Block the key signal by storing it in a Faraday pouch or a tin lined with metallic foil.
Fit an ECU security cradle.
Have your car's security system updated to accept only two keys.
Fit a mechanical lock, such as a gearstick or steering-wheel lock.
Catalytic converter theft
If you think relay attacks on driveways are audacious, catalytic converter thefts are in another league. Many are done in broad daylight by the roadside and even in supermarket car parks. The thieves are after the precious metals that the converters contain and which, having passed through various hands, fetch astronomical sums on the open market.
According to figures obtained from police forces in England and Wales by the BBC, 13,000 converters were recorded stolen in 2019, compared with 2000 the year before. Last April, Ageas, one of the UK's biggest car insurers, reported a steep rise in converter thefts during lockdown, stating they accounted for around a third of all theft claims (before lockdown, it was a fifth).
However, good news may be on the horizon. Converter thefts peaked this March, with 3245 recorded. The next month, the British Transport Police co-ordinated a multi-agency operation to tackle the problem. More than 1000 stolen converters were recovered and more than 50 people were arrested. Since then, thefts have declined steadily, with only 1378 recorded in July.
The NPCC credits improved liaison between forces for the reduction, as well as a new national database of stolen converters marked with an invisible special formula that contains a unique reference code. Developed by Smartwater Group, the high- temperature-resistant product can be applied to the converter when the vehicle is in a workshop for servicing or an MOT test.
"On its own, marking a converter won't prevent its theft," says Mark Silvester, a West Midlands Police crime prevention manager. "However, when, for example, we find converters in chop shops or in the back of a car, the unique codes identify them as stolen, identify their owners and help us to build a trail that can lead to convictions and discourage further thefts."
Stay safe
Park your car in your garage or else in such a way that it's hard to access its converter (for example, parked tightly between other cars).
Fit a Thatcham-approved alarm with a tilt function that senses vehicle movement.
Fit a security device such as a Catloc or Catclamp.
Have your converter watermarked and advertise this fact on the car's window.
Although thieves will operate in daylight, try to park your car in a well-lit area that's overlooked.
Key theft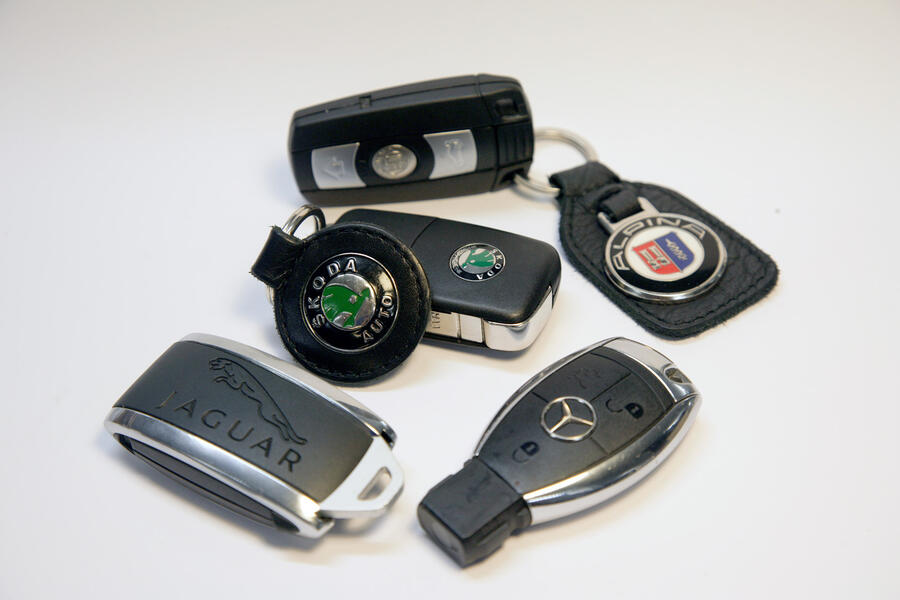 According to Neil Thomas, director of investigative services at AX Innovation, a fleet management company, you're unlikely to have your car key stolen from your house. "Many criminals who steal cars to order are reluctant to enter their victim's home," he says. "Such crooks call themselves twoccers, which stands for taking without consent, and don't regard themselves as burglars." That's a comfort, then. Even so, it does happen. Indeed, one of Thomas's neighbours woke up recently to finda thief standing on his landing, demanding his car keys...
Mark Silvester says that programming a key fob to unlock and start a car is another method of attack: "The equipment is freely available but, generally speaking, most vehicle ECUs won't accept more than three keys being assigned to the car. Ask your main dealer to update the car's ECU such that it won't recognise a third key." 
Stay Safe
Leave your car key downstairs. Better it's seen than the burglar coming to you to get it.
Have your car's ECU updated to recognise only two keys.
Views from a victim
Two years ago, David (not his real name) was confronted in his home by a gang demanding the keys to his BMW. "It was one o'clock in the morning," he says. "As I opened the bedroom door, I was confronted by three people wearing balaclavas." David handed over the keys and in a few seconds his car and the gang had gone. "The police arrived in minutes and tracked my X5 hitting the ANPR cameras as it went up the M6 before it vanished. I never got it back."
David says the experience has had a huge emotional impact on him and made him more risk-averse and security-conscious. "People should check the layers of deterrent they have," he says. "For example, when I see cars pointing out of a driveway, I think how stealable that is. You have to think like a thief."
Carjacking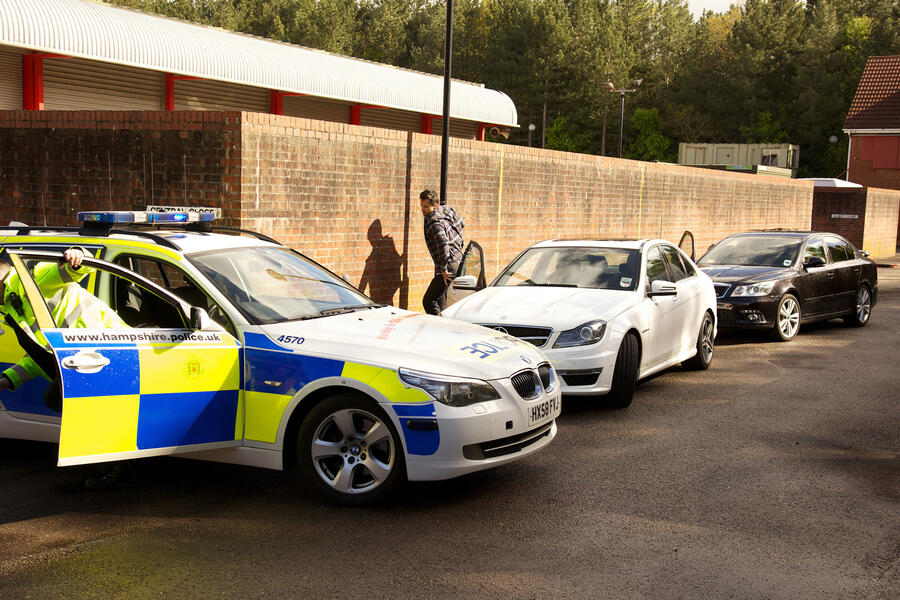 You might think carjacking is something that happens only in other countries, but three years ago in Birmingham, a motorist who stopped his car to move wheelie bins blocking his path wasset on by baton-wielding thugs who forced him out of the vehicle before taking it. It was one of a series of carjackings that occurred in or near the city the same year. Other techniques the criminals used included waiting near the victim's house to attack them and grab their keys; and encouraging victims to stop their car by pretending to be broken down, bumping their car from behind or flashing their headlights. In a concerted effort to quash the city's carjacking epidemic, the police made 600 arrests in just a few weeks.
Stay Safe
Be suspicious of anything blocking your path, headlights flashing you to stop or groups of people lingering nearby.
Reverse into a parking space so you can leave easily and quickly, as well as see who is around you.
Change your parking place regularly.
Have your keys to hand so that you can quickly enter the vehicle and lock it from the inside.
Make sure you unlock only the driver's door.
Always lock the car when, for example, paying for fuel.
Always allow sufficient space between you and the car in front so that you can pull away quickly.
Theft of belongings
In the league table of vehicle crime, theft from a car is still number one. In the past, it occurred because cars were easy to break into or windows were left open, but today it can be because the car is simply unlocked. "Check your fob has done its job," says Mark Silvester. "Not all cars signal that they're locked or unlocked. It can be hard to check, too, because, depending on the model, it may unlock as you pull the handle. Mirrors that fold in and indicators that flash are a good indication that a car is locked." Meanwhile, the old advice about not leaving valuables on view remains as valid as ever: "A lot of car crime is opportunistic. Leaving valuables on display is an open invitation."
Stay safe
When locking your car, make sure by checking that the indicators flash or that the door mirrors have folded in.
Ensure the windows are closed.
Keep valuables including portable sat-navs out of sight.
Park in a well-lit, overlooked or busy area.
https://www.autocar.co.uk/car-news/featu...-car-crime