08-08-2022, 09:06 PM
The new Kia Niro: three company cars in one, from hybrid to electric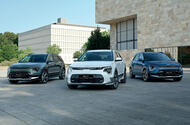 Think of the all-new Kia Niro as three company cars in one. Your choice of hybrid, plug-in hybrid or fully-electric
Whether you're after a hybrid, a plug-in hybrid, or a fully-electric company car, Kia's stylish and spacious family-sized crossover has the answer
If you're looking for an effortlessly efficient company car that can help you cut your benefit-in-kind (BIK) contributions, reduce your daily running costs, and lower your emissions – while still doing the job for work trips and weekend escapes – there's rarely a one-size-fits-all solution. Until you consider the all-new Kia Niro. 
Think of the all-new Kia Niro as three cars in one. At its core, a spacious comfortable SUV that puts the future at your fingertips through state-of-the-art technology that makes every journey convenient, safer and more enjoyable. Then, pick your perfect level of electrified efficiency, with a range of hybrid and all-electric powertrains that let you reduce the impact and expense of work trips and family driving, while still having the right car for your personal life. What could be simpler?
First, there's the ease of the Kia Niro Hybrid. Think petrol familiarity with enhanced efficiency. Next, the Kia Niro Plug-in Hybrid seamlessly blends urban-friendly electric range and long-distance petrol-hybrid flexibility, perfectly balancing convenience and improved economy. Then, there's the fully-electric Kia Niro EV with an impressive 285 miles of electric range and rapid top-up recharging that keeps you moving. 
Every version of the all-new Kia Niro is driven by the belief that starting your path towards an electric future doesn't mean changing how you drive. You just want to do it more efficiently. So, which is the right pick for your company car? Let's find out.
Find out more about the all-new Kia Niro range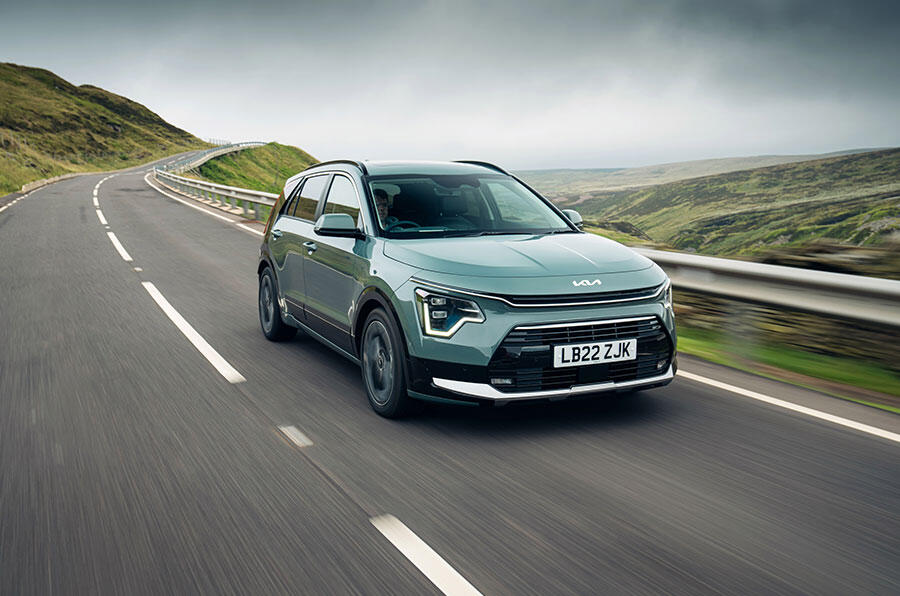 Kia Niro Hybrid: get-in-and-go convenience
The all-new Kia Niro Hybrid is your ultimate get-in-and-go hybrid company car. It's the closest of the range to a conventionally powered car, but it actually amps up every journey with the added benefit of electric hybrid assistance – improving your efficiency, without ever having to worry about plugging in for a top-up charge.Under its skin, Kia's small but mighty 1.6-litre GDi petrol engine is mated to a compact electric motor and 1.32 kWh lithium-ion battery. Kia's intelligent hybrid system then gets them working in tandem to seamlessly boost your fuel economy without needing to adjust the way you drive.Electrically-assisted power boosts, electric coasting and regenerative braking combine to produce up to 140PS and 265Nm of torque, with fuel economy up to 64.2mpg (WLTP Combined Cycle).
With a BIK rate of just 25-26% for the 2022/2023 to 2024/2025 tax years, BIK contributions for a 20% tax payer would be just under £115 per month, while someone in the 40% tax bracket would still only pay just under £230 per month.With a guaranteed low BIK rate and affordable everyday running costs, it's the perfect balance for a highly convenient company car.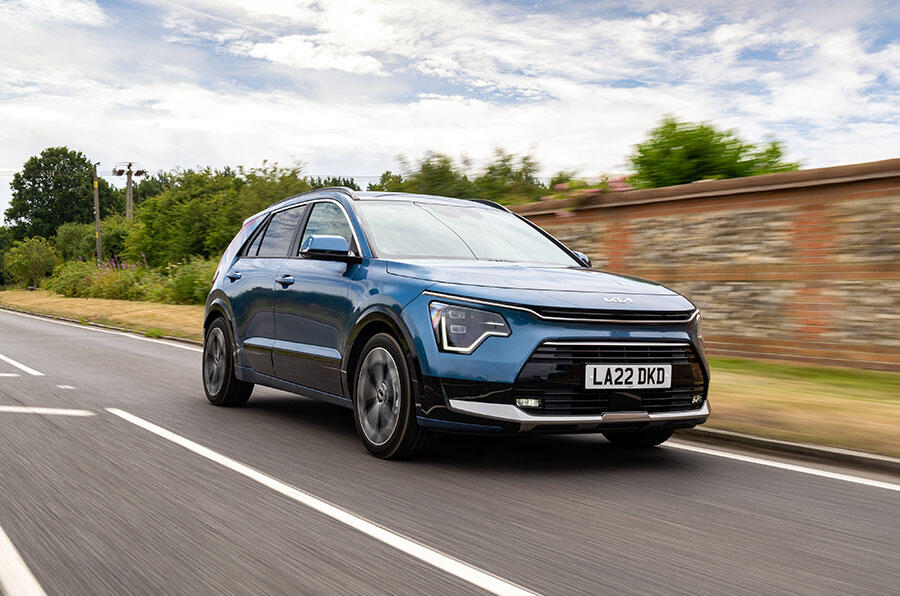 The Kia Niro Plug-In Hybrid: the perfect blend
Want to take the next step towards a more electric company car? The all-new Kia Niro Plug-In Hybrid offers the perfect blend of all-electric driving around town, cost-effective home charging, and long-distance petrol economy.On the Kia Niro Plug-In Hybrid, Kia's 1.6 litre GDi petrol engine is partnered with a more powerful electric motor and a larger 11.1 kWh battery pack that offers up to 40 miles of solely-electric range. At slow city speeds and in stop-start traffic, Kia's hybrid system automatically uses more electric power more of the time. But, you can also use the electric mode to make the most of that electric-only range.
With most typical UK daily journeys being between 10 and 20 miles in length, that means you can probably do most of your driving on all-electric power. Equally, you can make the most of cost-effective home charging – plugging your car in overnight at the cheapest rates, giving you a full battery and maximum electric range for the next day, while saving money for long weekend getaways with family and friends.When you do need to go further or want a bit more punch, Kia's intelligent hybrid technology blends the best of petrol and electric power – offering up to 177PS and 265Nm of torque, and fuel efficiency up to 353.1mpg (WLTP Combined Cycle). You can even grab a quick battery top-up at your closest public charger.
With a brilliantly low 8% BIK rate for the 2022/2023 to 2024/2025 tax years, BIK contributions for a 20% tax payer would be just under £45 per month, while someone in the 40% tax bracket would still only pay £90 per month. Affordable everyday running costs, and the perfect balance for a highly convenient company car.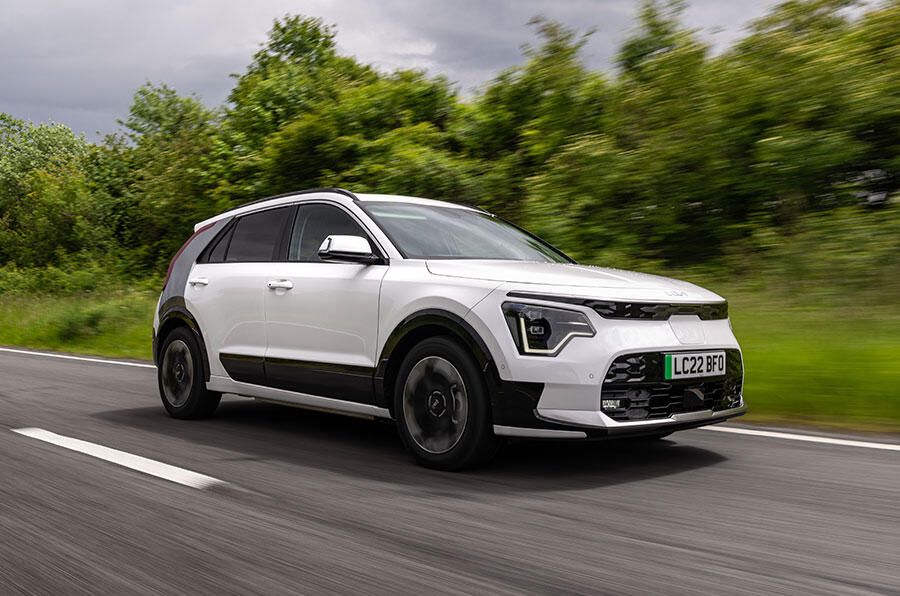 The all-new all-electric Niro EV: go the distance
Boasting impressive electric range up to 285 miles, simple home charging that keeps running costs low and rapid public recharging that keeps you on the move more of the time, the all-new Niro EV is the perfect solution for going all-electric.
Building on the Kia e-Niro that won a plethora of awards and accolades when it first launched – including a 2019 Autocar Awards Game-Changer trophy, and the 2019 What Car? Awards Car of the Year – this new third-generation Kia Niro EV takes everything you want in a conventionally powered family SUV and supercharges it.
With Kia's advanced large-capacity 64.8 kWh lithium-ion battery offering up to 285 miles of range (WLTP) and a powerful electric motor offering a mighty 201bhp, with 255Nm of instant electric torque on tap, you'll never want for more performance or need to worry about going the distance.Convenient home charging means you can plug in your battery overnight and start your next journey the next morning with the maximum range at the lowest possible cost. If you do need to top-up on the move, the all-new Kia Niro EV's fast-charging capabilities deliver a 10-80% top-up in less than 43 minutes (with a 350kW rapid charger). That means you'll be back on the move faster than you can finish your coffee and cake.
And for those company car drivers who rack up motorway miles, you'll be able to take advantage of the Kia Charge service, available exclusively to Kia drivers. You'll have instant access to the Ionity Power subscription, which in turn provides the best value top-ups when using Ionity's powerful, hyper-intuitive EV charging stations, and additional access to more than 20,500 electric car charging points in the UK.
Kia Charge is your company travel assistant, too, providing information on charging stops, updated station information and pricing – so you can plan important journeys before you've left your front door. It'll even consolidate your monthly EV expenses into one simple invoice making public charging simpler and more efficient than ever, leaving you more time for the things that matter most.
It's not merely charging where the Kia Niro EV saves you money as a company car driver, but the pounds and pence saved before you've even left the forecourt. As a fully electric car, the Kia Niro EV is exempt from vehicle excise duty (VED) or road tax which could potentially save you as much as £490 per year compared to a petrol or diesel family SUV*. You'll also be able to travel in and out of the Congestion Charge Zone without fear of forgetting to pay the £15 daily fee.
And that's not all. The all-new Kia Niro EV boasts exceptionally low benefit-in-kind (BIK) tax rates. At just 2% for the 2022 tax year, a 20% rate taxpayer can expect to pay as little as £150 per year, while those in the 40% tax bracket will pay as little as £300 per year.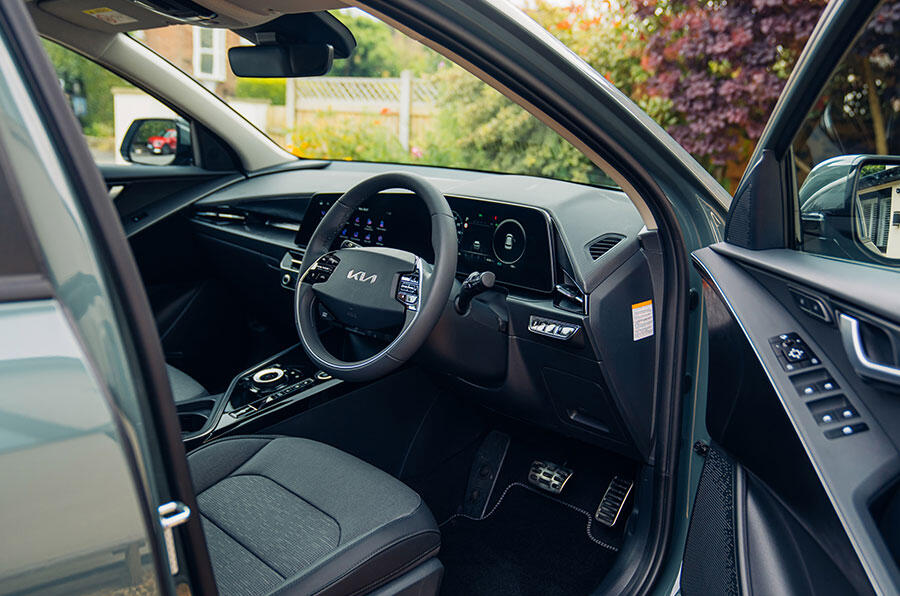 The all-new Kia Niro line-up: three's company
Whichever version of the all-new Kia Niro you choose as your next company car, you can expect the same first-class comfort, infotainment and safety technology right across the range. That means the only consideration you'll have to make is which powertrain suits you best, and which trim to choose. What could be easier?
As a company car driver, the experience you get from behind the wheel should equal the goosebumps you get when you see the all-new Kia Niro's striking signature grille. Equally, every element of the all-new Kia Niro's interior has been designed to ensure the highest level of comfort and minimal distraction whether you're travelling 20 miles or 200.
The high-tech dashboard envelopes you with perfectly positioned controls, making access to key functions easier and safer than ever. Two seamless 10.25-inch screens display your key vehicle information and infotainment system – one of which, your multimode touchscreen assists you with further functions while minimising driver disturbance.
And because a keen eye on the road means even fewer distractions, Kia has provided a high-resolution 10-inch head-up display* (HUD) which puts vital information – such as your speed, advanced driver assistance data (such as cruise control) and navigation commands – directly ahead of you, minimising eye movement and maximising safety.
In terms of making journeys safer and easier, Kia's full suite of DriveWise intelligence Advanced Driver Assistance Systems (ADAS) backs you up by keeping a keen eye on the road. From the Forward Collision-Avoidance Assist (FCA), which anticipates potential collisions, bringing the car to a complete stop in extreme instances, to Rear Cross-Traffic Collision-avoidance Assist (RCCA) that aids you in busy parking spots where visibility can be compromised, you'll always have a handy bit of help.
Working at your best, means staying connected to work and home. The all-new Kia Niro makes quick work of complicated setups with intuitive universal connectivity. Simply put, you'll be able to connect with friends, family and work whether you're an android auto or Apple CarPlay kind of person.
Echoing the eco-friendly powertrains, the sustainably-sourced materials inside the new Niro emphasise Kia's whole-hearted commitment to a cleaner environment outside the car as much as the space within it. From recycled fabric fibres in your cargo screen to vegan leather seat coverings and even door panels finished with VOC free paint, details combine to make the greatest difference.
Because a company car is so much more than just a commuter car, the all-new Kia Niro comes prepared to pack in even more. The all-new and improved 2,720mm wheelbase reward you and your passengers with a more spacious lounge-like interior and greater storage capacity.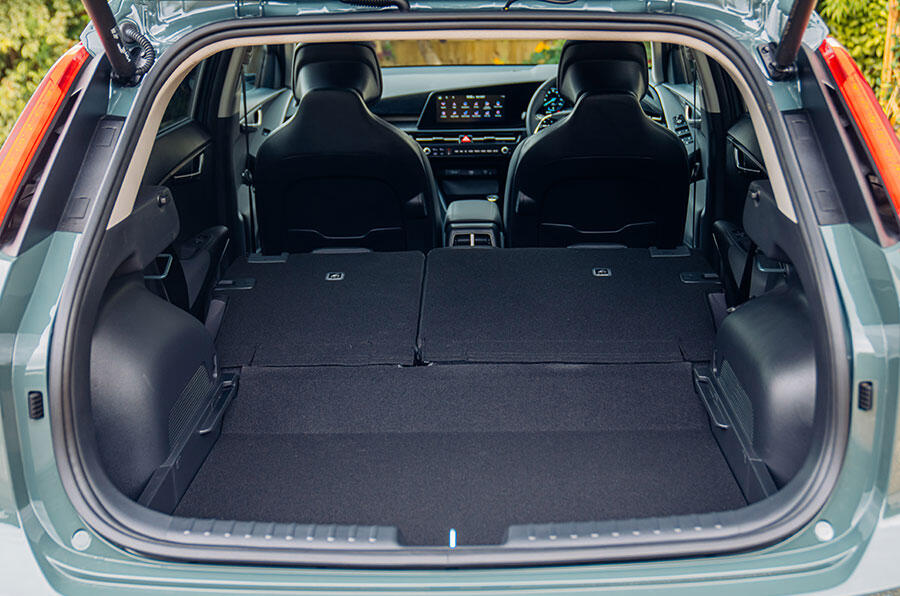 The all-new Kia Niro Hybrid and Plug-in Hybrid models offer up to 1445 and 1342 litres of expandable boot space, with the fully-electric Niro EV sitting between them offering 1392 litres of versatile boot space. Whether you're powered entirely by electricity or only partly, there will be no need to compromise on the items you carry.
So, whether you're ready to go fully-electric, or prefer electric assistance in a more conventional form, Kia's bold new Niro provides the zero-compromise solution for all of your company car needs.
Learn more about the all-new Kia Niro range
*grade dependant
https://www.autocar.co.uk/car-news/adver...d-electric