05-30-2022, 09:30 AM
The ultimate track toy? Flat out in 500bhp Revolution SC500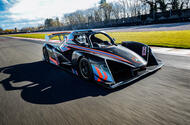 The Revolution is the brainchild of Radical co-founder Phil Abbott
New racer can generate more than double the downforce of any road car - we gave it a try
It's one thing to bottle out of something because you don't know whether it can be done, quite another to wimp out despite knowing absolutely that what you're trying to do isn't just possible but has been done before.
What I'm trying to do is turn into the Craner Curves at Donington Park without lifting my foot. I'm in a supercharged Revolution SC500 and I've seen on-board footage of Revolution's test driver, James Abbott, do just that. But there are problems: the Curves have a blind entry, they plummet downhill, there's a tight corner at the bottom and, right now, the SC500 is doing almost 150mph. Try turning left unsighted at that speed with more than double the g-force any road car could hope to generate and you will see my issue.
Ultimately, you don't have a choice. Your foot just lifts – or at least mine does. Not by much, probably not even enough to make a big difference to the ton-and-a-half apex speed, but a lift nevertheless. And when you extrapolate the consequences of owning such a stubbornly diffident foot right around the lap, it adds up to the difference between being front-runner and also-ran. At best.
Then again, perhaps I should give myself a break. The SC500 has 500bhp from its supercharged 3.7-litre Ford V6 and itself weighs just 800kg to provide a power-to-weight ratio of 625bhp per tonne. To put this in perspective, the same figure for the new Porsche 911 GT3 is 354bhp per tonne.
But actually, when you drive this Revolution, the straight-line punch is easy to assimilate. It's the brakes and grip that do your head in.
So what is this car? It's the brainchild of Phil Abbott, the man who founded Radical in 1996. The sell is that the Revolution offers better performance than a top-level GT3 racer for a price (around £160,000 with all bells and whistles attached) lower than for some GT4 cars. Actually, its lap times equate most closely to those of an LMP3.
What your money buys you is a proper racing car, not designed for any other purpose. It has a carbonfibre tub like a Le Mans prototype and a double halo system that you literally don't notice while you're driving. The only way in is over the top, but then you feed yourself down into the car to find an exceptionally accommodating driving position
My car has been raced by six-time Olympic gold-medallist (not to mention LMP2 Le Mans driver) Sir Chris Hoy, and he's on hand to give me some handy tips.
"I reckon you're going to like it," he says. "It's a really accessible car. Just don't tread too hard on cold slicks as you enter the track. I've seen one of these rotate at the pit-lane exit." Which isn't as comforting as he intended.
Making matters apparently worse, in my first session, the track is variously wet, damp and dry right around the lap, which are just about the most difficult conditions you can encounter. A fully wet and therefore consistent track would have been significantly easier.
Yet the car is so reassuring that after a couple of laps, I'm winding back the traction control and revelling in powering out of the tighter turns of the full Donington Grand Prix circuit with the back starting to break loose.
The six-speed paddle-shift gearbox provides limo-smooth upshifts and satisfyingly dramatic downshifts, complete with an angry snarl from the V6 and no need for the clutch in either direction. With the conditions keeping cornering speeds under control, I feel happy, confident and in control of my environment.
But not for the first time in such cars, I find it harder by far in what should be the easier conditions afforded by the bone-dry track that presents itself for my second run. And I know why. I'm getting annoyed with myself, because while I felt that I could push the car to the limit in the wet, in the dry the forces on your body are so far beyond the norm, it pushes the business of driving outside the arc of the immediately familiar and into some strange hinterland where you still know what to do, just not exactly how to do it. In the meantime, snake-hipped hotshots half my age and weight post one up the inside, waggle their tails to say thanks and are gone.
Such are the perils of arrive-and-drive journalism. Fast and (relatively) affordable though the SC500 is, if you want to be on the pace, there are no shortcuts; and unless you have otherworldly talent, you will need to test, test, analyse the data and then test some more.
If you're not getting somewhere after that, it's probably not for you. If you are, the Sports Prototype Cup series where you will race Radicals and sometimes LMP3 cars awaits.
Wanting to find a way to explain to you just how fast this car is, I asked a man called Nick Padmore, who was at Donington testing old Formula 1 cars. There probably isn't a quicker racer of historics out there. And after comparing lap times, he concluded that the SC500 would lap a track at about the same pace as a similarly powerful and far lighter but much less downforce-enhanced F1 car of the kind raced by the likes of James Hunt and Niki Lauda in the mid- to late 1970s.
Once I had heard that, I didn't feel so bad about lifting for the Craner Curves after all.
The Revolution might be televised
Revolution Race Cars was founded in 2018 by Phil Abbott, who had previously co-founded and built Radical into a company that sold more than 2000 race cars from its inception in 1997 to his departure 20 years later.
Revolution has a way to go before it can match those numbers: it employs six people and currently has its 28th car in build. But with an order for 10 more having just come in from the US and growing grids for the Sports Prototype Cup Series in which they race, it seems likely that Revolution will soon be following the likes of Radical and Praga in launching its own one-make race series.
"Adding the supercharger really has transformed the car," Abbott says. "It's not just far more powerful, because the supercharger builds boost as the revs rise, it's also easier to manage than a turbo installation."
Factfile
Price £160,000 Engine V6, 3726cc, supercharged, petrol Power 500bhp Torque na Gearbox 6-speed sequential Dry weight 800kg 0-62mph 2.4sec (est) Top speed 180mph (est)
https://www.autocar.co.uk/car-news/new-c...tion-sc500