05-24-2023, 11:58 AM
This weekend's Imola F1 race cancelled as heavy rain floods region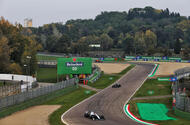 Formula 1 has called off the 2023 Emilia Romagna Grand Prix following emergency talks
This weekend's Emilia Romagna Grand Prix at Imola has been called off due to major flooding, which has reportedly claimed the lives of three locals.
The decision follows emergency talks this morning between Formula 1 bosses, the race organisers and notable delegates in the city. 
In a statement, F1 said it was "not possible" to safely hold the event "for our fans, the teams and our personnel", adding that it was "the right and responsible thing to do, given the situation faced by the towns and cities in the region".
It added that "it would not be right to put further pressure on the local authorities and emergency services at this difficult time".
The Emilia Romagna region of northern Italy has been battered by heavy rain in recent days, with red weather warnings issued for Tuesday and Wednesday. Authorities have advised people to move to higher ground.
F1 president Stefano Domenicali said: "It is such a tragedy to see what has happened to Imola and Emilia Romagna, the town and region that I grew up in, and my thoughts and prayers are with the victims of the flooding and the families and communities affected. 
"I want to express my gratitude and admiration for the incredible emergency services who are working tirelessly to help those who need help and alleviate the situation. They are heroes, and the whole of Italy is proud of them. 
"The decision that has been taken is the right one for everyone in the local communities and the F1 family, as we need to ensure safety and not create extra burden for the authorities while they deal with this very awful situation."
https://www.autocar.co.uk/car-news/motor...ods-region