07-03-2022, 07:04 PM
Top 10 best affordable sports cars 2022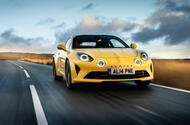 Owning a sports car need not break the bank. Here's our choice of the top 10 affordable sports cars
Never has the choice of sports cars at the affordable end of the spectrum been greater, each offering thrills to match and in some cases exceed those of more expensive peers.
It's not all about brake horsepower at this end of the market: most of the cars in our top 10 list put driver entertainment ahead of raw, straight-line performance. But we guarantee each will put a huge smile on your face one way or another. 
Every significant consituent part of the Alpine A110 driving experience – from the rasping turbocharged torque of its engine to the immersive poise and panache of its handling – is all about the F word: fun. It brings to life journeys and roads that rivals wouldn't, and possesses dynamics for which your affection can only grow as you explore them more closely.
Anatomise the car and you'll find an all-aluminium body and double-wishbones for the suspension at each end. Both are generally the preserve of supercars, and lay the foundations for the four-cylinder Alpine to feel much more than the sum of its parts. The later arrival of the A110 S saw power rise from 252 to 288bhp and firmer suspension and bigger brakes fitted, but it's the basic A110 which remains the sweeter, more involving machine for road driving. Various special editions, including the plush Legende GT, have also arrived of late, but again, it's the basic A110 that most enchants us. 
Rarely does a car come along so devoted to driver involvement, and so singularly effective at it, even among affordable sports cars; the last time was probably the Toyota GT86 in 2012, a car to which we also gave a five-star recommendation for its supreme fitness to the purpose of sucking the marrow out of every mile. The A110 is quicker, more agile, more effusive and ultimately even more fun. It deserves no less of an ovation.
Save money with new A110 deals from What Car?
Even with its downsized four-cylinder turbo petrol engine, the 718 is by some distance the most complete mid-engined sports car on sale. Misgivings about the way the car's crank is now turned have been voiced from plenty of quarters since 2016, and have now been persuasive enough that Porsche has returned a flat six engine to this car for range-topping GTS versions. But whether fitted with a four- or a six-cylinder motor, be in no doubt: the Boxster and Cayman have always been, and remain, excellent sports cars.
The four-cylinder 2.0-litre and 2.5-litre turbo flat fours that were pressed into service in the car in 2016 attracted particular criticism for sounding toneless; for lacking smoothness, crispness of response, linearity and operating range; and also coming up short on the purist driver appeal typically associated with Porsche. Later still, Porsche retuned the car's 2.0-litre engine for WLTP-emissions compliance and released the Boxster T and Cayman T -  whose unresponsiveness made a controversial situation worse.
However, in one of the most unexpected industry U-turns in recent memory, in 2019 Porsche reintroduced a naturally aspirated flat-six engine. It's a superb engine by any standards – based on the 3.0-litre engine in the 992 911, only enlarged to 4.0-litre and shorn of the turbos – although the long-geared manual 'box it's partnered with doesn't flatter it as nearly as well as it should. 
Practical, ever-engaging to drive, and plenty fast even in four-cylinder form, the 718 has it all - and it takes a car of once-in-a-generation dynamic brilliance to beat it.
Save money with new 718 Cayman deals from What Car?
3. Morgan Super 3
The first Morgan 3-Wheeler (as in the 2012 reinvention, rather than the 1909 original) proved to be a surprise hit for the Malvern maker. Around 2,500 left the factory over a ten year production run, which for the nichest of niche manufacturers is as close to mass production as you get.
With its all-new car the brand can expect even greater success as it oozes the same spirit and charm of its predecessor, yet is packaged in a far more versatile and modern package. The unique three-wheel layout remains the same, as do the upturned bathtub looks, but under the skin there's a stronger monocoque construction, more sophisticated suspension and turbocharged three-cylinder Ford Fiesta engine in place of the throbbing Harley Davidson V-Twin.
Tipping the scales at just 635kg, the 118bhp Morgan is brisk, its performance aided by a snickity five-speed manual sourced from the Mazda MX-5. Yet it's the way the skinny-tyred machine tackles corners that delivers the real delight, the modest grip levels and well-balanced handling making it huge fun at any speeds.
Yes the lack of weather protection means you need to be committed on longer journeys, while a price the wrong side of £40,000 stretches the definition of 'affordable', but when all you want to do is drive on the sort of roads that the most of us use everyday, then few cars will have your heart singing more loudly.
4. Toyota GR86
How do you improve on perfection? If you're Toyota and you need to replace the already excellent GT86 then you add a bit more power, give the looks and interior a much-needed refresh and, well, that's it. 
Okay, so there's rather more to the GR86 than that, but not much. For starters, the newcomer is built on a strengthened version of the old car's chassis and shell, while under the bonnet there's now a more muscular flat-floor motor that's been stretched to 2.5-litres and 231bhp. The suspension and steering are essentially same, while the GT86's Teflon Michelin Primacys have been swapped for gummier Pilot Sport 4s.
The result is that the car drives in much the same way, with the same beautifully balanced and gloriously adjustable rear-wheel drive attitude that can be exploited at any speed on road or track. Yes, the engorged engine delivers more pace, but not much more and it's still a little characterless when worked hard. 
Elsewhere, the GR86 looks smarter than before, while the interior is classier without sacrificing its predecessor's surprising practicality. Oh, and with prices starting at £29,995 it's cracking value too. 
There is, however, a snag - and a big one at that. Forthcoming emissions regulations mean that the Toyota will only be on sale in Europe for two years. Moreover, the Japanese firm has already sold out its UK allocation for these final 24 months. In fact, it did so within an hour and half of order books opening.
There isn't a single area in which this fourth-generation Mazda MX-5 fails to surpass its predecessor. It's shorter, lighter, more spacious and better laid-out. It's sharper-looking but still disarming and not at all ostentatious. It's also faster, more frugal and even more vibrant and engaging to drive.
In 2018, Mazda facelifted its iconic roadster, with the headline change being a 23bhp power hike for its fiesty 2.0-litre engine. A steering column that also now adjusts for reach was also introduced, addressing one of the Mazda's only ergonomic drawbacks.
All that and yet the MX-5 is still every inch the same zesty and inimitable car that it was. Its character hasn't really changed at all in three decades, and nothing on this list offers a better pounds-per-smile rating.
Save money with new MX-5 deals from What Car?
6. Caterham Seven 170
For over seventy years, the Seven in all its forms (Lotus and Caterham) has been setting the standard for pure driver thrills. If you ignore NVH, knock EuroNCAP on the head and concentrate solely on the biggest smiles per mile, then this diminutive British sports car is hard to beat.
The most affordable way into a new Seven is the 170, which starts at £24,995 if you're willing to wield the spanners and build it yourself. With its 84bhp turbocharged 660cc Suzuki engine the Caterham looks a little weedy on paper, but a kerbweight of as little as 440kg means the 0-60mph can be done and dusted in under seven seconds, the gargling three-pot engine encouraging you all the way. 
Yet as ever with a Seven, it's the bits between the straights that are the most fun. This car gets a live rear axle and so lacks the ride sophistication of the DeDion-equipped cars, but with its skinny tyres and wrist-flick steering, the 170 dances this way and that through corners, the line between grip and slip clearly telegraphed and always happening at speeds that are far from anti-social. 
The most innocent and exhilarating fun on four wheels? Quite possibly.
Was the Toyota Supra the most hotly anticipated new car of 2019? Quite likely. After an absence lasting some two decades, Toyota's iconic sports car finally returned to the UK. But were it not for a collaboration with BMW - out of which the new BMW Z4 was also spawned - it's likely this icon would never have been reborn. As such, beneath the Supra's striking exterior, you'll find an engine, platform, transmission, slippy diff, electrics and plenty of switchgear all distinctly Bavarian in origin.
And yet, when it comes to driving, the Supra succeeds in carving out its own distinct dynamic identity. The suspension, steering and diff calibration are all unique to the Supra, so much so that Toyota sees the Porsche 718 Cayman - rather than the Z4 - as its key rival.
Toyota certainly isn't pulling its punches, then. And in many ways, it's the Supra that makes for the superior sports car. It might not be able to quite match the handling purity and balance of the Porsche, but it isn't far off. Its ride is impressively supple, its engine is smooth and far more characterful and it'd be far easier to live with on a daily basis. 
For those for whom a £50,000-plus pricetag is a little too rich, meanwhile, Toyota has lately released the GR Supra, a lightly cheaper, four-cylinder, 2.0-litre version of the car whose handling might even benefit from the relative lightness of the smaller engine. What's more, the hairy-chested straight-six can now be had with a manual gearbox, making it one of the most compelling old school sportsters out there.
Save money with new GR Supra deals from What Car?
In a recent group test, the range-topping BMW Z4 M40i came out victorious against a lower-order Porsche 718 Boxster T. Although we concluded that it ultimately wasn't as composed, incisive or keen-handling as the daintier Boxster, its refinement, powerful and responsive straight six engine and bruising straight-line pace won it a great deal of affection from our testers. That it also has a distinct sense of street-fighter character also weighs heavily in the BMW's favour.
That said, the higher-order strains of the 718 still provide a purer, more enticing take on an affordable sports car. And while there's undoubtedly plenty of scope for excitement on offer in the BMW, as a precision tool it's still not quite as sharp as some of the lighter, smaller contenders in this class.
Save money with new Z4 deals from What Car?
The current Audi TT feels like the response of a company that's defended a popular car for decades against claims that it has all the style and none of the substance to be taken seriously by really keen drivers. It feels that way because it has sharpened handling responses and a lightness on its feet that eluded its forebears, as well as a range of engines with plenty of punch.
Those who want usable amusement with a dose of premium design allure, delivered for a reasonable budget, should probably consider the 306bhp TT S first, which uses the same four-wheel drive powertrain as the excellent Mk7 VW Golf R hot hatchback (so doesn't use the same rear torque-splitter as the Mk8 Golf R) but is considerably lower and leaner. Handling is direct and nippy, and high speeds are easy to maintain - although they still don't come with as much outright driver involvement as you might like.
Save money with new TT S deals from What Car?
The sensible thing to do would be to buy an Audi TT or a BMW 2 Series Coupé, wouldn't it? 
Admittedly, the Mustang car has significant drawbacks in the UK. You have to think twice about where you're going to park it in town, and with its dipsomaniac 5.0-litre V8 you'll need to factor in the greater number of visits to fuel pump than your peers in their German sports cars will need to make (unless you go for a used version with the 2.3-litre EcoBoost engine), but no other car at this price has such an obvious and likeable sense of character. 
The Mustang's powertrain brings with it an appeal that engines with fewer cylinders simply simply don't muster, and its inherent chassis balance is pretty peachy, too. Sensible be damned.
Save money with new Mustang deals from What Car?
https://www.autocar.co.uk/car-news/best-...ports-cars