01-15-2023, 12:25 AM
Top 10 best mid-sized electric cars 2022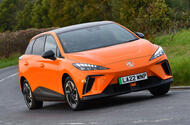 This is where value meets usability in the EV market. So how do you make your money go furthest?
With the UK's 2030 ban of new petrol and diesel cars getting ever nearer, the race to deliver affordable and practical family EVs is hotting up.
The task for manufacturers hasn't been made easy by the supply-chain crisis, the economic downturn and the government's total scrapping earlier in 2022 of its financial incentives for buyers of new EVs. 
The good news is that there are plenty of usable, five-seat, five-door, electric hatchbacks that shouldn't break the bank, government grants or otherwise. But which should you pick for an easy transition into EV ownership?
Even in this segment, there's plenty of choice: front-driven hatchbacks play off against compact crossover SUVs, compact saloons and even the odd estate car. There are rear-wheel-drive options here too, as well as cars with a dose of driver appeal – although with some of them, that comes only at a price.
Even if you need an EV with a real-world range above 250 miles, with room for several adult passengers and a usable boot, you can now find it here. If you know where to shop, you can actually find most of that for less than £35,000 in 2022. Read on to learn exactly where.
Meanwhile, if it's a smaller and cheaper supermini EV you're after, or a larger, more versatile and more luxurious family EV, our related top 10s should summarise our current class favourites.
Best mid-sized electric cars 2022
1. MG 4 EV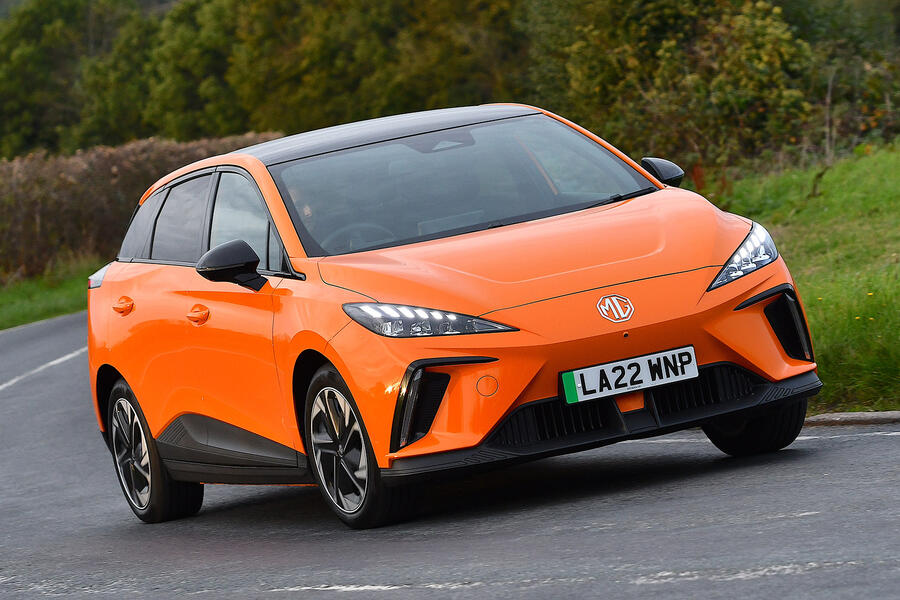 Don't worry, there's no need to adjust your set: it really is an MG at the top of this list. For years the Chinese brand has been floating around in the bargain basement, offering cars with eye-catchingly low prices, plenty of kit and a decent warranty but hobbled by a lack of dynamic sparkle and the sort of perceived quality that wouldn't pass muster on most pound-shop purchases. Yet with the all-new MG 4 EV, it has achieved a turnaround in terms of driving dynamics and showroom appeal.
Make no mistake, this is no hot hatch in disguise, but the 4 steers sweetly and its well-developed suspension serves-up a winning blend of agility and comfort. It's a car that's genuinely satisfying to drive, scything through a series or corners with poise and panache. Even in top-spec 200bhp guise (there's also a 168bhp model), the 4 is brisk rather than quick – but then what do you expect from a compact family hatch that weighs an executive saloon-rivalling 1700kg? On the plus side, go for the larger 64kWh battery and you will get a claimed range of 281 miles.
Other highlights? Well, while the detailing is fussy there's no doubt the shark-nosed 4 looks distinctive, while its interior is neatly styled and far more upmarket than you would expect. There are couple of cheap-feeling components (the door handles and centre cubby lid), but otherwise it's a match for the mainstream, plus it's roomy and practical too.
Yet the real kicker is the pricing, which starts at £26,995 and tops out at £32,495. To put that in perspective, the cheapest Volkswagen ID 3 (with a shorter range) is £36,990.
2. Kia Niro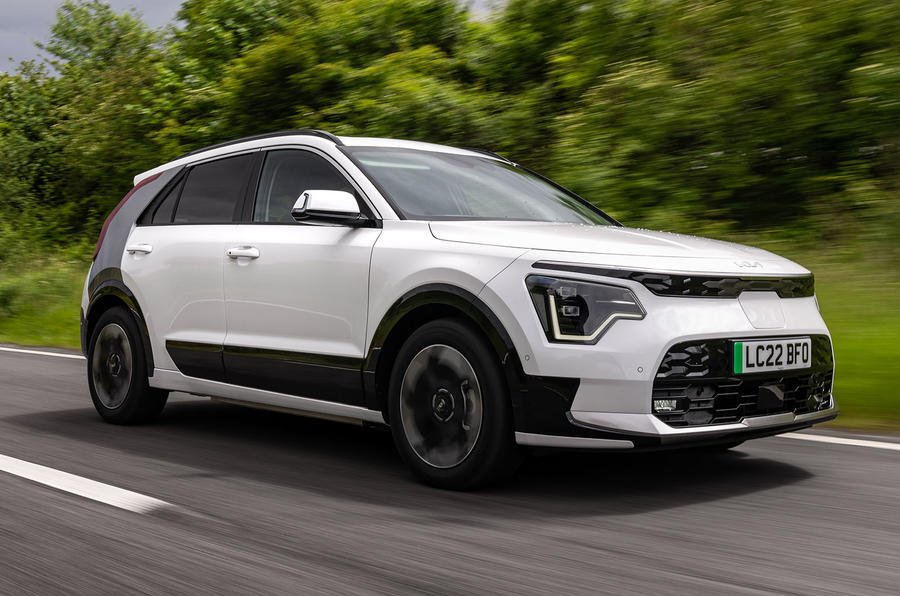 Unsurprisingly, Kia hasn't messed too significantly with a winning formula for the all-new electric Niro. Its predecessor was something of a sales hit, mixing practicality and a decent-value price with a respectable range that wouldn't have you breaking out in a sweat on longer journeys. Only some frumpy looks and slightly skittish driving dynamics really let it down, so these are the areas that have received the most work.
Called the Niro EV (the old car was the e-Niro), the newcomer certainly looks distinctive, with its aggressively angled LED running lights and optional colour-coded C-pillar treatment. You would struggle to call the pseudo-SUV handsome, but it stands out where its predecessor blended in, so that's probably job done.
Inside, there's a touch more space for people and luggage, while the dashboard is more slickly styled and there's a larger and more intuitive touchscreen infotainment system with all the connectivity you will ever need.
Under the skin there's the same 64.8kWh battery as before, which gives an ever-so-slightly longer range of 285 miles. The 201bhp front-mounted motor is also carried over, although its response has been tuned to be less aggressive, meaning much of the previous machine's traction control-testing scrabble has been eliminated.
In all other respects, the Niro EV is calm and capable on the road, handling accurately and with decent composure, but never getting close to engaging or entertaining. Still, the refinement is good and, firm low-speed ride aside, it's a comfortable and easy-going way to get around.
There's lots here appeal if you want a spacious, rangey and refined family EV, and buyers of the old car are likely to be forming an orderly queue outside Kia dealers. However, bear in mind that in top-level 4 guise, the Niro EV costs barely any less than the brand's faster, sleeker and longer-range EV6.
Save money on new Kia Niro EV deals from What Car?
3. Cupra Born
The Volkswagen Group's emergent performance brand Cupra has thought small with its first dedicated electric car, the Born. Instead of following sister brands Skoda and Audi and launching a crossover related to the Enyaq iV and Q4 E-tron, it has hitched its first EV to the smaller Volkswagen ID 3. So the Cupra Born is a hatchback rather than a full-sized family car, although it's a slightly pricey one, with strakey styling and sporting intentions that it delivers on more fulsomely than you would expect.
Despite being very closely related to the ID 3 and ID 4, the Born feels like a sharper and more agile tool, attacking twisting back roads with near hot hatch levels of enthusiasm and even drawing the driver into the action, albeit still at arm's length. There's still a sense there's more potential to be unlocked, and if the electronic safety net's grip could be loosened just a little the Born's rear-drive balance could be properly unlocked. Yet overall, this Cupra is the one of the most successful attempts yet at an 'affordable' EV for enthusiasts.
Prices start at £36,475 for an entry-level car powered by a 201bhp electric motor with a 58kWh battery that has a range of 259 miles. There's also a larger 77kWh battery option that's mated to 228bhp motor and claims 340 miles between stops at a plug socket. Prices for that combination start just north of £40,000. Worth the premium over the ID 3?  That really depends on your priorities, but if you fancy a bit more design flair and a fair dollop more sportiness behind the wheel, almost certainly.
Save money on new Cupra Born deals from What Car?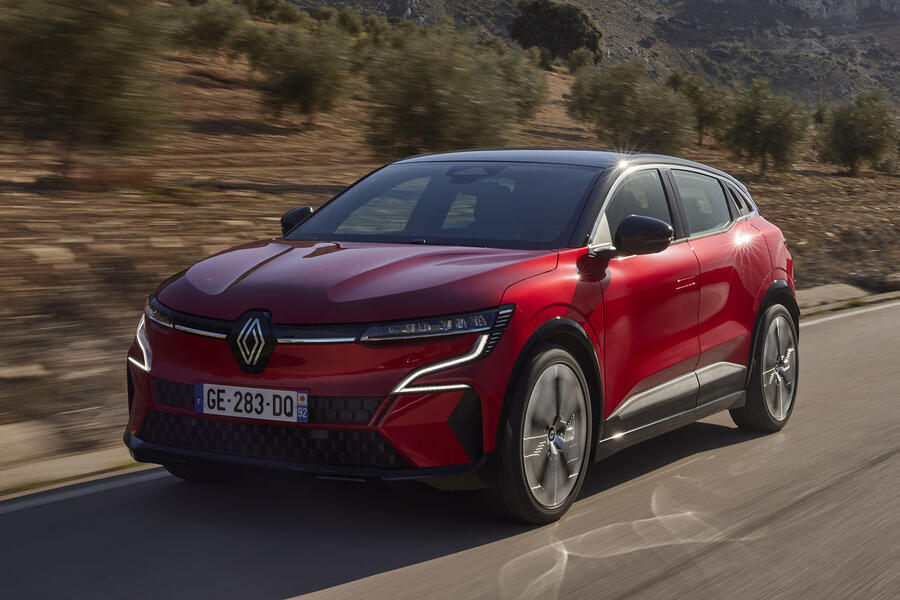 Renault was something of an EV pioneer with its Zoe supermini, which made its debut the best part of a decade ago. But tiny Twizy and forgettable Fluence ZE aside, the French firm hasn't made much of its head start and has been overtaken by many in the race to electrify their ranges.
As a result, the all-new Mégane E-Tech has arrived in the nick of time, and the good news is that it has been worth the wait. As the name suggests, the newcomer is Renault's all-eletric take on the family hatchback. It's certainly a good-looking one, the angular new Mégane looking far sharper and more purposeful than its ICE-powered predecessor. Underpinning the car is Renault's new CMF-EV architecture, which is claimed to be one of the lightest and strongest in the class (the equivalent Volkswagen ID 3 is around 300kg heavier), while for now there's a single 60kWh battery option that promises 292 miles between charges.
The Mégane drives well too, its 215bhp motor delivering real verve and its chassis serving up the sort of fine balance of agility and supple ride that used to be a French car speciality. It's no hot hatch, but there's genuine pleasure to be had from punting the Renault through a series of corners, yet it's cosseting and calm when you just want to take it easy.
Better still, it does all the family car things well, with just about enough space for five and a generous 440-litre boot. The interior looks good too, and is reasonably well finished, if not quite up to premium standards.
Factor in prices that start at £36,995 for the well-equipped entry-level Equilibre and the Mégane E-Tech deserves a place near the top of your EV shopping list.
Save money on new Cupra Born deals from What Car?
The Volkswagen ID 3 has kicked off its maker's post-Dieselgate rehabilitation very well. This Golf-sized hatchback became the first to use the Volkswagen Group's dedicated MEB platform, an entirely fresh rear-engined architecture, when it hit the market in 2020. That gave the ID 3 a relatively long wheelbase, boosting cabin space, and a rear-mounted drive motor with up to 201bhp and 229lb ft.
It launched with two battery sizes: the 58kWh pack lends a WLTP range of 261 miles, while the larger, pricier 77kWh battery ups that to 340 miles. Yet since then, VW has rationlised the range, to the point that there's only one model you can choose: the £37,140 Life with a 201bhp motor, a 58kWh battery and a claimed range of 265 miles. This model pretty much covers all the bases for a family hatch in terms of equipment, performance and distance between charges, but the lack of choice really does limit the ID 3's appeal.
Still, the ID 3 still excels in terms of manoeuvrability and low-speed response and, although heavy by compact car standards and sitting on wheels as big as 20in in diameter, it would seem to meet VW's high standards for ride sophistication, too. Handling is surprisingly agile, balanced and nimble, but there's very little in the way of driver entertainment.
The car is let down a little by its interior, which doesn't have the same feeling of quality we expect from VW, and its touchscreen infotainment system suffers with some of the same usability woes as many other current VW products, while the lack of backlighting for the touch sensitve heating controls will have you fumbling around in rage after dark. But the cabin is certainly roomy and pleasant enough, and the driving experience is gratifyingly simple and effective.
Save money on new VW ID 3 deals from What Car?
Handsome, decently roomy and rangey, pleasant to drive and competitively priced, the Peugeot e-2008 covers a lot of important bases as an affordable EV. It doesn't stand out from its competitors in any one area: the 64kWh Kia e-Niro is more spacious and longer-legged, although slightly pricier, while different rivals offer stronger performance or clearer design appeal. But the e-2008 gets strong enough scores across the board to make it a commendable all-rounder.
The car's front-mounted 134bhp motor and its 50kWh drive battery are shared with the Peugeot e-208 and Vauxhall Corsa Electric. They make for fairly average performance (although drivability is good), and real-world range of between 150 and 170 miles, depending on your route and driving style. That's broadly competitive for a five-seat crossover hatchback available for less than £35,900 - but it clearly won't easily meet your every motoring need.
For that money, however, the e-2008's interior has a surprisingly inviting ambience as well as decent outright space, and it rides and handles with more than a lingering flavour of Gallic sophistication. This car is easy to overlook in some ways, but it certainly deserves your attention. 
Save money on new Peugeot e-2008 deals from What Car?
7. Nissan Leaf
The first-generation Nissan Leaf set the mould for the affordable electric car more than a decade ago – and in second-generation form, it's still in among the list of contenders seeking to follow in its treadmarks.
Battery capacity has been boosted so that, in standard guise, the Nissan has a WLTP-certified range of 168 miles: not a lot by today's standards but still broadly competitive and no doubt enough for some. However, this rises to more than 200 miles in the case of the range-topping 64kWh e+ version. 
The Leaf also has significantly more power and torque than its predecessor, it performs fairly keenly, it feels like a more rounded car to drive generally and it has plenty of daily-use practicality for a small family. Its interior is starting to look and feel pretty dated, though.
A value proposition that has also improved and is now on a par with that of a mid-market, conventionally fuelled family hatchback, cements the car's position. That said, to match a traditional ICE hatch for price and kit, you will be looking at a smaller-battery and lower-trim Nissan.
Save money on new Nissan Leaf deals from What Car?
Britain's everyman car brand is out to reinvent itself with the Vauxhall Mokka Electric. This fashionable, good-looking compact crossover shares its platform and running gear with the Peugeot e-2008 and DS 3 E-Tense, and although it's slightly less practical than the aforementioned Peugeot, its broad-bonnet styling is even more impactful.
The Vauxhall's 50kWh battery grants a real-world range of about 160 miles, and recharging it while out and about can be done at rates of up to 100kW for an 80% charge in around half an hour.
The Mokka's cabin is less spacious than some in the top 10, but it will still accommodate adults in the second row. Boot space is reduced to a little over 300 litres in the EV – another practicality showing that leaves the car with plenty to prove elsewhere.
Its performance is fairly strong, and its ride and handling disguise its raised ride height pretty well. The driving experience isn't likely to be the reason you buy this car, though. If you like the way it looks, it's probably just about practical, usable and credible enough to drive to reward your interest.
9. Hyundai Kona Electric
It's been around for a while now, but while the Kona lacks the cutting edge appeal of some of its rivals it still has plenty to offer as a stress-free and reasonable value runabout. Its mix of rugged SUV design cues and compact supermini dimensions helps keep it bang on trend, while a facelift last year helped boost its kerb appeal. It also benefitted from the brand's latest infotainment, which features in an interior that's robustly built and has just enough space for four adults but is plenty roomy enough in the back for kids.
Under the refreshed exterior, the Kona features the same mechanicals as before, which means a choice of battery sizes and motor outputs. The entry-level versions get a 39kWh lithium ion heart and 134bhp through the front wheels, while there's also a 64kWh model with 201bhp. Go for the former and you'll get a respectable claimed range of 189 miles, while the bigger battery promises an impressive 300 miles - a figure few rivals can match. However, a maximum charging rate of 50kW means that even on a rapid charger you'll need just over an hour to achieve 80% capactity in the 64kWh car.
Practicalities aside, the Kona is an easy-going and capable machine, but not one that's going to get your blood racing. The handling is safe and predictable, the steering is accurate and, providing you're not driving to end it all, the Hyundai has enough grip to keep your heart rate within safe limits. Both versions serve-up smooth, linear and brisk acceleration, while the torquier 201bhp model has enough grunt and akinny enough tyres that disabling the traction control will allow you to indulge in some Hollywood car chases-style wheel-spinning smoke screens.
Yet the Kona is at its best when taking it easy, its low noise levels, cushioned ride (except for some low speed jitters) and light controls making it a device that slips easily into the cut and thrust of the mostly mundane daily driving duties. 
Save money on new Tesla Model 3 deals from What Car?
10. Citroën ë-C4
If you like the idea of EV ownership because it represents new and unconventional thinking, you will probably like the Citroën ë-C4. It's the quirkiest car in the top 10 thanks to its angular, free-form, Citroën GS-tribute exterior styling and its pseudo-crossover-hatchback body, and it has a roomy interior packed with innovative features like a dashboard-mounted holder and stowage drawer for a tablet.
This is another EV based on Stellantis's eCMP platform, with a 134bhp motor and a 50kWh battery. Citroën claims up to 217 miles of WLTP range for the hatchback - and it has a fairly aerodynamically efficient shape and a wheel design likewise configured for low-rolling resistance, so it does slightly better on real-world range than most of its group siblings. Even so, expect 180 miles from it at a fairly gentle pace, and on a warm day.
The ë-C4 is one of several EVs from the Stellantis group of automotive brands that has already had its price tweaked to reflect the scrapping of the Plug-in Car Grant, with prices now starting at £31,995.
https://www.autocar.co.uk/car-news/best-...-cars-2022