03-15-2023, 08:57 AM
Top 10 best seven-seater cars 2023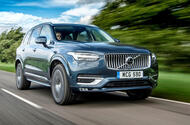 Family haulers aren't restricted to MPVs any more. These are 10 of the best
If you need to haul a full household (and more besides), then a seven-seater will be just the ticket. Not that long ago that would have meant an MPV or people carrier, a boxy machine that put space and practicality ahead of style and performance.
However, like the rest of the new car market, the people-mover sector is now dominated by the SUV, with most offerings combining the seemingly universal appeal of rugged off-road looks with a passable impression of a minibus. While many of these don't offer quite the utilitarian appeal of a true MPV, there are enough smartly thought-out machines with a spacious and flexible interior to ensure that growing families need not despair when it comes to getting about. That said, there are still one or two examples of the traditional seven-seater, plus there's enough choice at a wide array of price points to ensure buyers aren't restricted to the pricier, premium end of the market.
Of course, not all seven-seaters are equal and, like some other aspects of life, size is everything. With some in our list the third row seats are best for kids or occasional use, while others can carry a full complement of adults in complete comfort, even leaving decent space for luggage. It's also worth noting that for inclusion in this list all the seating must be forward facing, which rules out the Tesla Model S with its optional boot-mounted rear facing child seats.
So, here's the rundown of our favourite seven-seat machines, each one of which should ensure that nobody gets left behind.
It's getting on for a decade old now, and there's an all-electric replacement around the corner, but the Volvo XC90's considerable appeal remains undimmed. There are rivals that are sharper to drive or offer more up-to-date tech, but few offer the same compelling blend of space, practicality, comfort and class as the seven-seat Swede. Moreover, in revised plug-in hybrid (PHEV) guise, it offers a great balance of performance, efficiency and low running costs, particularly for business users.
Perhaps the Volvo's greatest strength is its interior, which roomy, well-equipped and smartly finished with rich materials. More importantly, unlike many the XC90 delivers enough space for seven adults to travel in reasonable comfort, with the third row seats serving-up good head and legroom. Better still, even with all seats in use (those in the very back can be quickly and easily folded into the floor when not needed), there's a decent 316-litres of boot capacity. Interior flexibility is further enhanced by a second row that slides and reclines, plus has the option of an integrated child booster seat, while there's enough handy storage for most odds and ends.
Despite its age, the XC90 still stands out on the road, with a certain understated class that means it's not such a confrontational or aggressive presence as some of its full-sized SUV rivals. All the engines are four-cylinder turbocharged units, with the mild hybrid B5 diesel serving-up a decent plent of pace and parsimony. There's also the T8 PHEV model (it remains a full seven-seater, unlike similar plug-in rivals such as the Land Rover Discovery, which is limited to five) that's serves up the best part of 400bhp and claims up to 40 miles of EV running, helping drop it into the 8% Benefit in Kind (BiK) tax band for company car users. Whichever powertrain you use, the Volvo is composed and capable on the road, but the emphasis is on comfort and refinement rather than an uplifting driving experience, although that's perfectly in keeping with the car's remit.
The recently revised Santa Fe has plenty going for it, not least the fact it's just been named Best Large Car in the 2022 Autocar Awards. The vast, family-friendly Korean machine has always been one of our favourites, but the addition of efficient and tax-busting plug-in petrol-electric powertrains has lifted it to the top of our rankings.
Despite the addition of a large lithium ion battery pack and electric motors, the space in the Santa Fe's seven-seater interior has remained unchanged. That means third row seats that are not only easy to access, they're also genuinely adult-sized. And when you don't need to carry extra people, the Hyundai's boot is an impressive 571-litres, swelling to 1,649-litres with all the seats folded flat. Better still, the facelift has seen uplifts in material quality and technology, giving the car real premium appeal.
On the move it favours a relaxed approach, but that's just fine because it's a seven-seat SUV after all. The 262bhp 1.6-litre motor sounds a little strained when extended, but it does its best work in the mid-ranges, where the 90bhp electric motor can add some instant torque-fill muscle. Speaking of which, the Santa Fe claims a decent 36 miles of all EV running on a full charge. There's also a less powerful 227bhp 'self-charging' petrol electric unit, plus a 2.2-litre diesel for those who do big miles or tow (its braked limit of 2500kg is 1200kg more than the PHEV).
Elsewhere, the steering is light and precise, and provided you're not in a massive rush the Hyundai can be hustled along with satisfying precision. Refinement is also good, and while the ride can get choppy on really bad surfaces for the most part it's composed and comfortable.
At £50,000 for the plug-in version the Santa Fe ain't cheap, but look more closely and you'll find not many others provide a similar blend of talents for the cash.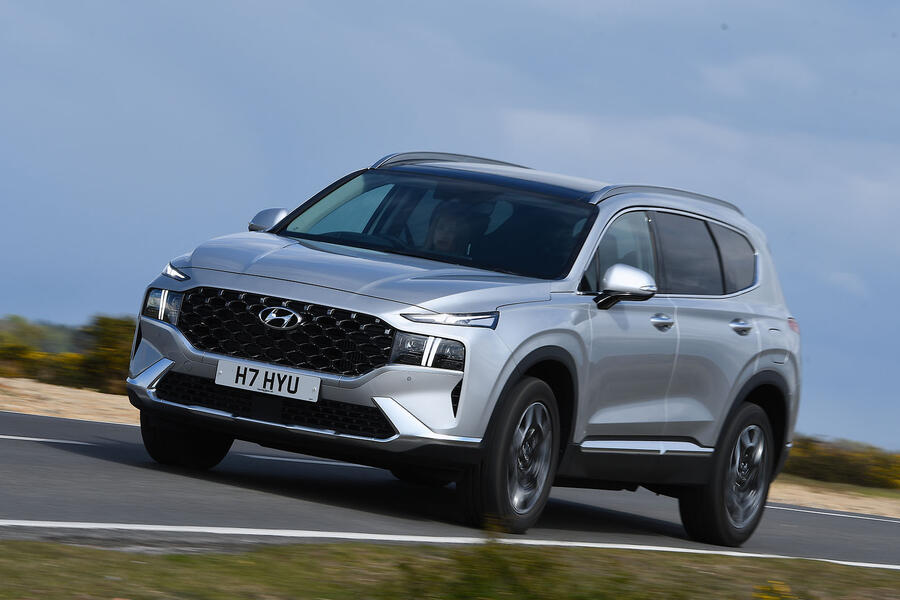 3. Dacia Jogger
It's perhaps no surprise that the biggest breath of fresh air the seven-seater has seen for a while has been blown in by Dacia. In the Jogger, the budget brand has delivered a nearly fully scaled and fully equipped people mover for less than the price of a mainstream supermini. Sure, Romanian machine isn't the last word in style or sophistication, but it carries itself (and its many occupants) with such assurance and lack of pretension that it's hard not to be won over by its charms.
Straddling the line between estate, MPV and SUV, the Jogger is a car that almost manages to be all things to all people. As a people carrier there's just enough space for seven adults, although the third row is best left to children on longer journeys, while lowering or removing all the rear seats liberates a van-like 2094-litres of carrying capacity. Speaking of which, the simple but thoughtfully designed cabin packs in 23-litres of useful storage, while clever additions such as the fabric trim inserts for the dash and doors mean it always feels more cheerful than cheap despite the use of some low grade plastics elsewhere. Perhaps the biggest bugbear is that third row seats don't fold flat when not needed, meaning you have to remove them completely if you want the luggage space.
On the move there's a supple, languid gait to its ride, while the turbocharged 1.0-litre triple is a smooth and willing accomplice, although it loses some of its fizz when travelling seven-up. Light and accurate steering combines with a subtly raised seating position to make the Dacia easy to place on the road, and while the Jogger's can roll like a drunk when  cornering hard, grip is strong and the handling always remains faithful. Ultimately, it's not a scalpel-sharp street fighter, but there's enough character in the way the Dacia goes about it's business that it's genuinely satisfying to steer. It's appeal has been broadened by the introduction of the mild hybrid 1.6-litre petrol from parent firm Renault, which adds weight and complexity but, the firm claims, can undertake 80% of urban driving in pure EV mode.
If you thought the traditional MPV was dead, then VW would like you to think again. With its Multivan, the German firm has helped revitalise the concept of a thoroughly sensible and spacious box on wheels that offers unrivalled space and versatility. Mixing one of the most flexible interiors in the business with grown-up driving dynamics and dash of premium appeal, the people's car's people carrier makes brilliantly rational family transport.
Of course, the firm has always peddled big people carriers, but these Caravelle models have usually been based on the company's commercial vehicles, meaning they've often lacked a final sheen of sophistication. However, the Multivan is spun of the now familiar MQB platform that underpins everything from the Golf to the Skoda Kodiaq SUV, which means it steers with surprising precision and serves-up the sort of cosseting ride refinement that would be unthinkable in the old car. The use of this architecture also allows the use of the tried-and-tested plug-in hybrid that combines 1.4-litre petrol and electric motor for 215bhp and a claimed 31 miles of EV running. There are also traditional petrol and (whisper it) diesel options.
Yet it's the interior that's the real star, its space and modularity meaning it can be easily and efforlessly adapted to your needs. There's easily space for seven adults to sit in real, long distance comfort, while all the rear seats slide, recline, fold and swivel. Neat additions include the multi-use storage compartment that can be moved through the cabin and features a neat fold out table that's perfect for on-the-fly snacks and drinks. Oh, and then there's the sliding rear doors, which make loading kids and their clobber a doddle, even in the tightest of parking spots.
In fact, the only real fly in the ointment is that this sort of utility doesn't come cheap, with prices starting at a whisker under £43,000 and rising to the wrong side of £60,000.
Land Rover's latest big new model ought to have been a candidate for the top of this chart; because, while it's expensive, the car's cleverly configurable interior presents the option of as many as eight passenger seats.
Buy a longer-wheelbase, five-door Land Rover Defender 110 and the firm will offer you a choice of five-, six- or seven passenger seats, while the elongated 130 seats eight in a two, three, three formation. Sadly, for legislative reasons you can't order the latter with the jump seat in between the driver and front seat passenger, which would otherwise have made it a nine-seater (and, in the UK at least, in need of registration as a minibus). However, that probably won't stop some people retrofitting jump seats to secondhand examples (or even seven-seat 110s) in years to come.
Even without this as an official option, though, this car has impressive versatility. The seven-seat Defender has third-row chairs that are a little smaller than those of the related Discovery's, but still perfectly usable by children, teenagers and smaller adults. In the 130 you can have all eight on board and still have a very usable 400-litre boot, although the trade-off is the car's vast 5358mm length that makes it something of a squash and a squeeze in most parking spaces.
This is also an expensive car, with even the very cheapest five-door passenger-car models pushing £50,000 - but, unlike the old Defender, it drives nearly as well as almost any luxury SUV of its size and type, has a broad range of modern electrified powertrains, and has off-road capability to spare. As a big, desirable family workhorse, you couldn't ask for much better.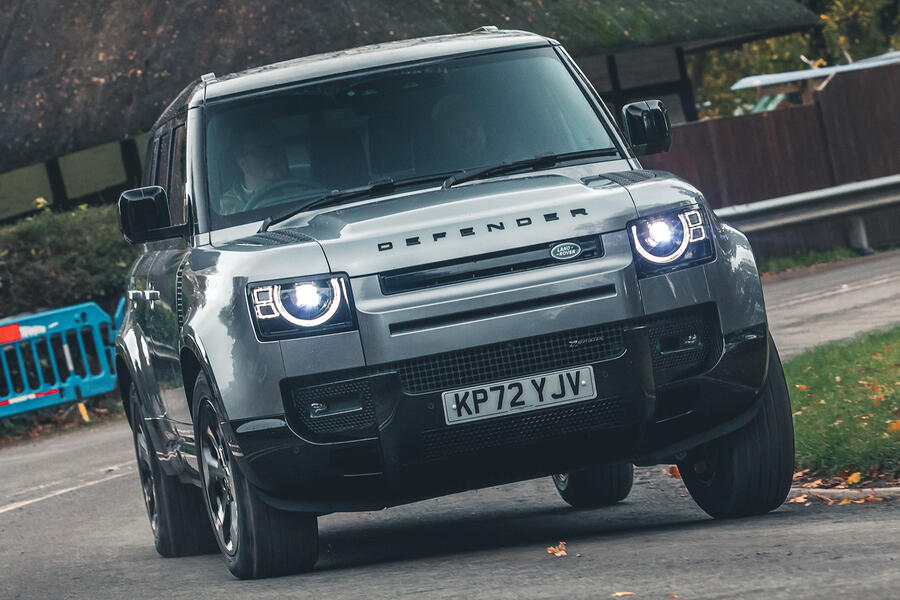 The unuttered truth about full-sized seven-seat SUVs, which many of the cars in this chart confirm, is that most of them don't come for the same price as a full-sized MPV. The Kia Sorento, which has just entered a fourth model generation, used to be a rather glorious exception to that rule. Now that it has taken on a more premium look and feel, however, it's not quite the bargain it once was. However, no matter whether you buy a diesel, petrol hybrid or plug-in hybrid, you'll get seven good-sized seats, which makes the buying process nice and simple - and is one of the reasons that we recommend it in such unqualified terms.
Kia's latest redesign for the car has brought an all-new model platform, an eye-catching exterior and a roomy and fairly classy-feeling cabin. The interior benefits from the car's biggish outward size (it's a closer match for a Land Rover Discovery than the Discovery Sport against which it's priced), and the third row would even be usable by adults provided they're not particularly tall (although there are only Isofix child seat points in the second row).
For a private buyer with a mixed pattern of use in mind, the 2.2-litre diesel engine remains the one to choose, even if its asking price of just under £50,000 makes the eyes water and wallet weep. The cheaper 1.6-litre petrol hybrid returns reasonable economy around town but isn't so frugal on longer trips, and needs to be driven quite hard to maintain a quicker stride. The more powerful plug-in hybrid is a little more effortless, but that will appeal to company car drivers for different reasons. A quiet but slightly brittle-feeling ride, average body control and numb, unenticing steering characterise all versions of the car, but needn't discourage anyone too much.
Peugeot's bigger 'double-oh' SUV option deserves special mention here for making the most of the space it affords. It's the only mid-sized SUV that makes the top half of our rankings, and so while it doesn't provide as much passenger comfort and space as the bigger options, it does give you more choice than rivals about where to fit in your bigger, bulkier child seats and how to comfortably arrange older passengers around them.
That's because the 5008 has three separate middle-row seats that all slide and fold individually, all with Isofix anchorages. Sliding the middle one forward by itself might make room to shoehorn in three fairly bulky moulded-plastic booster seats side by side although, because the 5008 doesn't have the widest cabin, this will always be a bit of a squeeze.
The third-row seats are only big enough to be used by children, but will just about take a smaller belted child seat and an occupant if you slide the seats in front of it forward to make space.
The engine range starts with 1.2-litre three-cylinder petrol and 1.5-litre four-cylinder diesel options of about 130 horsepower, ranging upwards to include more powerful 2.0-litre diesel- and 1.6-litre turbo petrol options for the flagship GT trim. The car handles well, feeling a little smaller and more wieldy, and handling more keenly, than plenty of rival options. It's pretty good value, too; although fleet drivers may be disappointed to learn that there's no plug-in hybrid version as, once again, housing the petrol-electric gubbins would result in the removal of the third row seats.
When Land Rover introduced the current Discovery, much fuss was made about the convenience added by its five rearmost motorised seats, which can be raised and lowered electrically - and even remotely via smartphone app. The idea is that, instead of having to wrestle with straps, latches, backrests and removable tonneau covers, you can configure the car for however many passengers you happen to be carrying before you even board.
The feature isn't standard equipment on lower-trim models, though - and, moreover, isn't much use if you've got cargo in the boot that needs to be either moved or removed before you can convert the seats. But get past the showroom gimmicks and this big, functionality-first Land Rover remains a fine, full-sized seven-seater, with a likable charm and luxury vibe, that we would recommend for any big family with the means to afford it.
That's a pretty big caveat, of course, because you'll do very well indeed to escape a Land Rover showroom these days having bought one for less than £60,000. Yikes! But the good news is that even vehicles in entry-level S specification get seven seats as standard, with Isofix anchorages on four out of five of those back seats. You have to climb all the way to HSE grade to get access to those motorised, app-managed 'intelligent' folding seats, though, and even then you must order them as a cost option.
The Discovery received a facelift early 2021, getting subtly revised suspension, cabin and exterior styling. The engine range now is comprised purely of six-cylinder petrols and diesels, all with varying amounts of mild hybridisation. There will be no plug-in hybrid version, because Land Rover has concluded that buyers wouldn't want to sacrifice the necessary pair of seats for it.
Skoda branched out into the seven-seat SUV market in 2016, launching a car that split the difference between full-sized and mid-sized options quite cleverly. The Kodiaq has a big cabin and a generous boot for a car of its price and size, and all versions of it bar the bottom-rung variant get seven seats as standard; even the warm vRS performance version.
The one dimension in which the car is lacking a bit of space is cabin width, and because the middle second-row seat can't be slid into an offset position relative to both outer ones, it's tricky to get three child seats installed side by side. Moreover, crash testing body Euro NCAP confirms that the rearmost seats aren't approved even for belted safety seats (although the Kodiaq isn't the only seven-seater to which that caveat is applied) and access to them can be a little bit tight when squeezing behind the tilted second-row chairs.
The Kodiaq's engine range is pretty broad, offering plenty of choice on both the petrol and diesel sides. It's the only one of the volume brands to offer a performance derivative, in the form of the 242bhp vRS, although it's not as quick as you'd think and quite thirsty with it. All Kodiaqs are pleasant and easy to drive, if a little bit firm-riding in some trim editions.
Mercedes has adopted an interesting design strategy with its new smallest SUV: to miniaturise much of the visual DNA of its largest (the GLS) and also to squeeze in seven seats as standard into a vehicle small enough that you probably wouldn't expect to find them. Both factors might just help to sell the car in an increasingly crowded market.
The GLB is available as a GLB 200 petrol, or a 200 d or 220 d diesel, plus an AMG-lite GLB 35 AMG that borrows its 302bhp turbocharged 2.0-litre petrol from the Mercedes-AMG A3 hot hatch. Even the base petrol engine serves up ample performance for what's a fairly laid-back-feeling car on the road, with ride quality being impressive on adaptive dampers and body control a little soft and permissive but still good. The all-wheel drive 4MATIC models are also impressive off-road, rivalling the Land Rover Discovery Sport for go-anywhere ability.
The middle-row seats slide fore and aft and offer decent space for adults although the rearmost chairs are much smaller and useful for children only. Only four out of five rear seats have Isofix child seat points, though.
Finally, Mercedes has broadened the GLB's appeal with a pure-electric EQB versions, which retains the option of seven seats, making it one of only two electric seven-seater SUVs on the market, together with the much more expensive Tesla Model X (which has only just returned to sale after two years and which we've yet to drive, hence it doesn't yet appear here). It's available in 225bhp and EQB300 and 288bhp EQB350 guises, both with a twin motor four-wheel drive set-up. It's comfortable and easy to drive, but with prices starting at just over £55,000 it's not cheap, while a range of up to 257 miles falls well behind cheaper, albeit five-seat, rivals.
Save money with new GLB deals from What Car?
https://www.autocar.co.uk/car-news/best-...eater-cars