09-18-2022, 02:05 PM
Toyota GR Corolla 2022 review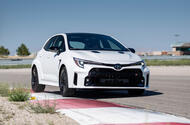 Latest Gazoo Racing hot hatch packs the mightiest of visuals and 300bhp but it does deliver what it offers on paper?
'Zero to hero' best charts the rapid rise to widespread acclaim of Toyota's Gazoo Racing. From its 2019 start with the Toyota GR Supra to the astonishing Toyota GR Yaris that followed in 2020 and then the sublime Toyota GR86 coupé, it has earned our love and respect for its unique way of consistently nailing the affordable sports car brief. 
This year, it has continued expanding its portfolio with the launch of an ultra-niche manual version of the GR Supra, but now it's time for its headline act: the Toyota GR Corolla.
Looking every inch a rally refugee, the hot hatch packs the mightiest of visual punches. From its flared arches, scoops, intakes, vents and ducts to its intricate aero measures, there is nothing fake about it, and everything serves the single purpose of going very fast indeed.
It comes in Core, Circuit and Morizo specifications, this hardcore third option demonstrating just how far Toyota's black ops have come. It bins the back seats and banishes luxuries such as rear electric windows, speakers and even the tailgate wiper to remove around 30kg from the standard car's portly 1470kg kerb weight.
Add in a special set of lighter 18in rims, a closer-ratio manual gearbox and optionally two Torsen differentials with shorter gearing for more explosive acceleration and, suddenly, you realise just how special and serious GR is in its bid to create the hottest hatch of all time.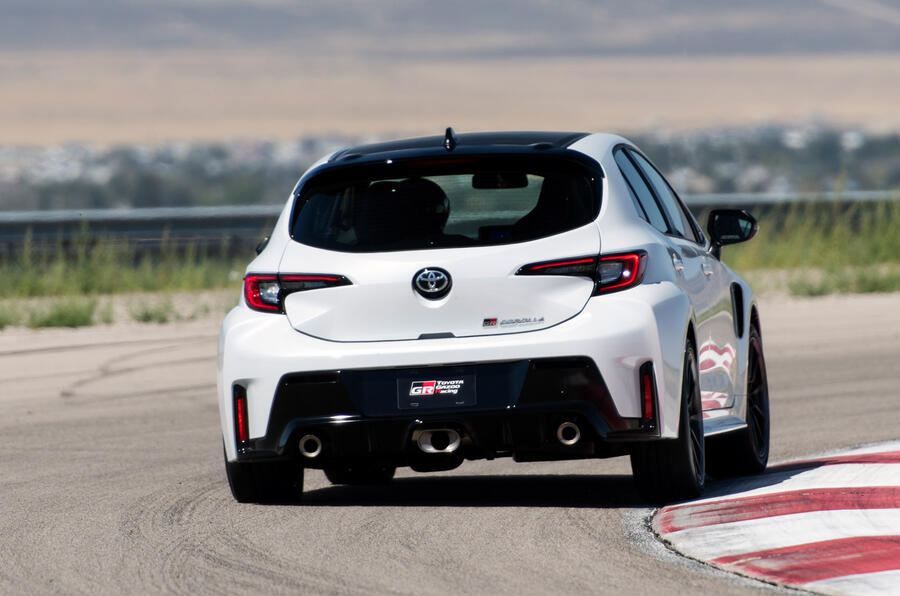 Which makes it all the more frustrating that none of the three GR Corollas will make it to the UK. The exact reason why is unclear. One suit told us it's because Brits already get the GR Yaris, which better "connects" with us. Another hinted that emission rules might have been to blame. But whatever the reason, it seems cruel to deny one of the world's biggest hot hatch markets this Toyota.
With that in mind, we decided to torture ourselves anyway and see what we're missing by driving the GR Corolla at its American launch.
Before adopting any hardware from the GR Yaris, the Corolla body had to be stiffened for this role. It gets a further 349 spot welds plus an additional 2.7 metres' worth of structural adhesive to more rigidly bond its panels to the chassis. The Morizo gets even more glue (6.1m) and two extra strut-tower supports.
The 1.6-litre turbo three-cylinder engine has also been boosted from 260bhp to 300bhp. (Torque remains the same, at 273lb ft.) The Morizo gets no more horses but does muster a more generous 295lb ft.
Beneath the skin, there are struts up front and a multi-link rear suspension, both modified from the GR Yaris. The bigger car also sports bespoke springs and dampers, plus further uprated monotube-style dampers on the Morizo.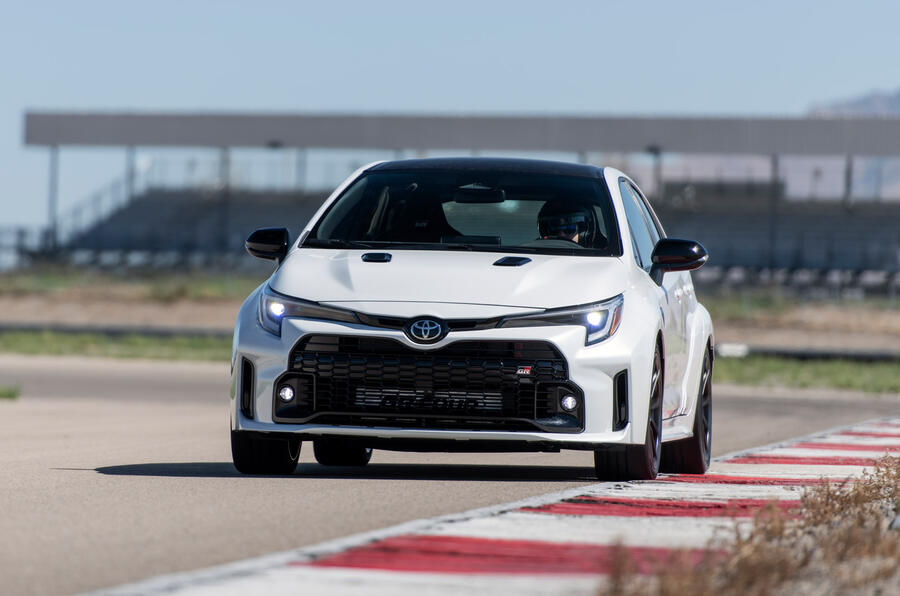 In normal mode, Gazoo's excellent GT-Four system splits torque 60:40 front to rear. Twist the dial to Sport and that changes to 30:70, or stab the button atop it for perfect 50:50.
Aside from the new sports seats, steering wheel and gearlever, the Corolla cabin is largely untouched – which isn't a bad thing. What is irritating, though, is that you're perched far too high (although it's unavoidable without redesigning crash structures and re-homologating the car).
The control weights are pleasingly evenly matched – evidence that it was developed by people who care. 
Open the throttle and, despite the new exhaust, the Gazoo three-pot still sounds like the engine from a cheap Aygo, which is amusing, if not representative of the performance on tap.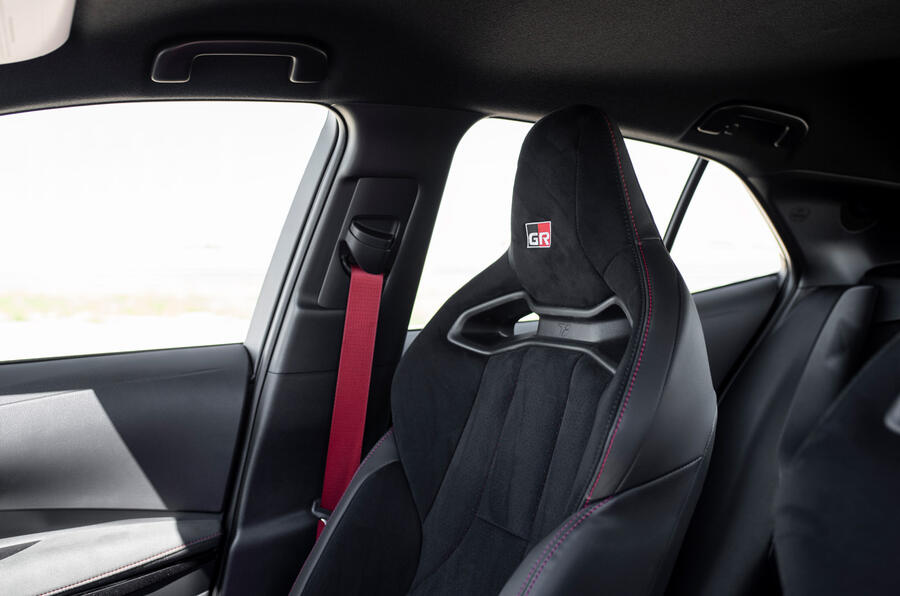 In normal driving, the valve for the large central pipe remains closed for quieter cruising, but flatten the throttle and, once you're past 4500rpm, it opens wide. The resulting cacophony isn't especially inspiring, but the pace is.
Up until 3000rpm, you question the claimed sub-5.0sec sprint time – at least until you find a favourite country road (or better still, a track). Then you simply don't care.
As with its smaller sibling, the levels of grip and traction and the confidence that it endows you with are phenomenal. 
However, although it stuns you with how much speed you can carry through corners, the GR Corolla isn't that adjustable or as agile as the 200kg-lighter GR Yaris. That's because engineers claim they set the bigger car up to have a very different character, trading nimbleness for great stability.
We've levelled similar criticisms before at the GR Yaris. We wish both cars were a little more involving and engaging at road speeds, because on track the GR Corolla is an absolute riot.
Whether you prefer fast and precise or favour to live out your WRC fantasy, trail-brake, left-foot brake, turn-in too hot, big lifts mid-corner or even use the handbrake (that instantly disconnects drive to the rear axle), the GR Corolla doesn't just cope but also encourages you to have fun and fool around, with the chassis always seemingly on your side.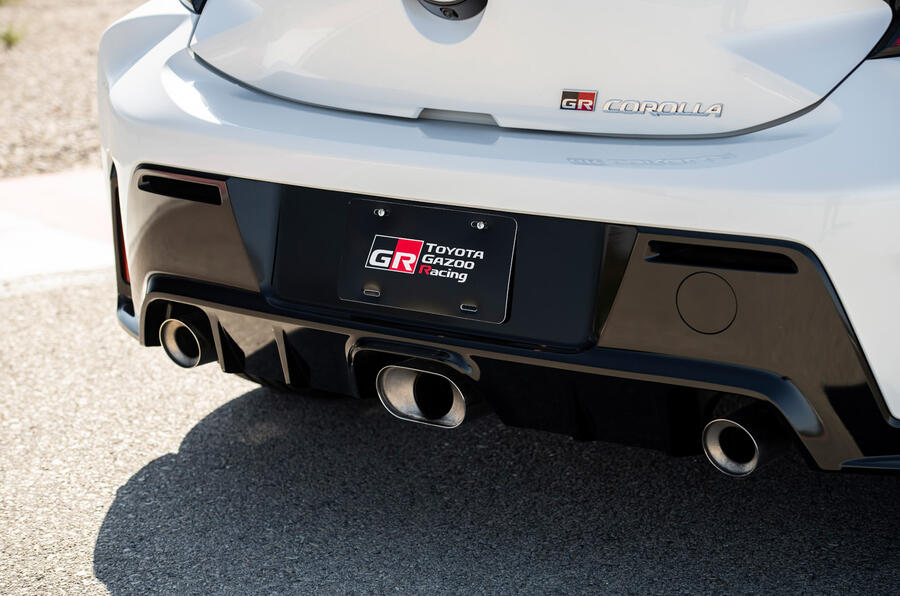 Climb into the Morizo version and you appreciate the more supportive buckets, then the increased urge lower down – although this is disguised initially, because its torque peaks 250rpm higher.
It also curbs any hint of understeer, with its 10mm-wider Michelin Cup 2 tyres. The enhanced precision is still accompanied by the standard version's playful nature; it's just that any slide now occurs at quite a few more MPH.
For most, the Circuit will provide all the thrills you could ever need while also providing just enough space for friends and family – something the cramped and compromised GR Yaris just can't.
It's a crying shame that we will never see it.
JOHN MAHONEY
https://www.autocar.co.uk/car-review/fir...022-review