05-08-2022, 03:52 AM
Toyota GR Series: bred on-track; designed to be driven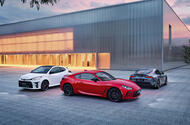 The Toyota GR Supra, Toyota GR Yaris and Toyota GR86 sit at the apex of their class
Find out how Toyota's performance arm is changing the game with the Toyota GR Supra, the Toyota GR Yaris and the upcoming Toyota GR86
In the last four years, Toyota has unveiled three new models that have set fresh benchmarks for affordable and desirable performance.
The powerful head-turning Toyota GR Supra, the advanced Toyota GR Yaris hot hatch and the incoming Toyota GR86 sportscar each sit at the apex of their class. And apex is perhaps the perfect word, as all three come from a performance division that truly epitomises a race-bred track-to-road philosophy: Toyota GAZOO Racing.
Let's delve under the skin of these game-changing GR Series performance models, in order to find out how they are powered by six decades of motorsport success.
Learn more about the Toyota GR Series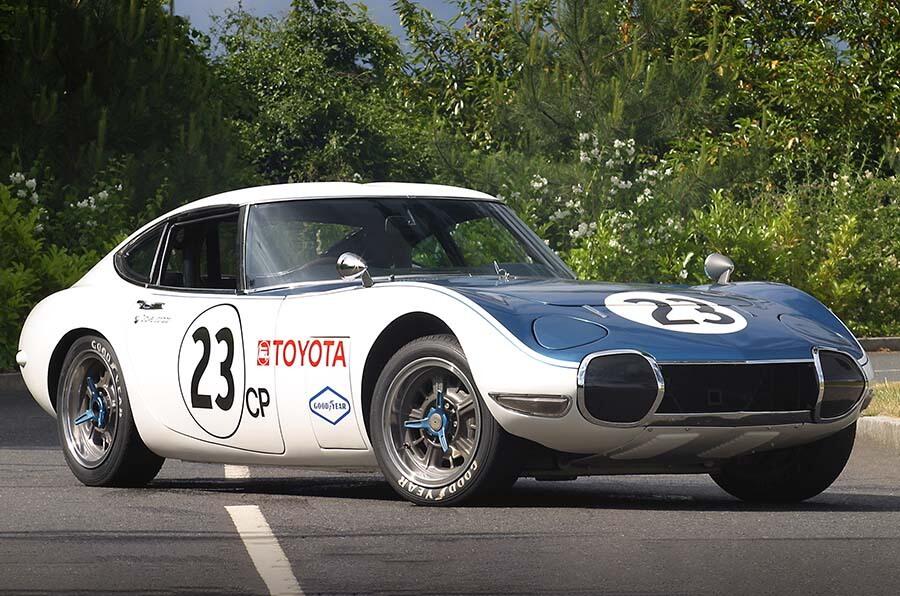 Toyota GAZOO Racing: honed on the track
Toyota GAZOO Racing was born in 2007 to build on Toyota's 60 years of motorsport engineering experience, and put it back at the heart of the performance car segment.
In the decades since Toyota first entered its iconic Toyota GT2000 in Japanese sportscar events, Toyota's race teams have built an impressive array of success in Formula 1, 24-hour sportscar racing, US oval racing and rallying. As Toyota founder Kiichiro Toyoda said: "To test the durability and performance of cars, companies ought to participate in auto races. Such races must not be regarded as a simple matter of curiosity. They are indispensable."
Today, Toyota GAZOO Racing's teams tackle a broad array of challenges – from the 220mph speeds and gruelling twice-around-the-clock endurance test of the Le Mans 24 Hours and the Nürburgring 24 Hours, through the snow, gravel, mud and asphalt-covered public roads of the World Rally Championship, to the searing heat and rough-and-tumble of desert rally raid in the Dakar Rally.
Working directly alongside the race and rally teams, Toyota GAZOO Racing's road car engineers have taken this race-honed knowledge and experience to design a new breed of 'ever better' GR Series sports cars and hot hatches that generate real passion and must-have halo desire among true performance enthusiasts.
But, why GAZOO? Well, it all stems from the early days of the internet, and a Toyota e-commerce site for used cars – named gazoo.com after the Japanese word for picture ('gazo'). Toyota's engineers used 'Gazoo' to describe all of their uniquely different performance cars, each sitting in individual 'garages'. So, when Toyota was looking to brand its new performance arm, GAZOO Racing was the obvious choice.
Toyota GR Supra: redefining 'gran turismo'
Toyota's modern GR Series line-up started in 2019, with the debut of the Toyota GR Supra. A clean-sheet fifth-generation redesign for one of Toyota's true race and road icons, it boasts a multi-layered, multi-faceted character that is the perfect match for long pan-European 'gran turismo' road trips.
In fact, Toyota has built much of its motorsport reputation competing in two of Europe's most fabled sportscar endurance races. First, the Le Mans 24 Hours. Run on the 8.8-mile Circuit de la Sarthe in central France (using public roads closed for the event), Le Mans tasks teams with racing twice round the clock through day, night and rain, clocking up speeds over 200mph on the fearsome Mulsanne Straight.
Toyota GAZOO Racing has been the dominant force at the Le Mans 24 Hours in recent years, its advanced hybrid prototypes taking four back-to-back wins from 2018 to 2022, while setting lap records that will probably stand for decades to come.
The 16-mile Nordschleife used for Germany's Nürburgring 24 Hours is perhaps even more extreme than the wide flat-out blasts of Le Mans, with over 170 tortuously challenging ultra-narrow corners and 1,000 feet of swooping elevation change making it feel more like a patchwork of the world's best B-roads than a race track.
Toyota's late great master test driver Hiromu Naruse – a founding father of GAZOO Racing – raced at the Nürburgring since the 1970s and saw it as the ultimate proving ground. "On the wonderful surfaces of Japanese circuits, it was only possible to understand one-tenth of a car," he once said. "The Nürburging let us see everything. It was impossible to deceive ourselves."
As a result, the Toyota GR Supra was developed at the Nordschleife, under road and race conditions. Like most of Toyota's Nürburgring 24 Hours assaults, the Toyota GAZOO Racing team used modified road cars – rather than bespoke racers – and pooled road car engineers from its global vehicle development teams to get real hands-on development experience in the white-hot heat of competition.
The result is truly impressive. First, that iconic two-seat, front-engine, rear-wheel-drive layout, inspired by the iconic Toyota 2000GT – delivering standout style that turns heads on the autoroute and the French Riviera in equal measure. It's practical, too, with an interior (inspired by the cocoon of race cars), that is as cossetting and digitally engaging for long trips as it is delightfully driver-focused, while still boasting room for a weekend's luggage. Perfect for long trips across Europe.
Then there's the performance. Under the Toyota GR Supra's long bonnet is a 3.0-litre straight six with a responsive twin-scroll turbo that delivers 335bhp and 500Nm of impressively punchy torque. The eight-speed automatic gearbox's short ratio lower gears get you from 0-60mph in just 4.3 seconds, while still offering wonderful refinement at autoroute speeds in the top ratios.
By positioning the engine further back in the lightweight but incredibly rigid chassis, Toyota GAZOO Racing's engineers were able to create the perfect balance of 50:50 weight distribution and a 1.55 track-width-to-wheelbase ratio, while Adaptive Variable Suspension, powerfully precise Brembo brakes, an Active Differential and Active Cornering Assist work together to deliver tight confidence-inspiring handling that truly thrills on tight, vertiginous, winding Alpine passes. Truly, the ideal all-rounder.
Toyota GR Yaris: bred in rallying's rough-and-tumble
Next up, the Toyota GR Yaris: an impressively advanced yet astonishingly affordable all-wheel-drive hot hatch that is a truly rally-bred homologation special in the classic old-school mode – as driver-friendly as it is pocket-sized and pocket-friendly.
Toyota made its rallying debut in 1972 and has built an incredible record for success in the World Rally Championship – its four drivers' titles and three manufacturers' titles in the 1990s with Carlos Sainz, Juha Kankkunen and Didier Auriol ensuring that the Toyota Celica and Toyota Corolla (with their iconic red, white and green liveries) became quickly established as true performance must-haves for automotive fans.
Since returning to the WRC in 2017, the Toyota GAZOO Racing team run by rally legend Tommi Makinen has set new benchmarks, winning two manufacturers' titles in 2018 and 2021 and a hat-trick of drivers' titles: first in 2019 with Estonian Ott Tanak, then in 2020 and 2021 with French eight-times champion Sebastien Ogier.
It was the need to homologate a car for the WRC that encouraged Toyota GAZOO Racing to develop the Toyota GR Yaris, with the Tommi Makinen Racing team closely involved in the development of the road-going model.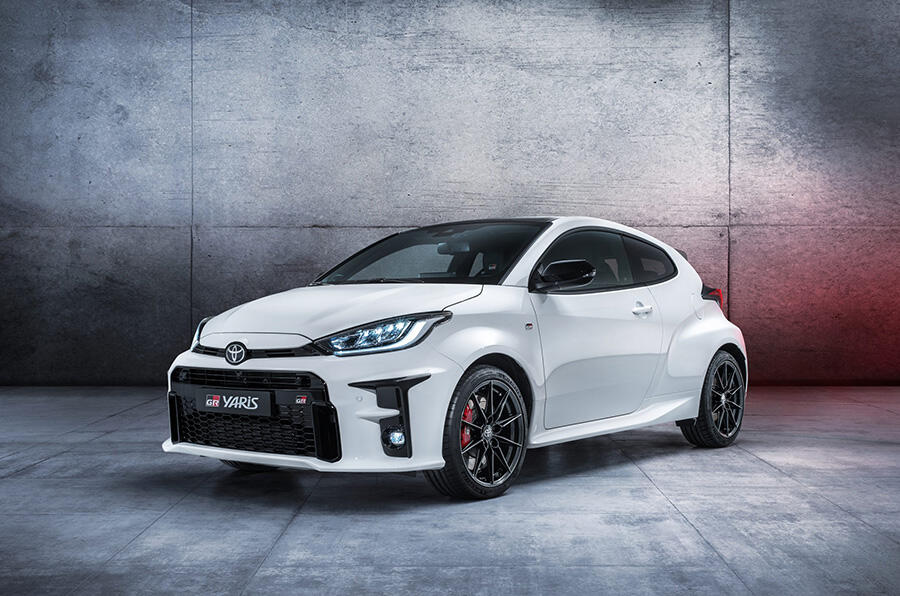 Using a bespoke chassis design that is a world away from a standard Toyota Yaris, the Toyota GR Yaris boasts a lower, sleeker, sportier roofline, a wider track, muscular wheel arches and a unique three-door configuration. It's powered by a 1.6-litre turbo three-cylinder engine that offers 257bhp and 360Nm of torque.
Thanks to the combination of a responsive six-speed manual gearbox and Toyota's new GR-FOUR all-wheel-drive, you can pick the perfect balance of power for your mood and the road you're on – whether it's 60:40 front bias for Normal driving, 30:70 rear bias for Sport mode, or the perfect 50:50 balance for Track.
A dedicated Circuit Pack adds GAZOO Racing-tuned suspension, front and rear Torsen limited-slip differentials, lightweight forged BBS alloys and Michelin Pilot 4S performance tyres, making the Toyota GR Yaris something of a giant-killing wolf in admittedly stylish sheep's clothing – easily capable of taking on (and beating) considerably more expensive sports cars.
As a result, Autocar declaring it their Best Affordable Driver's Car of 2020 – just one of a wealth of end-of-year accolades. "The Toyota GR Yaris is the first truly great car of the decade," said Autocar's road test team. "It has hidden depths of driver appeal, the likes of which haven't been seen in a hot hatchback in a generation. It's the most dynamically capable car ever offered for sale at this kind of money."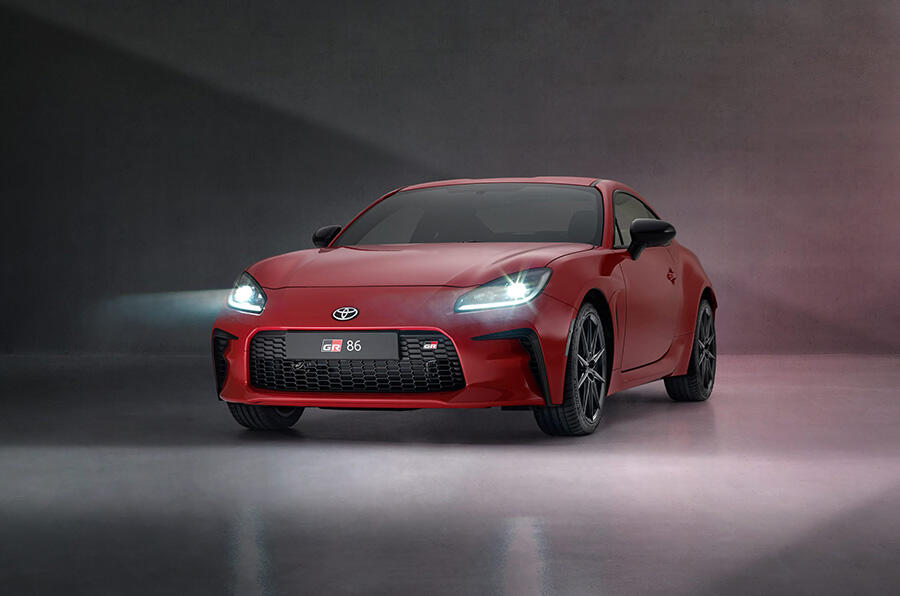 Toyota GR86: thrilling the masses
Now for the newest chapter in the Toyota GAZOO Racing trilogy: the Toyota GR86. Building on the vaunted Toyota GT86's 10-year reputation as an authentic but also highly practical and affordable rear-wheel-drive coupé sportscar, the Toyota GR86 is lighter, stiffer, more powerful and more appealing. Simply better in every way.
Intended to be an "analogue car for the digital age", the Toyota GR86 was designed and engineered by Toyota GAZOO Racing's most hardcore enthusiasts, specifically for hardcore fans who love driving, simply for driving's sake. As Toyota GR86 chief engineer Yasunori Suezawa says: "The Toyota GR86's mission is to open up the world of GAZOO Racing, enabling it to be enjoyed by more and more people."
Everything about the Toyota GR86's DNA is defined by the Japanese spirit of 'waku doki': that sense of anticipation and the rush of raw adrenaline you get before you do something exciting. It's the perfect balance of powerful responsive performance and precision handling. Not too much; not too little. Just right.
Boasting a classic low-slung front-engine rear-wheel drive layout, with an extended wheelbase, wider stance and lower coupé roofline than the old Toyota GT86, the new next-gen Toyota GR86 is one of the lightest four-seat sports cars on the market, with a near-perfect 53:47 front-to-rear weight distribution.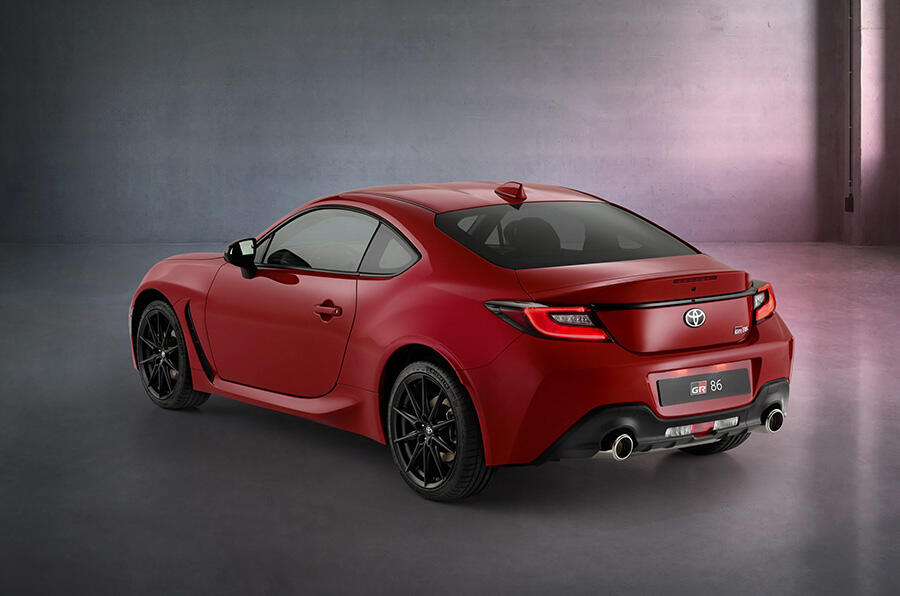 Under its stylish skin and track-honed aerodynamics (which reference classic models such as the Toyota 2000GT and the Toyota AE86 Corolla), the Toyota GR86 uses aluminium, high-strength steel and advanced materials, as well as advanced construction techniques and cross-bracing reinforcement, to create a lightweight chassis that is around 50-60% more rigid and stiffer – delivering even more responsive and stable handling through the track-honed suspension.
At the heart of the redesigned Toyota GR86 is a new larger-capacity 2.4-litre evolution of the high-revving four-cylinder horizontal-layout 'boxer' engine. Using advanced materials and engineering techniques to reduce component weight, to improve operating efficiency and enhance response, this new unit boasts 17 per cent more power and more torque than the unit in the last-generation Toyota GT86.
With 231bhp and 250Nm of torque delivered to the rear wheels through a Torsen limited-slip differential, the Toyota GR86 can accelerate from 0-62mph in as little as 6.3 seconds with the 6-speed manual gearbox – over a full second quicker than the GT86. A 6-speed automatic is also available, delivering 0-62mph in just 6.9 seconds.
The sense of acceleration is enhanced by the growl from the 5.6-litre centre-pipe exhaust with Active Sound Control, while responsive electric power steering that goes from lock-to-lock in just 2.5 turns delivers responsive feel into the turns.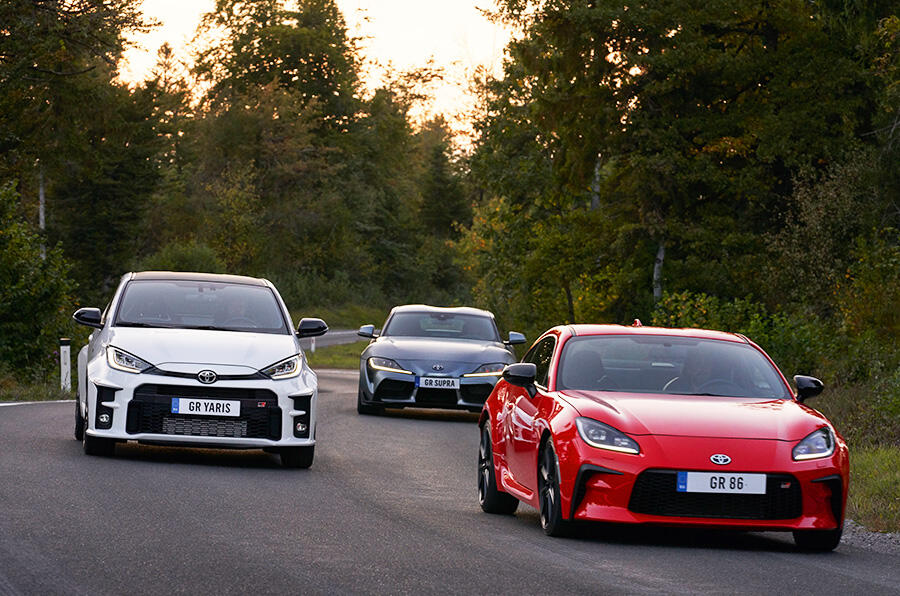 Matching the Toyota GR Supra's gran turismo cross-continent ambitions, the four-seat Toyota GR86 even boasts plenty of boot space – most notably, the ability to pack in four wheels should your interests lie more with track days than stylish jaunts to the French Riveria.
As a result, the Toyota GR86 has already been the subject of rave reviews. In Autocar's 4.5-star verdict, road test editor Matt Saunders declared it to be "the ultimate affordable sportscar".
"It sounds better, it goes harder, it feels more serious about its performance ambitions, yet it's even more hilariously well-balanced and drift-happy," editor-at-large Matt Prior continued. "Toyota would seem to have made one of the last great truly affordable sports cars even better."
Learn more about the Toyota GR Series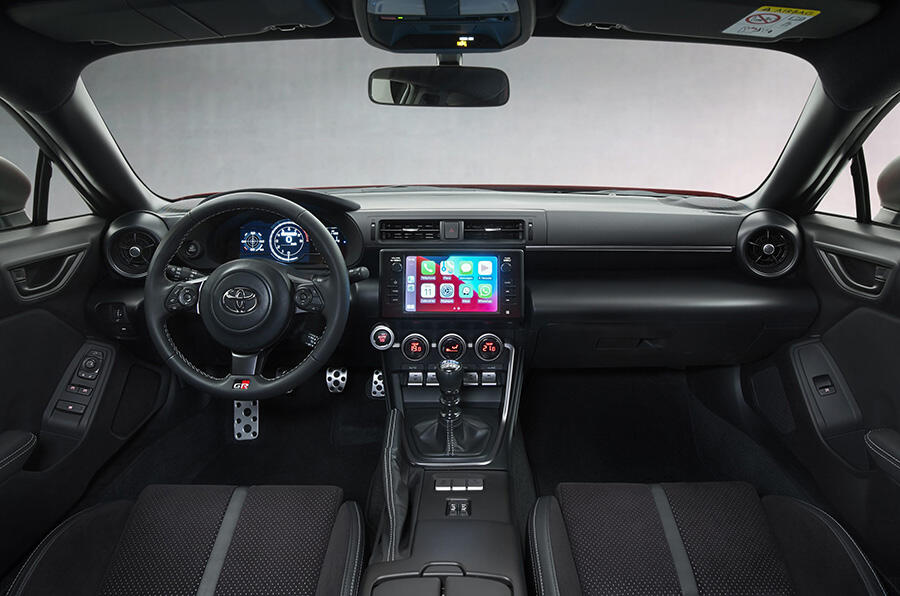 https://www.autocar.co.uk/car-news/adver...-be-driven