08-23-2023, 01:59 PM
Toyota GR Supra manual 2023 long-term test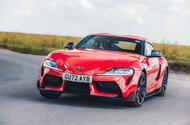 Accessible sporting performance via a manual stick? We'll take one of those, please
Why we're running it: To find out how much a good three-pedal gearbox can improve a modern sports car with a classic flavour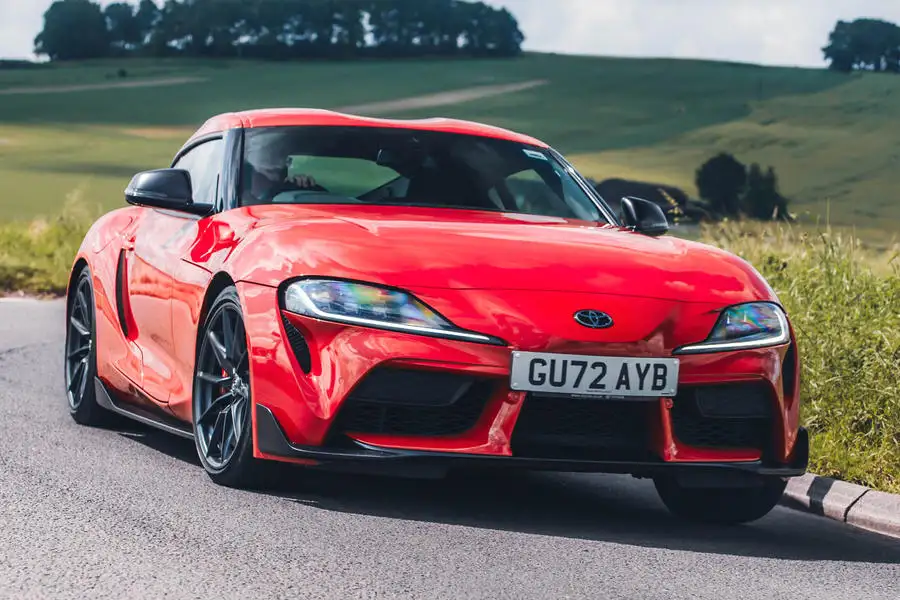 Life with a Toyota GR Supra: Month 1
Welcoming the GR Supra to the fleet - 16 August 2023
As a motoring hack, when you pick up the phone to a manufacturer's PR representative who is responding to something you have just written, you tend to wish you had been smart enough to print out that list of ready-made reasons to urgently hang up and then pin it to your office wall.
Not this time. "I've just been reading your group test on manual sports cars," said the man from Toyota. "You forgot one, of course – and we think it's rather good. So would you like to run a GR Supra 3.0 manual long-termer for a few months?
No pre-prepared script was necessary for my reply. The Toyota GR Supra is a car that has tempted me from a distance since it first appeared in 2019. When we road tested it, I liked the idea, and the '90s-Supra-tribute styling, a little more than the driving experience. The steering felt a bit woolly and over-assisted to me, and the auto 'box a little undeserving of a truly sporty application. But, as is so like Toyota, the company has chipped away at making the car better as the years have passed – and introducing a version with three pedals and a manual gearlever is just one of the routes it has taken.
So we are to spend the next three months or so exploring them, in a GR Supra 3.0 manual with about 9000 miles and nine months already on the clock. Box fresh this car is not, but this should mean that, at some stage during our custody, it will go in for its annual oil change and tell us something about how good Toyota's dealer customer service is in 2023, and how much a £55,000 sports car costs to keep in the process. So this should be an interesting few months.
The GR Supra was launched to customers in 2019 in six-cylinder 3.0-litre automatic form but gained a cheaper, four-cylinder 2.0-litre auto version in 2021 – and then branched out again in 2022 with the model we're testing. It was Toyota's intention all along to launch a manual transmission for the car, apparently, and so committed to the idea was the company that it developed a gearbox especially for the job, from components that transmission supplier ZF had on the shelf but had never combined for anything else.
The three-pedal 'box clearly took some time to perfect – hence why it had to follow the auto to market. It is only offered in tandem with the BMW-sourced, 335bhp 3.0-litre turbocharged 'B58' straight six: a unit that, since you can also find it powering cars as different as the Ineos Grenadier and Morgan Plus Six, must by now be becoming one of Munich's more popular customer engines.
Without a turbo straight six, of course, no modern Toyota Supra would feel quite right; and, much as it's clearly some way off matching the outright power and flexibility of, say, a BMW Motorsport six-pot, the B58 is one major mechanical that seems to suit the Supra well. I've only had the car for a few days as I write these words, but it certainly seems fast enough, and briskly torquey, and it revs well.
It's the Supra manual's ride and handling I'm equally keen to explore, though, with Toyota having used the three-pedal model's development for a second go at calibrating the car's adaptive dampers and power steering, and having respecified its anti-roll bar bushes.
We wrote several times in praise of the car's unexpectedly compliant touring ride four years ago, but less positively about its body control on rougher roads, or the driver's tactile connection with the front wheels. And there are plenty of country roads in the Midlands, near to me, that should reveal how much progress has been made here.
But what really interests me is the process of dialling into the dynamic character of a really analogue sports car – one of a classic, front-engined, rear-drive, three-pedal make-up the likes of which few manufacturers bother to offer any more – and spending weeks and months fiddling with drive mode settings and tyre pressures to bring out the perfect driving experience.
Aside, perhaps, from with our own cars, we road testers seldom get to do it. Test cars come and go again within just a few days, and besides, there are fewer and fewer cars with a sufficiently straightforward mechanical temperament that invite you to bother in the first place.
The GR Supra is not a complicated prospect when it comes to ordering it either, you might be pleased to read. If you are having the bigger engine, there are standard and Pro equipment specifications, as well as those manual or automatic gearboxes to choose between, but if you want the simpler, cheaper trim, you have to have the manual.
So that's what we've got. No full leather seats, premium stereo or adaptive cruise control for us, then: just a pretty simple sports car with more than enough kit, and plenty of driving to do to really get to know it. Bring it on.
Second Opinion
It's easy to forgive the BMW Z4 a degree of lethargy and softness, given its baby-GT billing, but by dint of its fixed roof and hallowed GR badge, the technically related Supra has always felt it could do with being a pinch more poised and engaging. Hopefully, Matt finds the manual gearbox brings that extra zing.
Felix Page
#Back">Back to the top
Toyota GR Supra 3.0 Manual specification
Specs: Price New £54,630 Price as tested £55,280 Options Premium solid paint, Prominence Red £650
Test Data: Engine 3.0-litre turbocharged 'B58' straight six Power 335bhp at 5000-6500rpm Torque 369lb ft at 1600-4500rpm Kerb weight 1457kg Top speed 155mph 0-62mph 4.6sec Fuel economy 32.1mpg (claimed) CO2 198g/km Faults None Expenses None
#Back">Back to the top
https://www.autocar.co.uk/car-review/toy...-term-test