10-26-2023, 03:11 AM
Toyota GR Supra manual 2023 long-term test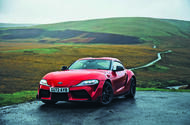 Straight six, stick shift, tidy dynamics – what's not to like? We found out over three months
Why we ran it: To find out how much a good three-pedal gearbox can improve a modern sports car with a classic flavour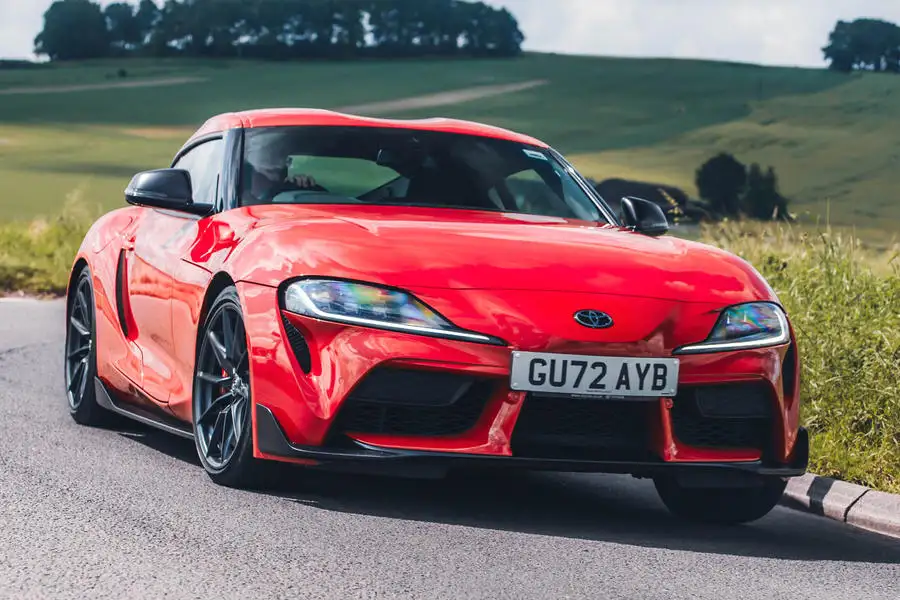 Life with a GR Supra: Month 3
Straight six, stick shift, tidy dynamics – what's not to like? We found out over three months - 18 October
Sometimes, just occasionally, you can see why manual gearboxes are an endangered species. Take my first few miles in the Toyota GR Supra, along traffic-snarled 20mph roads near Autocar's Twickenham HQ. 
Having previously gone several months driving cars that only featured two pedals, my initial running was a little on the jerky side. Having to constantly shuffle the gears was, quite honestly, a bit of a faff, and the somewhat firm mechanism made for some juddery moments before my muscle memory kicked in. Frankly, in the sort of driving most of us do every day, you can see why people increasingly pick automatics.
Don't worry: such thoughts didn't last long. Because once I'd readjusted to the art of the manual, and escaped London's urban sprawl, it took just a few hundred metres of B-road driving to remind me why such gearboxes are so beloved - and to be particularly grateful that they're clearly so beloved within the highest reaches of Toyota.
This is a manufacturer, after all, that could happily focus on its CVT-driven hybrids and single-gear EVs, yet persists in developing performance cars with gloriously charismatic stick shifts. Heck, it's currently developing a manual 'box for future performance EVs, despite almost gleefully acknowledging that it's essentially pointless.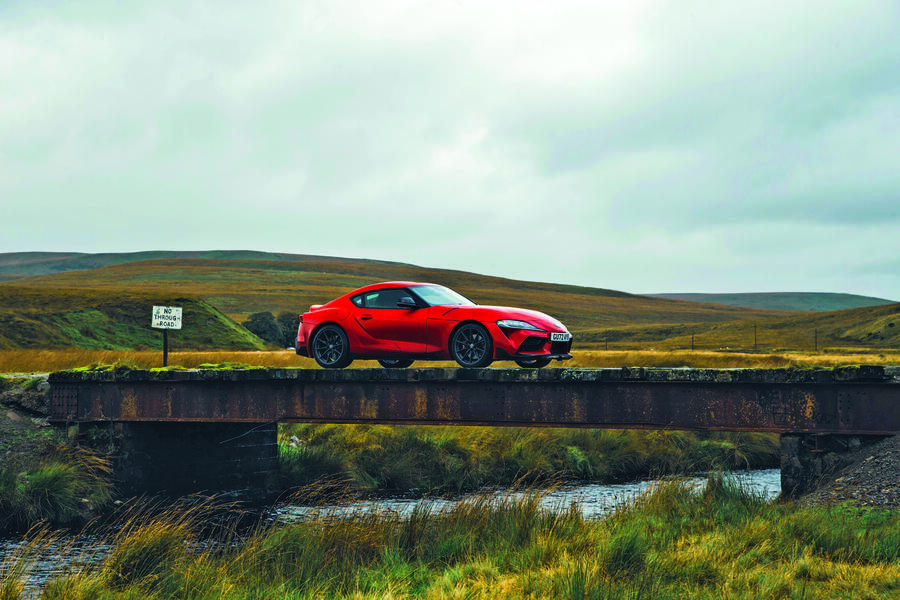 The manual that Toyota has developed for the GR Supra definitely isn't pointless: right from the moment the project was signed off, it was always a key part of the firm's plans to elevate this fifth generation of the two-seater beyond its occasionally controversial shared BMW underpinnings.
And it was prepared to wait until it had it sorted: so while it drives a BMW 335bhp 3.0 turbocharged straight six, this manual is a pure Toyota concoction, developed in conjunction with ZF.
It was worth the effort. Once you have adjusted to it, the throw is good and the clutch isn't too heavy, while the short stick is easy to find and satisfyingly analogue to hold. What's more, it gives you the freedom to extract the performance – and pleasing soundtrack – from that BMW engine. It's the freedom you just don't get with an automatic, and it makes the GR Supra satisfying and engaging to drive.
The addition of the manual 'box isn't strictly transformative to the GR Supra but, combined with the other dynamic changes (new power steering, and recalibrated adaptive dampers and anti-roll bar bushes), it certainly makes it feel more like a true Toyota than a reworked BMW Z4.
Now, some of the criticism Toyota received for the GR Supra being so clearly based on a BMW platform has also felt exaggerated to me. I mean, BMW's iDrive infotainment is a clear step ahead of the infotainment Toyota offered at the time of this car's launch, so why do some people seem bothered that it's offered (in reskinned form) in the GR Supra?
But I digress: my point is that in this latest form, the Supra feels more like the car Toyota wanted it to be: an analogue, back-to-basics two-seat grand tourer. Now, living with a GR Supra does involve some compromises: a small boot, no seats in the back for the kids, limited rear visibility and an average fuel economy dangerously close to 30mpg, to name a few.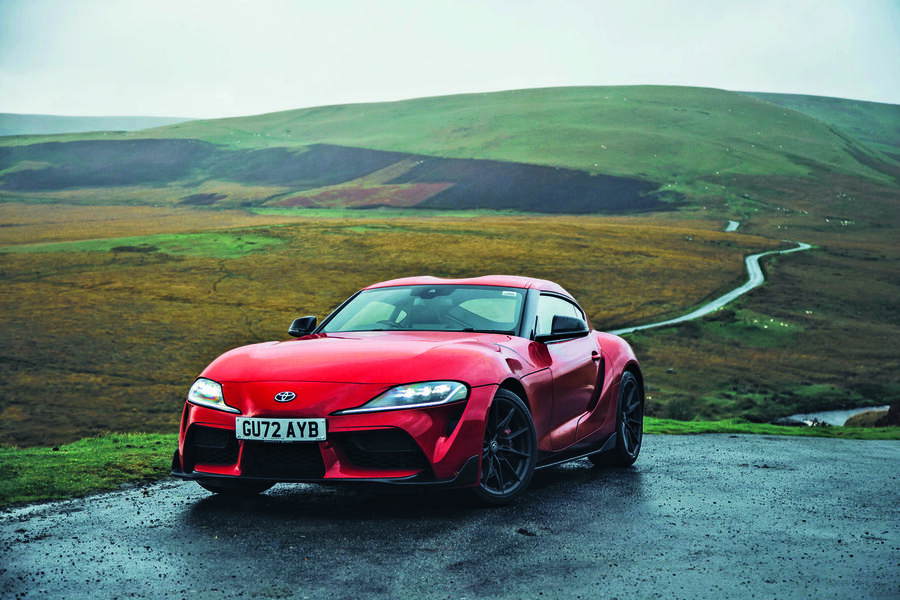 The interior is more than comfortable enough for long journeys, but getting in and out can be somewhat inelegant, especially if someone has parked a bit close to you and the wide doors become an issue.
It's a little no-frills, too, especially because we specified ours in largely basic spec - the premium red paint was our only option. But really, who needs a premium stereo when you have a straight six that you can happily rev without an automatic gearbox getting in the way? It's a trade-off we happily made.
And that's the appeal to the GR Supra: like many sports cars, it's a car that requires some compromise but for every concession you do make, there's a reward.
The compromise that comes in certain driving conditions with that manual' box is rewarded when you perfectly time that second-to-third gearshift on a B-road.
The limited boot space means less weight and size, so better handling. Heck, Matt Saunders fiddled with the tyre pressures a bit during his time with the Supra, and the compromise of slightly more road noise was repaid with cornering feel.
Crucially, though, even though the GR Supra asks you to make those compromises, unlike many two-seaters it still happily functions as a daily driver, so long as you know what you're getting into. And it sits in a junior GT' market with few direct rivals - but plenty of appeal.
This still isn't quite the Supra we really dreamed of when Toyota announced the model's relaunch, but then modern-day economics means that car simply couldn't exist.
In all common sense, given Toyota's size and scope as a mass-market mainstream brand pushing forward with electrification, this GR Supra perhaps shouldn't exist. But we're very glad it does - especially in manual form.
Second Opinion
After covering almost 900 miles in the Supra on various trips to Cornwall and Derbyshire, I was impressed by how well it blended its sports car personality with grand touring characteristics. It felt as at home on an undulating B-road as it did on the M1, and at no point did I ever feel uncomfortable or cramped. 
Sam Phillips
#Back">Back to the top
Love it:
Its simple existence We don't want to live in a world without two-seat manual sports cars, so thank to Toyota
Soundtrack sensation The turbocharged 335bhp straight-six engine has genuine character when on-song
Surprisingly spacious Okay, the boot isn't exactly huge, but for this type of car it's got far more room than you would expect. 
Loathe it:
Reverse rage We loved having a manual 'box, but selecting reverse gear proved surprisingly difficult to place.
Rear visibility Speaking of reversing, those stylish rear pillars make negotiating tight spaces troublesome. 
Final mileage: 16,168
#Back">Back to the top
Rain stop play? Not when you have this car and those roads at your disposal - 11 October
The Toyota GR Supra is something of a rare breed: rear-wheel drive and with a manual gearbox. Cars with either of the above are in short supply these days; those with both truly are an endangered species. 
And I haven't even mentioned the sports car body yet. So many cars that come through on test at Autocar tick none of those boxes, so when one does, you need to allow some time to reacquaint yourself.
What you don't want when turning up to steal the Supra away from its keeper James Attwood is heavy rain and a trip straight into town in the middle of the school rush.
Despite this, it proved to be pretty happy on the way home. The clutch isn't as heavy as you might expect, meaning I was able to deal with uphill stop-start traffic with only a little screaming from my left leg. And once out of town and on the open road, the car really started to shine, even in the soaking wet.
I soon realised that so long as you aren't a complete idiot with it, it's pretty straightforward to drive. The rain eased a little as I crossed the Cotswolds and I was able to very tentatively put my foot down – after which I found it remarkable just how planted it felt in conditions that I wouldn't want to go out for a walk in. It doesn't snap or try to scare you; it just gets on with the job at hand.
The cabin is a remarkably nice place to spend a few hours. I felt like I was in something special from the moment I lowered myself into the supportive and comfortable seat, thanks to that letterbox-style view out of the front.
Yes, you can really see the BMW influence inside (anyone familiar with a 3 Series, let alone a Z4, will feel very much at home inside), but with the German company's iDrive system being as nice to use as it is, a well-sized but not overbearing screen and great ergonomics all round, I don't think that's a bad thing.
The GR Supra cruises pretty well, too. It's quiet enough inside at motorway speeds, although with the rear tyres set to initial custodian Matt Saunders' pressures, there can be a fair bit of road roar echoing through the sizeable boot. In fairness, I gave it a try on the recommended pressures too, andit was entirely pleasant at 70mph.
Once home, I hatched a plan to take it to some of my favourite roads in Wales, requiring a 3am start and a 300-mile slog. The GR Supra was great on the motorway, smooth and not too uneconomical, and once I crossed the border on the mercifully dry A5, it really started to come alive. 
It proved an absolute missile on the fast and flowing roads that characterise this bit of Wales. I just pointed the car at the horizon, fed the throttle in and, before I knew it, I was being pelted forward at what felt like an unbelievable speed.
BMW's B58 straight six is so well suited to this car; it's almost like it was designed with this use in mind. With that sweet sound and endless torque reserves, it's an incredibly soulful engine, even at lower revs.
This goes hand in hand with the manual gearchange, obviously. It feels spring-loaded to assist with a fast shift and as a result requires a bit of a shove from gear to gear, but it's all the better for it. A clean second-to-third shift in this is simply one of the most satisfying things you can do in a road car.
The steering could do with being more direct and the ride feels a bit crashy on rougher roads, but overall it's a great package that builds your confidence quickly.
If these really are an endangered species, let's hope there's a conservation project out there committed to protect them. 
Jack Harrison
Whistle while you work
The hiss of the twin-scroll turbo when you floor it in a high gear is utterly addictive, and it produces the boost to back up the noise. 
Wide berth
The dramatic design includes some long, thick doors. Fine for access in an empty car park but less than pleasant in a cramped multi-storey. 
Mileage: 15,950
Life with a GR Supra: Month 2
It excels at weekends away but daily use is starting to highlight a few wrinkles - 27 September
Road test editor Matt Saunders happily took delivery of our long-term Toyota Supra manual, thanks to a bit of shuffling, I've equally happily taken over custody of it. Just one problem: I haven't seen all that much of it.
Having the keys to a Supra makes you very popular in the Autocar office, with plenty of requests to borrow it for long weekends or holidays. So recently the Supra has been across the Cotswolds, down to Cornwall, over to Belgium and more, but sadly all without me driving.
Still, my colleagues have all returned the keys with smiles on their faces – and tales of long, motorway-dodging detours, just because.
My outings in the Supra have been more prosaic, such as the odd commute, supermarket trips, a few airport runs and a jaunt down the M4 and M5 to visit family in Somerset. Menial stuff, but honestly enlivened by the Supra: it's got that GT-esque ability to add a dash of fun to even the dullest of journeys.
And, for a two-seat, low-slung sports car with a manual gearbox, it's actually surprisingly practical. Once you adjust to the long bonnet, it feels as small and manoeuvrable as most city cars and certainly fits in tight parking spaces better than any SUV you care to mention.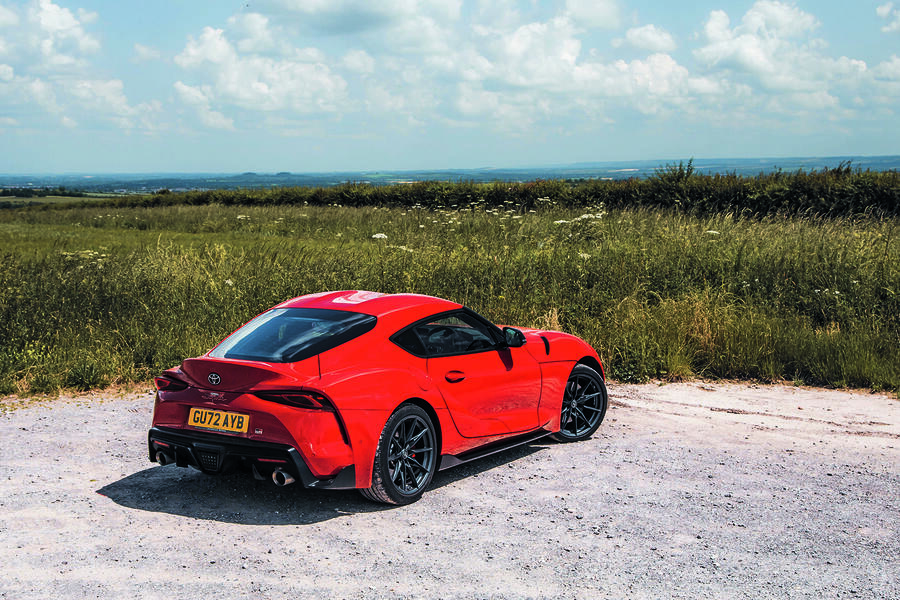 And while the boot isn't the biggest, with practice – and taking advantage of every last bit of the barrier between it and the seats – you can cram in a surprising amount of stuff. As is often the case, a spot of planning helps, particularly using multiple small soft bags instead of big suitcases or similar.
The car cruises happily on the motorway as well. You know you'd have more fun on a B-road, obviously, but if you just need to get some miles done on the M4, the Supra will happily play along with the cruise control engaged. The ride is good and that low-slung seating position is pretty comfortable for extended periods.
All that said, there are a few annoyances that emerge when using the Supra as a daily driver. Because of the chunky C-pillars, over-the-shoulder visibility is annoyingly limited.
It's not really an issue when threading the car down a country lane as nature intended the Supra to do, but at some point you're going to need to reverse out of a parking space from between two oversized SUVs in a Sainsbury's car park and you'll be stymied because of how hard it is to see out the side. Best to reverse into spaces, when you can: thankfully the reversing camera is pretty decent.
Another grievance: while I like the somewhat minimalist design of the digital dash, it's perhaps too minimalist at times. Trying to find a fuel economy or estimated range readout requires jabbing a button on the end of the windscreen wiper stalk several times to scroll through various screens.
The information is there, but it's a bit bare bones and not tremendously customisable. Then again, it's the sort of info you want while sitting at 70mph on the M4 but it would be less important if you were enjoying yourself in the Supra's natural environment.
And perhaps my weirdest annoyance of all is found on the seats. They're really comfy in that sports seat sort of way, holding you in firmly while still feeling comfortable and cosseting. But there's a bit of silver-coloured plastic that covers the holes just below the head rest, which is annoying because it occasionally seems to jam into my neck when I nestle back into the seat or tilt my head slightly.
Maybe it's just my oddly shaped head. None of my colleagues have reported similar issues when they've returned the keys to me, with smiles on their faces. Or perhaps the few minor gripes about the Supra don't really jar when you lift it out of daily drudgery and actually go interesting places in it. 
Love it
Music to your ears
The Supra's straight-six engine is a great soundtrack no matter where you drive it. 
Loathe it
Rear pillars
Big blindspots when reversing are a frustrating problem. 
Mileage: 12,314
#Back">Back to the top
Lack of a rear windscreen wiper is an issue - 6 September
There are doubtless sound aerodynamic performance reasons for the Supra not sporting a rear windscreen wiper, but from a utility perspective it's an irritating omission. Backwards visibility is limited anyway, and in heavy rain the flow of water down the heavily raked window renders the rear-view mirror essentially moot
Mileage: 11,095
#Back">Back to the top
Life with a Toyota GR Supra: Month 1
A louder ride is a fine trade-off for improved cornering - 23 August
I'm just under 1000 miles into life with the Supra, and already I'm messing with tyre pressures. The Michelin Pilot Super Sports are uncompromisingly grippy, but I'd like a little more accessible handling adjustability. At cold, I'm going with 2.5bar at the rear and 2.1bar at the front. Motorways might be noisier, but it should be worth the trade.
Mileage: 9984
#Back">Back to the top
Welcoming the GR Supra to the fleet - 16 August 2023
As a motoring hack, when you pick up the phone to a manufacturer's PR representative who is responding to something you have just written, you tend to wish you had been smart enough to print out that list of ready-made reasons to urgently hang up and then pin it to your office wall.
Not this time. "I've just been reading your group test on manual sports cars," said the man from Toyota. "You forgot one, of course – and we think it's rather good. So would you like to run a GR Supra 3.0 manual long-termer for a few months?
No pre-prepared script was necessary for my reply. The Toyota GR Supra is a car that has tempted me from a distance since it first appeared in 2019. When we road tested it, I liked the idea, and the '90s-Supra-tribute styling, a little more than the driving experience. The steering felt a bit woolly and over-assisted to me, and the auto 'box a little undeserving of a truly sporty application. But, as is so like Toyota, the company has chipped away at making the car better as the years have passed – and introducing a version with three pedals and a manual gearlever is just one of the routes it has taken.
So we are to spend the next three months or so exploring them, in a GR Supra 3.0 manual with about 9000 miles and nine months already on the clock. Box fresh this car is not, but this should mean that, at some stage during our custody, it will go in for its annual oil change and tell us something about how good Toyota's dealer customer service is in 2023, and how much a £55,000 sports car costs to keep in the process. So this should be an interesting few months.
The GR Supra was launched to customers in 2019 in six-cylinder 3.0-litre automatic form but gained a cheaper, four-cylinder 2.0-litre auto version in 2021 – and then branched out again in 2022 with the model we're testing. It was Toyota's intention all along to launch a manual transmission for the car, apparently, and so committed to the idea was the company that it developed a gearbox especially for the job, from components that transmission supplier ZF had on the shelf but had never combined for anything else.
The three-pedal 'box clearly took some time to perfect – hence why it had to follow the auto to market. It is only offered in tandem with the BMW-sourced, 335bhp 3.0-litre turbocharged 'B58' straight six: a unit that, since you can also find it powering cars as different as the Ineos Grenadier and Morgan Plus Six, must by now be becoming one of Munich's more popular customer engines.
Without a turbo straight six, of course, no modern Toyota Supra would feel quite right; and, much as it's clearly some way off matching the outright power and flexibility of, say, a BMW Motorsport six-pot, the B58 is one major mechanical that seems to suit the Supra well. I've only had the car for a few days as I write these words, but it certainly seems fast enough, and briskly torquey, and it revs well.
It's the Supra manual's ride and handling I'm equally keen to explore, though, with Toyota having used the three-pedal model's development for a second go at calibrating the car's adaptive dampers and power steering, and having respecified its anti-roll bar bushes.
We wrote several times in praise of the car's unexpectedly compliant touring ride four years ago, but less positively about its body control on rougher roads, or the driver's tactile connection with the front wheels. And there are plenty of country roads in the Midlands, near to me, that should reveal how much progress has been made here.
But what really interests me is the process of dialling into the dynamic character of a really analogue sports car – one of a classic, front-engined, rear-drive, three-pedal make-up the likes of which few manufacturers bother to offer any more – and spending weeks and months fiddling with drive mode settings and tyre pressures to bring out the perfect driving experience.
Aside, perhaps, from with our own cars, we road testers seldom get to do it. Test cars come and go again within just a few days, and besides, there are fewer and fewer cars with a sufficiently straightforward mechanical temperament that invite you to bother in the first place.
The GR Supra is not a complicated prospect when it comes to ordering it either, you might be pleased to read. If you are having the bigger engine, there are standard and Pro equipment specifications, as well as those manual or automatic gearboxes to choose between, but if you want the simpler, cheaper trim, you have to have the manual.
So that's what we've got. No full leather seats, premium stereo or adaptive cruise control for us, then: just a pretty simple sports car with more than enough kit, and plenty of driving to do to really get to know it. Bring it on.
Second Opinion
It's easy to forgive the BMW Z4 a degree of lethargy and softness, given its baby-GT billing, but by dint of its fixed roof and hallowed GR badge, the technically related Supra has always felt it could do with being a pinch more poised and engaging. Hopefully, Matt finds the manual gearbox brings that extra zing.
Felix Page
#Back">Back to the top
Toyota GR Supra 3.0 Manual specification
Specs: Price New £54,630 Price as tested £55,280 Options Premium solid paint, Prominence Red £650
Test Data: Engine 3.0-litre turbocharged 'B58' straight six Power 335bhp at 5000-6500rpm Torque 369lb ft at 1600-4500rpm Kerb weight 1457kg Top speed 155mph 0-62mph 4.6sec Fuel economy 32.1mpg (claimed) CO2 198g/km Faults None Expenses None
#Back">Back to the top
https://www.autocar.co.uk/car-review/toy...-term-test