12-07-2021, 12:28 PM
Toyota GR86 on sale for just two years due to new regulations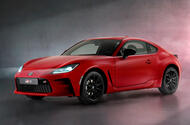 There's only a short window to order the long-awaited sports coupé; any replacement will likely be electrified
The Toyota GR86 will be on sale in Europe for just two years in Europe and is unlikely to be replaced after that. 
Speaking at Toyota's annual Kenshiki forum, European CEO Matt Harrison said: "We're already receiving a growing number of enquiries from potential customers – including those who believe the GR86 could be the last of its kind. And at least for Europe, they might be right."
Interested customers should act "relatively quickly" to place their orders, he said, as sales in the region will end in just two years time, because the GR86 won't be compliant with incoming European safety regulations without significant re-engineering.
Order books for the GR86 – which recently lost the space in its name for marketing reasons – will open in the Spring, ahead of deliveries beginning in the first half of 2022.
Toyota's senior European vice-president, Tom Fux, told Autocar: "We felt that the vehicle is so good and so needed for Toyota's image in Europe, and we have a small but very passionate group of customers out there who are searching for vehicles like the GR86.
"In the end, we decided it's important to offer this vehicle, and then we will need to stop the vehicle, because it will not meet the new requirements in the future.
"But these two years will still provide an opportunity for passionate customers to get the vehicle." 
The news comes just two weeks after UK media drove the GT86 successor for the first time in Spain, and Harrison said that company president Akio Toyoda – a renowned sports car fan – would be "delighted" to see the widely positive feedback. 
The suggestion that the GR86 will be the "last of its kind" hints that Toyota isn't planning to introduce another non-electrified, affordable sports car in this vein. Fux said this is meant in the sense that the GR86 is "a pure sports car which is really focused on performance and fun on the road".
However, he admitted that "the future vehicles will look different; they will be electrified. The concept of the development will be different, so it's representative of an era of automobile development which is coming to an end".
The GR86's short sales window in Europe is in direct contrast to its similarly conceived predecessor, which was offered here for a total of nine years. 
That isn't to say the GR86 won't be indirectly replaced, especially as Toyota has invested heavily in the expansion of its dedicated Gazoo Racing performance division in recent years.
Fux confirmed to Autocar: "When vehicles go to zero carbon emission, we don't intend to stop Gazoo Racing. We intend to continue the brand.
"A clear example is our two pinnacle sports cars today: the hypercar in WEC and our WRC car. Both will be hybrid cars for next season and both will be run on green fuel. So we're working on the technologies, plus we have now put the hydrogen combustion engine in the GR Yaris, so we're looking at how to keep the brand and the excitement of motorsport in the zero-emissions era."
https://www.autocar.co.uk/car-news/new-c...egulations