08-31-2023, 04:13 PM
Toyota Land Cruiser 2023 long-term test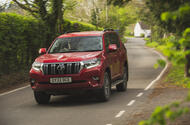 Are the old ways still the best? Our final verdict on living with this trad 4x4 tells all
Why we ran it: To see what lessons could be learned from running a Toyota Land Cruiser, the most old-school of current offerings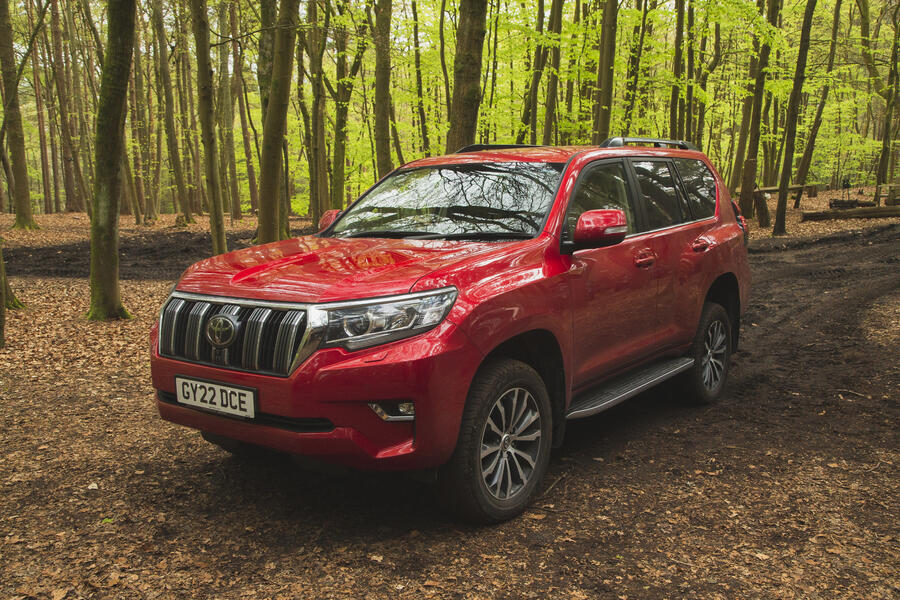 Life with a Toyota Land Cruiser: Month 3
Are the old ways still the best? Our final verdict on living with this trad 4x4 tells all - 2 August 2023
Usually I've formulated a strong view on a car – its strengths, weaknesses and rightful position in the world – after a few months with it, but now my Toyota Land Cruiser has gone, I'm not sure how I feel, or should feel. I liked it in some ways, I disliked it in others, and the novelty value I enjoyed at first didn't last.
Being a city dweller with a long motorway commute, I was hardly enthused by the prospect of having a diesel-guzzling, permanently all-paw, giant SUV – and indeed one of a design that had barely changed in the preceding two decades.
The premise of this test, though, wasn't to prove an obvious point – a square peg doesn't fit in a round hole – but to discover if progress in some areas had not been progress at all, if any lessons could be relearned from the oldest of the old-school.
Let me get one thing out of the way right away: in terms of driving, we all have certainly gained rather than lost, at least in the SUV class. You may be cynical about modern SUVs – and that can be justified in many ways – but the Land Cruiser isn't agreeable to drive on the road.
The combination of antiquated body-on-frame construction, a tall body, permanent four-wheel drive, lazy steering and Toyota's 2.8-litre four-pot diesel always felt poor in isolation; let alone when I compared it with the straight-six Land Rover Defender, a car of similar intentions but introduced a decade more recently.
The floaty yet jittery ride, the vague dynamics, the grumbling of the motor, the economy that was so stubbornly poor (on diesel!) as to make a pint at the pub an enviable luxury for me… All of it would be better consigned to history. Sorry.
There was a payoff, however, which was unshakeable off-road ability. I had never driven in the rough before, so I booked onto a course with Surrey 4x4 Tours and Training. My instructors – original Defender men both – were highly impressed by the Land Cruiser's abilities, in the main thanks to its very clever assistance systems.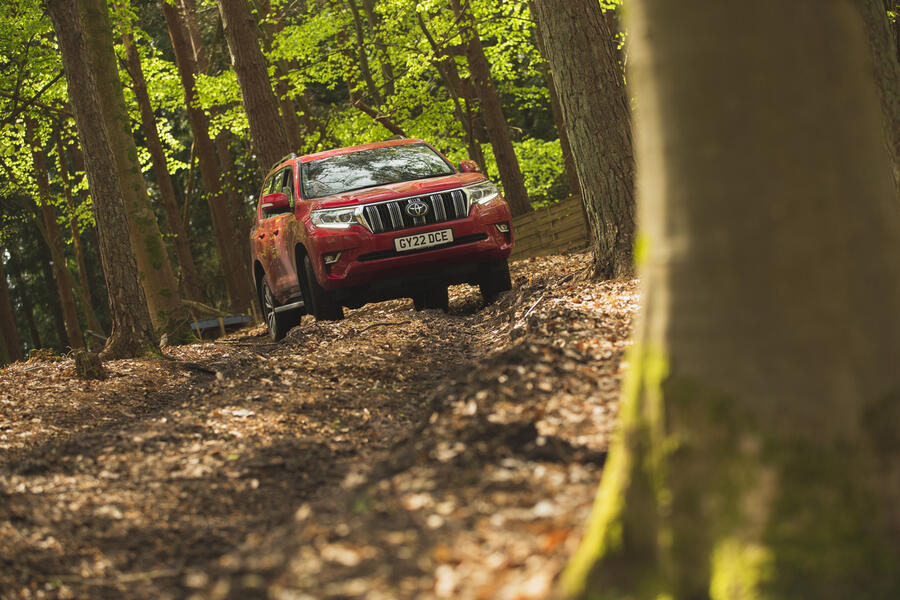 It effectively had off-road cruise control, meaning all I had to do was turn the 4x4 dial round to 4L and point it in the right direction; the computer and ABS system did the rest. Down cambered, muddy, steep hills it went, through tight gaps between trees it controlledly slid, and back up again it climbed – even getting going again from rest when I made the rookie error of using too little throttle – and all on all-terrain tyres, not knobbly rubber. If you're a farmer, say, work with horses or live in the Highlands, you would feel invincible (ahem) all year round.
Also seemingly invincible was the interior of my top-spec model, all chunky mouldings of hard plastic and wood and manual buttons for everything. There are definitely some lessons to be relearned there.
It was nice to have leather, too, although I wouldn't back the Ivory colour for it and the carpets – an option for Dubai, not Devon. I also wouldn't criticise the comfort of the big, cushioned seats like I would that of the ride. Also, unusually, there was a fridge in the centre console – nice for my water.
The touchscreen was a big point of differentiation from the likes of the Defender, too. A compromise between the two for future cars would be ace: combining the Land Cruiser's restrained size and unencumbered host of features with the moderns' nicer graphics and faster processing speeds.
To paraphrase Alfa Romeo's CEO, I don't need a weather forecast or Netflix, but HD video views when I'm off-roading and wireless Apple CarPlay functionality would make life in the Toyota easier and more befitting of the high (£65k) price.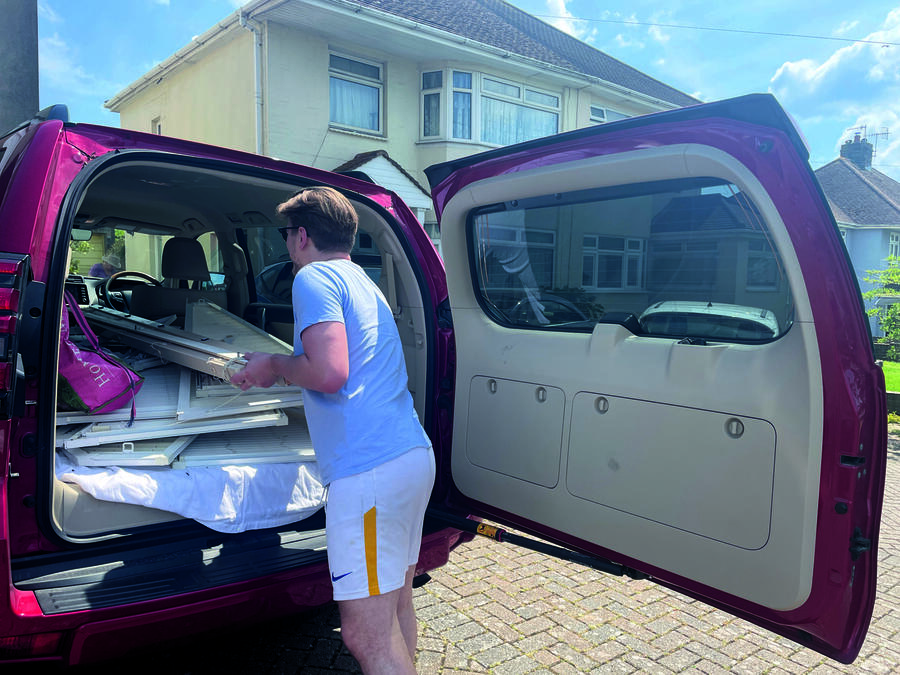 I also must cover practicality, because the Land Cruiser would be hard to beat in this regard. It had space for seven adults, not just five, or alternatively an enormous boot. My mountain bike actually fit in with both wheels attached. And if you were to use your car for work, you would surely appreciate the handy compartments and sockets just inside the side-hinged tailgate.
My only criticism here concerns the car's height, as shorter and less mobile passengers found it difficult to actually get into their seats, even with the assistance of the side steps – and our poor little dog didn't even bother attempting the 90cm jump.
When I originally wrote this end report, I concluded by saying that while the Land Cruiser was clearly a car still very much suited to its primary purpose but shown up badly by the Defender, a car that did ditto while being much better in pretty much every other regard; but that this conversely showed there was a clear path forward for the Land Cruiser, which I hoped Toyota would see and decide to follow.
And then, just before this issue went to press, Toyota sent over the pictures and facts that you saw on p10, which were almost precisely what I had written hoping for. Love to see it.
Second Opinion
Borrowing the Land Cruiser gave me useful context for the Ford Ranger road test. I enjoyed the Toyota's old-school charm and the engine is surprisingly smooth. But the Ranger showed it is possible to make a car with a ladder chassis and live rear axle ride and handle better than the Cruiser. IV
Illya Verpraet
#Back">Back to the top
Love it:
New experience My anxiety about off-roading for the first time was quickly assuaged by the Land Cruiser's capabilities.
No worries Proven mechanicals and Toyota design and build quality combined for flawless reliability, as ever.
Great service Marshalls of Crawley exceeded my high expectations when I took the Cruiser for its 10,000-mile service.
Loathe it:
Throwback everyday The driving experience always left much to be desired in terms of dynamics, comfort and efficiency...
Its 28mpg average abused my bank balance, made worse by those unscrupulously inflated diesel prices.
Final mileage: 10,558
#Back">Back to the top
Veteran gets embarrassingly outclassed by a youngster - 10 July
I bet the post seemed great before email was invented. A local library must have seemed the font of all knowledge before the internet arrived. And landlines probably seemed useful before you could take your phone around with you. Just like my Toyota Land Cruiser seemed an understandable purchase before I tried a modern Land Rover Defender.
When we had a Defender 110 D300 in recently, I made sure to have a go in it, because the big Brit is probably the closest rival to my Toyota, being a 5m-long, five-door 4x4 with a plush interior, a torquey, large-capacity diesel motor, market-leading off-road capability and a pretty eye-watering price: £67,255 for the entry-level-but-wanting-for-nothing SE plays £64,150 for the better-of-two Invincible.
Traversing any kind of terrain that one might face not even on a farm but on a cross-desert or jungle adventure is, of course, key to both of these vehicles. I know that the Land Cruiser is pretty much unstoppable, having learned to go off-road in it a few months back on a very challenging forested-hillside course, and I've witnessed Land Rovers doing some crazy things in person and on film. As such, I'm going to chalk them down as practically equal in this regard.
Where they are most certainly not equal is on asphalt. The Land Cruiser feels very old-school indeed, as if road behaviour wasn't really a priority in its development. The Defender, on the other hand, feels almost unnecessarily good, and not just by way of comparison.
How can a proper off-roader ride so smoothly and comfortably? How can the steering wheel feel so connected? How can the handling be so sharp? How can refinement be so impressive? Well, having a monocoque rather than a separate frame is a great start, but there's clearly much more to it than that.
Their engines, too, are a world apart. In comparison to the smooth, refined and quiet 3.0-litre straight six in the Defender, the 2.8-litre four-pot in the Land Cruiser feels like it's from a Massey Ferguson.
Furthermore, despite the fact that the JLR unit makes 296bhp and gives a 0-62mph time of 7.0sec while the Toyota one scores 201bhp and 12.7sec, you actually get 4mpg more from the Defender, officially speaking and from my experience.
Both have permanent four-wheel drive and the Defender is actually 226kg heavier, and certainly aerodynamics aren't helping here, so this must be totally down to the engine and gearbox.
Inside, too, this head-to-head is a massacre. A much prettier design, much nicer materials in all areas and far more modern driver assistance and infotainment tech are to be found in the Defender.
Really, the only reason I can see for buying the Land Cruiser instead – and certainly this will be a massive factor for the kind of people who buy 4x4s, especially in less hospitable parts of the world – is reliability. Toyota has the finest reputation of anyone in this regard, whereas JLR, well, doesn't.
Just a decade passed between the first flight of World War II's propeller-driven Avro Lancaster bomber and that of the jet-powered, nuclear-armed, delta-winged Avro Vulcan. That's almost the same time as between the launches of the 'J150' Land Cruiser and 'L663' Defender, and it's not a huge stretch to draw that parallel.
Love it 
This is the first car boot that has ever swallowed my mountain bike with both of its 29in wheels in place
Loathe it 
Being broke 
I'm really not enjoying the expense of 29mpg on diesel, even with prices having dropped lately.
Mileage: 10,502
#Back">Back to the top
Tech is dated, but entirely useable - 7 July
Infotainment is unlikely to be a priority for Land Cruiser buyers, but it's still important. The 8.0in touchscreen looks dated, but there are no glaring omissions. The sat-nav is fine (but lacks live traffic data), likewise the Bluetooth for audio from an iPhone. There's CarPlay if I wire it in and the 14 speakers sound great. It has only glitched when I asked it to skip a mad number of songs.
Mileage: 10,539
#Back">Back to the top
Life with a Toyota Land Cruiser: Month 2
Perfect reliability: tick. Elite service: tick - 28 June
Some press offices like to do their own servicing, and I hardly drove at all during the Covid era, so I recently needed to visit a dealership for the first time in several years, as my Toyota Land Cruiser hit 10,000 miles. (Yeah, charmed life etc.)
I phoned up and booked in easily at a nearby Toyota dealer – which, with 180 outlets nationwide, shouldn't be hard for anyone. I went for Marshall of Crawley, but there are five within an hour's drive of my Brighton home.
I had a week until the visit – and therein lay a problem. Diesel test cars are so rare these days that I had never actually had one long enough to need to plan for AdBlue. So when the Land Cruiser told me it would need some soon, I didn't worry – but when it said "no start in 100 miles", it clearly meant it. It wouldn't be lenient and give me an extra few miles without its pollutant-reducing additive – and I needed those extra few miles to get home and then up to the dealer. Ah.
The manual stated that refilling it should be done only by a Toyota technician, unless in an emergency. Judging that the result of my naivety qualified as such, I bought some AdBlue at a Shell, popped open the bonnet (there's no nozzle by the fuel filler for forecourt pumps, like in a newer car), locked the bottle on and waited. Done – nice. But what was this? I had to fill it, not just put in a bit? Back inside to buy a big tank. Naturally, I managed to make a hash of it, but those who can work out how to change a light bulb should be fine. And even when I did slop a bit, there was a rubber spill tray, and happily AdBlue no longer smells like the gents at a train station.
With that sorted, I could, thank God, leave the rest to the Marshall staff. What a fine experience this was – and, I stress, without them knowing the nature of my job. I was greeted instantly and warmly by a smartly dressed lady at the door, who took my car's keys and offered me use of a laptop station – or even, when I said that I had a meeting, one of their staff offices – and a coffee. The servicing team even let me in the back to take the photo you can see below.
It's a brave brand that puts the name 'Invincible' on a car, but if you know why Toyota does this (Google 'Hilux Top Gear' if not), it seems entirely vindicated. Just as I expected, there was not a single thing wrong with the Land Cruiser after 10,000 miles. And it feels like there might not be for another 100,000 or more.
Love it 
Don't worry
Total trust in reliability is priceless. Just ask any Australian, African or South American Toyota driver.
Loathe it
Dirty business
Cream seats I can appreciate, but cream carpet? And in an off-road workhorse? It's asking for trouble.
Mileage: 10,100 
#Back">Back to the top
It's not the most subtle SUV around... - 14 June
While my big 4x4 has plenty of space for rear-passenger luxuriation and even adult-acceptable third-row accommodation, actually accessing those cushy cream chairs can be a challenge. I almost felt guilty when giving my grandma and her friend a lift, both being less than 5ft 5in tall and in their eighties. Her little hound just looked up blankly at the 90cm ascent and then back at me as if to say: 'You gotta be joking, right?
Mileage: 9834
#Back">Back to the top
Life with a Toyota Land Cruiser: Month 1
We have a 4x4 stalwart in the hands of an off-road novice. Let's redress the balance - 31 May
Yeah, I can tell you're a city boy. Dr Martens are crap. No grip."
I thought I had come well prepared to learn how to drive my Toyota Land Cruiser off-road in my shin-high bovver-boy boots, but evidently not. At least I've pleased my Surrey 4x4 Tours & Training instructors, Gareth Jex and Tim Harrower, by remembering to bring a coat, a cap, gloves and, most importantly, some lunch.
Both are hardcore enthusiasts, as evidenced by their fully tricked-out and liveried-up old Land Rover Defenders sat outside the learning emporium – absolutely not a shed, you understand – in their plot of hilly, muddy forest near Farnham.
I'm here to do their enthusiast course, which they offer alongside Lantra-approved professional driver courses, with their roster of clients including HS2, National Grid, South Downs National Park and Surrey County Council.
They actually welcome the news that I have no real off-road experience to speak of, as many people show up with bad and even dangerous habits ingrained – some veteran farmers, for instance.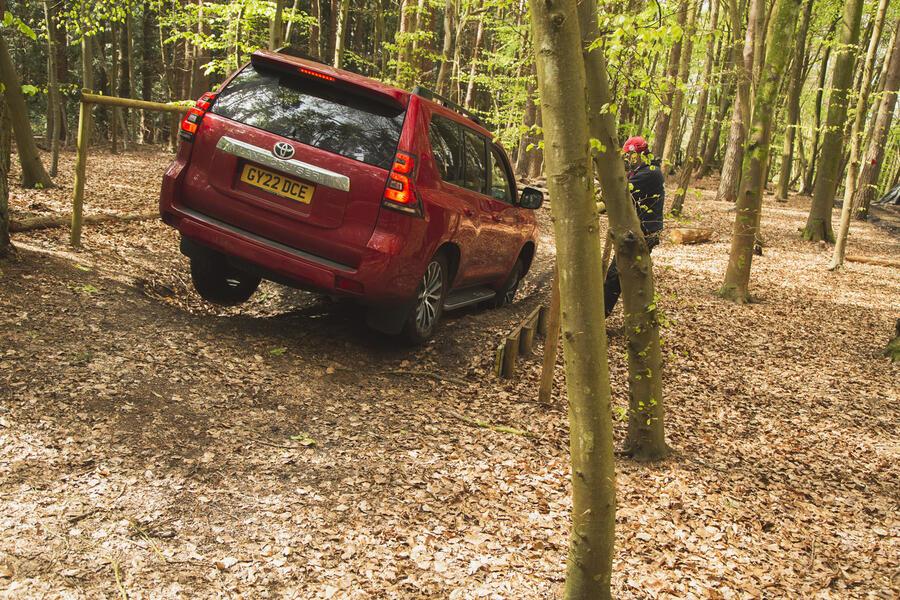 Following a run-through of vital health and safety considerations (some obvious, others not so), I'm told to think about flowers. Not the daffodils beneath the tall trees here but the fuel, liquids, oil, water, electrics, rubber and screens of my vehicle – essentially a 10-minute pre-departure check that reduces the chance of me later finding myself in a sticky spot, whether one that needs another 4x4's winch to resolve or a silver tongue, officer.
Equally vital is understanding the systems that make the difference between my Land Cruiser being down here and photographer Luc Lacey's Ford Focus Estate being left up by the gate.
Important to note is that the Land Cruiser is truly a 4x4 – a rarity these days, when most are only part-time 4WD cars. At the front is an open differential, which allows the front wheels to spin at different rates, thus ensuring optimum manoeuvrability. In the centre is a Torsen diff, which can send up to 70% of torque to the front or rear but also can be manually locked to give even distribution – helpful if you have wheels spinning in some sludge, for instance. And at the rear is another Torsen diff, although this one can't be manually locked.
Certainly, I'm looking much better set than the people who come here in pick-up trucks.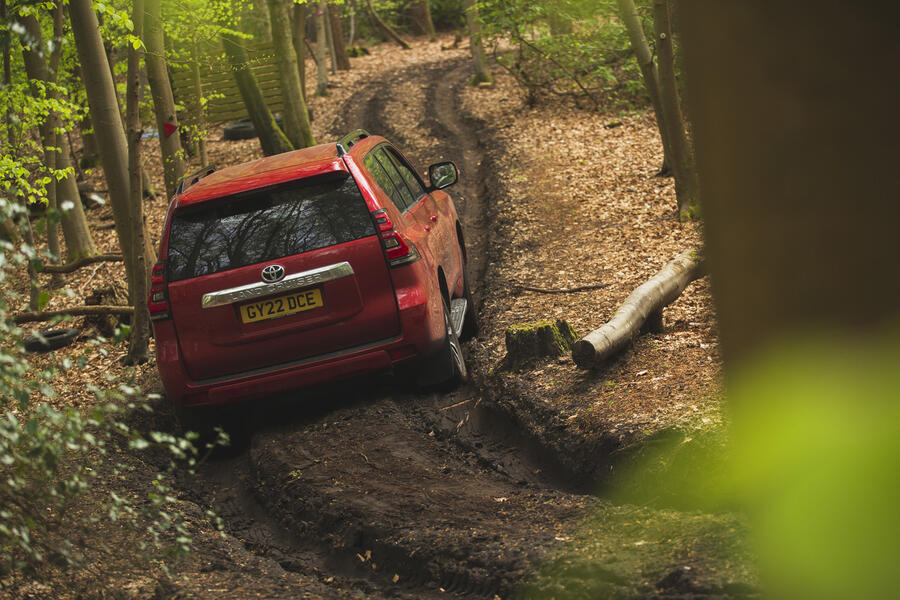 I had assumed we would want to turn off the traction control, but Gareth explains that I've made the common mistake of confusing this with stability control. That does need to be turned off, but TC will actually be crucial, as it affords us use of the Downhill Assist, Multi- Terrain Select and Crawl Control systems – all "bloody marvellous", as Tim will later exclaim.
Perhaps the only thing this Land Cruiser is missing, then, is proper knobbly off-roading tyres, as seen on the guys' Defenders, but still these 23in (mild) all-terrains from Dunlop should serve us just fine.
Off-roading has always conjured in my mind images of high-revving mud spraying, but these soon vanish as I'm taught the mantra: "As fast as necessary, as slow as possible."
In fact, I'm told not even to touch the pedals. Rather, I should lock the six-speed automatic transmission into first gear and let the car creep, focusing myself on the steering. I really don't want to be ripping off the sidesteps on a tree or scraping the underside on a rock.
In fact, it's so important to know the surface that we must first go on a recce. Gareth and I head down, considering the deep ruts (which on the level I should use like train tracks), searching for potential obstacles and ascertaining where the track actually goes (it won't be good if we suddenly find a flood, a sudden turn or a cliff edge). "Stop, calm, assess, risk, plan, action."
At last I can now climb behind the wheel, with former Land Rover engineer Tim in the passenger seat calmly guiding me amid exuberant outbursts of praise for the Toyota's talents – and Gareth on foot, making double sure I won't have to send £5000 to the insurer later.
To get going, I put the gearbox into neutral, press the four low (4L) button for low range, press the button to lock the centre diff and, via the MTS dial, choose Rock and Dirt mode. I press another button and camera feeds appear on the touchscreen, showing me the terrain around the wheels, plus there's a display of steering angle.
Having been guided along the flat by the ruts, there's a tight right. I select Crawl Control, which shocks me by sounding absolutely horrible, like a burst-firing sub machine gun. But wow, is it in perfect control.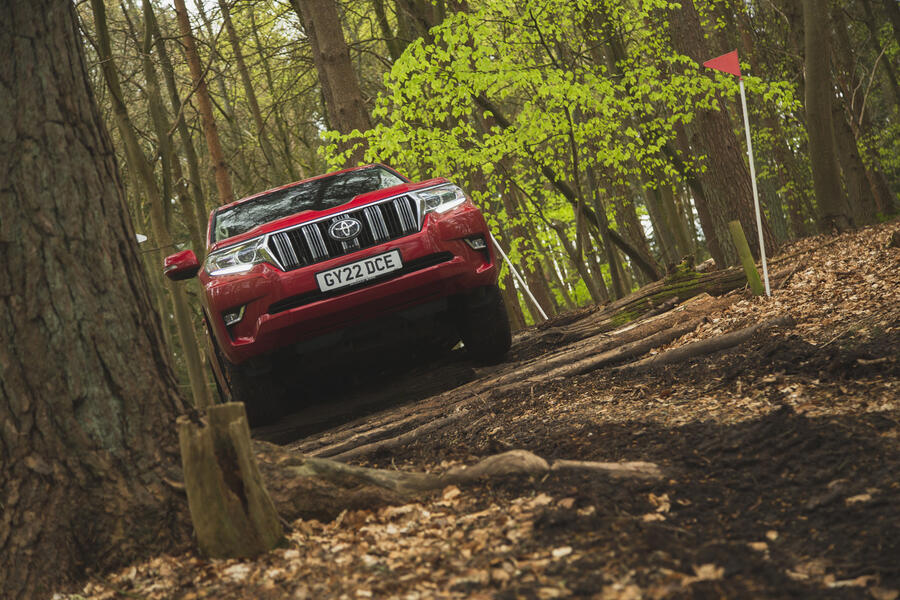 I turn widely and sharply to ensure there's space for the rear to follow the front around, using a tree alongside my shoulder as a turning marker. The hill down here is steep, slightly canted and bloody scary, but again ruts keep me in check.
After a right turn comes a tilted crossroads, wide and slippery with saturated mud, so much so that we need to skirt within inches of a tree, over its roots (unnervingly down which the car slips), in order to aim diagonally. The car slides sideways down again, so that we make the narrow gap across between two trees.
Next is a downhill ess. Instead of trying to straighten the turns out, I treat them as two 90deg corners – an evaluation that earned me an earnest handshake from Gareth on our earlier 'ground walk'. It would be easy to run wide and clout a tree…
The car's Crawl Control actually deactivates here. (A more obvious warning would have been nice!) I suppose it felt a tree was too close.
I reactivate it until we're at the bottom of the hill, when I select first gear, harnessing the momentum I've attained to power up the very steep and deeply rutted return rise.
I get stuck halfway up on this first attempt, too tentative with my right foot, but I'm told to keep the power in, and the TC gently claws us back into movement – genuinely amazing, even by Tim's reckoning.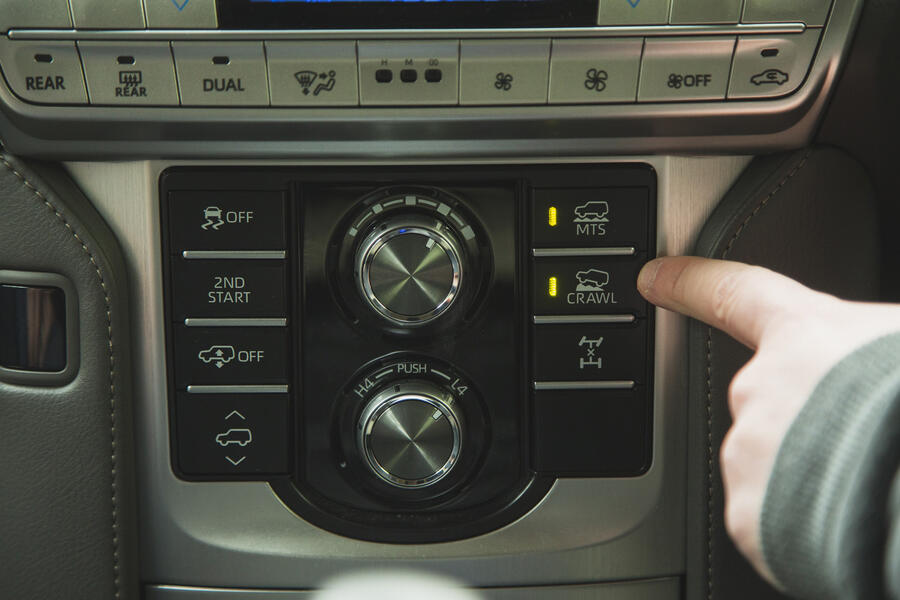 Now there's another wide right-left, before the hill brows, meaning I have to go way up to the top and steer 90deg, aiming at a parallel tree, else I will slide down and need winching out. Moist palms now. As I approach this tree, I turn right and then hard left to return to the top.
I feel a satisfying mixture of relief, jubilation and exhilaration – mostly relief, to be honest – having not embarrassed myself or, worse, damaged the car. Not that I can take very much of the credit, mind: it would have been a very different game in an old manual Defender.
I continue going round until I feel confident, then experience a side slip near the car's limit, at about 25deg, which is hideous from the inside but incredibly impressive from the outside.
Next to crossing a humped 'cattle grid' made of logs, which proves again that slowness and careful consideration are the only way you will succeed when off-roading. I'm as delicate as I can be on the throttle, feeling the car's way over each individual log. This meets Gareth's approval while he checks that I don't ground it.
Needless to say, I really enjoyed my time with the guys and learned a lot, and I even have a certificate to go alongside my new-found confidence. So if you're one of the many who have "all the gear but no idea" in the SUV sense, or would like to know all the details about off-roading yours, this could be a fab day out for you.
Have a look and book at surrey4x4tours.co.uk.
Mileage: 9307
#Back">Back to the top
There's some useful equipment in the back of the Land Cruiser - 24 May
Lots of Land Cruiser drivers will use their cars as work stations. I wonder how many like the tailgate opening sideways for unhindered access into the boot and how many would prefer protection from the rain. All must agree, though, on the usefulness of the 220V/100W power outlet and the tools and space for a first aid kit hidden behind screw-on panels. 
Mileage: 8619
#Back">Back to the top
Welcoming the Land Cruiser to the fleet - 17 May 2023
You've never driven off-road?! Not even once?!" an incredulous Piers Ward exclaimed over the airwaves from his home in rural Lincolnshire. "No, because there are roads where I want to go," came my cheeky reply from a Sussex suburb.
Our associate editor was calling to deliver the news that my wee Yaris Cross was going to be swapped for a gigantic Land Cruiser – two Toyotas seemingly from different universes.
Land Cruisers being as rare as Ward's favoured flat caps around here and the possibility of meeting a mamba appealing to me about as much as catching Covid, I had never fully appreciated this 4x4's popularity or depth of lore.
Since 1951, Toyota has sold more than 10 million Cruisers – enough for every person in London today with plenty to spare. Many of those have ended up in Africa and Australia, but they're also popular in South America and the Middle East – basically, anywhere you need the off-road ability of a Land Rover without the associated reliability concerns. The one complication is there isn't just one Land Cruiser.
Most places, but very few of them in Europe, have the J300, released in 2021. Over here, we get what they know as the Land Cruiser Prado, which is smaller and which has been in its J150 generation since 2009, its second facelift coming in 2017. And in really hardcore places, like Chile, Namibia and Canada, there are also Land Cruisers 76, 78 and 79, variants of the J70 that has been in production since 1984. The same year the Mercedes-Benz W124 and Ferrari Testarossa were born…
So why are we running a Land Cruiser now, in 2023? I won't even pretend it's to see if it can function as a city car or a good commuter, for obvious reasons. Instead, we're doing so because it's perhaps the most anachronistic car sold by a mainstream manufacturer today and seems to be made more so by the day as everything else becomes electrified, connected and autonomous, which makes it a real curio, an item of rare interest. I guess this is what you get when you write articles about the 1920s (see p66) and wear a baseball cap that reads 'modernity has failed us'…
I began to question that as I stepped into my behemoth of a seven-seater for the first time, having noted the ladder-frame construction through the gaping gap between 23in all-terrain tyre and bulky body as I jumped from the running board into an ivory leather chair; was met by a dash looking like a hi-fi you would find in Oxfam; touched yet more leather and Earth's smoothest wood trim; and then read a spec sheet alerting me to the presence of a 2.8-litre four-pot that would get just 29mpg. On diesel. At £1.70 per litre…
I have tested many SUVs, but most of those were front-driven crossovers, and even the Land Rovers I've driven have had a monocoque at least. The Land Cruiser is something else entirely, I realised as it grumbled into loud life, sat back on its big bum and floated lazily out of Toyota's fleet garage, my steering inputs are seemingly taken as more approximations than directions.
Get this, though: I was laughing like an idiot. So homogenous and characterless are many cars these days that I loved finding a new way to drive and seeing controls and features that were totally unfamiliar. How's a button for manual diesel particulate filter cleaning, an off-roading console or a central bin that can function as a fridge, for instance? I would like the touchscreen's Apple CarPlay to be wireless for my £64,150, but otherwise Invincible spec (sitting above only Active trim) brings everything any countryside dweller could need.
In terms of old-school luxuries, I have said fridge, electric seat adjustment, a parking camera, parking sensors, automatic headlights, tri-zone air conditioning, powered mirrors, a heated and electrically adjustable steering wheel and comfy chairs with ventilation and heating and upholstered in Ortaka Ivory leather (the same colour as the carpet).
As for off-road features, I have Multi-Terrain Select (five off-road driving modes), cameras looking underneath the car, crawl control (a kind of off-road cruise control), a body angle display, a steering angle display, off-road turning assistance, a rear Torsen differential, a locking centre differential and Toyota's fascinating Kinetic Dynamic Suspension System, which senses whether you are on or off-road and then hydraulically optimises the anti-roll bars accordingly.
And among the modern technology, I have a 9.0in infotainment touchscreen with Apple CarPlay, Android Auto and sat-nav, a punchy 14-speaker JBL stereo, adaptive cruise control, lane departure alert, traffic sign recognition, automatic high beam, automatic wipers, rear cross-traffic alert, automatic emergency braking with pedestrian detection and blindspot monitoring.
I may have been the butt of many jokes since being handed the keys to the Land Cruiser for the juxtaposition of my car and my lifestyle, but I'm already feeling like I'm making a new friend, I've booked a course to learn how to off-road (that you can read about here in the coming weeks) and I've even made one of my neighbours envious. Surprise, surprise, she's a travelling equine vet.
Second Opinion
The Land Cruiser might still be my favourite all-round versatile passenger 4x4, aside from the Jeep Wrangler, which does something slightly different. That's a hobby car, this is a practical, all-conditions wagon that can tow all day, or off-road all day, or sit on a motorway all day, and feels like it will do any of those things basically forever. Easy to take for granted
Matt Prior
#Back">Back to the top
Toyota Land Cruiser 2.8 D4-D Invincible specification
Specs: Price New £64,150 Price as tested £64,880 Options
Test Data: Engine 2.8-litre 4cly diesel Power 204bhp Torque 369lb ft Kerb weight 2135kg Top speed 109mph 0-62mph 12.7sec Fuel economy 30.5mpg CO2 246g/km Faults None Expenses None
#Back">Back to the top
https://www.autocar.co.uk/car-review/toy...-term-test