02-20-2023, 06:48 AM
Toyota Yaris Cross 2023 long-term test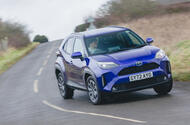 New hybrid compact crossover is selling like hot cakes, and we've just left the bakery
Why we're running it:  To see why people are scrambling for this latest hybrid crossover offering
Life with a Toyota Yaris Cross: Month 1
Welcoming the Yaris Cross to the fleet - 15 February 2022
If ever there were a sign of these times, it's how many superminis are becoming crossovers. The Ford Puma has supplanted the Fiesta, Volkswagen offers both the T-Cross and Taigo beside the Polo, the Hyundai i20 has grown into the Bayon, the Citroën C3 comes as an Aircross… Need I go on? Yes, I do, because I've just taken delivery of a new Toyota Yaris Cross, a jacked-up version of the Yaris.
Toyota sold some 22,000 examples of the Yaris in this country last year, off the back of the brand's famed reliability and 10-year warranty and the hatchback's strong on-road qualities, incredibly frugal, bang-on-trend hybrid powertrain and increasingly rare value for money.
All of these things surely have been translated into the Yaris Cross, and this plus the more in-demand bodystyle should make it leap ahead soon despite being unfamiliar to the public. Oh, would you look at that: Toyota has just published the figures and it scored 1280 sales to its little sibling's 1926 in January.
So good is the Yaris's hybrid powertrain that it has been carried over wholesale here: a naturally aspirated 1.5-litre three-cylinder petrol engine, running on the efficiency-boosting Atkinson cycle, is assisted by an electric motor with a 1.5kWh battery for a total output of 116bhp. It drives either the front axle or both of them through an e-CVT and is the sole engine choice.
I've always disliked continually variable transmissions, so fingers crossed that the 'e' here prevents that ear-splitting revving every time I touch the accelerator.
The key statistics are efficiency of up to 64.2mpg and as little as 100g/km of CO2, which are both impressive, no doubt helped by the relatively low kerb weight of 1175kg. If you go for a front-wheel-drive car, that is, which I have, because I live in the city and rarely go off-road.
I've also gone for Design trim, the second of four, which adds LED lights, bigger (18in) wheels and a wider driver's information display, among various detail changes. I've added the £500 Tech Pack, too, in order to get a 9.0in infotainment touchscreen with wireless Apple CarPlay and Android Auto, rather than an 8.0in one with neither.
To be honest, I'm already kicking myself for having done that rather than adding £2757 to step up to Excel trim to get that bigger screen plus parking sensors, electrically retractable door mirrors and, most of all, when we're enduring such a miserable winter, heated front seats and a heated steering wheel.
Don't make the same mistake if the difference is just a few quid on your monthly PCP bill. Right now, our Design would be £391 per month after a 10% deposit, whereas an Excel would be £419, so maybe it would be worth it for you.
Be wary of the whole-hog GR Sport, by the way, because experience of the harshly riding Yaris GR Sport suggests it might quite literally be a hog.
The interior has yet to win me over, because my first impression was unfortunately more Cozy Coupe than cosy coupé, as there are lots of unappealing grey plastic areas and chunky mouldings around. With that said, I must praise the fact that Toyota has kept its air-conditioning dials physical and significantly improved its touchscreen system, which no longer looks or feels like it was bought in from Halfords, being presented smartly and responsive.
Toyota says it targeted a "confident and natural" driving experience for Yaris Cross, so that I always have "peace of mind" and "feel connected with and in full control of the car". I have to say that sounds pretty good to me for what is intended as family transport or a commuter, and I've certainly driven such cars where the terms "doubt-inducing and odd" would be the appropriate adjectives instead. Successfully making 'just another car' is so much harder than people imagine. You need only look at some of China's recent efforts for evidence of that.
Certainly I've heard a lot of very good things about the latest Yaris and Corolla, and it will be interesting to see how Toyota's engineers have further refined the hybrid powertrain and TNGA platform since, say, the slightly larger C-HR crossover I drove after it emerged six years ago.
More important, though, is to weigh it up against the Nissan Juke, Renault Captur and Honda HR-V hybrids. Which is most practical, especially if you have kids to move about or need to get loads in the boot? Which is easiest to live with? And does the Yaris Cross live up to those economy claims, so especially eye-catching in the current climate?
These are the things that I will keenly be putting to the test – and so far, things are looking promising.
Second Opinion
When it comes to Yarises, Kris's Cross won't make you want to jump, jump like a GR will. But excitement isn't the goal: this is an on-trend crossover that's good value for money and perfectly fine to drive. I doubt it's going to thrill, but it will charm with its practicality and ease of use
James Attwood
#Back">Back to the top
Toyota Yaris Cross 1.5 Hybrid Design specification
Specs: Price New £26,530 Price as tested £27,645 Options Galactic Blue metallic paint £615, Tech Pack £500 
Test Data: Engine Electrically assisted 1.5-litre three-cylinder petrol engine, plus 1.5kWh battery Power 116bhp Torque 89lb ft Kerb weight 1300kg Top speed 105mph 0-62mph 11.8sec Fuel economy 62.8mpg (WLTP) CO2 115g/km Faults None Expenses None
#Back">Back to the top
https://www.autocar.co.uk/car-review/toy...-term-test