01-23-2023, 05:56 PM
Toyota Yaris GR Sport first drive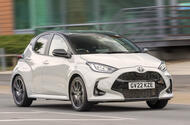 Toyota's first sportified hybrid supermini left much to be desired. Lessons learned?
Naming conventions for modern cars can be a little complicated, so let's be clear from the start - this isn't the Toyota GR Yaris, the Japanese giant's beloved, rally-flavoured hot hatch.
No, the Toyota Yaris GR Sport is the regular version of Toyota's popular hatchback, but in its sportiest, range-topping GR Sport specification. Starting from £25,070, it's powered by a 1.5-litre hybrid petrol engine, producing 114bhp and 88lb ft. No Torsen differentials here. 
Despite its warm hatch looks, the GR Sport isn't particularly quick - it'll hit 0-62mph in 9.7sec and go on to a top speed of 109mph. It's well kitted out, though. Standard equipment includes an 8.0in infotainment system with Apple CarPlay and Android Auto, sports seats, automatic headlights, a reversing camera, LED headlights and Toyota's safety sense pack, which features pre-collision assist, lane assist, adaptive cruise control and automatic high beam. 
It also looks rather sharp - the visual differentiation from other Yaris models include an updated mesh front grille, black trim and black door mirrors - but underneath is where the key changes have been made, as Toyota attempts to add a bit of sporting flavour sampled from the firm's GR performance division.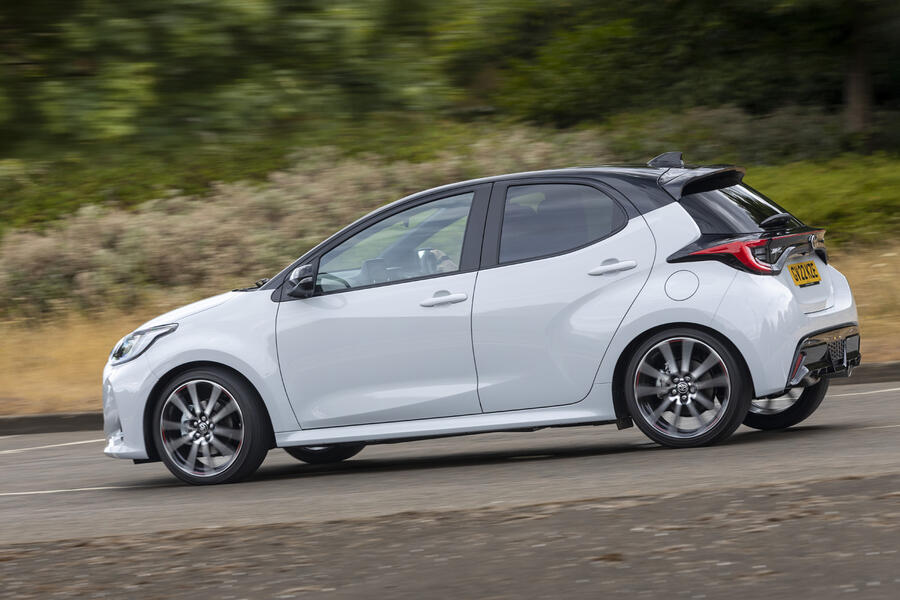 As a result, the Yaris GR Sport gains GT Sport suspension tuning with upgraded dampers, which Toyota says improves ride comfort and steering response, while the rear gains retuned springs to better control body roll. There's also a set of scuff plates and 18in alloy wheels, while underfloor bracing has been bolstered on both sides of the car for improved handling. 
It's fair to say we weren't the biggest fans of the previous Yaris GR Sport, launched in 2018. We thought its ride was too firm and unsettled, even on the smoothest of roads. There was a hope that things might improve with the current Yaris' shift to Toyota's TNGA-B platform, but, alas, an overly firm ride is something that has been carried forward into this latest car, too.
The GR Sport lumps and bumps its way through both the city and on A-roads, and the stiffness is off-putting - not helped by the car's comparatively large 18in wheels. You'd perhaps forgive the level of firmness in a hot hatch, but it's additionally disappointing when there's little reward from the engine for your pains. 
Away from the ride quality, the car is also rather noisy. It's crashy and the engine is unpleasantly loud thanks to the way the CVT gearbox operates, with little return in regards to performance. Both throttle-response and actual acceleration lack punch - even when putting your foot down - and in general the dynamics don't quite live up to the GR name. Matters improve in the corners, though. While not the quickest hatch out there, the Yaris GR Sport is agile and nimble in the turns.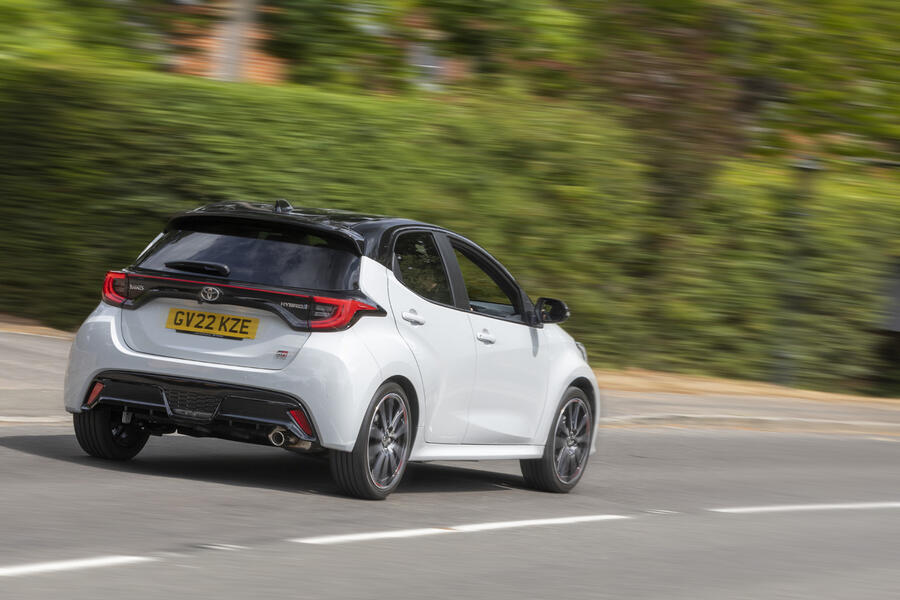 It's clear that, despite GR badging plastered throughout the model's interior, the engine in this specific Yaris is destined for far more subdued driving. You begin to see the benefits of the Yaris' engine when you consider its economy, after you've picked up speed on long motorway stints or when you're shuffling your way through traffic. We easily returned upwards of 50mpg, in line with Toyota's official combined estimate of between 57.6 and 64.2mpg. EV mode is effective in traffic up to speeds of 25mph. 
But its price tag is likely to put off buyers who are after a sporty hatch. The previous version of the Yaris GR Sport cost £19,835 and this one ambitiously raises the fee by over £5000, while rivals such as the moribund Ford Fiesta ST are similarly priced with some proper performance personality. A new hybrid Vauxhall Astra also commands a similar price tag, with comparable power and possesses a more relaxing driving environment. Saving some pennies on fuel might be enticing, but it's hard to overlook the lacking comfort and uninspiring powertrain. The Yaris is an excellent supermini, but this specification isn't its best outfit. 
https://www.autocar.co.uk/car-review/toy...irst-drive