09-22-2021, 06:05 PM
Toyota launches new mobility service app in Derby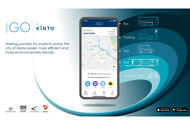 App will provide real-time route information, enable ticket booking and potentially monitor parking availability
Toyota has launched a new app-based service that will give thousands of people access to journey planning and booking, which, the firm says, will help reduce environmental impact of transport and support the mobility of those with disabilities.
The app will be launched through Kinto, Toyota's mobility brand. Named DerbyGo (by Kinto), it will initially be used in an 18-month trial focusing on rail and bus services in Derby, being rolled out to students and staff at the city's university and college. 
Toyota says the app will provide real-time route information and enable ticket booking and payments. It will serve as a research and development element of Derby's live lab approach to its Future Transport Zone. It is hoped the arrival of new students to the city for the new academic year will aid the app's development and uptake. 
Chris Poulter, leader of Derby City Council, said: "DerbyGo will change the way people travel around the city, encouraging and allowing more flexible and efficient journeys, which will contribute to creating a greener environment."
It is hoped the app will be developed to monitor parking availability and move to additional transport services, including taxis, with plans to accommodate car sharing, rental bikes and other micro-mobility services such as e-bike schemes from spring 2022.
"For too long, disabled people have faced barriers going places," said Matt Pierri, CEO of Sociability.  "We're excited to work closely with Kinto, Derby City Council, University of Derby, Derby College and FOD Mobility Group to deliver our shared vision of a world in which disabled people, of all types of disability, can move around with ease, comfort and peace of mind."
The app has been developed as part of Derby's Future Transport Zone programme, supported with around £500,000 of government funding. 
The firm says the app will reduce the number of car journeys being made, improving air quality, easing congestion and reducing the city's carbon emissions.
READ MORE
E-bike review: Gocycle G4, a McLaren designer's take on e-mobility
UK automotive fleet's carbon emissions down 11.8% year on year
City Transformer is small urban EV with a folding, adjustable body
https://www.autocar.co.uk/car-news/indus...-app-derby