04-14-2023, 12:24 AM
Toyota plug-in hybrids to offer 124-mile electric-only range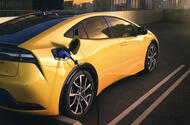 The new Toyota Prius PHEV offers an electric-only range of 65 miles (105km)
New strategy positions the PHEV as "the practical BEV" within Toyota's multi-fuel strategy
Toyota has renewed its commitment to hybrid cars under new president Koji Sato, announcing plans to produce plug-in hybrids (PHEVs) with an electric-only range of more than 200km (124 miles).
Announcing the company's new management strategy, Sato said: "First we will thoroughly implement electrification, which we can do immediately. To steadily reduce CO2 emissions from where we stand now, we will promote the practical popularisation of electrified vehicles. We will strengthen sales of hybrid electric vehicles [HEVs], including in emerging markets, and increase the number of plug-in hybrid electric vehicle options.
Executive vice-president Hiroki Nakajima – who oversaw the development of the Toyota iQ city car and the latest Toyota Hilux – added: "By increasing battery efficiency to extend the EV-mode driving range beyond 200 km [124 miles], we will reposition PHEVs as 'the practical BEV' and will work harder on developing this as another BEV option."
Toyota has been a keen proponent of PHEVs, arguing that many BEVs' batteries aren't used to their full potential very often. This means BEV drivers lug around redundant capacity and weight, thereby wasting energy compared with lighter PHEVs.
Gill Pratt, CEO of the Toyota Research Institute, last year told Autocar: "We all know that we're in an era of limited battery supply. Well, couldn't those battery cells [for one BEV] have been used for a better purpose in eight PHEVs, like the Toyota RAV4 Prime, where the battery capacity would have contributed to much more total emissions savings on almost every journey?"
Read more: "EVs aren't the only answer": Toyota scientist on the future of cars
However, PHEVs have recently come under scrutiny. The UK government recently deferred its definition of a vehicle with a "significant zero-emission capability", citing ongoing uncertainties around their real-world emissions. And a 2022 report from the International Council on Clean Transportation found that PHEVs' real-world fuel consumption was three to five times higher than the values yielded by official WLTP testing, with emissions following suit.
As such, Toyota isn't favouring PHEVs over BEVs, remaining committed to a multi-energy approach including BEVs, PHEVs, HEVs, FCEVs, hydrogen combustion, synthetic fuels and biofuels.
Sato said: "We will work to promote electrified vehicles and reduce CO2 emissions with leaving no one behind, including in emerging markets.
"Through this all-direction approach, we aim to reduce average CO2 emissions for vehicles we sell worldwide by 33% by 2030 and by more than 50% by 2035 compared to 2019. We will continue to promote decarbonisation globally and steadily toward 2050."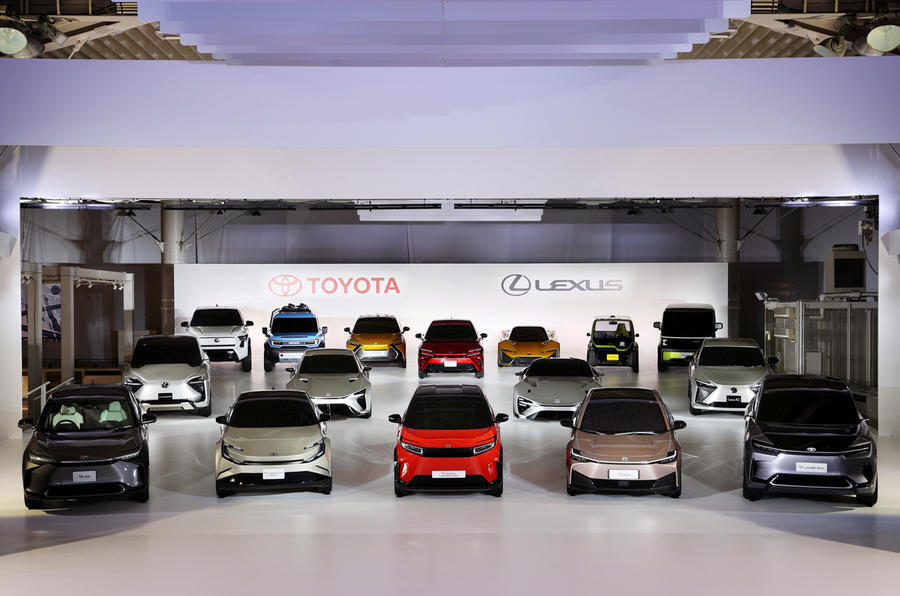 The firm now plans to launch 10 new BEVs – in addition to the bZ4X SUV and Chinese-market bZ3 saloon – by 2026, targeting 1.5 million annual BEV sales by that point.
These are expected to use the existing e-TNGA platform and broadly mirror Toyota's current ICE car line-up in terms of positioning, with a range of crossovers and family-sized SUVs. 
Executive vice-president Yoichi Miyazaki confirmed that one will be a three-row SUV for the US market, using batteries produced in North Carolina.
In Asia, Toyota will begin production of battery-electric pick-up trucks and a "a small battery EV model" by the end of 2023.
Toyota will also establish a new division to accelerate development of its "next-generation" BEV, also set to arrive in 2026. This new, streamlined division will comprise one executive overseeing engineering, production and business interests.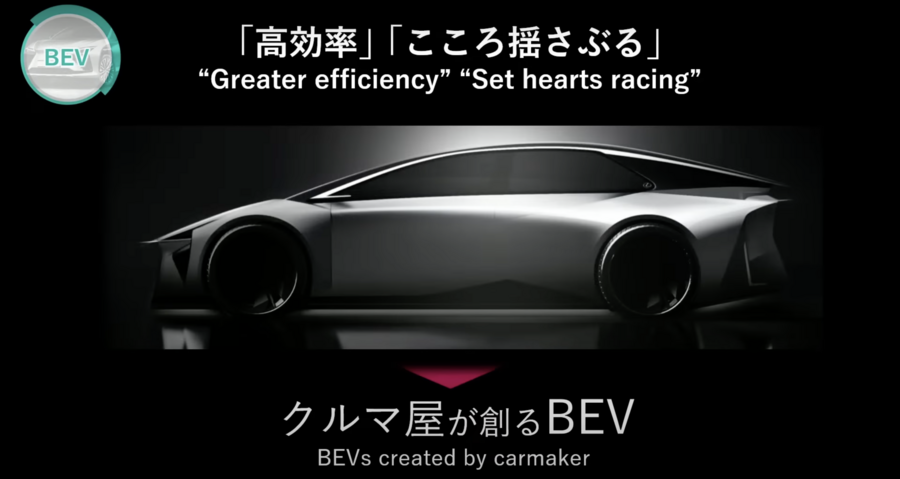 According to Nakajima, this next-generation BEV will "double driving range by using batteries with far greater efficiency". For reference, today's bZ4X has a 318-mile range according to the WLTP test cycle.
The next-generation BEVs will also offer "designs and driving performance to set hearts racing", Nakajima said.
He cited the software capabilities of Toyota's Arene software (currently in development) as a key component of these new models, with the operating system allowing a driver to customise their car's ride, handling, acceleration and braking characteristics.
"By also honing the vehicles' essential attributes, we will create cars that are more fun to drive in terms of both hardware and software," added Nakajima.
Read more: 'Our Mt Fuji': Toyota has a mountain to climb on software (Business subscription required)
https://www.autocar.co.uk/car-news/new-c...only-range