03-13-2021, 01:42 PM
Toyota teases new X Prologue model ahead of reveal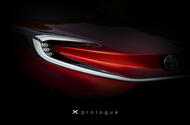 Toyota X prologue
Teaser image, claimed to offer 'a small' hint at what's next from Japanese firm
Toyota has released a teaser image of an upcoming X Prologue model that will be revealed next week.
The single image shows a darkened silhouette of a narrow and stylised LED headlight, which wraps around a closed-off front fascia. The machine also features a relatively short bonnet.
The machine is set to be revealed on Wednesday 17 March, but not further details have been released by Toyota. The headline of the press release accompanying the image reads 'X Prologue – "a small" preview of what's next', with the deliberate use of quote marks around 'a small' potentially hinting at a relatively compact model. That suggests it could be the forthcoming compact Aygo successor the firm recently confirmed it was building.
Reinforcing that, the image features a black Toyota badge, while the firm has traditionally used blue badges for its electrified models. The city car Toyota is working on will be combustion engine-powered.
READ MORE
Toyota confirms combustion-only Aygo successor for Europe
Toyota to reveal European-focused electric SUV in 2021
https://www.autocar.co.uk/car-news/new-c...ead-reveal