07-28-2022, 05:46 AM
Triumph TE-1 prototype: up-close with one-off performance concept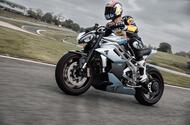 The 130kW prototype will inspire the brand's future generation of electric motorbikes
Triumph Motorcycles has revealed more details of its Triumph TE-1 development project following the completion of final testing.
This electric motorbike prototype won't go into production but Triumph confirms development of the first in a new generation of electric production bikes is now underway.
The 135mph TE-1 draws heavily on the attributes of the 1160cc, Triumph Speed Triple producing 175bhp compared to 177.5 bhp for the three-cylinder machine. Peak torque is 80lb ft giving the electric bike a 0-60mph time of 3.6 seconds and, bettering the Triple, a 0-100mph time of 6.2 seconds.
How to do a CBT on an electric motorbike
Range is claimed to be best in class at 100 miles (on the official WMTC test cycle) and the battery can be charged from 0-80% in 20 minutes on a 50kW charger. In common with all EVs, the Triumph has regenerative braking which is fully integrated with the ABS braking system.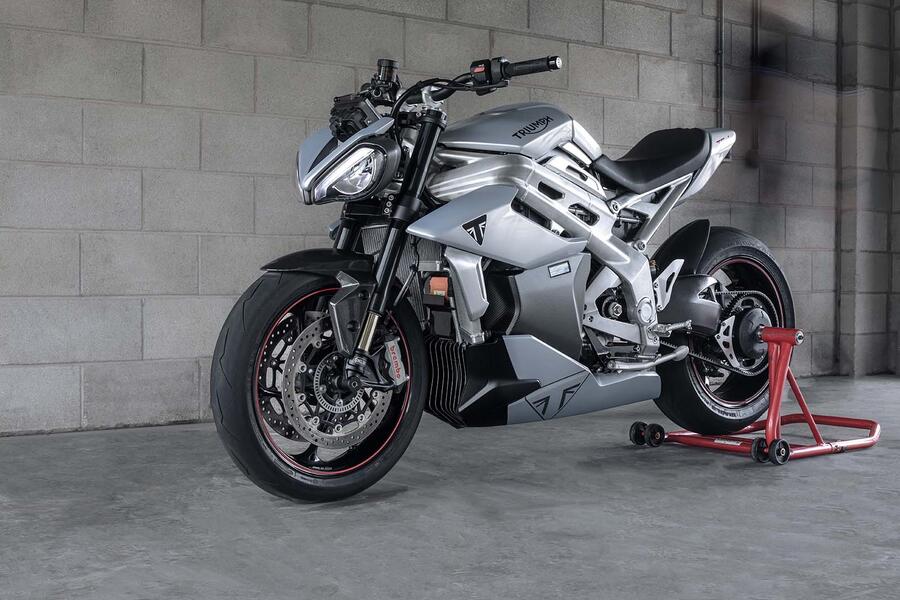 Design is a tight fit with existing production Triumphs despite the radical drivetrain and technology beneath the exterior and that's deliberate, explains Triumph's chief product officer, Steve Sargent. "The objective is to make something which sits within the Triumph family. We've seen some weird and whacky EV two-wheelers around but we think it's a lot easier to get customers into electric vehicles if design isn't a barrier to them."
Triumph reveals first electric TE-1 motorbike
The TE-1 has been developed in conjunction with Williams Advanced Engineering, which between 2014 and 2018 was the sole battery supplier to Formula E and also designed and supplied the batteries for F1 KERS systems. Other partners were Integral Powertrain Ltd and WMG at the University of Warwick.
The engineering teams concentrated on designing a motorcycle that was as light as possible and at 220kg, the final result comes in at 25% lighter than some competitors. In comparison, the Speed Triple weighs 199kg with fuel and fluids, while some less performance orientated bikes of similar size and capacity tip the scales at a lot more. Part of the success in paring down the weight of the TE-1 is possibly due to the fact that its overall size is closer to that of the Speed Triple's smaller sister, the Street Triple.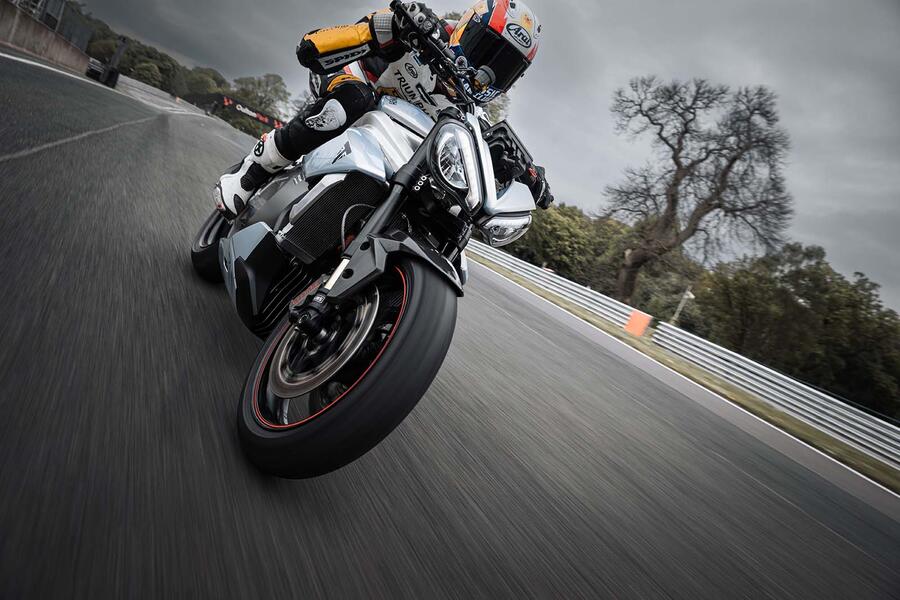 Not surprisingly, battery development formed a key part of the programme to maximise energy capacity and range in the small confines of a motorcycle package. Williams' experience in F1 and Formula E, where it had to achieve extremely high levels of both power and energy density as well as reliability, paid dividends in the project. Williams claims that in four seasons its Formula E batteries covered 240,000 miles in the equivalent of 1,000 cars with only two on-track failures. 
Ducati goes electric with new 170mph 2023 MotoE challenger
The battery has a capacity of 15kWh, produces 370-volts and while 15kWh may not sound like much, it's more than 25% of the average electric car battery squeezed into a tiny space. Designing a battery for two-wheels rather than four was a unique challenge for Williams, Sargent continues.
"The shape of the battery has to be such that you can lean the bike to a reasonable angle, so within the battery are eight modules and they are slightly different sizes to fit into the motorcycle, get the centre of gravity in the right place and avoid the battery pack going into the ground plane when the bike is leaned over."
"We've learned a lot about doing simulation work on the performance of EVs and getting that balance between battery size, motor size and performance," Sargent continues.
"Heat management has been absolutely essential to maintain performance and range. "There are two separate cooling circuits, one for the battery with two individual radiators, two fans and a coolant pump and there's a separate cooling circuit for the motor and inverter with its own separate radiator."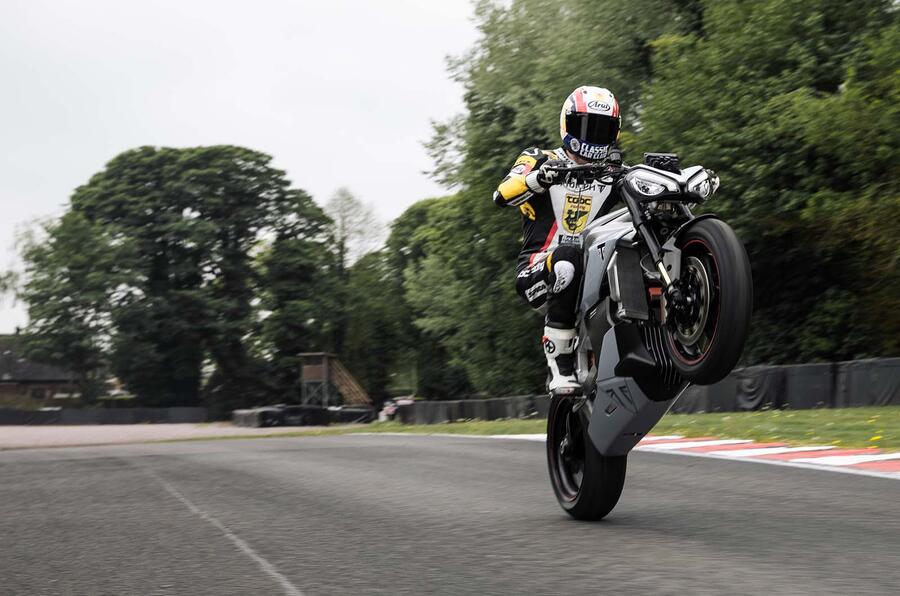 Otherwise, Williams was in familiar territory with the lithium ion battery chemistry which is nickel manganese cobalt (NMC), as used in its Formula E batteries and which is also popular with manufacturers of anything from from power tools to powertrains. The eight modules are made up using Samsung 2170 cylindrical cells, each one resembling an overgrown AA battery. The power pack is a stressed member of the motorcycle structure, the aim being to bring the stiffness of the chassis close to that of the Speed Triple. 
Charging is via a Chademo plug rather than CCS because it doesn't require having a separate ECU on board the bike. Chademo communicates directly with the battery management system, saving space, complexity and weight for the purpose of the prototype programme. "That isn't necessarily the system we'll use on production bikes though," says Sargent, "and of course, we'll look at AC charging as well."
A high performance electric motor-generator revving at up to 17,500 rpm powers the TE-1 driving through a single-speed reduction transmission. The final drive goes through a belt which is quieter and lighter than a chain, but just as robust, says Sargent. "This is the latest technology from Gates which we've tested, found to be robust and which wouldn't need replacing under 60,000 miles. It has a centre-track system which means it self-locates onto the pulley, so it's super-stable in terms of its location." 
Triumph isn't giving away any details of prices or when it expects the first production model to hit the showrooms at this stage, but if a 100 mile real-world range is achievable with the 175bhp prototype, that should bode well for less extreme members of the family with less than half the power.
Jesse Crosse
READ MORE
Subscribe to the Move Electric newsletter
e-CARS
UK charging networks: complete guide to every provider
New Cupra UrbanRebel is a bold EV supermini with 273-mile range
e-BIKES
10 fun things to try on an electric bike
Living with a Gocycle G4: how easy is it to adjust to?
e-MOTORBIKES
Seat Mó eScooter 125 UK review
How to do a CBT on an electric motorbike
Energica unveils new Experia electric tourer motorbike
e-SCOOTERS
Are e-scooters legal in the UK?
Private e-scooter rules 'cannot simply copy' rental regulations
Superpedestrian's European boss on why e-scooters are for everyone
e-WORLD
New Candela P-12 Shuttle to arrive as first electric 'flying' ferry
Pipistrel Velis Electro: meet the first certified electric plane
https://www.autocar.co.uk/car-news/move-...ce-concept