10-27-2021, 05:33 PM
Tyrrell P34 continuation: reviving a six-wheeled F1 legend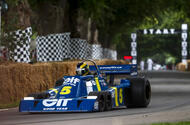 When a historic racing fan couldn't buy a Tyrrell six-wheeler, he assembled a team of experts to build a pair of new ones
Remember that old Remington shaver advert? "I was so impressed, I bought the company!" Speak to Jonathan Holtzman, a real-estate developer from Michigan, and a similar spirit of unabashed American capitalism springs to mind.
The Formula 1 enthusiast wanted to buy a 1976 Tyrrell P34 with the specific intention of racing it in historic events, but nobody would sell him one. Did that stop him? Nope. Instead, he made his own. "You know us Americans," he chuckles. "We don't take no for an answer."
Now, originality is a hot potato in the old-car world, and the R-word (replica) is often considered a dirty one. Prove that your historic racing car is genuine and its worth shoots up. Prove that it was raced by a driver of historical significance and the price increases again. Then prove that it actually won an international race of note such as a grand prix and, well, kerching! And woe betide anyone who attempts to pass off a car as something that it isn't. That's criminal, figuratively and literally.
But that's not Holtzman. He is entirely open about what he has done and in fact is keen to shout from the rooftops that he has created something new that looks like something old. But what he refutes is that his new P34s (there are two of them) are replicas; he says that they're continuations, and that distinction is significant.
The P34 is much more than a curio. Designer Derek Gardner first conceived the idea in 1968 while working at Harry Ferguson Research, which specialised in four-wheel drive. But by the time he convinced Ken Tyrrell to commit to the concept for a revolutionary F1 car, 4WD was out of the picture. Instead, beyond traction benefits, it was said that the four small-diameter (10in) wheels shrouded behind the bluff nose offered a reduction in aerodynamic lift and drag.
That didn't wash with future Ferrari world champion Jody Scheckter, who raced for Tyrrell at the time, but it didn't stop him winning the 1976 Swedish Grand Prix at Anderstorp in one, finishing the season third behind James Hunt and Niki Lauda and with team-mate Patrick Depailler carrying Tyrrell to third in the teams' table. Although its merits remain disputed, the P34 was successful, then – but much less so in its second season, when Goodyear's tyre development dried up. That's why the 1976 spec is more valuable, plus it's rarer: active F1 teams give no thought to future values, so Tyrrell converted existing cars for the 1977 season.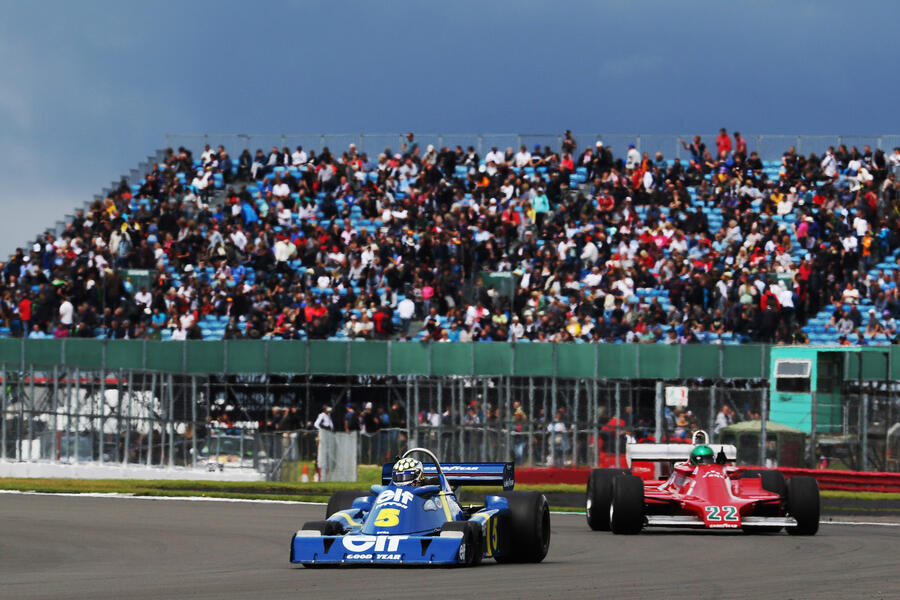 The owner who wouldn't sell his original car is, somewhat bizarrely, former Minardi F1 driver and BMW Le Mans winner Pierluigi Martini, who owns not one but two P34s. "I've never met Martini, but I offered him $2.5 million [£1.86m] for one of his 1977 cars – and he said no," says Holtzman. "But I'm really glad that he turned me down, because I would have paid that much for a 1977 and no one would ever see a 1976 race again."
That's when Alistair Bennett, son of 1970s F1 privateer entrant Colin and boss of Warrington-based CGA Engineering, had an idea. "I said that I'd tried to buy one but couldn't," says Holtzman. "Alistair said: 'We could make one.' Where we differ on memory is I think he said 'let's make two' and he thinks I said it. Whatever, I said 'okay'. The reason for two is that's how they race cars, two on a team. We thought it would be great to have two on a race track, not in a collection or museum."
The first challenge was to convince the Tyrrell family to grant them a licence to ensure the car could be officially classed as a Tyrrell. James Hanson of historic racing car specialist Speedmaster handled the negotiations with Bob Tyrrell, son of late team founder Ken.
"We had never considered such a thing," says Tyrrell. "We thought long and hard and insisted that they be known as continuations and have their own chassis numbers but ultimately decided that it would be a shame if a six-wheeler never raced again. It's arguably the most famous F1 car. That's why we agreed to license two more."
That licence is key to the differentiation between 'continuation' and 'replica'. CGA now had access to the 230 original design drawings still possessed by the Tyrrell family. Master draughtsman John Gentry, who joined Tyrrell in late 1977, came in as a consultant and oversaw the work of Bennett and CGA's computer-aided design (CAD) magician, Simon Harris. Another specialist company, Hall & Hall, allowed CGA access to 1977 chassis six (owned by Swiss watchmaker Richard Mille) for disassembly and parts scanning. It must have been like doing a convoluted 3D jigsaw puzzle, but only once you had made each piece yourself.
There was also an unexpected other source of detail. "We could never find a drawing of the nose and seat," says Holtzman. "So we took the little Tamiya toy, scanned it and turned it into full size."
"The tricky bit has been the engineering and construction of the chassis," says Bennett. "The rear end is relatively easy. But much of P34 ahead of its rear bulkhead is bespoke. The front uprights are a case in point: half upright, half caliper, a strange arrangement, squeezed into a small space. Thankfully, we had a drawing that married up with the CAD, but it was still a load of machining."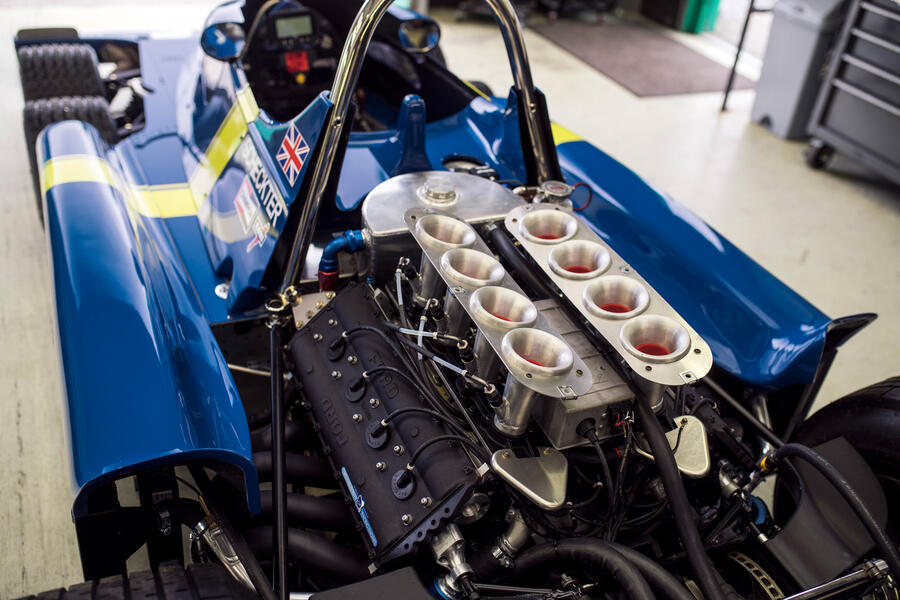 Particular attention was also paid to the choice of materials: as much as possible, CGA kept to period, such as using pre-impregnated glassfibre for the nose rather than modern carbonfibre. And period-specification Cosworth DFV V8 engines were supplied by Geoff Richardson Engineering. Sure, modern machining technology made some tasks easier, but the project still ran late by six months – just as it did for Tyrrell back in 1975-1976, in fact.
One of the continuation cars starred at July's Goodwood Festival of Speed, partaking in a parade of original Tyrrells. Holtzman has also raced at Brands Hatch and in the Silverstone Classic and is heading to big historic meetings in Spain and Portugal this autumn. He says the reaction has been largely positive, especially as values of original cars continue to rise and Aston Martin and Jaguar are signing off new old models from their back catalogues. And Hall & Hall gave its BRM V16 continuation a UK debut at the Goodwood Revival last month.
"There's a genuine curiosity," says Holtzman. "I'm not interested in forcing the idea; I'm merely saying 'think of it on a simple level'. Original cars are so expensive that people are going to be scared to drive them, so give credit to the originals which are worth more; recognise continuations which aren't worth as much but are perfect in the way they are made; and then recognise replicas, which don't cost as much."
Tyrrell made seven P34s, but only five survive. Scheckter owns chassis eight, which Holtzman labels a hybrid, somewhere between continuation and replica, which is why his cars are chassis nine and 10. Scheckter invited Holtzman and his P34 to his Carfest event, was apparently impressed and even offered a few invaluable set-up tips.
So what's it like to drive? "We originally tested at Pembrey in Wales, which is a flat track, and the car was very fast and competitive right out of the box," says Holtzman. "What we noticed is when a track has topography, like at Brands Hatch, it picks up the inside front wheels. But you don't really notice under braking or turning the difference between four or two front wheels.
"The real success is the straight-line aerodynamics. If I'm behind another car, I gain very quickly or pull away from someone behind. That's where the superiority was in period, too."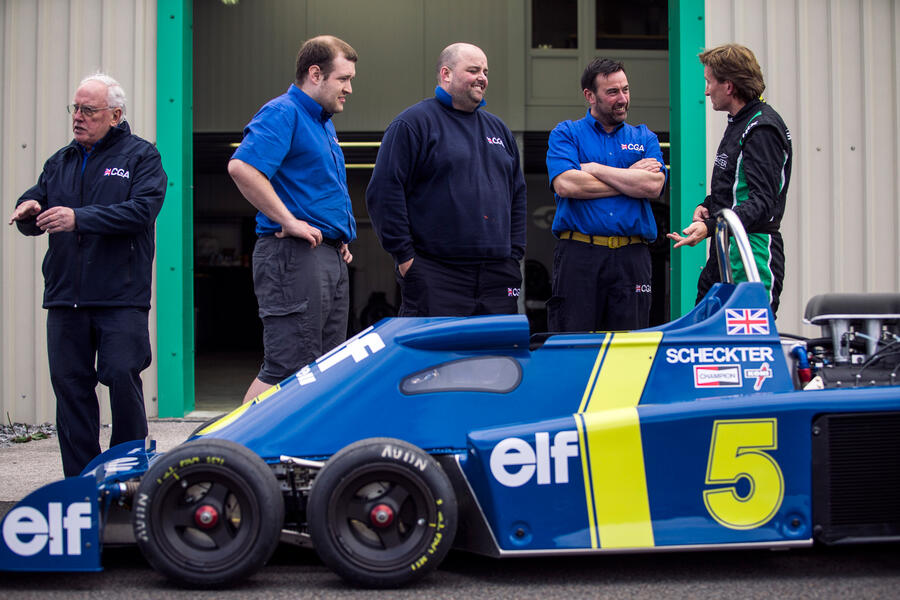 So he has his P34 (the other one is to be sold). He also owns a 1981 Lotus 87B, with which Colin Chapman rivalled McLaren in pioneering the use of carbon fibre in F1, and a 1989 Ferrari 640, John Barnard's masterpiece that introduced paddle-shift semi-auto gearboxes. You can see the pattern.
What other innovative F1 cars does Holtzman wish to collect? "I want to have a discussion with Bernie Ecclestone, because I would like to make two Brabham fan cars! Who wouldn't want to see that?" Gordon Murray's 1978 Brabham BT46B, also a winner at Anderstorp in its one and only race before it was withdrawn by team boss Ecclestone because he knew it was too quick? Good luck negotiating that licence... Even Holtzman might have to take no for an answer on that one.
Q&A: Jody Scheckter 
The South African had little time for the six-wheeled Tyrell P34. He tells us why.
What did you think when designer Derek Gardner told you what he had planned?
"Hmm... Well, they kept it away from us for a while. I don't remember when I first learned about it. It didn't make a lot of sense to me, and as we carried on, it still didn't."
The small frontal area was supposed to reduce aerodynamic drag, wasn't it?
"That's correct. I'm not an aerodynamicist, but the back was still the same size. Was it a little bit more efficient? Possibly, but possibly not. It was also supposed to brake much better, which in theory was probably right. When the road was flat and straight, that was fine. But as soon as you turned in at a corner, one of the little wheels lifted up and you had to take your foot off the brake. The advantage wasn't there."
So you had doubts from the start?
"Yes. When we tested, the teams tried to prove it was better regardless of whether it was or not. On the positive side, it was fun to drive. You could do anything with it."
But it was successful, wasn't it?
"Much more than I remembered, actually. I had a look at it a few years ago and didn't realise. I knew I had won in it at Anderstorp, but it broke a lot. I remember going to Zandvoort and just thinking the whole time: 'Is it going to break?' In Austria, one of the front wheels broke and I had a massive crash. In practice in Sweden, one wheel broke off. They had to reset the alignment and cambers nearly all the time, because it was flexing so much."
There's a funny story about that lost wheel in Sweden, isn't there?
"I drove back and parked up in the pits. Derek sat on the car and asked: 'How's it handling?' I said 'it's got a bit of understeer' and started laughing. He hadn't noticed that a wheel was missing! The mechanics thought someone had taken it off."
https://www.autocar.co.uk/car-news/motor...-f1-legend