04-10-2023, 08:53 PM
UK car industry continues recovery after eighth month of growth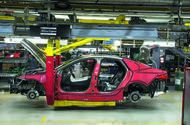 The uplift was driven by a rise in fleet sales, and EVs also achieved record registrations
The UK new car market achieved an eighth consecutive month of growth in March, according to the Society of Motor Manufacturers and Traders, as electric vehicles recorded their best-performing month on record.
A total of 287,825 units were registered last month for an increase of 18.2% year on year, which made it the best performing 'new-plate month' since pre-pandemic 2019.
It's also the UK's best first-quarter performance since 2019, with just under 500,000 cars registered since the turn of the year. The SMMT says this represents around £2.7 billion but emphasised that the market was still down by almost 30% compared with the same period in 2019. 
Registrations increased for all vehicle segments but most significantly for superminis, which rose by 27.2% to remain the UK's best-selling type of car. Lower-medium and dual-purpose vehicles represented 86.5% of all registrations in March. 
EVs achieved a record monthly sales figure of 46,626 vehicles, a 19.6% year-on-year increase. Hybrid (HEV) cars also posted significant growth, rising by 34.3%, while plug-in hybrids (PHEVs) increased by 11.8%. Around 56.3% of cars registered were petrol-powered.
Growth for the month was largely driven by fleet vehicles. Deliveries to small fleets (those with fewer than 25 vehicles) increased by 26% and deliveries to large fleets were bolstered by 40,651 units - up by 40.9%. 
The SMMT welcomed the rise in EV registrations but has urged the UK government and charging providers to support drivers and give them confidence that they "can charge whenever and wherever they need". 
SMMT chief executive Mike Hawes said: "March's new-plate month usually sets the tone for the year so this performance will give the industry and consumers greater confidence. With eight consecutive months of growth, the automotive industry is recovering, bucking wider trends and supporting economic growth. 
"The best month ever for zero-emission vehicles is reflective of increased consumer choice and improved availability but if EV market ambitions – and regulation – are to be met, infrastructure investment must catch up."
Tesla's delivery methods meant the Tesla Model Y finished as March's best-selling car, with the US EV firm shifting 8123 last month alone, placing it ahead of the Nissan Qashqai and Nissan Juke.
However, the Qashqai and Juke lead the year-to-date best-sellers list, ahead of the Vauxhall Corsa, Model Y and the Kia Sportage. 
https://www.autocar.co.uk/car-news/busin...nth-growth