04-28-2023, 12:36 PM
UK company reveals 6WD EV battery fire response truck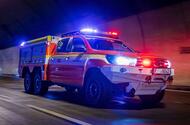 The new hardware is housed in a highly bespoke, six-wheel-drive response vehicle
Yorkshire firm's six-wheel-drive Hiload can reach tricky areas with its radical direct-injection fire-fighting tech
A British company has revealed a new rapid response vehicle for combatting EV battery fires, hosting radical new firefighting tech that promises to be more efficient and faster than existing measures.
York-based Prospeed's new Hiload fire engine carries an innovative new flame-battling device called the Coldcut Cobra, which uses abrasive material suspended in water that's injected into an EV's battery casing at 300bar - more than 100 times the pressure of the air in a typical tyre. 
Due to the involvement of lithium, which is sensitive to high temperatures, EV battery fires need covering with thousands of litres of water to cool the battery.
However, with this new direct-injection system, the Swedish Civil Contingencies Agency has showed that 240 litres of water is enough to stop the spread of flame from one battery cell to the other. 
The system has been developed in order to prevent thermal runaway, occurring when the energy contained in battery cells is released and serves to increase the spread of fire. 
This becomes a major issue in enclosed spaces such as multi-storey car parks, where roof height is limited and existing fire engines can't access the scene of the fire.
The York-developed Prospeed Hiload response truck is a Toyota Hilux extended by 1230mm and fitted with a third driven axle, a 1200-litre water tank and a torque-splitting differential. Using the Coldcut Cobra system, 20% of this 1200-litre tank is used on one fire.
Coming in at 5600kg, it weighs nearly three times the standard Hilux but stands just 1850mm tall, which means it's able to access tight parking structures, while its off-road modifications will get it to fires in forests or heathland. 
The Hiload is currently being trialled in the Czech Republic, where it's also being used in occupant-extraction practices. One example has also become part of an unnamed EV manufacturer's fire-fighting fleet. 
https://www.autocar.co.uk/car-news/new-c...onse-truck