06-17-2023, 09:50 PM
UK firm launches plant-based biofuel for classic cars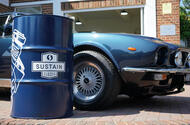 Coryton's new Sustain Classic range blends petrol and biofuel made from agricultural waste
Coryton says new biofuels are suitable for any petrol vehicle but low bioethanol content makes them perfect for oldies
Bespoke and blended fuel specialist Coryton has launched what it claims is the UK's first publicly available sustainable petrol, aimed at the classic car market.
Its Sustain Classic range blends petrol with a biofuel made from agricultural waste that wouldn't be suitable for consumption.
There are three types: Super 80, with at least 80% renewable content; Super 33, with at least a third renewable content; and Racing 50, with at least 50% renewable content. The Super varieties are at 98RON – the same as super unleaded – and the Racing variety at 120RON.
Coryton said its fuels are suitable for any petrol vehicle but, all having a bioethanol content of less than 1%, are particularly tailored for classic vehicles. Regular unleaded (E10) is 10% bioethanol and therefore often unsuitable for older cars. 
The UK firm's Super 80 fuel was used to power 70 cars on the recent Rally For The Ages event held in Oxfordshire.
The fuels are being sold from today by Motor Spirit at Bicester Heritage, with other retailers to be announced in the coming months. The Super 33 costs from £3.80 a litre, Super 80 from £4.65 a litre and Racing 50 from £5.24 a litre.  
Coryton is claiming a reduction in greenhouse gases of at least 65% with Super 80, the fuel with the highest-biofuel content, compared with regular petrol.
David Richardson, Coryton's business development director said: "The availability of true fossil-free fuel components is limited. So we're setting truthful and realistic goals, producing fuels that have a meaningful impact while meeting the demands of the user. While we could use mass-balancing techniques to certify this fuel as 100%, we believe that it's important to be open about technology readiness and traceability.
"The industry will get there with the right support - which is why we think it's important to start getting these products into the hands of consumers so they can see how easy and effective the switch could be."
Autocar will try the fuel and interview Coryton representatives later this week.
https://www.autocar.co.uk/car-news/consu...assic-cars