04-19-2023, 08:52 AM
UK government scraps all smart motorway plans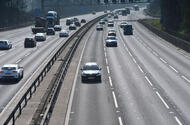 Smart motorways have no permanent hard shoulder for emergencies
Government recognises "lack of public confidence" in all-lane-running motorways
The government has announced that no new smart motorways will be built in the UK, citing a "lack of public confidence" in the all-lane-running roads.
In a shock announcement on Saturday night, the government said it will cancel all plans for new smart motorways, including 11 that were already under construction and three earmarked for construction between 2025-2030. 
It cited "financial pressures" and "the current lack of public confidence" in the roads as reasons for the decision, adding that the move would save more than £1 billion.
It suggested that smart motorways could be back on the table in the future, however: "Cancelling these schemes will allow more time to track public confidence in smart motorways over a longer period."
READ: How smart are smart motorways really?
Early last year, it was announced that no new smart motorways would be built before the government had recorded five years of safety data on those opened before 2030, in response to widespread criticism of the safety of such roads. Critics point to the danger posed by the hard shoulder serving predominantly as a live lane for traffic, and the fact that refuge areas on smart motorways are spaced far apart.
Prime minister Rishi Sunak had pledged to axe the smart motorway roll-out scheme as part of his campaign for leadership of the Conservative party last year. He said that the move has been made because "all drivers deserve to have confidence in the roads they use to get around the country".
Commenting on the announcement, which has been made ahead of the upcoming local elections on 4 May, Sunak added: "Many people across the country rely on driving to get to work, to take their children to school and go about their daily lives and I want them to be able to do so with full confidence that the roads they drive on are safe."
No work will be undertaken to reinstall permanent hard shoulders on existing smart motorways. Instead, the government says it will press on with a previously announced, £900 million scheme to improve the safety of these roads with the addition of 150 new emergency areas, and an upgrade programme for the system which detects stopped vehicles in live lanes and closes them to traffic. 
Tools will not immediately be downed, however: work will continue to convert the M56 J6-8 and M6 J21a-26 to all-lane running, "given they are already over three quarters constructed".
Which smart motorway schemes have been cancelled?
M3 J9–14 
M40/M42 interchange 
M62 J20–25 
M25 J10–16 
M1 Junction 10 - 13  
M4 - M5 interchange (M4 Junction 19 - 20 and M5 Junction 15 – 17) 
M6 Junction 4 - 5  
M6 Junction 5 - 8  
M6 Junction 8 - 10a  
M42 Junction 3a - 7  
M62 Junction 25 – 30 
M1 North Leicestershire
M1 junctions 35A – 39 Sheffield to Wakefield
M6 junctions 19 – 21A Knutsford to Croft 
https://www.autocar.co.uk/car-news/consu...rway-plans