10-23-2023, 06:34 PM
UK government urged to improve roads in north and Midlands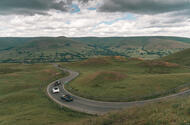 Government has been advised to boost investment in remote areas
Only 22% of £27.4bn Road Investment Strategy programme is being spent outside of the south
The UK government should prioritise road upgrades in the north and the Midlands to improve connectivity and trade across England, independent government advisors have said.
According to the National Infrastructure Commission (NIC), only 22% of National Highways' current five-year £27.4 billion Second Road Investment Strategy programme covered these regions.
The NIC said that this "was not consistent with helping underperforming regions" and nor did its current approach target national and regional productivity goals.
In its Second National Infrastructure Assessment report, the NIC said policymakers should carry out "systematic" analysis of how and where connectivity could be most improved, focusing on routes that were most important for trading between places and key freight hubs; and "then identify which sections of these important routes underperform in terms of journey times or where there may be missing links in the existing network".
Two years in the making and covering road, rail, water, electricity and digital infrastructure, the 202-page report included a suggested map of targeted road improvements that should be carried out in the next 30 years, with Bradford, Leeds and Kingston-upon-Hull noted as poorly connected places with improvements needed.
Much of the Midlands and the north's road network are considered weak and in need of upgrade, although NIC chairman Sir John Armitt said the government, local leaders and National Highways would need to determine which enhancements to focus on.
"We've identified some of the worst-performing routes on the network where there is substantial passenger and freight demand between key places," he told journalists. "This isn't a literal road map of ready-to-go projects, and further work needs to be undertaken to discern the right schemes to advance."
The NIC also warned that maintenance and renewal of the roads in England is likely to become more expensive in the future, owing to the impact of climate change, assets reaching lifespan limits and increased demand leading to greater wear; and said historical levels of spending "are unlikely to be sufficient to provide outcomes similar to today". 
It recommended the government increase transport infrastructure funding to £28bn a year between 2025 and 2040, up from the current £20bn a year. 
Armitt also questioned the Welsh government's decision to not build any new roads, saying: "I find it a slightly puzzling decision. We made the point in the report about the infrastructure connectivity of the major towns and cities of the country, and Wales will have to make its own judgement about the impact not building new roads or adding significant decongestion of the roads will have on the economy."
The government is expected to respond formally to the report within 12 months.
By Daniel Puddicombe
https://www.autocar.co.uk/car-news/consumer/uk-roads