12-24-2021, 07:28 PM
Ultimate EV guide: The big questions answered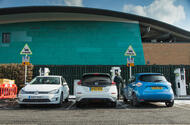 Some difficulties still arise when you use public EV chargers
How green exactly is an EV? Are there enough public chargers? We answer the questions that keep would-be EV buyers up at night
Got a question about buying an EV? Never fear, as Steve Cropley has the answers. So read on to find out just how eco-friendly an electric car really is, whether you need to worry about range and much more. 
EV guide part one: every electric car rated | EV guide part two: how to buy a used electric car
Is it true that the total cost of an EV is currently greater than of an equivalent petrol or diesel car?
Yes, mostly due to the high initial cost of the vehicle. The entry-level Volkswagen ID3 costs around £30,900 (£28,490 after the government grant); an equivalent 1.0-litre turbo petrol Golf undercut that by around £3000. But it has to be remembered that the resale prices of EVs are high now and likely to remain so, while the pricing gap between the ICE and EV is narrowing all the time.
Meanwhile, the fuelling costs of an EV are substantially lower. EDF Energy says that, based on an average electricity cost of 14p per kWh, a Nissan Leaf or a Kia e-Niro costs about £4 per 100 miles, compared with more like £14 per 100 miles for a 40mpg petrol equivalent. In a 12,000-mile year, assuming no hikes in tariffs, that puts the cost of the electric ID3  at a shade under £500, whereas the petrol Volkswagen Golf will cost more like £1750.
On top of that, you save big time on company car tax, road tax and, if you're a Londoner, the ULEZ fee and the congestion charge (just raised from £11.50 per visit to £15). Tesla says that for inner-city commuting, this amounts to £576 per month, or an enormous £27,627 over four years.
Batteries degrade, don't they? If so, how quickly?
The jury is still out on this one, but the general feeling is that automotive traction batteries degrade slower than owners and manufacturers initially feared. Some early, high-mileage Nissan Leafs and Renault Zoes are showing battery degradation, but later cars are resisting this better. Many regular users are pleasantly surprised. Having said that, the battery is the most expensive component in any current EV, and if it were to need replacing after eight or 10 years, it's doubtful that the car would justify an investment of up to £5000 to £10,000. There are ways of prolonging battery life – such as not fully charging every time – which help.
Tesla, a consistent technology leader, is about to introduce what it labels a longer-lasting "million-mile battery" in China-built Model 3s and others later. This also has a lower content of cobalt, the battery's priciest chemical constituent. So the technology is moving rapidly the right way.
Will I still suffer range anxiety?
Apologies for this, but yes and no. If you buy a short-range city car like the Volkswagen e-Up and set out for Glasgow, stopping every 120 miles will be a bind, especially if all the chargers are occupied when you get there. A growing factor may also be 'charge-point anxiety'.
But if you have a longer-range EV with rapid-charging capability – and importantly, if you remember to leave town with the battery fully charged – you'll have much less trouble. There are many EVs with viable 250-mile ranges, and a few will do 300 miles or more. Tesla is the best case: its Supercharger network is very strategically placed and their 'pumps' are plentiful. It's not difficult to find Tesla owners of many years standing who have never had a problem with charging.
Okay, but I can't afford a Tesla. What will the charging infrastructure be like for me?
At present, the answer to this question almost depends on what version of the truth suits you. The charging network for non-Teslas is patchy and needs much improvement, yet EV zealots furiously insist that running an electric car is practical and fun. The story seems to be that it can work fine if you have the facility to charge at or near home and you're the kind of person who can think ahead.
Problems occur if you expect, as owners of petrol and diesel cars do, that refuelling will look after itself. But there are many positive signs. A British business, City EV, is fitting 3kW charging points to lamp posts in Brighton. The biggest operator of charging points in Europe, BP Chargemaster, has taken to opening multi-point rapid-charging stations, Tesla-style, in key locations. Another progressive business, Ionity, is building a network of 350kW rapid chargers on Europe's arterial roads. And the dozens of charger providers in the UK are now refining their procedures so that casual users can operate units via smartphone apps or bank cards rather than needing to be members.
Even naysayers agree that the situation will get better, because it has to do so if the majority of cars sold come 2032 are electric, as is presently the plan. But for now there's no substitute for planning ahead, and there are numerous apps, such as Zap-Map and Plugsurfing, to help with that.
If I buy an EV, will I really be helping to reduce CO2 emissions?
It's well known that an EV powertrain produces no CO2 in its operation, which is a good start. Unfortunately, though, battery production can be very CO2-intensive, so your EV is never likely to be entirely blameless. Research by the ICCT (International Council on Clean Transportation) suggests that an electric car with a medium-sized battery would have a permanent CO2 cost of around 35g/km (or worse if the battery were very large), giving it a useful rather than huge advantage over the latest strain of modern turbodiesel engines. Other research is more damning still. The guidelines seem to be to buy a car with a modest-size battery, to choose a plug-in hybrid if you need to do lots of longer journeys and (if possible) to ensure your battery manufacturer was using renewable energy for the production job.
I've heard that EVs are harder and more expensive to recycle than ordinary cars. Is this true?
They are, and it's all down to the battery. This consists of many small and delicate individual cells that contain both precious and toxic materials. The science of recycling is developing fast, because it has to, given the value locked up even in a depleted battery. The batteries themselves are being designed for easier end-of-life recycling and specialist recyclers are developing techniques to streamline the work. What's more, there's a worldwide move to delay the recycling of end-of-life car batteries and instead use them to make up much larger battery banks that store, for example, wind-power generated overnight when demand is low so that it can be deployed when the need arises.
READ MORE
Ultimate EV guide: Every electric car rated 
Ultimate EV guide: How to buy a used EV 
New electric cars 2020: What's coming and when?
https://www.autocar.co.uk/car-news/featu...s-answered