10-07-2021, 03:07 PM
Used buying guide: Ford Escort XR3i
It always felt more down to earth and accessible than a Golf GTI or 205 GTi, but this once common hot hatch is sought after today
The used car scrappage allowance of 2009 has a lot to answer for, not least the absence of XR3is on our roads. Back in 1994, there were around 95,000 of them, but today there are only about 450, with another 1500 off the road being restored or tucked away as investments. And an XR3i is a good investment, in the same league as contemporaries such as the Peugeot 205 GTi and Volkswagen Golf GTI.
That said, how good an investment depends on how much has been spent bringing one up to scratch. We found a 1989-reg concours-winning XR3i with 56,000 miles on the clock advertised for £24,995. The trouble is that £75,000 has been spent getting it to this standard. 
Investment potential or not, the XR3i is an appealing car – attractively styled, well equipped for its day and, thanks to a low kerb weight, reasonably responsive. Also, more than its Peugeot and Volkswagen rivals, it has the common touch – a hot hatch for everyman (and woman). Bang in that Dire Straits cassette, spin the fluffy dice and rewind the years. 
There were three generations: Mk3 (1982-1986), Mk4 (1986-1990) and Mk5 (1992-1995). Although a good seller at the time, Mk3 XR3is are extremely rare today, having been claimed by rust, accidents and that allowance. Mk5s are rare, too, but rather because they weren't very popular. Although there was a more powerful 130bhp variant, performance failed to impress against the opposition, which included Ford's own 150bhp Escort RS2000. We're interested in the Mk4 here because more of the cars have survived and because they're well supported by specialists. It was propelled by a 105bhp 1.6-litre CVH engine. The Bosch K-Jetronic fuel injection system was mechanical, but with the arrival of the so-called 90-spec XR3i, Ford replaced it with an electronic system that squeezed power to 108bhp.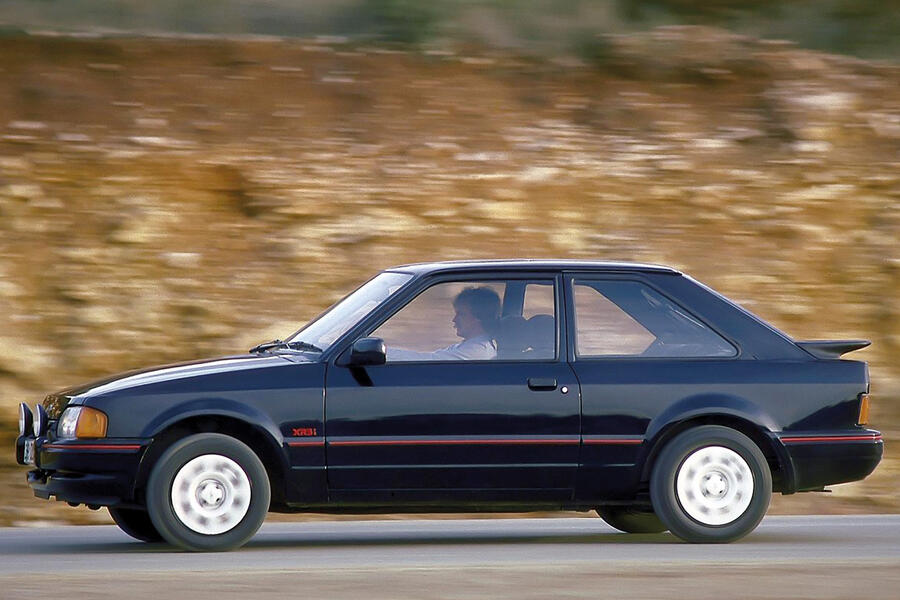 Be warned: this new system had problems with the idle control stop valve that caused poor running and hot starting issues. The earlier K-Jetronic system is much more reliable, although one or two parts are hard to source.
There were two flavours of XR3i: the hatch and the cabriolet. In its day, the hatch was cheaper than the cabrio but more likely to be nicked, crashed and abused. The cabrio was bought by more sophisticated types who lived in nicer areas and maintained them better. As a result, there are many more cabrios than hatches today and they're in better condition. However, like for like, they're worth less.
That's partly to do with their greater availability but mainly that, to today's fast Ford enthusiasts, the hatch is more desirable. Don't let that put you off buying a cabrio, though. Unlike the hatch, which was built in strike-hit Saarlouis and, later, Halewood, the cabrio was made by Karmann in Osnabrück,to a much higher standard. It suits Dire Straits better, too.
An expert's view - Biran Rowe, Insurance Valuations, XR owners club
"I have a Mk4 90-spec XR3i hatch with 73,000 miles that I bought 11 years ago. It was the car I always wanted as a teenager but could never afford. Filling it up at a petrol station takes around half an hour because people come up to me to share their memories of the XR3i. Of course, it feels nothinglike a modern car to drive but it does feel more connected to the road. You can hear the engine better than a modern car's, too, especially at around 3500rpm, when there's a lovely rasp from the exhaust. It's outpaced by other hot hatches of the time such as the Volkswagen Golf GTI and Peugeot205 GTi but I still love it." 
Buyer beware…
Engine: The 1.6-litre CVH engine can sound tappety from cold but should quieten as the temperature climbs. It likes a new cambelt and water pump every three years and fresh oil at least every 6000 miles. Early model's Bosch K-Jetronic mechanical fuel injection system is more reliable than the later90-spec electronic injection system.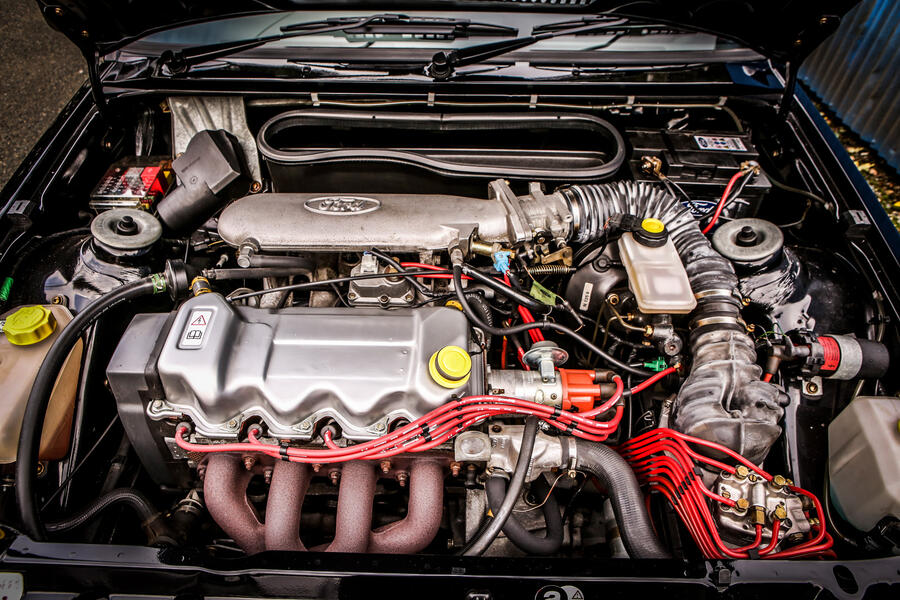 Gearbox: Linkages can become loose and sloppy (new parts widely available). Do the usual checks, listening for grinding and crashing, and feeling for clutch slip. 
Suspension and wheels: The XR3i is quite soft for a sporty hatch so don't immediately think the dampers are shot. Bushes will be tired, though, so expect to hear clonks and bangs over rough surfaces. Wheel bearings consistently fail, so listen for a faint hum as you go around a corner.
Body: Rust is a given, but be more concerned about the quality of any repairs, including welding and finishing. An MOT will sniff out anything serious. For the record, rust attacks rear arches, sills, floor and suspension. It then spreads to the fuse box and battery tray. Blocked roof drains can cause sunroof cars to deposit a shower of rust on your head as you open the roof.
Interior: Early cars' Daytona trim is harder to source than the Zolda trim of later ones so beware anything too shonky. Door pulls scratch easily and are hard to source but can be refurbished. Vinyl on the main door cards tends to lift. 
Also worth knowing: There's no shortage of XR3i expertise out there, from the XR Owners Club (xroc.co.uk) to numerous specialist repairers and parts suppliers, including Mark Sargeant at Ford Parts R Us in Weston-super-Mare (fordpartsrus on Facebook). 
How much to spend
£1500-£2499: Project hatches; not terminal but just about salvageable. Cabriolets around £500 less.
£2500-£4999: Hatch runners with an MOT but requiring body and mechanical work. Cabrios around £750 less.
£5000-£9999: Good hatches in need of some minor cosmetic work with well-restored or tidy original examples towards the upper limit. Cabriolet equivalents are more like £4000-£8000.
£10,000-£25,000: Very clean, low-mileage hatches and cabriolets with concours examples over £20,000. 
One we found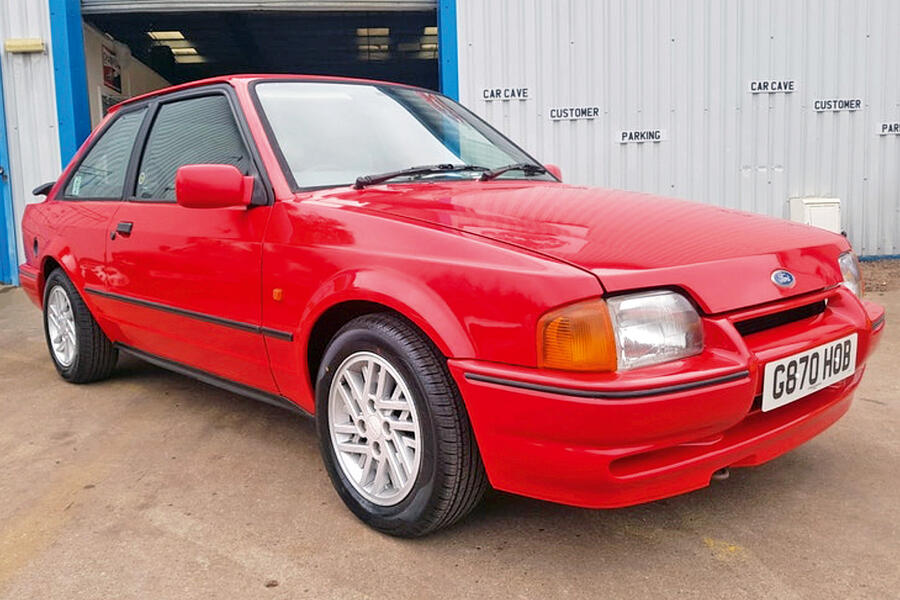 Ford Escort XR3i, 1990, 79,000 miles, £8250: A tidy example of a 90-spec XR3i hatch (so check it runs smoothly and starts easily) with a fresh MOT. Some previous rust repairs but, remarkably, the battery tray is original so corrosion can't have been too bad. Recently serviced; new timing belt and tyres.
https://www.autocar.co.uk/car-news/used-...scort-xr3i