03-18-2022, 05:34 AM
Used buying guide: Honda Accord Type R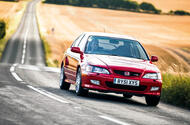 Any Type R is good, but the Accord Type R is a real sweet spot
Keen drivers wanting a healthy bang for their buck have for years sought solace in Type R Hondas, whether through the pumped-up kicks of the Integra Type Rs or the tantalisingly agile Honda Civic Type Rs, both of whose entertaining handling goes at least some way to making up for their occasional lack of subtlety and finesse.
If any of them can lay claim to being the sweet spot, though – the baby bear's porridge in the history of the sporting Honda – it's the Accord Type R, a four-door, five-seat thriller that combined terrific and immensely usable performance and real driving purity with a modicum of practicality and a hint of decorum and, dare one say it, even maturity.
Actually, it had it all, this car. Sparkling and unimpeachable VTEC engine? Check. Lowered and stiffened multi-link double-wishbone suspension? Check. Super-quick steering and 17in alloys? Check. Huge ventilated front discs? Check. Space for the family? Yup, got that covered too.
For starters, what you got under the bonnet was a gem of an engine, a hand-finished, naturally aspirated 209bhp 2.2-litre VTEC DOHC inline four known as the HA27 and derived from the engine in the contemporary Prelude. It produced its maximum power at a tingly and sonorous 7200rpm and would happily rev on to 8000rpm. Remember, this low-friction beauty was ushered out of Honda's portals at just the time (1998) when the Japanese firm was right at the top of its deeply impressive engine-making game.
Helped by a 57kg reduction over the standard Accord, thanks to the removal of some sound insulation and other superfluous bits of trim, among other things, performance was of the order of 7.2sec for the 0-60mph sprint and a 142mph top speed – more than enough to sock it to its contemporaries back in the day.
Power went to the front wheels through a super-slick five-speed gearbox and a trick Torsen limited-slip diff. If that engine was always a thing of sensual joy, so was the wrist-quick steering. Even the ride was both subtle and supple, being firm but never threatening, as it did in one or two of the older Civic Type Rs, to get out of control.
A facelift in 2001 brought in a minor nose job, black tailpipes and some strengthening of the gearbox internals, and in 2003 the Accord Type R left the stage for good.
To a certain degree, though, it was how it did it rather than what it did that made the Accord Type R shine so brightly. To drive it was to get caught up in a mood-lifting, life-enhancing experience that began the moment you climbed into its handsome Recaro driver's seat, eyed its whitefaced instrument dials and clasped its sweet Momo steering wheel and titanium gearknob.
Find a good one now – an admittedly difficult task, and one probably getting more difficult by the day – and you'll have a car that can still give you more sheer driving pleasure than a bucketload of present-day 300bhp hot hatches. Buy carefully, then, and enjoy at leisure.
What we said then
22 September 1998: "The hot 2.2 offers strong, usable acceleration from as low as 2000rpm. Power then swells progressively to 5500rpm, after which it explodes in the usual VTEC style towards 7200rpm. Its steering, brakes, grip and body control are in a different league from those of the ordinary Accord. Tramlining and torque steer are all but non-existent. The truly admirable achievement is that Honda has endowed the car with such crisp handling without ruining the ride."
An owner's view - John Stevenson: "I love these cars and I bought my first one brand new 22 years ago. My current 1999 Type R has done only 55,000 miles from new and is totally stock, other than a stainless steel exhaust. It's awesome on a wet track, where it refuses to understeer, thanks to its trick LSD.
"I think it's in a different league to other front-wheel-drive cars and a much better-handling car than many of its rear-wheel-drive equivalents. The only minuses are the gap between second and third gear and its thirst when driven hard.
"Mine has been exceptionally reliable and sails through MOTs. There's no rust. I've had to replace the two front springs, which were cracked, and the front ball joints, the D-bushes and the drop links in both front arms."
Buyer beware
Engine: It should prove reliable, even with quite substantial mileage on it. The engine can sound rattly from cold so let it warm through until smooth, listening for noises from the bottom end (possibly worn con-rod shells or a bottom crank pulley on the way out). Stevenson (above) recommends fresh oil every 3000 miles. A diesellike rattle at 2000rpm suggests the cambelt tensioner is about to fail.
Gearbox: Pre-facelift cars can suffer from a weak fifth-gear synchro and some people have reported problems on the reverse-gear synchro. Honda allegedly set this right with the 2001 facelift. Feel for crunching and budget up to £1000 to put it right. Expect up to 100,000 miles from the clutch.
Brakes: Braking performance should be as exceptional as it was when the car was new. Watch out for perished brake pipes and fuel lines where they run behind a plastic tray under the car. Check the pads and those ventilated front discs for warping.
Steering and suspension: Aside from regular wear and tear, it's all fairly robust. A knocking or rubbing noise could indicate the anti-roll bar drop links are broken. New ones are inexpensive and easy to fit.
Body: The big pain with an Accord Type R is rust. Check for it in the wheel arches, behind the door seals, under the bonnet and around the bulkhead. Look behind the clutch fluid reservoir, under the seal above the wing mirrors, the footwells, above the accelerator pedal and behind the wheel-arch liners. Check the automatic headlight-levelling system and the rear door handles work.
Interior: The cabin wears well, but the side bolsters of the Recaro seats give up if they've been abused. Check that the air-con works. If not, it's likely that it's related to the air-con's radiator, which is sited behind the front bumper and prone to corrosion.
Also worth knowing:
Those handsome 17in alloy wheels will corrode if chipped. A full refurbish of all four is unlikely to cost more than £600. Keeping the original wheels is vital for a Type R to fetch top whack.
The timing and balancer shaft belt needs replacing every 70,000 miles or eight years, whichever is sooner. It's worth having the water pump done at the same time.
The steering should have consistent weighting and assistance from lock to lock. If it doesn't, then it's likely to be the result of corrosion around the power steering pump lines.
How much to spend
£2000-£4999: You used to be able to take your pick at this price level but not now. Expect early and high-mileage cars mostly with more than 100,000 miles for sale privately and probably Cat D or N. Be very careful. Take an expert with you.
£5000-£9999: Where you'll find the vast majority of Type Rs today. Generally, these will be with a lower mileage for the year (although most still in excess of 100k; expect to pay nearer the top end for cars with under that figure) and some from specialist dealers.
One we found
Honda Accord Type R, 2000, 126k miles, £6000: Highish mileage but a well-kept car. It is not modified or upgraded in any way, which is exactly how you want one, and is in the favoured red. Two previous owners, recent service and six months' MOT. A very clean-looking Type R at a very favourable price.
https://www.autocar.co.uk/car-news/used-...ord-type-r