07-22-2022, 03:40 AM
Used buying guide: Toyota MR2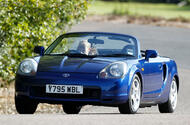 The MR2 isn't hugely fast, but it's great fun
The MR2 deserves more credit in the cheap roadster market
If you're after a bit of inexpensive fun and you're looking for an open-top, two-seat sports car of decent swervability and reasonable affordability, your thoughts might immediately gravitate towards a used Mazda MX-5 of some sort, but may I introduce you instead to the third-generation Toyota MR2?
This little jewel ran from 2000 to 2006 and can now be bought for peanuts, and while it shares much in common with the iconic Mazda, such as the wind-in-the-hair pleasure and the promise of at least decent long-term reliability, it differs by having its engine mounted amidships, just as its two predecessors did.
Oh yes, those predecessors. You see, it was in 1985 when Toyota first offered an MR2, a mid-engined, two-seat, rear-wheel-drive, T-bar-roofed bundle of fun, heavily influenced by the delightful Fiat X1/9. In 1990, it was replaced by the Mk2, which was larger, more rounded in its styling, heavier and, certainly in its earlier versions, a little less sharp to drive.
The Mk3 was a very different beast from the first two iterations, though. It was smaller and lighter and, for the first time, fully convertible, with a roof that was wonderfully quick and easy to lower or erect from the cabin. It weighed just 975kg, which was lighter than the original, and powered by a revvy, all-alloy, dual-overhead-cam 138bhp 1.8-litre four-cylinder engine of crisp and responsive manners. Think performance in the order of 0-62mph in 7.9sec.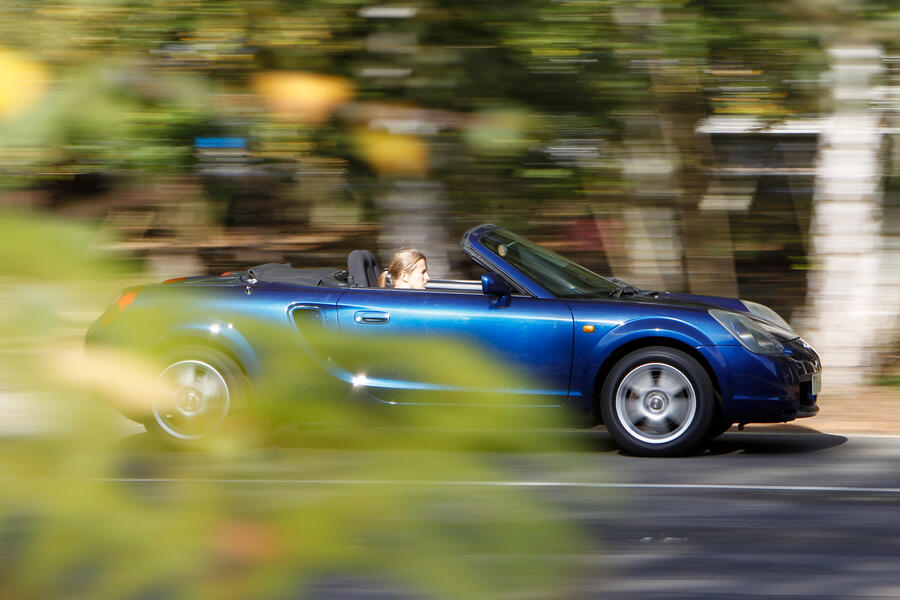 But the MR2 is about more than mere straight-line figures. It's great fun to drive, for starters, with light and quick power steering that makes parking easy and bends taken quickly a tactile delight. Its handling is nimble, adjustable and a mid-engined blast: turn-in is sharp, the brakes are strong and there's plenty of grip from its relatively slender tyres.
The rest of the car is equally delightful. It's surprisingly comfortable, with a low-slung driving position and excellent all-round visibility. The gearchange (a five-speed manual was standard on the earlier cars, while later, post-2002 ones added a six-speeder and even the option of a trick sequential automatic) has a short throw and is slick in its operation.
All told, this is a bargain-bucket roadster that has a good reputation for reliability and will still put a huge smile on your face.
I think it looks great, too, like a sort of mini Porsche Spyder 550, even if others have derided it as a bit too push-me-pull-you. Whatever, it's a real driver's car, with near-perfect weight distribution, a Torsen limited-slip differential and fuel economy of around 38mpg.
Downsides? It isn't the most practical thing, with its tiny front boot full of spacesaver tyre and weeny, hard-to-get-to storage area behind the seats. There's simply nowhere to stash your stuff. You could cram a few things into the spare wheel under the bonnet and some odds and ends in the cabin cubbies, but that's your lot.
What goes wrong? Well, these are old cars now, so condition is king. Check out what our experts are saying on it and shop carefully, but what's without doubt is that if you find a good one, you will be getting about the maximum bang for your buck that you can.
What we said then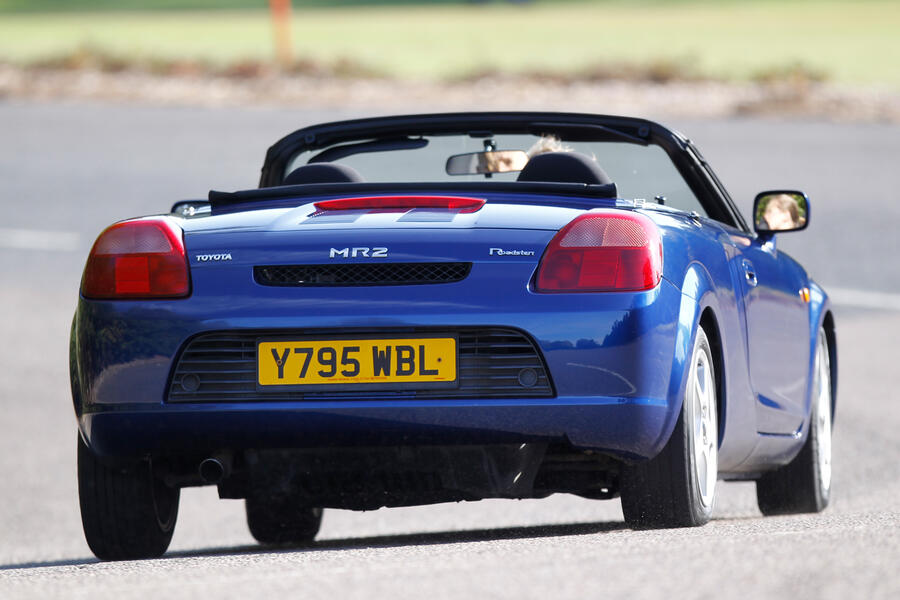 29 March 2000: "This is an admittedly impractical but fine-handling two-seater. To drive, it's terrific. The 138bhp 1.8-litre engine whizzes away merrily through all five of its gears, with the slick shift just adding to the sense of fun. It's all topped off with excellent handling courtesy of the mid-engined layout. The only thing to watch out for is that it can catch out the unwary in the wet. And as you'd expect from a car engineered so well, the hood is a masterpiece."
How to get one in your garage
An owner's view, Chee-Chiu Lee: "I loved my MR2 and still think it's a fantastic car. To drive, it was like a mini Porsche 911. Like all sporty Toyotas and very like the Celica, it seemed to pivot around your hips. I upgraded mine to the lower TRD suspension, which improved the handling and ride, although it could scrape its bottom if I was carrying a heavy passenger. Its straight-line pace was ideal for me to enjoy it without risking my licence. It was really frugal, too. I found it better on Yokohama tyres than Bridgestones."
Buyer beware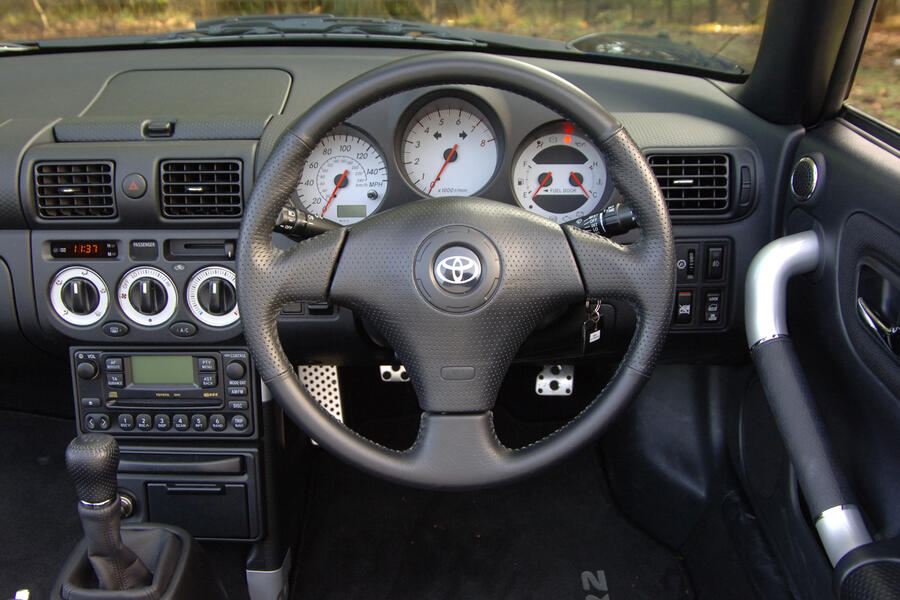 Engine: The biggest issue is the pre-catalyser in the exhaust manifold perishing and the possibility of the ensuing debris entering the engine. Early signs are the lambda sensor warning light and any changes in the oil consumption. Facelifted cars got revised piston rings, but the problem still occurs.
Exhaust: The pre-cat may have been removed or a de-cat exhaust manifold fitted, but as long as the main catalyser is in place, it should pass the MOT test.
Steering: The front steering knuckle (where the column joins the rack) wears, causing a notchy action and less self-centring. The power steering's brush pack fails. The rear track adjusting bolts can seize and snap, taking pricey Toyota-only adjusting arms with them.
Brakes: The rear calipers and cables seize. Cables are a five-hour job to replace, as the fuel tank has to come out.
Chassis: It's generally quite sound, but the rear subframe rots, often going undetected behind a plastic cover.
Suspension: The dampers can fail, but because the car is so light, the springs disguise this. The bushes wear; replace them with polyurethane parts.
Interior: If it's wet behind the seats, check that the drains at the hood's rear are clear. Ensure any hard top has a fitting kit.
Wheels: The aluminium is known to pit and corrode more easily than other alloys. This not only makes the wheels look scruffy but also weakens them. If they look corroded, budget for a refurbishment or a replacement set.
Also worth knowing
With the bodywork, the positive thing to note is that the exterior panels bolt directly to the main shell, meaning they are relatively trouble-free to fix if damaged.
The hood has a simple unclip-and-push-back mechanism. It's strong and durable, but check around the rear window, as they can crack if the hood hasn't been folded down correctly. A wind blocker can be pulled up from behind the seats.
Be sure to check the drains for the hood, which exit through the side air vents, as these can get clogged up. It's worth clearing them every year.
In 2004, Toyota improved the body rigidity by adding crossmembers under the front. New braces for the rear bumper came in, as did new rear struts and floor-to-sill areas. Improvements to the floorpan and tunnel further stiffened the body.
At the same time, Toyota changed the spring and damper rates to finetune the ride and handling and upped the rear wheel sizes from 15in to 16in.
How much to spend
£1600-£1999: Early cars in mixed conditions. Some potentially decent buys, but be ready to spend to get them up to scratch.
£2000-£3999: Lots of better cars here, mostly tidy earlier models but also some facelifted ones with high mileages.
£4000-£4999: Lots of facelifted cars, mostly in good nick. Some strongly priced older ones.
£5000 and above: Pre- and post-facelift cars with average mileage and good service history and in excellent condition.
One we found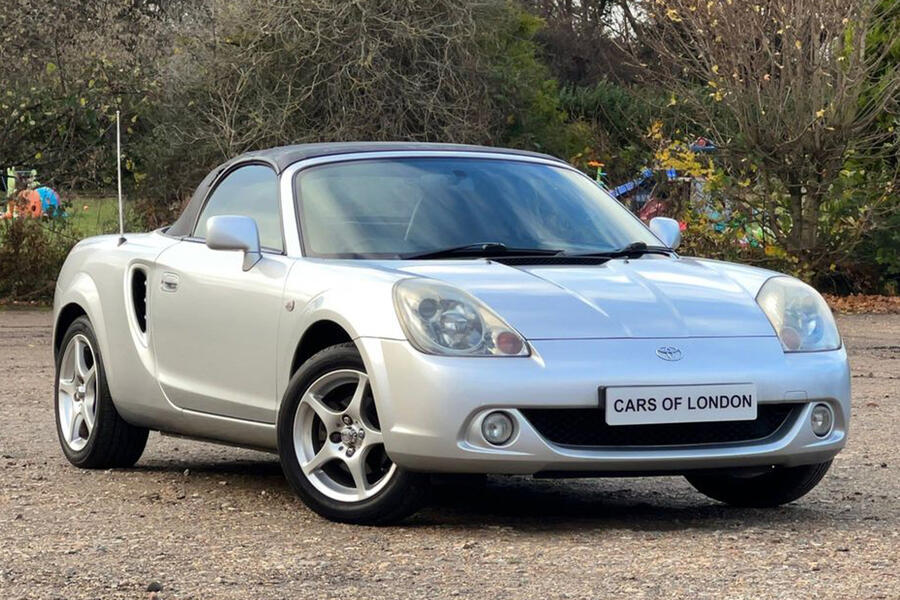 Toyota MR2, 2003, 72,000 miles, £2995: A lovely example with a relatively low mileage and a service history, sold by a reputable specialist with six months' MOT. It has a black leather interior, untarnished metallic silver paint and options including air-con, a 10-CD autochanger and a bodykit.
https://www.autocar.co.uk/car-news/used-...toyota-mr2