01-11-2022, 08:59 PM
Used car buying guide: Alfa Romeo SZ
Alfa's blocky coupé is well worth bidding £50k or more on
The trouble with a number of very desirable sporting cars, such as the Porsche 911 and the Lamborghini Huracán evo, is that they're just too common. Go out for the evening and there's every possibility that when you return to your car, there might be an identical one parked beside it.
The chances of that happening are much slimmer with the Alfa Romeo SZ. Just over 1000 of these eye-catching coupés were made between 1989 and 1991 (and for those who insist on arriving everywhere with messed-up coiffure, 300 RZ roadsters were made, too).
The trouble is, though, that not since that, er, referendum in 2016 we won't talk about has there been an issue as divisive as the SZ's looks. Love it or hate it, everyone has an opinion, and the only thing people do agree on is that it looks like nothing else that ever turned a wheel.
For that, you can blame Zagato – sort of. Was there ever a company as capable of making some of the most achingly beautiful cars and at the same time some that were so contentious? So the only thing to point out here is that it's not really a Zagato design. It was Zagato-built, yes, but the initial styling was the work of Robert Opron, a gifted and talented French automotive designer who was responsible for some of the most wondrous Citroën cars of all time (and who sadly passed away last March); and it was a promising youngster called Antonio Castellana who handled the finishing.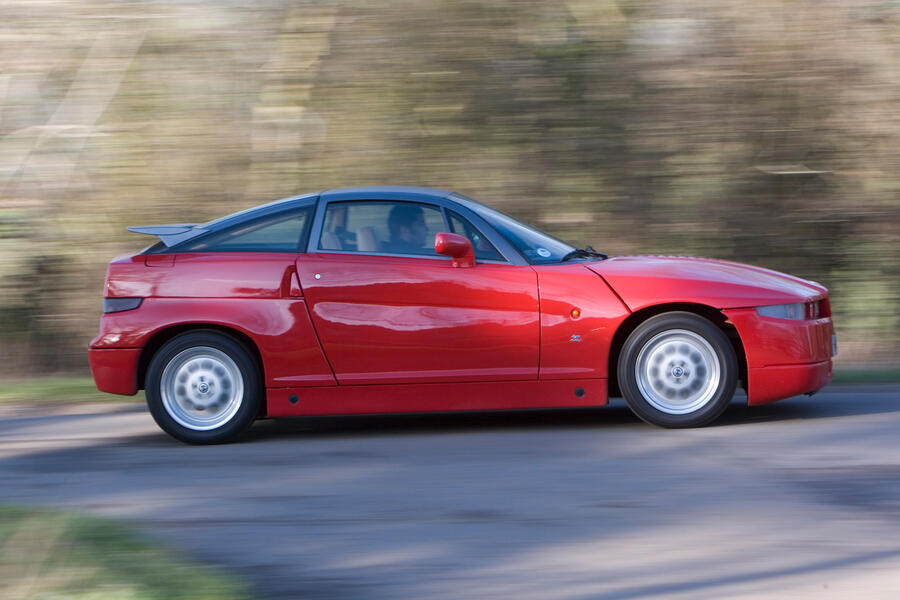 The result is absolutely stunning – or plain awful, depending on your point of view. Whatever, there aren't many of them around, but the fact is if you're sired by Alfa Romeo and weaned by Zagato, you're a classic without having to get out of bed, and forget the panel gaps.
As a further bonus, the SZ was bloody good to drive, with its shortened Alfa 75 platform, racing-inspired suspension and standard-fit Pirelli P Zero tyres. Up front there are double wishbones and at the rear a De Dion tube and a Watt linkage.
Under that extraordinary bonnet is Turin's 210bhp 3.0-litre Busso V6, which makes a wonderful noise and drives the rear wheels through a short-ratio five-speed manual gearbox and via a rear transaxle. Thanks to its composite body, the SZ had a particularly hearty power to-weight ratio, too: think 0-60mph in 6.9sec and a top speed of 153mph.
It rides pretty well, too, albeit firmly, on its adjustable dampers. Even more impressively, it hangs on in corners like a limpet: 1g-plus is the order of the day here.
It's impressively comfortable inside, too, with wonderfully supportive seats and a pleasingly low-slung driving position. The only issue is that all original SZs have the steering wheel on the left.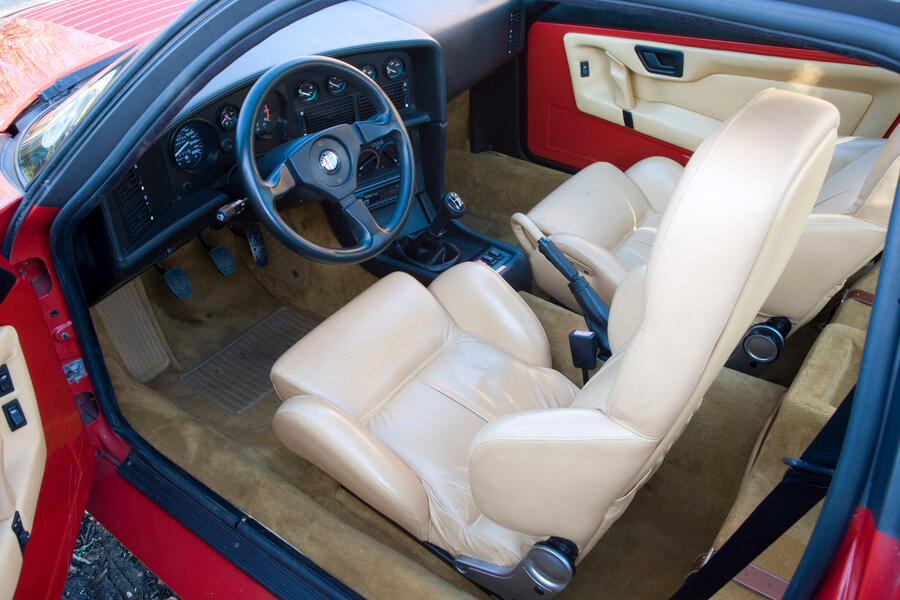 With so few made and such an exotic badge, of course the SZ will cost you a lot to buy. There was a time when prices had dipped low enough to swerve people out of buying a new Audi A4, but now you will need more than £50,000 for one.
What you will get, though, is an appreciating classic that will still be a pleasure to drive even at thoroughly legal speeds, and a work of art you can quite happily drive into your front room and just stare at.
What we said then
26 April 1989: "Here's one terrific sports car that's so docile and so manageable, it may well be the perfect blend of a totally extroverted exterior and wonderfully tame driving manners. Squat, tough, even savage: it looks like a demented grasshopper crossed with a lizard, challenging you to scrape it off the road. It's serene and very friendly under that ferocious body, though. But it's the balance and poise that leave the biggest impressions."
How to get one in your garage
Buyer beware…
Engine: Check the cambelt and the cambelt tensioner regularly and look out for any oil leaks. On the whole, reports are good, with no obvious problems.
Gearbox: There have been problems with a worn external gear linkage. The second-gear synchro can go and you might get a propshaft vibration.
Steering: There are reports of leaks from the pump and the rack, but the system is mostly reliable.
Suspension: This can make noises. Check the rear shock bushes and the A-frame rose joint and make sure the original Koni dampers aren't leaking. They're unique to this car and expensive.
Brakes: The standard brakes are rubbish, but they can be upgraded with better pads or replaced with uprated but bespoke and expensive (£5000) units. The brakes also have problemswith sticking and the rear calipers and the compensator seizing.
Body: The composite body can suffer from microblisters. As for rust, check the bottoms of the C-pillar and A-pillar, the bottom of the windscreen, the lower door hinges, the B-pillar in thedoor shut, the bulkhead, the inner wings and the inner sills. The exhaust and fuel tank can both rust as well. Corroded wheels are expensive to refurbish. The doors can drop, too.
Electrics: All the switches are flimsy. The milometer trip can fail, as can the heater fan, shock height adjustment, indicator stalk, radiator fan, heated rear window, electric aerial and screenwashers.
Interior: The seats' backs can work loose, the bolsters are often worn and the side plastics are often broken. The original stereo and speakers can pack up.
Also worth knowing: Make sure your SZ comes with the book pack (containing three books), a certificate with the car number and a plaque on the centre console with the car number. It should also come with a car cover, a sparewheel bag and a toolkit.
How much to spend
£50,000-£69,999: Good examples start at around £53,000, but check the paintwork thoroughly for blisters and the wheels for corrosion, which will cost a lot to fix. Most SZs aroundtoday are mechanically good, but look out for big bills.
£70,000 AND ABOVE: About £75,000 buys you a good one from a private buyer or a specialist dealer with straight bodywork and in top mechanical condition. Expect a full service history and a car that has been garaged all its life. Mint examples with ultra-low mileages can fetch up to £100,000.
One we found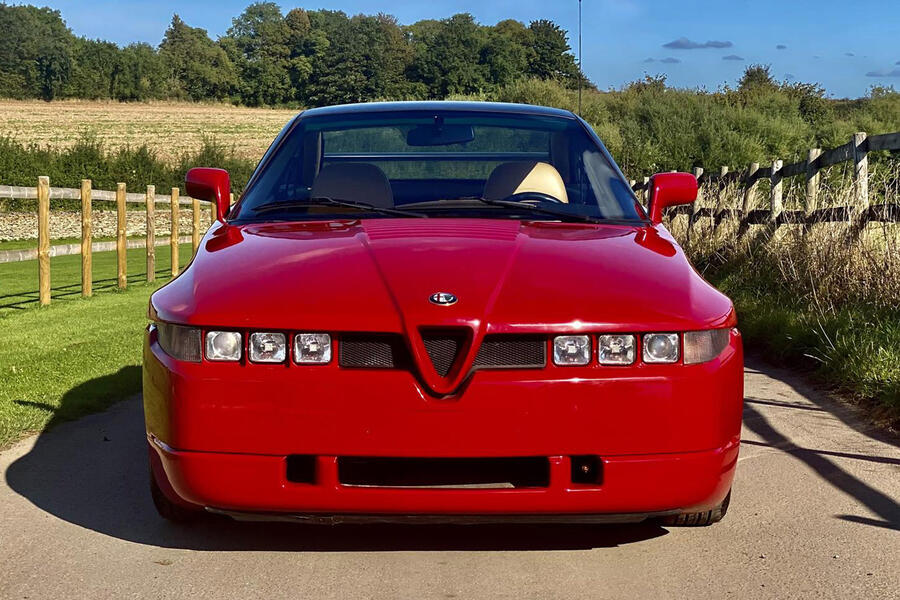 ALFA ROMEO SZ, 1991,39,000 MILES, £53,995: One of the cheapest of the current SZs on the market, this UK-supplied car has the bonus of a speedometer that reads in MPH, rather than KPH. It's number 439 of 1036 made. Well kept by its third owner since 2003, it has been serviced and cherished and was recently treated to a cambelt change. It comes complete with itsoriginal bag and cover, too. 
https://www.autocar.co.uk/car-news/used-...a-romeo-sz