09-14-2022, 04:25 PM
Used car buying guide: BMW M135i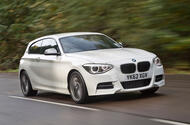 Examples of the BMW M135i can be had for as little as £9000
The M135i lacks M-car looks but it packs a performance punch
Never judge a book by its cover. The second-generation BMW 1 Series was no looker – nor was the first-generation version, come to think of it – but hidden beneath its sodden flanks was one of the most spirited hot hatchbacks of the past dozen or so years.
The M135i was launched in 2012 and ran until 2016, with one mild upgrade in 2015 when the even more willing M140i replaced it. That means there are now plenty of M135is on the used market, with prices from as low as £9000. So what do you get? A muscular 315bhp 3.0-litre turbocharged straight-six engine with a wall of torque and an awesome soundtrack, the whole lot expressed via a deliciously playful rear-wheel-drive chassis. You also had the choice of a six-speed manual or an eight-speed automatic gearbox, and a three- or five-door bodyshell.
So you want to go from a standstill to 60mph? Just 4.6sec. From 30-70mph using only third gear? It will take just 4.1sec. Even in sixth – which is barely past idle at 30mph – the BMW wants only 8.1sec, which is amply brisk. For all its power, the M135i's unit is exceedingly flexible, smooth and happy to be rolled out from low engine revolutions. It's odd to think that once upon a time the gently blown six and smooth-shifting automatic would have seemed at odds with the M badge, but now such things don't bat an eyelid. It is, of course, as responsive and keen a set-up as you'd expect.
While the M135i came as standard with Drive Performance Control, which provided a range of driving modes from Eco Pro through to Sport+, it could also be specified with electronically controlled adaptive M Sport dampers that brought faster reaction times. Sport and Sport+ modes tighten up the car's body control, add a little weight to the variable-ratio steering and progressively dial back the stability control system's eagerness to intervene. Most owners settle for the default Comfort mode most of the time, switching to Sport on more interesting, well-surfaced roads.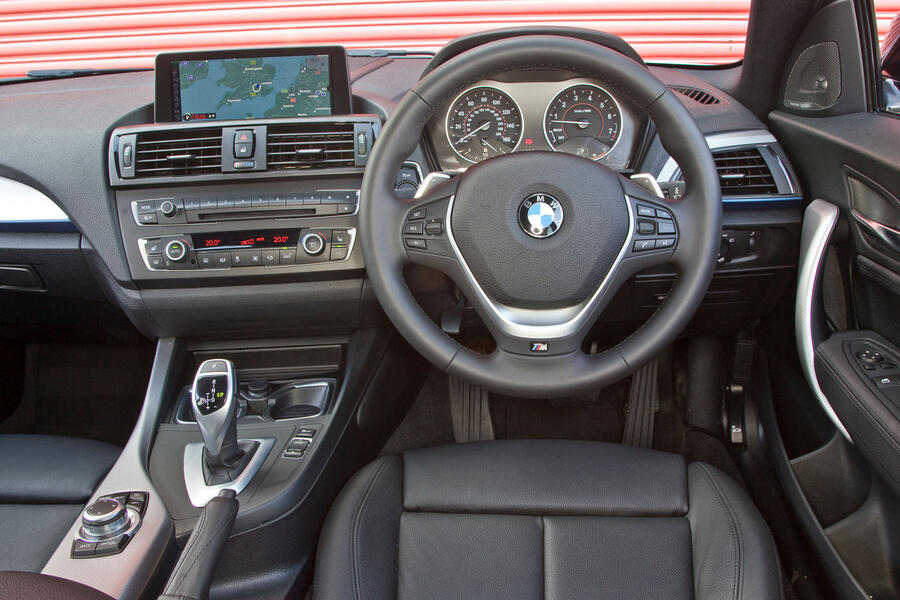 The M135i didn't ride on run-flat tyres. Instead, it initially got very serious-sounding and extremely grippy Michelin Pilot Super Sports. All told, its ride is firm, oh yes, but it never threatens to offend. 
The steering is smooth, accurate and quick, providing a quicker ratio once you get off-centre than it does at the straight-ahead. It's a common trick that gives straight-line stability allied to a feeling of agility once you're on lock. The whole plot weighs 1545kg, yet the M135i turns with the willingness and accuracy of a car a couple of hundred kilos lighter, no doubt aided by the fact that only 52% of its weight is on its front tyres.
Typically, the M135i is quite pleasingly balanced and adjustable at the limit, but seemingly it would be overly tailhappy were it to wear the same width rubber on the front as the back. As it is, it's a rather enjoyable steer down most roads, with just the right level of adjustability when you get serious.
Add in a classy cabin, decent practicality and a top-notch infotainment system and you've got yourself one dead-cert hot hatch page-turner, even if the cover won't set you on fire.
What we said then
18 April 2012: "Nearly but not quite an M car. That's what the M135i looks like on paper, and that's what it turns out to be in practice: a car that retains the mainstream 1 Series range's sensible appeal but with the wick turned up to cast a larger glow. It's a compromise that works. This is a fine driving companion and a car with both a spectacular set of performance numbers and a determinedly alluring price."
An expert's view
Kevin Bird, founder, Birds: "We've still got Autocar's old modified M135i long-termer here from 2018. It's running really well and hasn't put a foot wrong. For my money, it's smoother, more comfortable and quicker than any other 135i. On the whole, you'd probably be better off looking out for an M140i now, but find a good, standard M135i and you'll enjoy it. Fuel injectors can be a problem and watch out for any warning lights. When buying, check all the gadgets such as the iController work. Those things can cost a fortune to fix."
Buyer beware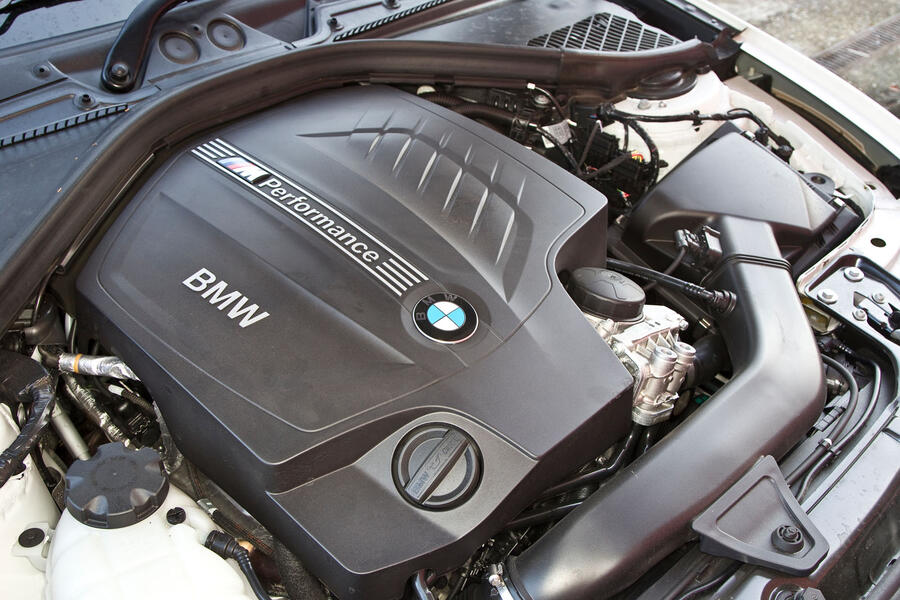 Engine: Water pump and thermostat issues are not unknown. Coil pack issues are another occasional weak spot. Too many short journeys and not enough motorway blasts can coke up the internals, which puts the coil packs and ignition system under pressure. Scroll through the on-board service computer to check the car's past maintenance and its future needs.
Transmission: Manual gearbox can feel a bit rubbery from cold but should ease up as temperature builds. The auto is supposedly sealed for life, but a 60,000-mile fluid and filter change is recommended.
Steering, brakes and suspension: Front- and rear-wheel bearing failures can happen. Front ball joints wear too. Check the rear brakes for abnormal wear caused by hard driving initiating the stability control to act on the rear brakes while under power. Feel through the steering wheel for vibration from bent wheels. Check the tyre life front and rear and that they're a premium brand.
Body: Any rust is likely to be the result of poor crash repairs. On that subject, check the panel alignment and for overspray on window rubbers. Be suspicious of new front wing bolts, and check for rippling of the bonnet slam panel, rear cross-member and boot floor. Ensure the headlight dates correspond with the registration year.
Interior: On an option-heavy car, check that every last thing works. Electronics such as head-up displays and iControllers can cease to work properly, and it costs a lot of money to put them right.
Also worth knowing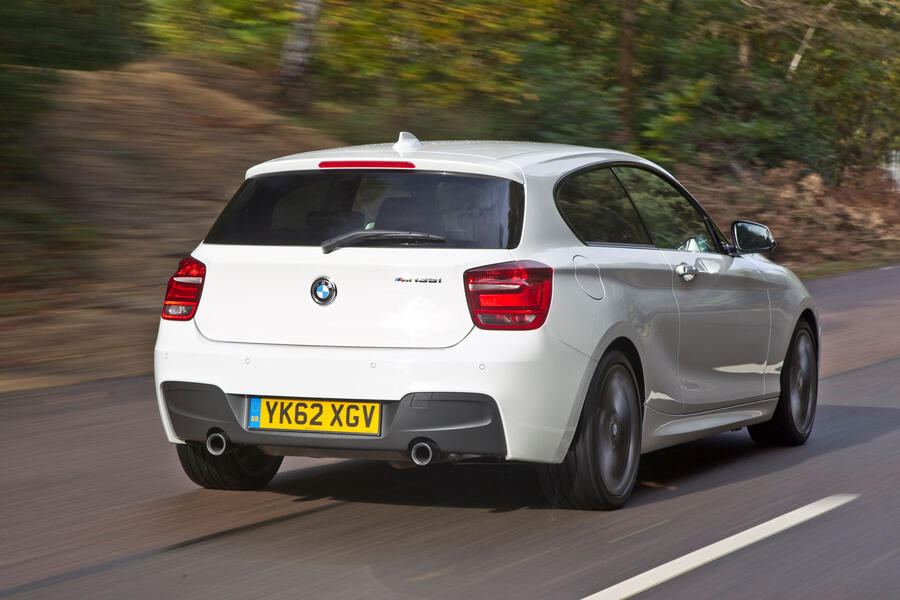 The M135i is built on the 1 Series' Leipzig production line, not by the M division in Munich. But the same had been true at that point of every important M car since the E39 M5. 
BMW describes it as 'M Sport suspension', which suggests that it's not much different from that of a cooking 125i M Sport, for example. There's an aluminium-rich MacPherson strut suspension set-up at the front and an independent multi-link rear end, all supported by model-specific springs and dampers. Adaptive dampers were offered as an option. Passive variable-ratio power steering was standard.
The car is rare in having rear wheels and tyres that are wider than those at the front. It's to transmit the fat portion of torque to the road by the driven rear wheels, you suspect. But it has no mechanical locking rear differential, which in our view is a black mark against the name of anything with an M badge.
How much to spend
£9000-£11,999: Launch to around 2014 cars with mid to large mileages. Check service history and condition carefully. 
£12,000-£15,999: More early to mid cars with up to 60,000 miles. Again, check service history and bodywork carefully.
£16,000-£20,000: Best late-plate 315bhp M135is. Facelifted 2015-reg 321bhp M135is start here, too.
One we found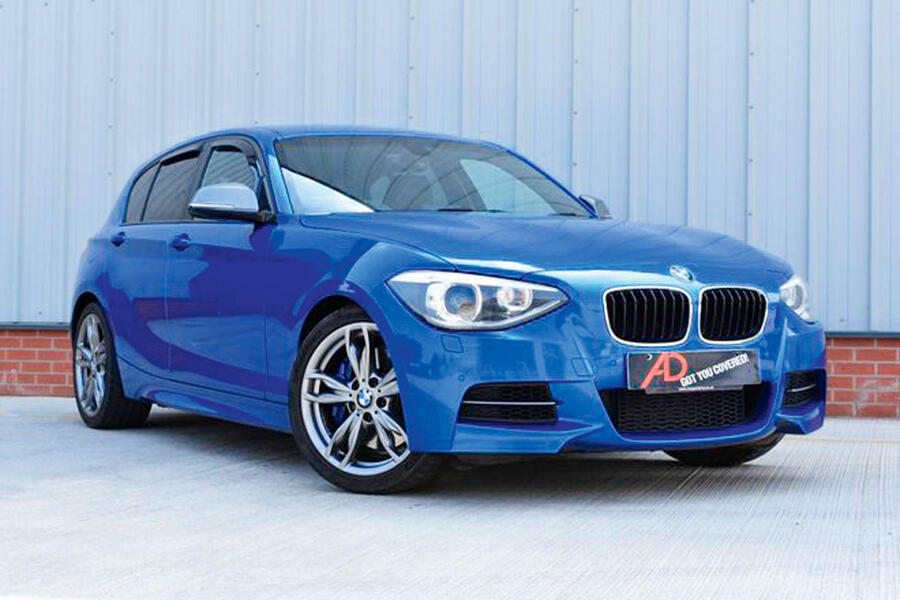 BMW M135i auto, 2013, 66,000 miles, £13,500: A cared-for car with a full service history and a spec as long as your arm, including sports seats, dual climate control, DAB, 18in M Sport alloys and a Milltek exhaust upgrade. Seller reckons it's a 'superb example', and we're inclined to agree.
https://www.autocar.co.uk/car-news/used-...-bmw-m135i