07-22-2023, 10:05 PM
Used car buying guide: Ford Fiesta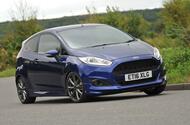 Of the many used Fiestas available to buy, they range from £2000 to £15,000
Its 47-year tenure as a new car might be over, but the icon lives on as a cheap, fun used buy
Heroes come in many forms. 
The Fiesta 1.0T Ecoboost of 2012-17 won't pull you clear of a speeding train or throw its coat over a puddle but, when it's not breaking its timing belt or overheating, it will put a smile on your face and, when you've finished with it, return a fair chunk of your initial investment.
Many cars can do that, but few are as easy to buy as the ubiquitous Ford. At last count, there were 2000 1.0T Ecoboosts for sale on one major website, ranging from £2000 to £15,000 and being offered by every Tom, Dick and main dealer.
With such choice, buying a duffer should be almost impossible. Don't like the service history? There's a nicer one around the corner.
Ecoboost is Ford's name for its range of turbocharged, direct-injection petrol engines designed to offer levels of power and torque comparable to larger engines, plus lower emissions and, at least on the factory test bench, better fuel economy. The one under consideration here is the 1.0-litre three-cylinder version offered in 98bhp, 123bhp and 138bhp outputs.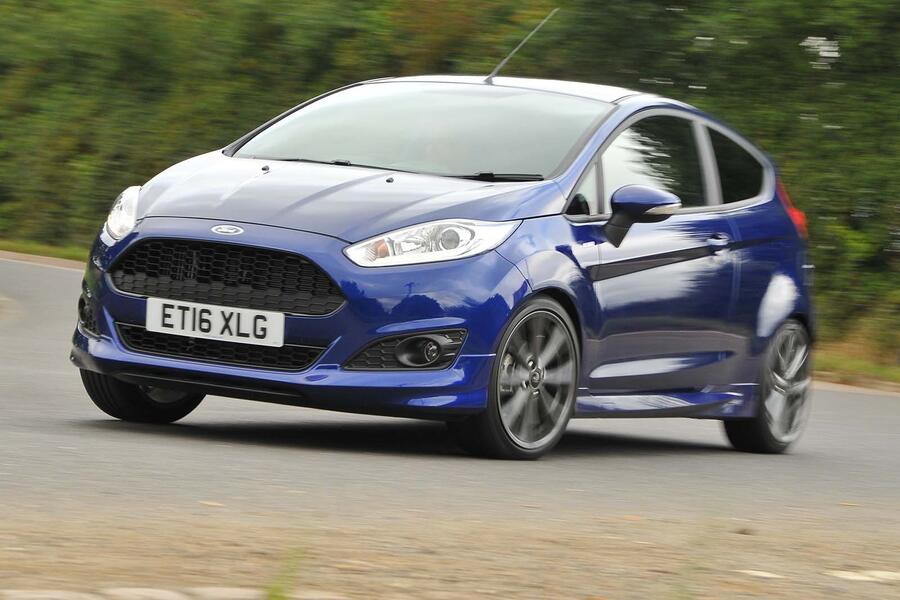 It caused a real stir at launch, media and public alike impressed by its smoothness and responsiveness, although Ford's economy claims ended up proving wide of the mark. Autocar's testers came down in favour of the 98bhp unit for its blend of performance and value for money.
The engine's arrival coincided with a major overhaul of the Mk7 Fiesta. Obvious to everyone was the large trapezoidal grille, but other external updates included LED daytime-running lights and a 'power dome' bonnet. Inside, voice-activated in-car connectivity, Active City Stop and the introduction of MyKey (allowing parents to turn down the fun when junior was at the wheel) completed the changes.
Trim levels comprised Zetec (the most popular thanks to its keen pricing and standard kit, including 15in alloys, DAB radio, 4.2in-screen infotainment system, heated front windscreen, air conditioning and hill start assist) and, higher up, various Zetec Colour Edition offshoots, 'sporty' ST Line and 'luxurious' Titanium X.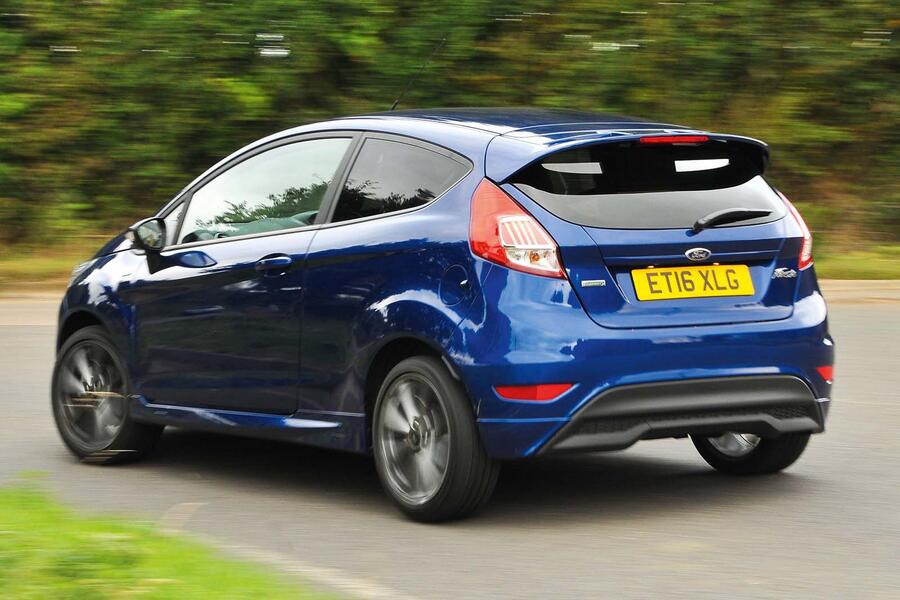 Today, just as it was at the car's launch, our top choice is the 1.0T 100PS Zetec but we wouldn't blame anyone wanting Titanium X trim for its additional safety and convenience features (rear-view camera, rear parking sensors and keyless entry and start), which make the model feel more modern. Three-door cars have cleaner lines but five-doors are easier to live with.
The Mk7 Fiesta was already a good car but the updates took it back to the top of a class filled with talents, including the Volkswagen Polo and Vauxhall Corsa. That said, six years since it was replaced by the current Mk8 Fiesta, only the Volkswagen will still be looking and feeling factory fresh.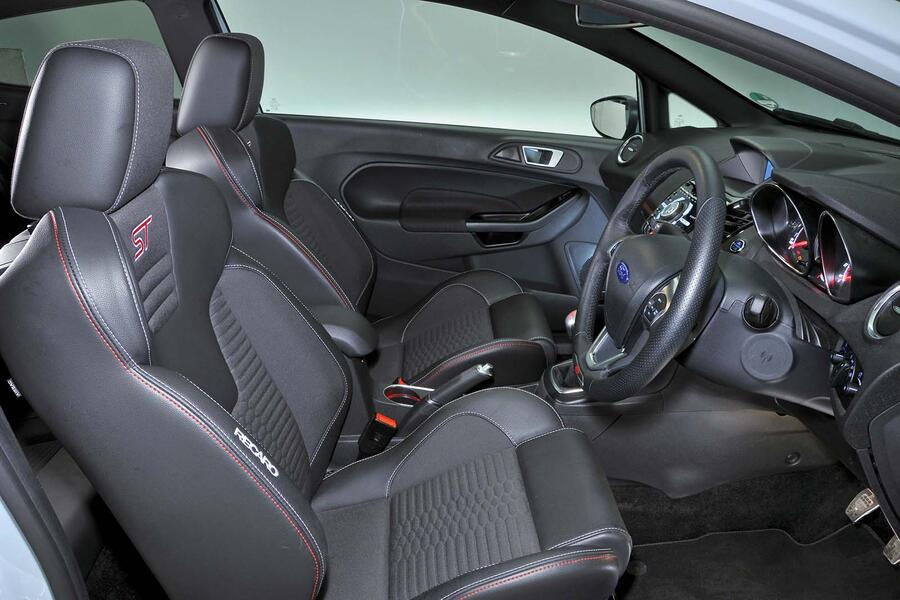 The Fiesta is a handsome car and fun to drive but it was built to a price, a fact evident in the quality of its interior plastics, the saggy fit of the carpets, the thinness of the paint and the 'clangy' doors and bonnet.
Fiestas feel disposable and that's how lots of owners have treated them. Still, as we said, there are loads to choose from and a good one is just around the corner.
What we said then
16 February 2014: "Some cars arrive in the class like Roman candles, shining so bright they obscure all around them until they burn out as their faults are uncovered and their position at the top of the class is removed as quickly as it was acquired. The Ford Fiesta arrived that way but still shows no sign of fizzling out."
An owner's view
David Spratt: "I've got a Fiesta 1.0T 100PS Zetec. It's a 2013 car that's done 146,000 miles, and in the 12 months and 6000 miles that I've had it, it's had no issues. I'm impressed by how smooth and quiet it is. It's just passed its MOT but with a few advisories: corroded subframes and rear coil spring, worn rear subframe pin or bush and light oil misting on the offside front shock absorber. I guess they are to be expected at the car's age and mileage but I'm clearly in for some big workshop bills before the next MOT!"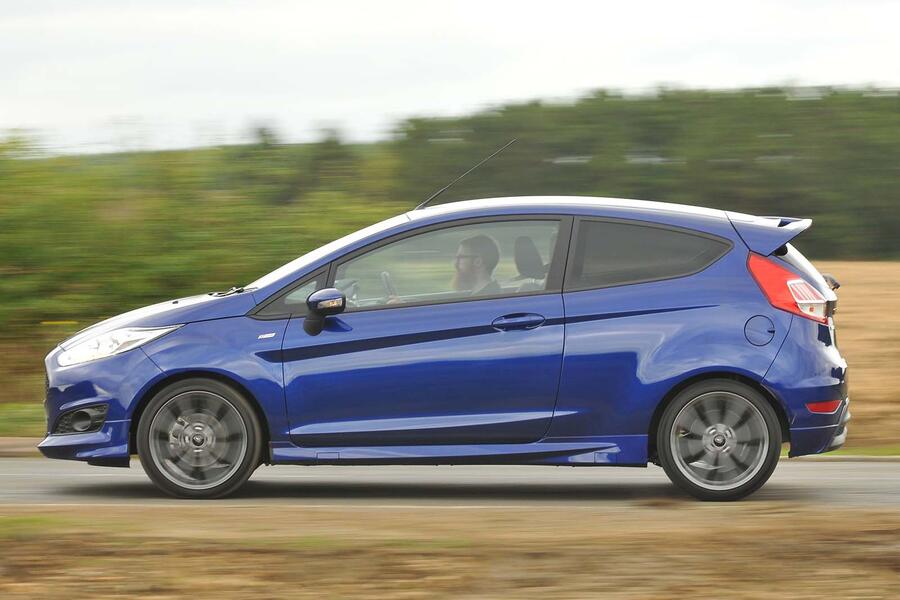 Buyer beware
Engine: We go into more detail about the engine in 'Also worth knowing', but for the moment be content if the one you're looking at has enjoyed regular oil and filter and coolant changes. The timing belt should be changed every 10 years or 150,000 miles but, ideally, more frequently. You buy an Ecoboost for its gutsy pulling power, smooth running and quiet cruising, so if it feels like the ancient and asthmatic 1.25 elsewhere in the range, it's got a problem.
Transmission: The gearlever feels spindly but shifts should be light and precise. If it graunches into first, expect expensive trouble ahead. Move briskly off in second and check for clutch slip.
Suspension: This generation of Fiesta has an average reliability rating and its suspension is the biggest source of trouble. A recent MOT will reveal most current problems – bushes, springs and shocks being common advisories. Parts are reasonably cheap, though. 
Brakes: Fiestas quickly fall into the hands of those unable to afford maintenance so don't be too surprised by deeply lipped front discs, paper-thin pads and zero evidence of biennial brake fluid changes.
Interior: Check for dashboard warning lights and the operation of every last knob and button. Ensure the carpets, especially in the front footwells, aren't damp. Water can get in through worn door seals so inspect these, too. Make sure the parcel shelf is present.
Body: A self-respecting dealer will have most casual dents, scratches and kerbed wheels repaired; otherwise, you'll be lucky to find a Fiesta that isn't marked. Scrutinise panel gaps and check for overspray and 'orange peel'. Cross-check the stamped VIN number with that shown on the V5.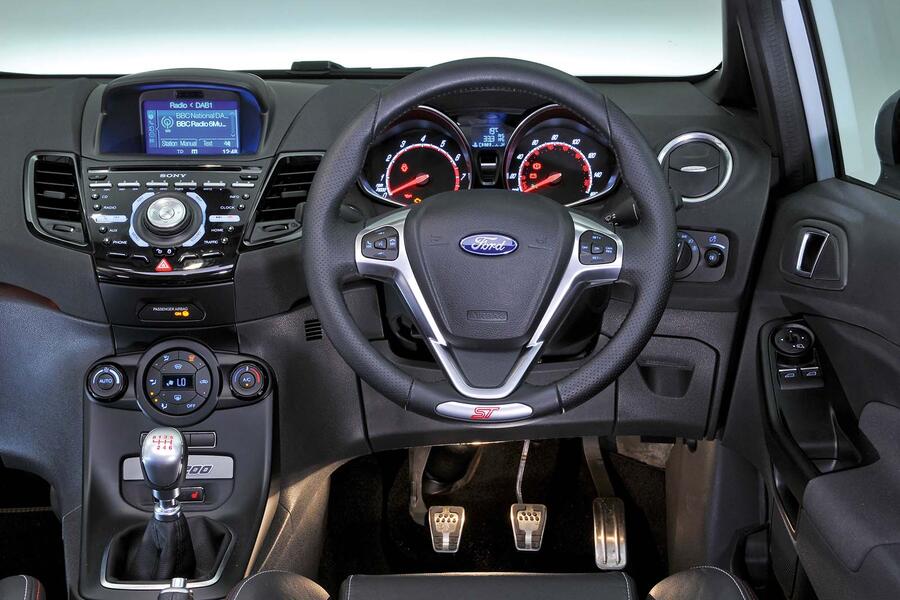 Also worth knowing
The Ecoboost engine is something of a flawed hero. On the one hand, it's clean, remarkably smooth and punchy. On the other, there are past owners who, through foam-flecked lips, will tell you never, ever to touch one.
They are likely to be among the relatively small number whose Fiesta engines suffered premature failure of a small nylon coolant pipe, causing the motor to overheat and eventually to seize. Cars built between October 2011 and 2013 were affected.
The other potential problem concerns oil starvation caused by the timing belt breaking up. It runs on oil, inside the engine. If the wrong engine oil is used or the level is allowed to fall, the belt can degrade, causing bits of it to clog the oil pick-up. Replacement is time-consuming and expensive.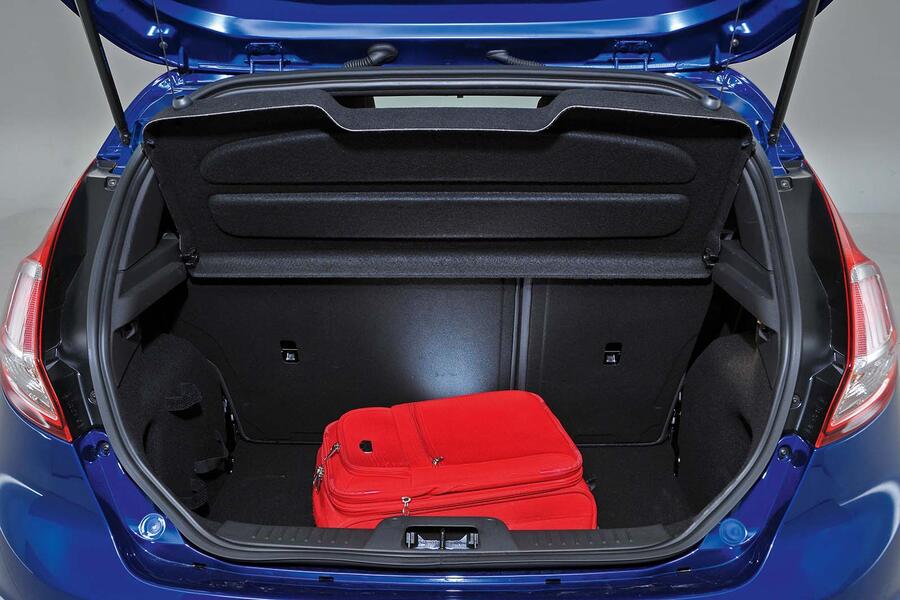 How much to spend
£1750-£4999: Wide choice of up to 2015-reg but with high mileages.
£5000-£7999: From early, 75,000-mile cars to 2015-reg examples with around 40,000 or 2017-reg with 70,000.
£8000-£11,999: Late and low mileage including a 2017 140PS ST Line with 6000 miles for £11,750.
£12,000-£15,000: The best. Low-mileage, 2017-reg 100PS autos dominate the upper end.
One we found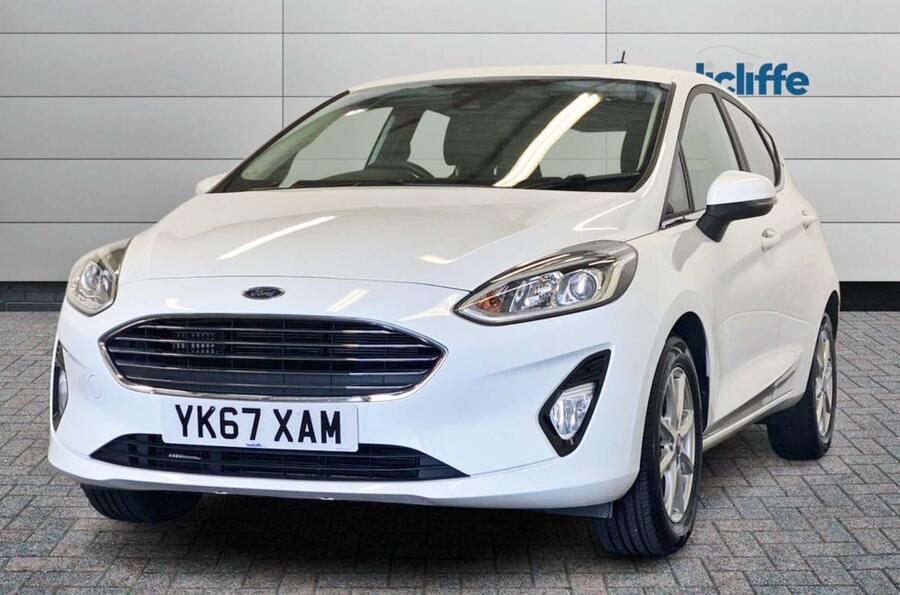 Ford Fiesta 1.0T 100PS ZETEC 5dr, 2017, 42,000 miles, £10,000: A Ford approved used car so, theoretically, a safe buy. MOT checker shows no current or past advisories and it has no outstanding recalls. White's boring but hides marks and is easy to resell.
https://www.autocar.co.uk/car-news/used-...ord-fiesta