08-12-2022, 01:51 AM
Used car buying guide: Honda CR-Z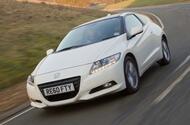 Honda CR-Z was the spiritual successor to the CR-X from the 80s and 90s
The fun Honda CR-Z hybrid blazed a trail that, even today, few have trod
Glance casually out of your window today and the chances are some rootin' tootin' high-performance hybrid car will flash by, whether in huge SUV form, practical estate shape or some sort of lithe and expensive executive saloon.
It was not always thus. In the early days of the hybrid car, the Toyota Prius reigned supreme, and only the original and wonderfully clever Honda Insight provided any sparks of joy for the enthusiast still not sure if this newfangled mode of motion was the way we actually wanted to go. 
In a bid to appeal to more mainstream buyers, Honda's second stab at the Insight was a five-door hatch almost as anodyne to the petrolhead as the Prius. To placate them, in 2011 it used the Insight's platform to produce this tiny 2+2 coupé, the Honda CR-Z. This little jewel was very much in the mould of the firm's CR-X sports cars, the earlier examples of which did so much to make the 1980s and 1990s a better place for the keen driver.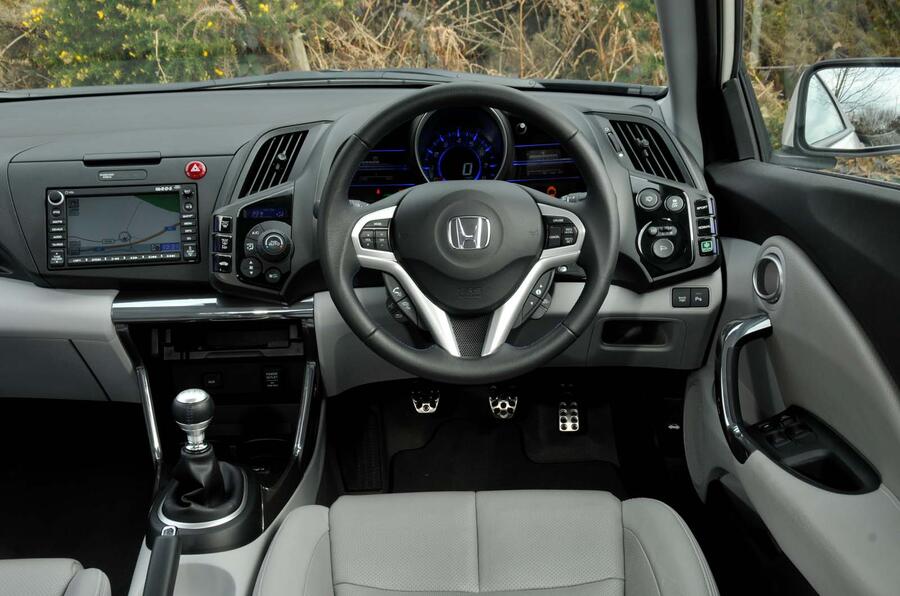 It was never going to be quick, though, this CR-Z. Under the bonnet was a 112bhp 1.5-litre petrol engine linked to an electric motor that lifted the total output to 122bhp and, perhaps more interestingly, 128lb ft of torque. That electric supplement produced most of its oomph at around 1500rpm, so the CR-Z was never short of low-end push, even if its on-paper performance (0-60mph in 9.1sec with Sport mode engaged) wouldn't worry a Porsche.
But it was brisk enough to be fun, especially when allied to a neat chassis, decent steering, lively responses, a low-slung driving position and a slick gearchange, all of which put you firmly in the mindset of a sports car. It changed direction with zeal, rolled very little, had decent body control and all in was very good fun on a winding back road. Its official economy figure was 56.5mpg, to boot. Anyone who had ever driven one of the first two generations of CR-X would have wept with delight, for it not only looked like a more modern take on one of those but it felt a little like one of them, too.
Of course, purists would have said that it would have been even more delightful still if you'd thrown away all the hybrid gubbins and the accompanying weight of all that and installed a more powerful engine, but that wasn't the point. With the CR-Z, Honda was attempting to show us what could be possible – what could still be, in fact, if some manufacturer had the nous to produce a similar compact coupé today. 
Over the next few years, of course, maybe someone will, because as far as the future goes, the choice of modes is Hobson's, but for now, if you want to get your hands on a reliable (of course it was reliable! It's an 'onda, mate) and neat hybrid coupé, the CR-Z still makes a whole lot of sense. That you can snap one up for as little as £3500 only heightens that appeal still further.
What we said then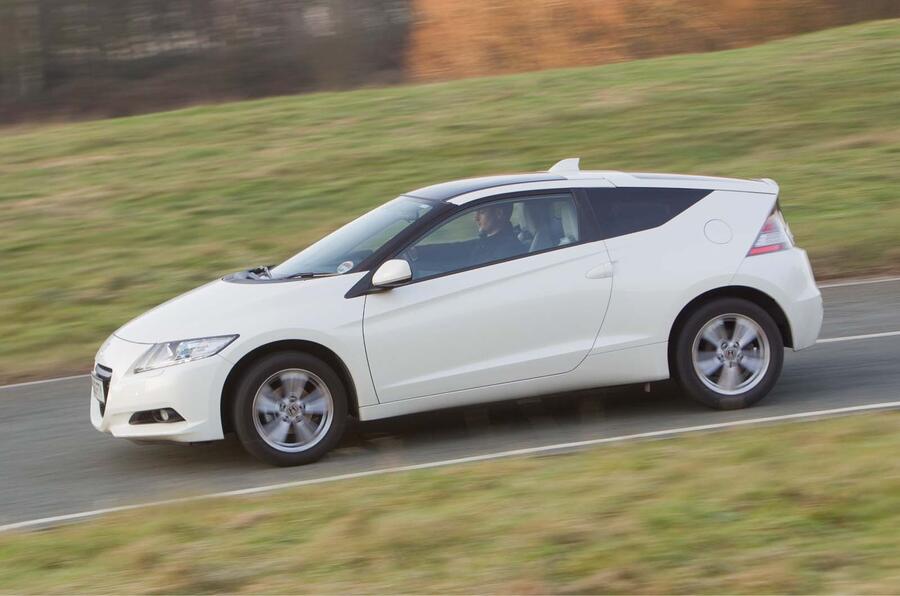 27 March 2012: "On price and looks alone, the CR-Z has strong appeal. It's also an intriguing drive, because you can feel the effects of the electrical assistance and because its eye-catching instruments that tutor you in harvesting kinetic energy are fun to use. In Sport mode, the driving experience is modestly diverting, especially for a coupé that can make a strong case for itself as an eco commuter car. It turns in well with strong grip and minimal body roll. Performance feels a little stilted, but it can still be fun. The CR-Z is different, stylish and engaging in unusual ways that are difficult to resist.
An expert's view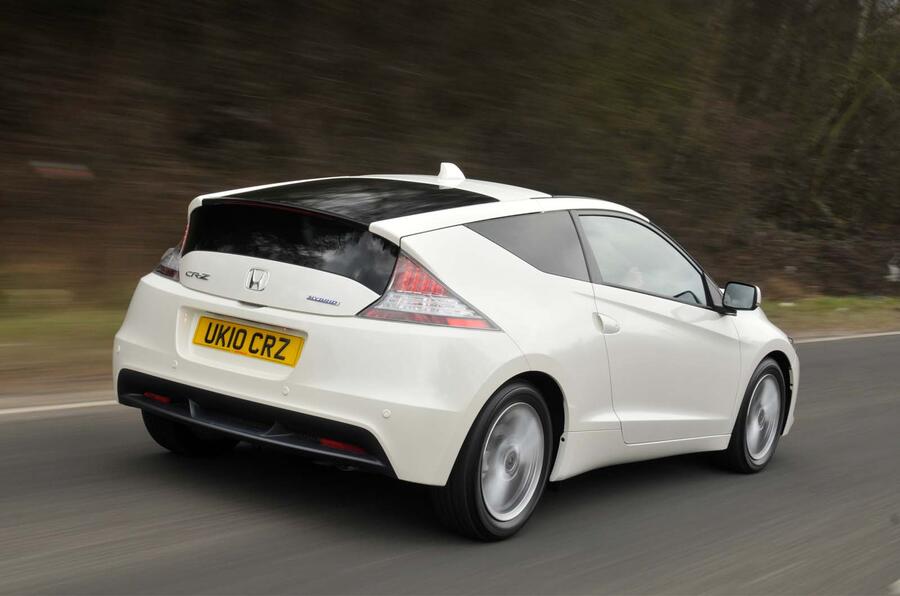 Simon Clarke, Owner, Midland Honda Services: "It's a cracking little car and incredibly reliable. Any reported issues we've had over the past few years have been really minor, like door latches or drainage problems. I've even heard of front brake pads and discs lasting up to 100,000 miles. The VTEC petrol engine uses a chain rather than a belt, so that's one less thing to worry about. You do need a specialist to work on them, though, because of the advanced electrics and the IMA battery. You can tune them, too. I know a guy who does track days in his. He's had coilovers fitted and upgraded brake pads."
Buyer beware
Engine: The petrol engine is an i-VTEC 1.5 that likes an oil and filter change every 12,500 miles or 12 months. So far, it appears to be supremely reliable. 
Body: Ensure the tailgate release operates. There have been one or two reported problems with the door latches. 
Interior: Check all dials, modes and switches work. Expect the air-con to blow warm when the car has been idling too long.
Power battery: Ensure that the battery warning light goes out after start-up and that the three drive modes (Sport, Normal and Econ) work. Check the battery gauge: when full, there is enough power for three strong acceleration runs. Go for an extended test drive to be sure the battery is being recharged.
Gearbox: The manual gearbox is delightful in use and should be light, precise and mechanical. Check a high-miler for a slipping clutch by selecting a high gear at a crawl, releasing the clutch and listening for the engine revs remaining constant or rising.
Brakes: Inspect for worn discs, although the CR-Z is generally light on its brakes.
Service history: Check the book and relevant invoices. There are reports of some owners believing that being a hybrid means it doesn't need regular servicing.
Suspension, wheels and steering: Listen for knocking sounds caused by worn suspension bushes. Turn the front wheels to full lock and check the driveshaft boots for splits and leaks. Alloys are vulnerable to kerbing.
Also worth knowing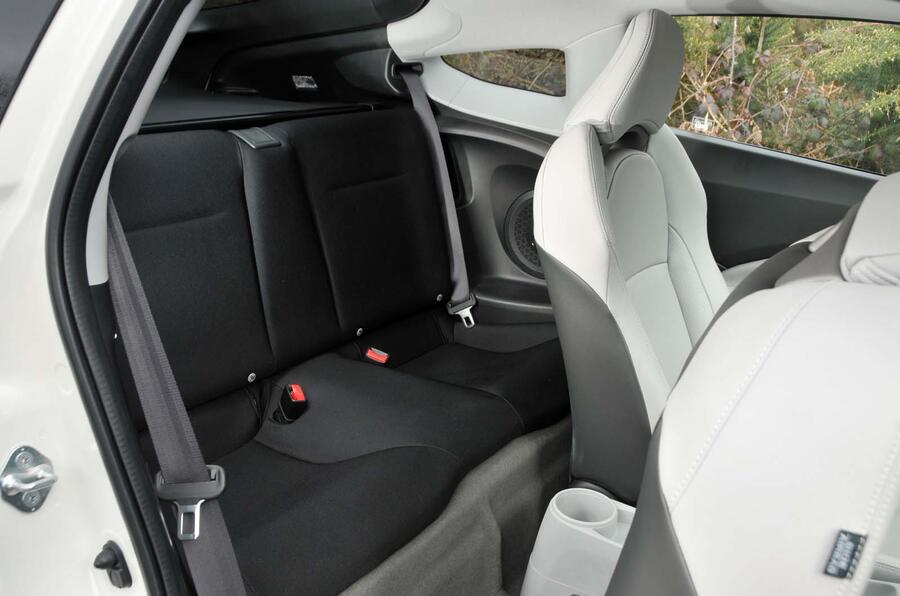 When new, the CR-Z's IMA battery warranty lasted five years or 90,000 miles. Honda dealers say the battery warning light will indicate if anything's wrong. According to Honda UK, a new battery costs about £1000 plus fitting.
The CR-Z's low-drag shape should help you top 50mpg on a long run.
You get a wiper for the near-horizontal upper rear screen, but the CR-X-echoing vertical pane soon gets dusted with dirt – and the horizontal beam separating the two is very visible in the rear-view mirror.
Minor instrumentation includes an 'eco-drive bar', indicating whether you're drawing current from the battery or regenerating it, an econometer, a fuel gauge and an energy path display, as well as the usual journey statistics.
The tiny and cramped rear seats are barely worthy of the term. This confined space is best used for luggage.
How much to spend
£3500-£5449: Choice of early CR-Zs, many of them with around 100k miles, multiple previous keepers and some with patchy service histories.
£5500-£5999: A few more later GTs (the top-spec model) with around 80k miles plus lower-mileage, mid-spec Sports.
£6000-£7995: Broad mix of later Sports and GTs with around 75k miles, a few with full Honda service histories. Consistently higher-quality examples.
One we found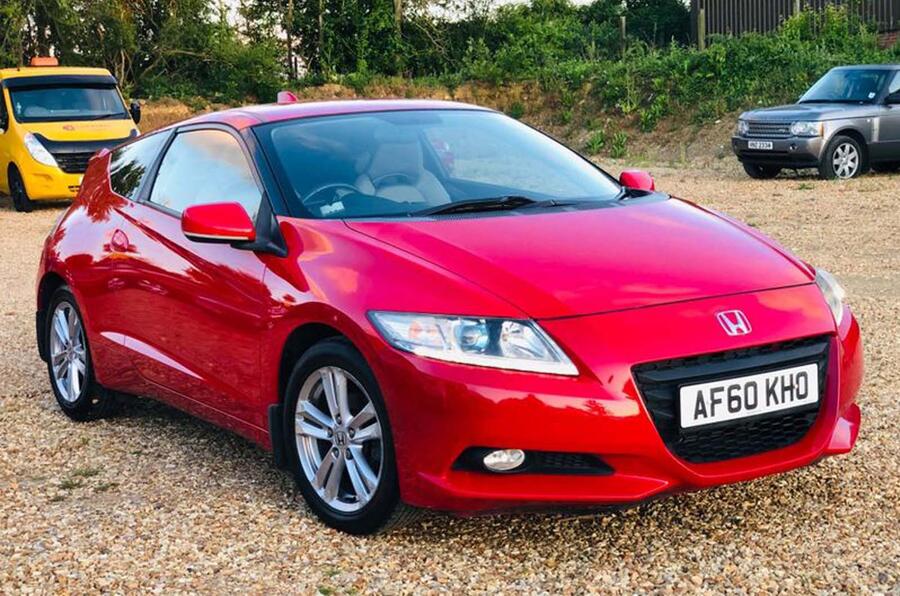 Honda CR-Z 1.5 IMA Sport, 2010, 100,000 miles, £4895: A lovely and well-priced example of the mid-spec Sport model in the rare red coachwork. It comes with climate control, alloy wheels, a part service history with five previous services, privacy glass, and an MOT that's valid until 30 November 2022.
https://www.autocar.co.uk/car-news/used-...nda-cr-z-0