06-01-2023, 05:33 AM
Used car buying guide: Jensen Interceptor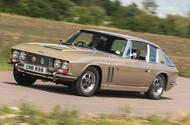 The Interceptor arrived in 1966 and lasted until 1973
Recession-blighted V8 coupé showcased British automotive at its very best
For the classy customer who wanted unbeatable style, outstanding performance and a generous helping of that famous American V8 grunt, the Jensen Interceptor was a very welcome addition to a vast array of grand tourers when it arrived in 1966. 
There was also a slightly longer and pricier version, the FF, which had the double distinction of being the first production car equipped with four-wheel drive (instead of the standard rear-wheel drive) and an anti-lock braking system. 
With a 6.3-litre big-block Chrysler engine giving it more than 250bhp and a top speed of nearly 140mph, Jensen's Interceptor must have seemed as fast and modern as the RAF's own interceptor, the BAC Lightning, when blasting past breathless little Morris 1100s and Ford Anglias on the motorway. 
Throttle response was lazy and the three-speed automatic gearbox was never in a hurry, but none of that really mattered, because you could nevertheless always rely on its strong punch for a quick getaway or an effortless overtake.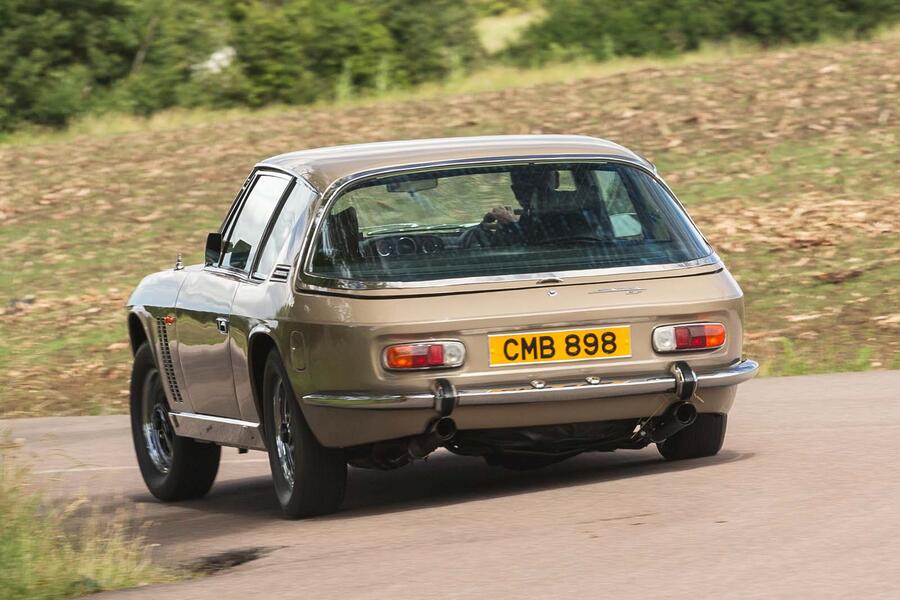 Surprisingly for such a large and heavy car, the Interceptor was equally as competent around corners as it was in straight lines, especially so in 4WD FF form.
This dynamism was mostly thanks to the Interceptor's extra-rigid all-steel body and, from 1968, its power steering. Its pliant suspension and plush leather seats made long journeys a dream – provided that your wallet filled up as quickly as the fuel tank emptied. 
Indeed, the Interceptor's body came from Carrozzeria Touring, and its interior wouldn't have felt out of place in the famous Italian design house's usual Aston Martin or Alfa Romeo creations, either.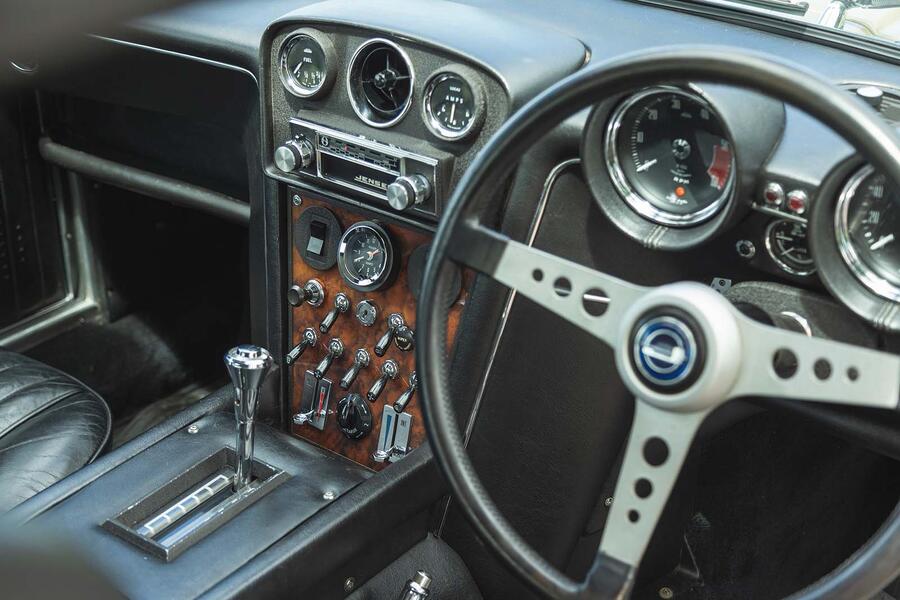 Almost every facet was adorned with varnished wood or luxurious leather, cradling the driver and up to three passenger in fine comfort. Air conditioning was available and, even more importantly, so were lighters for your next rothmans. 
The Interceptor was given a mild facelift in 1969 (gaining a bulkier dashboard) and then a more comprehensive one in 1971, when engine displacement was increased to 7.2 litres. This yielded marginal improvements to power output and top speed, although the real advance was in torque. 
As the 1960s faded into the 1970s and the economy started to tank, worsened by the oil crisis of 1973, the popularity of the Interceptor understandably declined, and this combined with the troubled launch of the vital new Jensen-Healey roadster resulted in Jensen entering liquidation.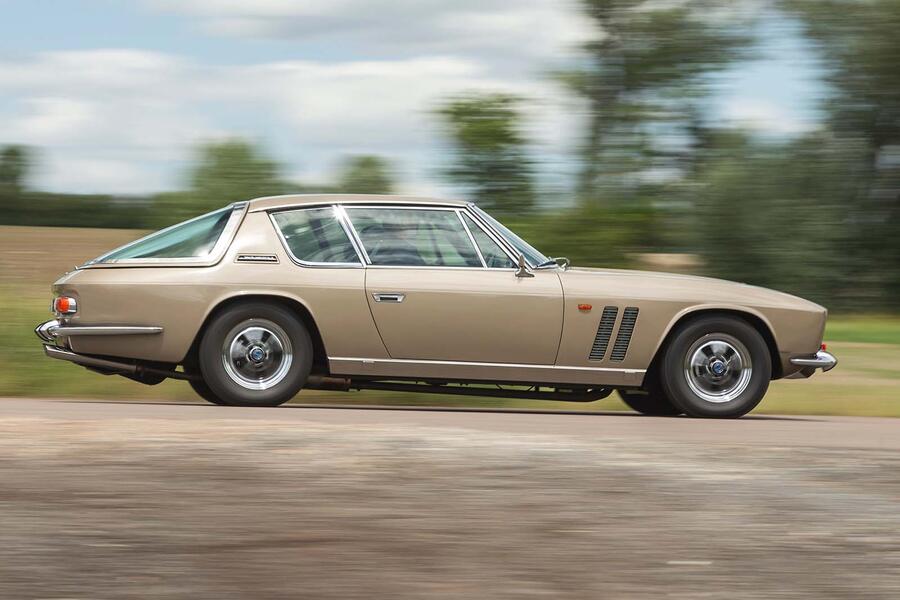 However, this doesn't change the fact that the Interceptor was a groundbreaking piece of engineering, especially so in FF form. It was a car that showed what the British car industry could be: an innovative powerhouse with the ability to compete with the world's best. 
No wonder there have been several efforts over the years to revive it in various ways - and why it's now a highly desirable classic surrounded by a good support network. 
What we said then 
5 January 1967: "For a new model, the Interceptor feels fully mature and extremely well built. It is an eye-catcher everywhere and its looks are a clever combination of practicalities and an efficient shape. The performance is satisfying, with enough for any situation, and used with discretion in experienced hands the Interceptor is one of the safest forms of modern-day transport. At about 14mpg, fuel bills are high, but, judged against the pleasure the car gives, these costs are worth every penny.
An owner's view
Kieron Maughan, rockstarcars.co.uk: "I own three Interceptors: a Mk1, a Mk2 and a Mk2 FF. The whole look of the car is Italian; the inside of a Mk1 feels like an Iso Grifo. You've got these lovely proper switches, beautiful big dials and the space. The earlier cars feel lighter and brighter inside, because the dashboard is further back – and more classically styled, too.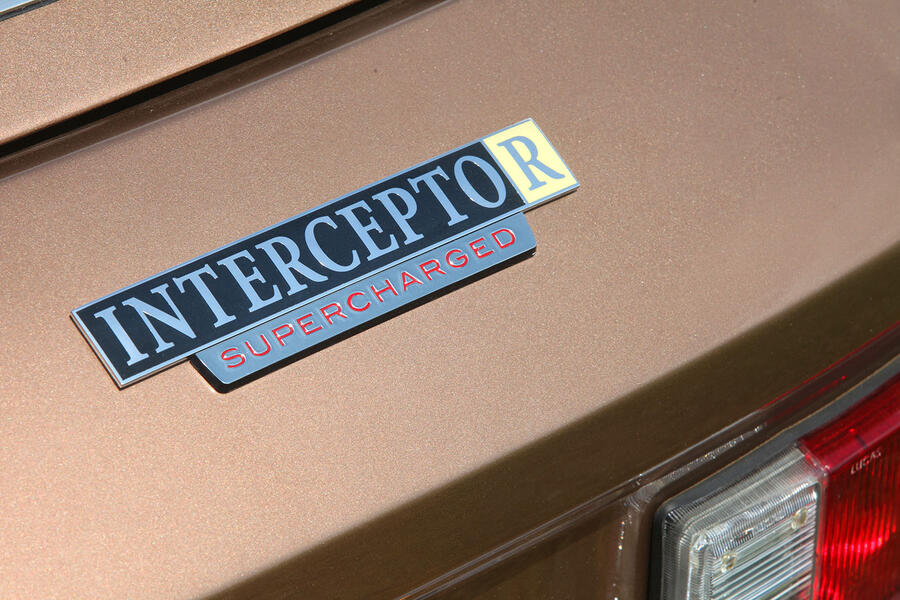 "Having an understressed 6.3-litre engine means you turn it on and it purrs like a cat and it's nice to drive from cold – unlike an old Ferrari or Lamborghini, which will need 10 minutes to warm up. It's a very good alternative to anything that ends with an 'i', and it's going to be more reliable. Over 25 years, I've had loads of troubles, but none of them have been a £100k engine rebuild. 
"Finding parts is dead easy, and the internet makes finding good specialists comparatively easy, too. Just make sure you buy the best you can afford – one that's not rotten and full of filler."
Things to watch out for
Engine: The Chrysler V8 is a hardy beast that can clock up enormous mileages. However, an Interceptor's may have been reconditioned or indeed entirely replaced at some point. Condition is king, so check with the seller what has been done. The main problems can include overheating (check the cooling system carefully and the oil pressure), which can degrade surrounding tubes and pipes, and starting issues, especially from hot.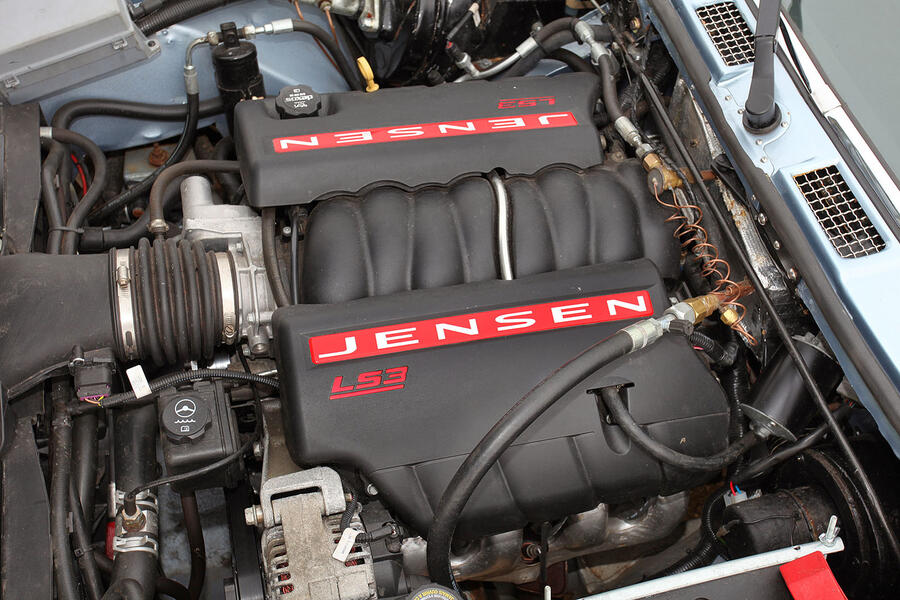 Check the fuel pressure via the fuel pump and all electrics, spark plugs and leads, as these can fail if the car hasn't been used often. Bearings can rattle, too, especially on startup. Interceptors can get through exhausts, so check the condition of this too, preferably on a ramp. 
Transmission: The Chrysler Torqueflite automatic is known to rack up huge mileages with minimal maintenance and very few problems. Check that the colour of the oil in the gearbox is red and that there are no oil leaks. A rebuild could set you back as much as £1000. 
Body: Being a British car from the 1960s, the Interceptor can suffer terribly from corrosion. Be sure to inspect in particular the footwells, windscreen surround and wheel arches for rust, which can incur some serious repair bills if left untackled. For instance, even a simple bonnet replacement can cost around £1000. As such, previous restorers might have cut corners, so check the car all over for areas of cheap filler using a magnet.
Also worth knowing
No new Interceptor was the same as another. Jensen prided itself on its craftsmanship. This might seem appealing, but a major drawback is that replacement body parts often need to be hand-built to match the specific dimensions of your car. This makes restoring an Interceptor an expensive process, so when all is said and done, you would be unlikely to make a profit if you plan to sell it on. 
Jensen also introduced a soft-top convertible version of the Interceptor in 1974 and a coupé model in 1975. These are rare, with only 267 and 60 examples being built respectively from a total of 6408 Interceptors, and both lack that distinctively vast and curved rear window. The FF, 320 of which were made, is similarly rare.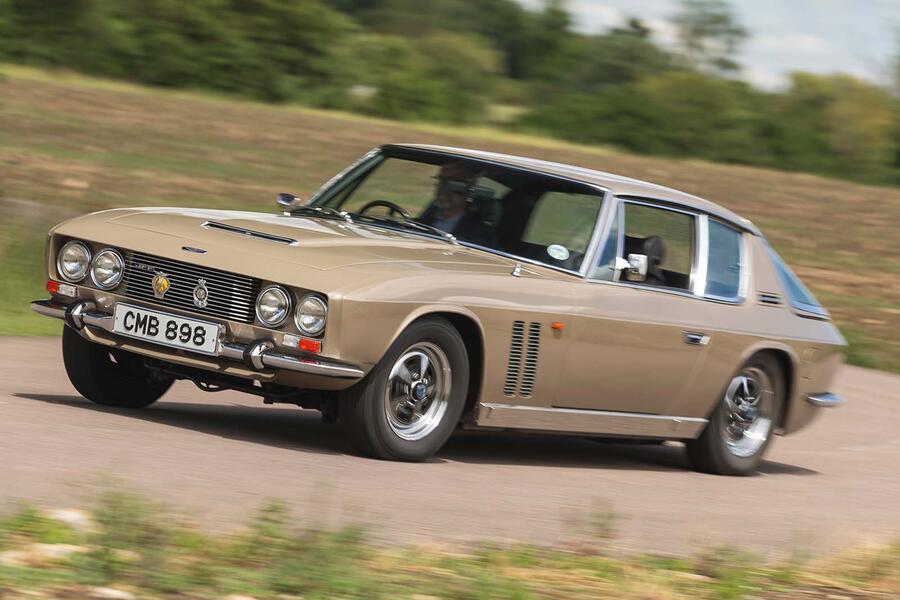 How much to spend 
£10,000-£29,999: Good restoration projects with very few (if any) unpleasant surprises. Be prepared to spend at least £20,000 getting them roadworthy. 
£30,000-£69,999: Well-looked-after cars that are likely to have undergone lengthy restoration. Even so, there might still be rust patches. 
£70,000 and above: You will have no problem finding a near-minter here, and it will probably have undergone a top-quality restoration.
One we found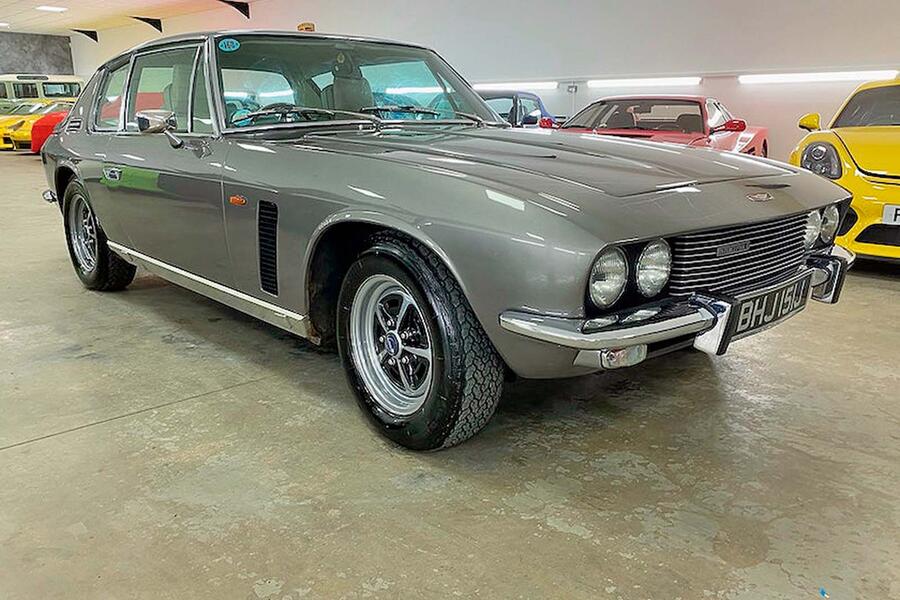 Jensen Interceptor, 1971, 82,000 miles, £55,000: A fabulous Mk2 example that has been well maintained – as evidenced by a whole heap of paperwork that dates back to the early 1970s.
By Jack Trethewey
https://www.autocar.co.uk/car-news/used-...nterceptor