04-14-2022, 03:10 AM
Used car buying guide: Maserati Quattroporte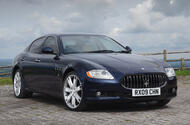 It's easy to fall for this V8 limo's charms, just be on your guard
Some might argue that in the long history of that exotic four-door Italian beauty, the Maserati Quattroporte (which has a badge so redolent of past glories that it would sell on its name alone), its sweet spot hit at around the time of the grandiloquent 2004 Mk5 version.
Nowadays, you can buy one for buttons, and consider what you get in return. It may be the length of a football pitch, but its sleek and elegant Pininfarina body still looks tremendous. And its engine is a characterful and wonderfully sonorous 394bhp all-aluminium 4.2-litre V8 that revs to 7000rpm and bubbles with brio. It's strong enough to hurtle this honey from 0-60mph in just 5.0sec and on to 171mph. That's quick enough to give the family a thrill, and they'll be lost in admiration for the sound it makes, too.
Mind you, it did initially work with a bit of an erratic six-speed automatic gearbox, called Duoselect. Linked to the rear wheels through a transaxle, it operated brilliantly in manual mode but was jerky and slow when left to its own devices.
In 2005, the new Executive GT and Sport GT models brought a quickeracting 'box, and from 2007 Maserati finally offered a proper ZF auto. Not that the Duoselect died, because it clung on in the Sport GT, a much more focused beast – lower, stiffer and with more powerful brakes.
In 2008, the Quattroporte was refreshed with a new front grille, lights and wing mirrors and, inside, a redesigned centre console. Not only that, but also a new GT S version was introduced. Power came from a 4.7-litre V8 that produced 433bhp – enough to launch the car from 0-62mph in a shade under 5.0sec. Phwoar, I need hardly add.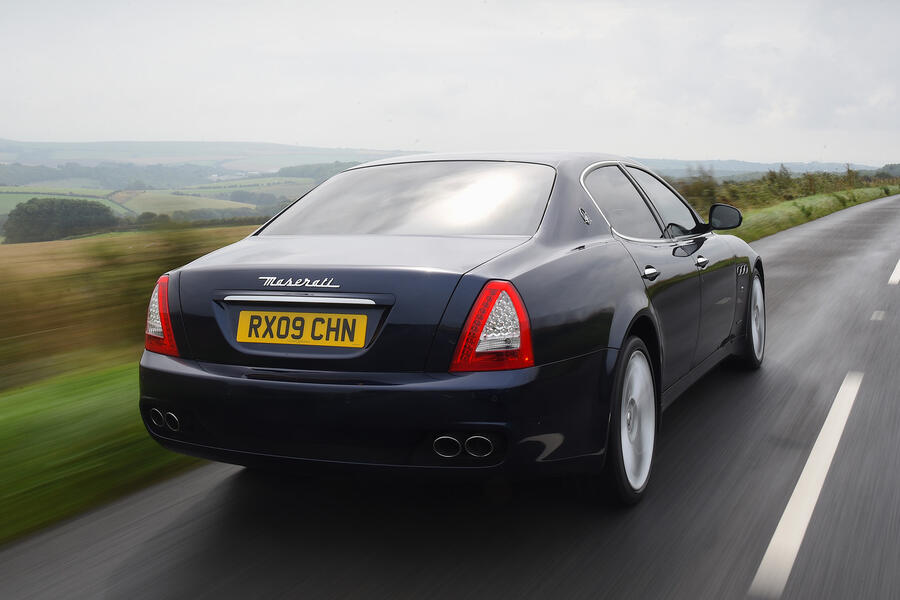 Every version of the Quattroporte steers quickly and precisely and handles in a surprisingly neutral and sporty fashion – with verve, even, if you push it hard. In fact, tail-out action is quite possible. Not always deliberately, I know from first-hand experience, but it is at least quite easy to recover.
It rides like a plank of wood, unfortunately, and there's no getting around that. In time, though, Maserati improved the dynamics; as it made the gearbox good, so it made the ride a bit better.
And if you thought it looked inviting on the outside, wait until you see the interior. There's lots of space, wood and soft leather, comfy seats and a vast array switches and buttons. It smacks of Italian style and opulence, and if you were after some sort of family-friendly Ferrari, well, you got it. It's like sitting in a mobile branch of World of Leather.
It also has the potential for unreliability. My cousin Kevin spent so much money on keeping his Maser going that in the end he had to move to France to get away from it, and he hasn't come back yet.
But the Quattroporte still has that wonderful badge, looks lush and goes like stink, yet it costs the same as a packet of crisps. It's so pretty that you can see why people sell their souls.
What we said then
29 March 2005: "Few cars are so beguiling yet completely exasperating all at the same time. Yes, the gearbox was dim-witted, the ride unsettled, the brakes dead and the engine well off the pace of class leaders for outright urge, but this was a car you'd find any excuse to keep driving. Except it wouldn't always let you. Was it as good as a BMW M5, Mercedes E55 AMG or Jaguar XJR? No. Would I have still bought one if it was my own cash? Absolutely."
How to get one in your garage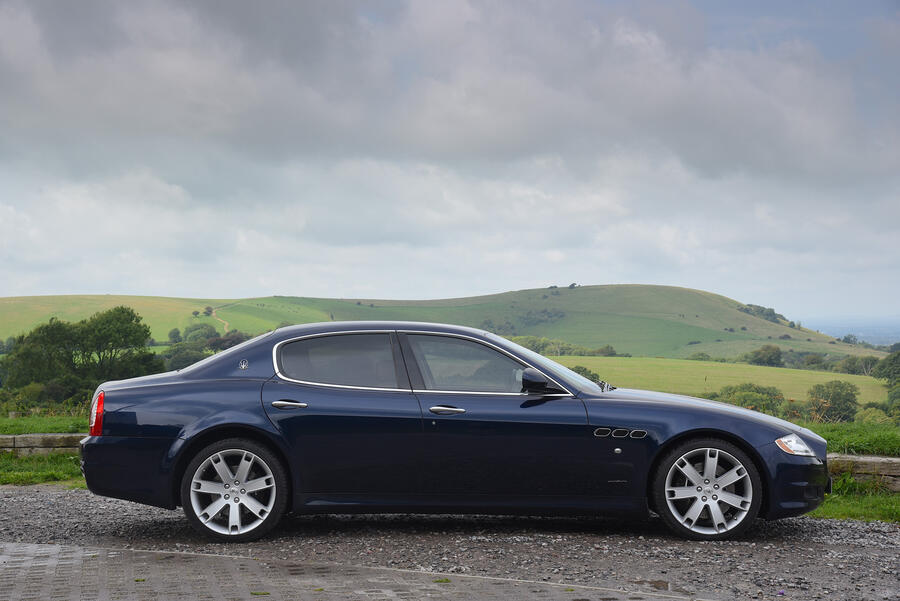 An expert's view
James Wheeler, McGrath Maserati: "The good points far outweigh any bad ones. That beautiful body houses one of the finest-sounding V8s ever made and, on a well-maintained and set-up car, the steering and handling are exceptional. It's reliable, too, if properly and correctly maintained. It doesn't suffer abuse and neglect well and it's critical to avoid cutting corners on maintenance. When it comes to buying, I'd urge you to place condition and history above all else."
Buyer beware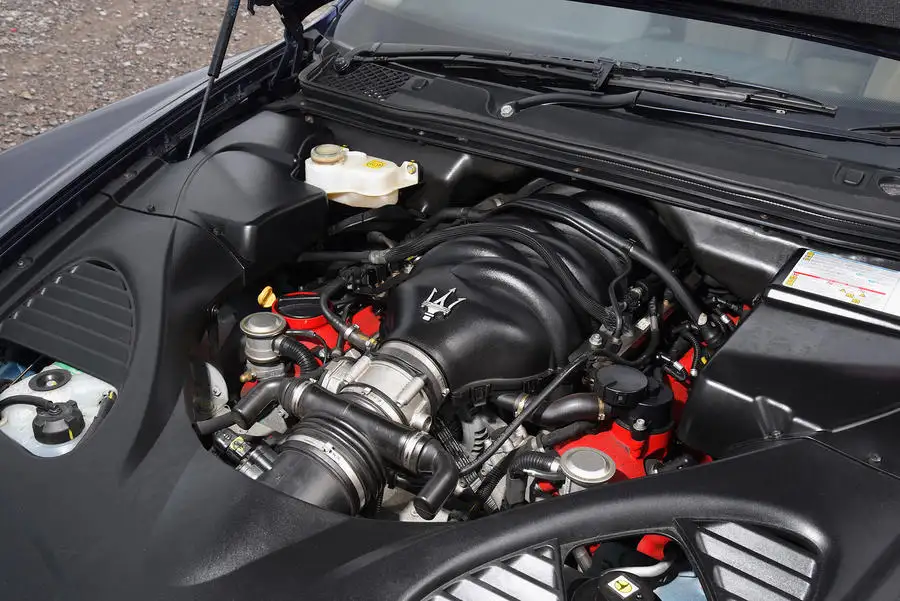 Engine: The main thing to look for is a full service history; preferably one from a Maserati main dealer or specialist. Check the servicing has been done every 6000 miles. Lift the bonnet and check for any signs of oil seeping past the cam-cover gaskets and front crankshaft oil seal. Airflow meters can go faulty and then be responsible for rough running.
Gearbox: On the earlier Duoselect cars, check that the revs don't rise unduly or the car has any problems stalling or with selecting gears; all of these indicate worn parts and large problems ahead. The clutch can last as little as 12,000 miles and costs around £2000 to fix.
Steering, suspension and brakes: Early cars had problems with the rollbar drop links, plus springs breaking and dampers collapsing. Check for steering-rack leaks and excessive play around the straight-ahead. Look at the condition of the steering pump. Check for uneven tyre wear, because alignment can be easily disturbed.
Body: Surprisingly, it won't dissolve before your eyes, but you need to look out for unrepaired stone chips and the like. There are few particular areas of concern other than corrosion of the front subframe, which is an area that ought to be inspected and treated on an annual basis. Those gorgeous alloys are easily kerbed and are costly to repair. Check the 2006 recall work to stop doors opening spontaneously was carried out; the exterior handles should've been replaced. Make sure the boot's soft-close function works.
Interior: The interior looks gorgeous even with a patina of age on it, but the leather wears easily. Ensure the glovebox closes. Check the windows operate smoothly and the headlights work.
Also worth knowing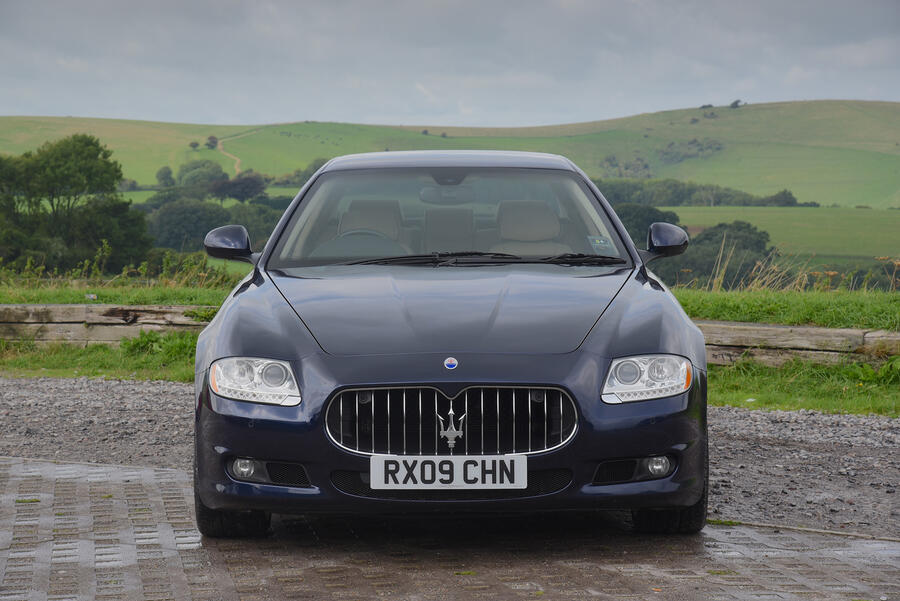 There are two steel covers, about 10in by 10in, located either side of the car, inboard of the front jacking points, covering a section of the brake-line channel. They rust badly and quickly but are cheap to replace.
The cost of recommissioning a car can be very high, due to the minimal availability of pattern parts, resulting in sometimes expensive genuine parts being the only solution for some service items, such as brake parts.
If your car will get minimal use, it's important to maintain the battery on a conditioner, because the electronic system will need to be reset using a Maserati diagnostic machine (or even replaced) should it get low or flat.
The handling afforded by the GT S's single-rate shock absorbers is great, but the flip side is a hard ride on poor road surfaces and on motorways. Other variants had adjustable shock absorbers that gave a comfier ride.
How much to spend
£10,000 - £13,999: Clean, early Executive GTs and Sport GTs, most with more than 100,000 miles. Beware Cat D cars and seek as much history as possible. Be prepared to spend on putting things right, too.
£14,000 - £16,999: Up to 2007, 2008 and 2009 cars with around 70,000 to 100,000 miles.
£17,000 - £19,999: Mileage is king at this point, so look at 2009 to 2014 cars with 50,000 to 70,000 miles and full service history.
£20,000 and above: More of the above, with popular GT S models starting at around £25,000.
One we found
Maserati Quattroporte, 2008, 75k miles, £12,495: A nice example with a below-average mileage, nice condition and a full history. From a reputable dealer used to handling such exotica and offering a warranty of a length to suit. It has 12 months' MOT, too. Also available for £233 per month after a 10% deposit.
https://www.autocar.co.uk/car-news/used-...attroporte