12-23-2022, 11:30 PM
Used car buying guide: Mazda RX-8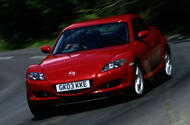 The RX-8 launched in 2003, headlining with an innovative Wankel rotary engine
The Japanese firm's answer to the stylish, practical coupe had a 1.3-litre engine and 8,300rpm redline, but...
Fancy a sporting car of immense charm that looks terrific, is great to drive and can be picked up from just £1500 used? Tempted by the prospect of a turbine-smooth 228bhp at 8300rpm? Of course you are. Of course it's a Mazda RX-8 and of course it's a Wankel engine. But wait, before you go... hear me out. 
You see, if you try an RX-8, you will find it a bit of a peach. From new, in 2003, you could choose from either a 198bhp or a 228bhp version of Mazda's 1.3-litre twin-rotor rotary engine. The former was a pleasant thing, but the latter was the one to have, capable of propelling the RX-8 from 0-62mph in just 6.4sec and on to a top speed of 146mph. 
Power went to the rear wheels through a super-slick manual gearbox with five speeds in the lower-powered engine and six speeds in the lustier version. With the engine being so small, it was logical to place it well back in a front-mid-engined layout, which helped achieve the RX-8's ideal 50:50 weight distribution.
Underneath, it had double wishbones up front, a multi-link rear and a limited-slip differential.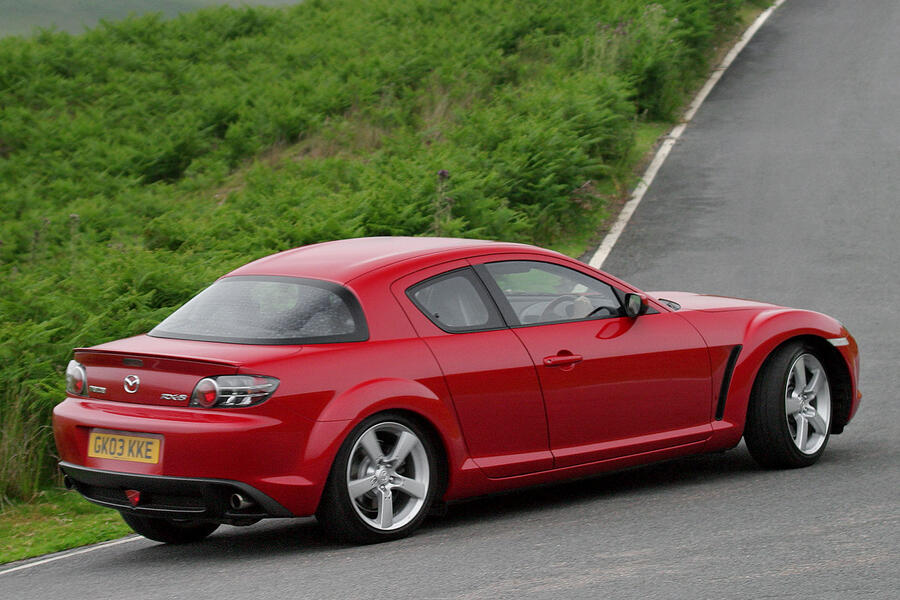 The whole car was pretty light, too; keen drivers were rewarded with sharp steering, an engaging chassis and agile handling. 
They also got four doors, the two rear being 'suicide', or rear-hinged, which was another talking point (if the engine wasn't enough of one), and there was space in the rear for the kids. It was all low-slung in there and well-finished and rather attractive. 
An update to the RX-8 in 2008 brought revamped styling, stiffer suspension and shorter gear ratios for better performance, while the 190bhp version bit the dust. The last cars hit British shores in 2010, before production ended for good in 2012. 
That's the good bits covered. The bad side is that the seals that are axiomatic for compression in that sweet little engine are prone to wear. Really bad wear. It's also not the cleanest engine ever made, nor the most frugal (you will be lucky to see 20mpg in daily use). Oh, and it loves to burn oil, to such an extent that you will be petrified of those glue-loving protesters. It's also not known for low-down torque; hop in and drive around town and you will wonder if you left the handbrake on.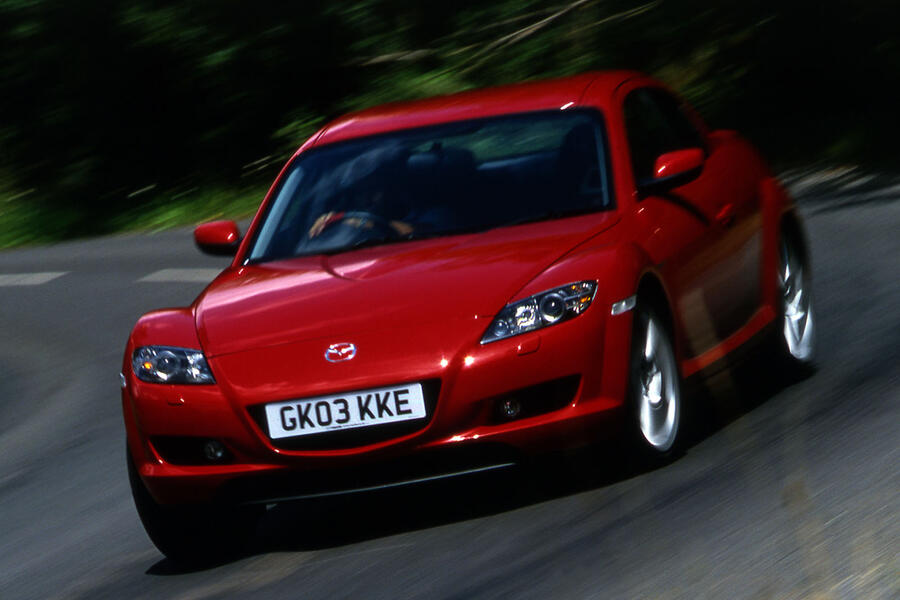 In short, the RX-8's reputation for reliability and longevity goes before it. You could have had a rotary in anything from the bewitching NSU Ro80 to the enthralling Citroen GS Bi-rotor to any number of Mazdas from 1967 on, and the one thing they all had in common was trouble. 
Dare you risk it? Up to you. Best to check all the service intervals carefully and get a compression test done on the engine before you buy and make sure the mileage is on the low side, as longevity doesn't seem to be a strong point. Test-drive it carefully and if the performance feels in any way diminished, walk away. Oh, and don't forget that you will need loads of spare dosh for all that petrol and oil...
What we said then 
16 September 2003: "The trouble with cars like the RX-8 is that for every positive aspect of its ability, it's all too easy to highlight something negative. And so we have a superb drivetrain whose performance is difficult to access, a supple chassis that prefers to go slow, and a delightful cabin in which the driver can never quite get comfortable. It's a car of conflicting competences, then, but a fascinating object all the same. What it trades in compromises, it compensates for in offering a genuine car enthusiast a fascinating ownership experience."
An owner's view
Chris Boothe: "I've owned mine for five years and I love it. It still has a low, sub-50,000 mileage and I had all the relevant tests, including compression, done when I bought it from a local dealer. It had one previous owner and he was fanatical about maintenance. I use it for long journeys only and top up the oil religiously. The biggest problem I've had is rust. Before buying, stick it on a ramp and check the wheel arches and surrounding areas carefully. The bottom of the boot is a problem area."
Buyer beware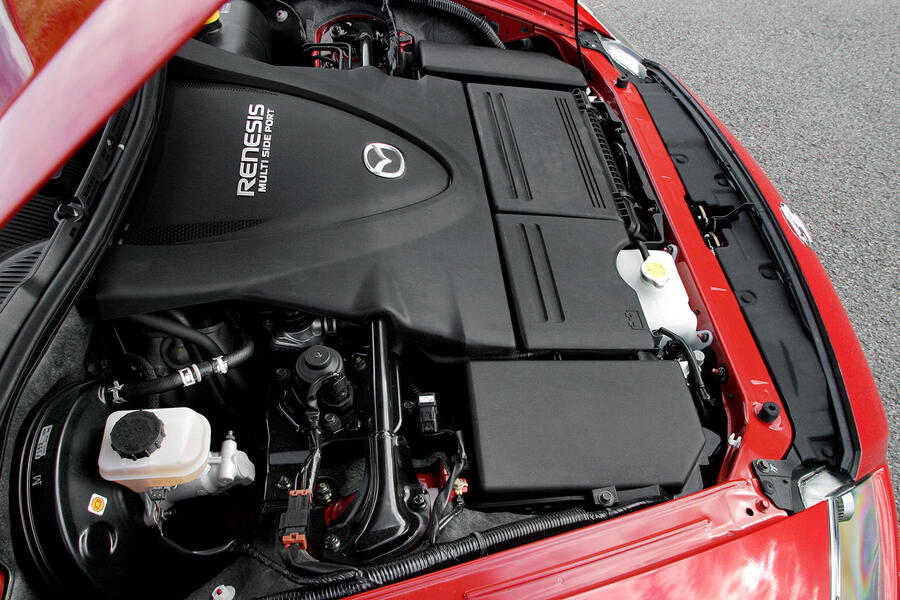 Engine: As with London Zoo, it's the seals you have to watch out for. Failure can be fatal to the engine, so check the compression. Proper maintenance is key. It's reported that 50% of RX-8 engines have needed replacement by the time they reached 50,000 miles. Well-cared for ones can pass 100,000, though. See that it starts in less than two seconds when hot or cold, check for flat spots and listen for knocks and rattles. Oil should have been topped up every 1000 miles. Short trips are lethal, too, as they can cause excess carbon to accumulate in the engine. 
Electrics: The seat heating has been known to warm up only the side bolsters. A faulty coolant-level sensor will trigger a dash light. If the ignition coil hasn't been replaced, budget for a new one.
Suspension: Failing roll-bar linkages will knock over bumps but aren't prohibitively pricey to replace. A sagging rear is a sign that a spring has corroded and snapped. Early cars were recalled for faulty front-lower arm replacement.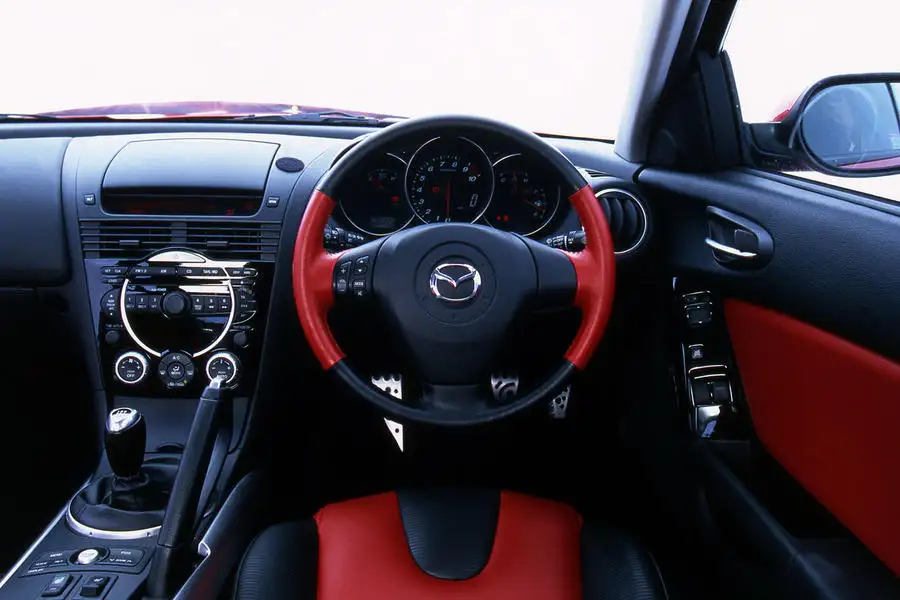 Steering: Notchy steering is usually due to a failing universal joint; intermittent power steering assistance is caused by a leaking coolant hose dripping on the sensor. If it hasn't begun to rust, a thorough clean will usually rectify it.
Brakes: If the car has been laid up, check that the single-piston calipers haven't seized and that the discs aren't too rusty. Braking components are readily available and not too costly.
Bodywork: Early cars rust, so you will struggle to find a clean pre-2006 one. Check that bodykits aren't hiding anything untoward and get under the arches with a screwdriver. Also check the boot floor and subframe for rust.
Also worth knowing
More than 4000 cars were recalled for an issue with the suspension that could cause the driver to lose control. The issue occurs in one of the joints. 
Early cars were recalled to replace heat insulation that could crack and fall off. This insulation is fitted around the dynamic dampers that lessen engine vibrations in the cabin.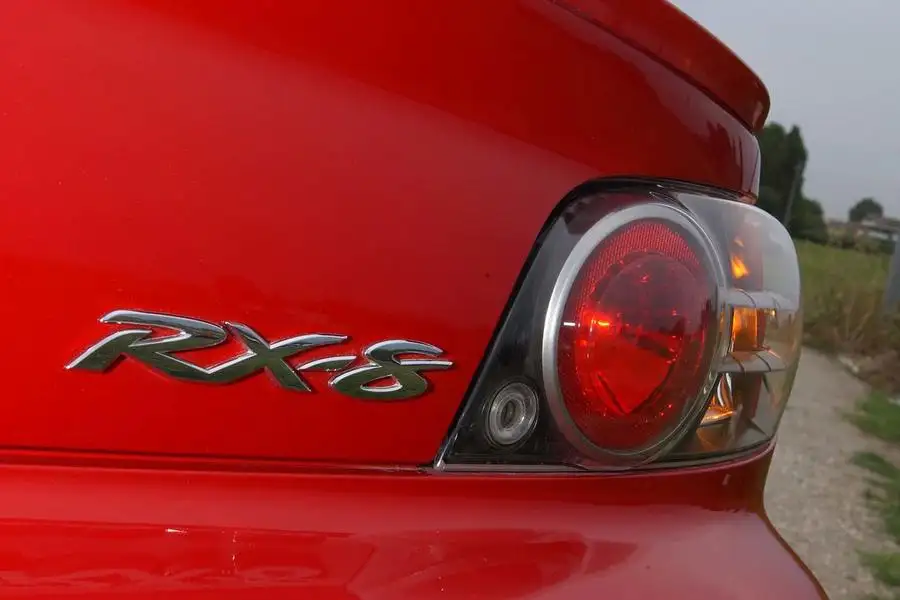 More than 15,000 cars built from 2003 to 2004 were recalled to fix a problem with the exhaust system that could cause a fuel leak, Mazda having discovered that parts surrounding the exhaust could melt and the heat could affect the fuel tank. 
Watch out for stationary gear bearing failure when the oil pressure drops at low revs and the e-shaft gets too dry; an engine rebuild will follow. The R3 version of 2008 gained a stiffer body and better suspension with Bilstein dampers. 
The Prodrive-tuned PZ came in 2006, with Bilstein dampers, Eibach springs, the chassis stiffened and lowered by 15mm and a new exhaust that increased noise but not power.
How much to spend
£1500 -£1999: Mostly early cars taken as part-exchange by dealers. Watch out for write-offs. Check very, very carefully. 
£2000 -£3499: Low-mileage, middle-aged 228bhp cars with no loss of compression.
£3500 -£5999: Well specced pre-facelift cars and those with the proper TLC applied. 
£6000 -£10,000: Well-cared-for facelifted cars with the right documentation and sub-50,000 mileages. Look for a good warranty.
One we found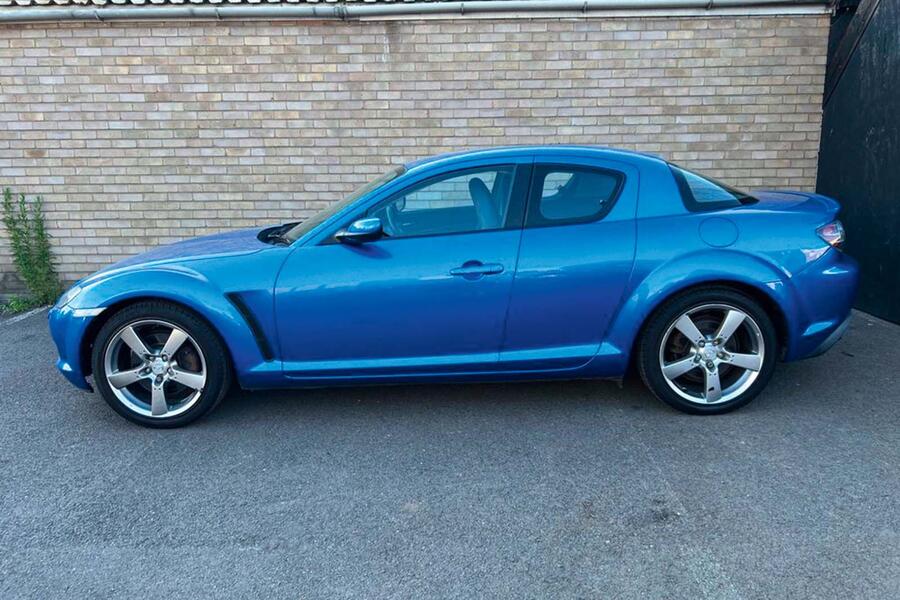 2007 Mazda RX-8 1.3, 92,000 miles, £2825: Prime example of the more powerful 228bhp variant comes with plenty of added options, including metallic blue paint and leather seats. This beautiful RX-8 has had five previous owners and comes with a comprehensive service history and a year's MOT.
https://www.autocar.co.uk/car-news/used-...zda-rx-8-0