09-14-2021, 09:01 PM
Used car buying guide: Mercedes-Benz 190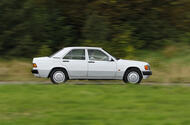 The Merc 190 is a satisfying, classy, everyday saloon that was built to last, which is why there are still so many good ones around today
If you're looking to buy a reliable, modern classic or a daily driver with a difference, then relax: you've just found it. The Mercedes- Benz 190 is an old-school Merc of unimpeachable quality designed to sell in big numbers. (Almost two million were sold during its 11-year run, from 1982 to 1993.) Mercedes spent over £600 million developing the model, declaring the result to be "massively over-engineered", a phrase that should be music to the ears of anyone seeking a 190 today.
Prices go from £1000 for bare runners to £15,000 for 190s with the lowest mileages and in the very best condition. Around £5000 will buy a nice 190 2.0 E auto or rare manual (the E means it's fuel injected) with a reasonable mileage. Beyond these cars lie desirable rarities, including the 2.3-16 and 2.5-16 Cosworths, whose prices can easily exceed £25,000 and which we'll save for another guide.
You can have your 190 in any bodystyle you like, so long as it's a saloon. Even by today's standards, it is comfortable, smooth and agile, with light and accurate steering. Injected versions merely enhance this impression. Safety kit is good, with airbags and seatbelt pre-tensioners fitted as standard. Anti-lock brakes were optional.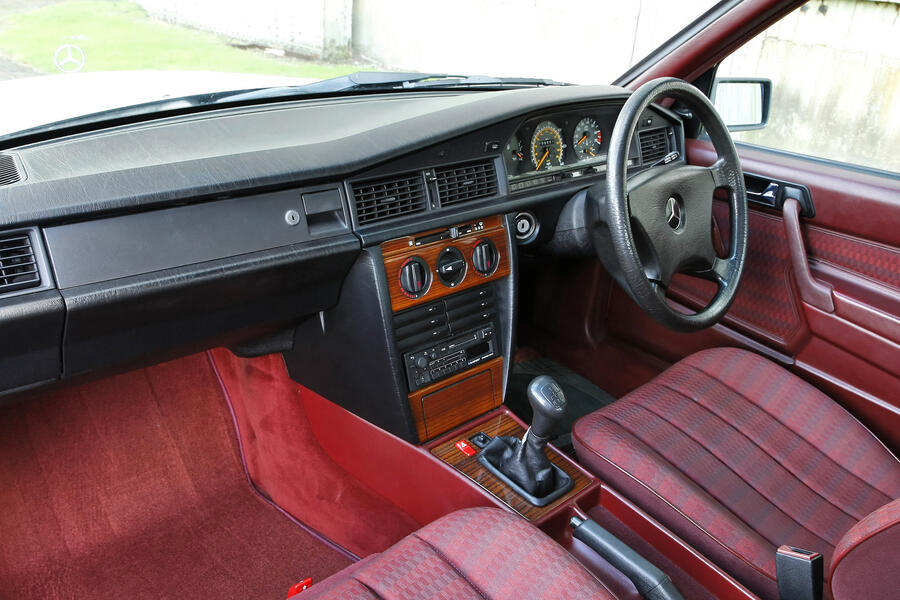 From launch, the petrol engines ranged from a naturally aspirated 2.0-litre (it produces a modest 89bhp) to the powerful 2.3 and 2.5-litre 16-valve engines in the 190 E Cosworths. In between is a six- cylinder 2.6-litre petrol that delivers 164bhp. The one diesel engine is a naturally aspirated five-cylinder 2.5-litre producing 89bhp. Far from being a noisy, old-tech oil-burner, it's actually very quiet, so much so that Mercedes named it the 'whisper' diesel. It's pretty much unbreakable, too, and will run on anything. For example, 190 expert Mark Taylor claims to know someone who runs his on a 50:50 blend of old engine oil and paraffin, refreshed from time to time with a tank of diesel.
However, the star of the engine line-up, and the most common today, is the 121bhp 2.0-litre injected petrol. A good auto will do the 0-62mph sprint in 10.9sec, which even today is pretty competitive. In 1990, an injected version of the 1.8-litre engine replaced the naturally aspirated 2.0-litre unit. It makes 107bhp for a 0-62mph time of 12.3sec – slower but still reasonable. We found a cracking 1993-reg, one-family-owner example with 49,000 miles and a full service history for £7295.
With the 1989 facelift, the 190 gained more rear leg room and deeper bumpers. Being a 1980s Mercedes, the model came with few creature comforts. Instead, its appeal lay in its quality and exclusivity. (Remember, this was before easy- payment PCPs had been invented.) Still, if you had deep pockets, there were options such as power windows and mirrors, a sunroof, air conditioning, armrests, special wood trim and MB-Tex upholstery. Happily, many surviving cars have all or some of these. Happier still is that there are many 190s to choose from, so there's no reason to buy a dud.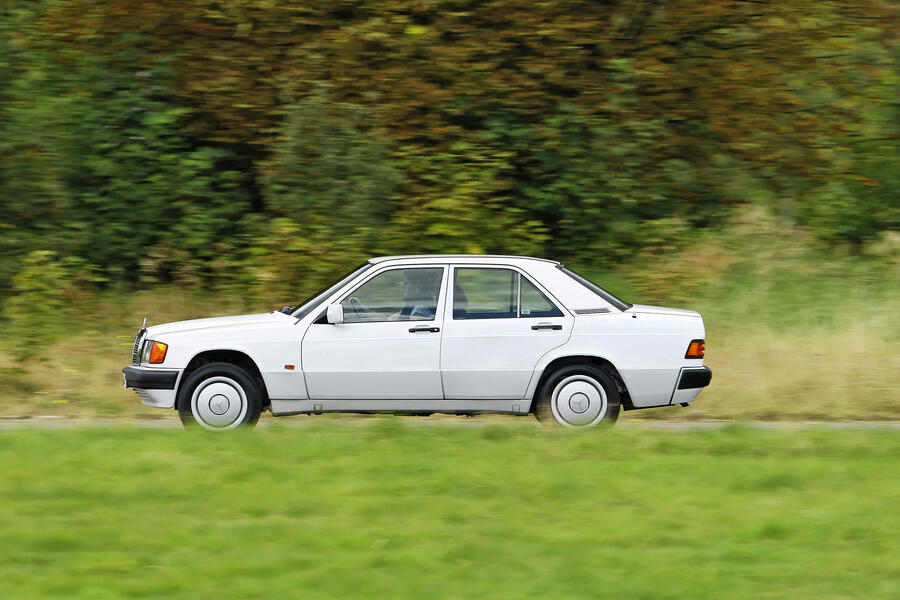 An expert's view
Mark Taylor, Founder, MTSV
"I first became aware of the 190 in the late 1980s. I had to move the company cars around where I worked and one day moved a 1.8. As I looked around the cabin, I couldn't understand why anyone would pay a fortune for a car with windy windows and plastic seats (I didn't realise they were covered with MB-Tex, a hard-wearing leather substitute) when you could have a better-equipped Sierra for much less. And then I drove it. I was hooked by its sheer quality. Years later, I started my business dealing in classic Mercedes, including the 190. There's still a very strong demand for the right cars and I reckon prices have risen 30% in the past 12 months."
Buyer beware...
Engine
Pre-19882.0-litre engines have a single-link, simplex chain that should be replaced every 70,000 miles (around £700). Post-1988 cars went to a stronger, double-link, duplex chain. All engines can suffer head gasket failure, often caused by incorrect coolant. On carburettor models, beware flat spots in the performance. On injector cars, the injection system is electromechanical and needs old-timer workshop skills to service.
Transmission
The four-speed auto is tough and requires fresh fluid and filters every four years. The five-speed manual is also strong, but to operate at its best it requires automatic transmission fluid rather than gearbox oil.
Suspension
Front lower ball joints wear and springs break, but bushes and most components are hard-wearing.
Body
Check for corrosion on the inner wings, especially under the water bottle and on the battery tray. Look for acid leaking from this onto the bulkhead and into the cabin. The deeper rear bumpers on post-1988 facelifted cars trap dirt, causing the boot floor to rust. Rust can also lurk below the jacking point covers.
Interior
The doors cards lift and break at the top. Replacements are expensive. MB- Tex is the toughest seat trim, followed by the standard cloth. The rare velour trim tends to go threadbare.
Also worth knowing
A 190 can take a high mileage in its stride, which is why, back in the day, it was a target of clockers. Today, the presence of so many examples with sky-high mileages suggests it's not the problem it was. Even so, you can confirm the current mileage with old MOTs (www.check-mot.service.gov.uk), although records go back only to 2005.
How much to spend
£1000-£2499 Choice of generally tired, high-mileage 1.8 and 2.0-litre 190 carburettor cars.
£2500-£3999 Mainly 190 Es with decent service histories and at all ages and mileages.
£4000-£5499 Late 190 Es with excellent service histories and few previous owners.
£5500-£6999 Some lower-mileage 190 Es but also a 1986-reg 190 2.0-litre carb model with 48,000 miles for £5995.
£7000 and above The best, lowest-mileage 190 Es.
One we found
Mercedes 190 1.8 E AUTO, 1993, 118,000 MILES, £3495 With 14 main dealer service stamps in the book, this classy and, from the pictures, pristine 190 1.8 E has to be worth a look. Its auto gearbox has just been serviced and it has the full electric pack, a sunroof, all the original books and the three keys it was issued with.
READ MORE
Past Masters: Mercedes-Benz 190 review
Mercedes 190E-2.3-16 Cosworth: the car that made Senna
https://www.autocar.co.uk/car-news/used-...s-benz-190