02-08-2023, 01:27 AM
Used car buying guide: Subaru BRZ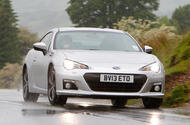 The BRZ is a sports car you can make the most out of, even at everyday speeds
Communicative, predictable and balanced - the car that proves fast doesn't always mean fun
The fastest cars aren't always the most fun. In fact, many cars now are too quick to be thoroughly enjoyed on a public road – unless you're willing to risk losing your licence. 
The Subaru BRZ isn't among them, though; rather it's a sports car you can get the best out of at everyday speeds, just like its better-known twin, the Toyota GT86. 
A lot of this comes down to its limits and how approachable they are. There isn't an abundance of grip in the BRZ; after all, it sits on the same narrow rubber as the Toyota Prius. This essentially feeds its fondness for shimmying beneath you, making sliding it, whether a little or a lot, a piece of cake. 
Now, you might think that sounds dangerous, but don't worry, because everything here is communicative, predictable and balanced. The BRZ is a true driver's car, meaning you always feel in full control. More specifically, you have direct, well-weighted steering and some fine chassis dynamics on your side, not to mention there's the safety net that is electronic stability control.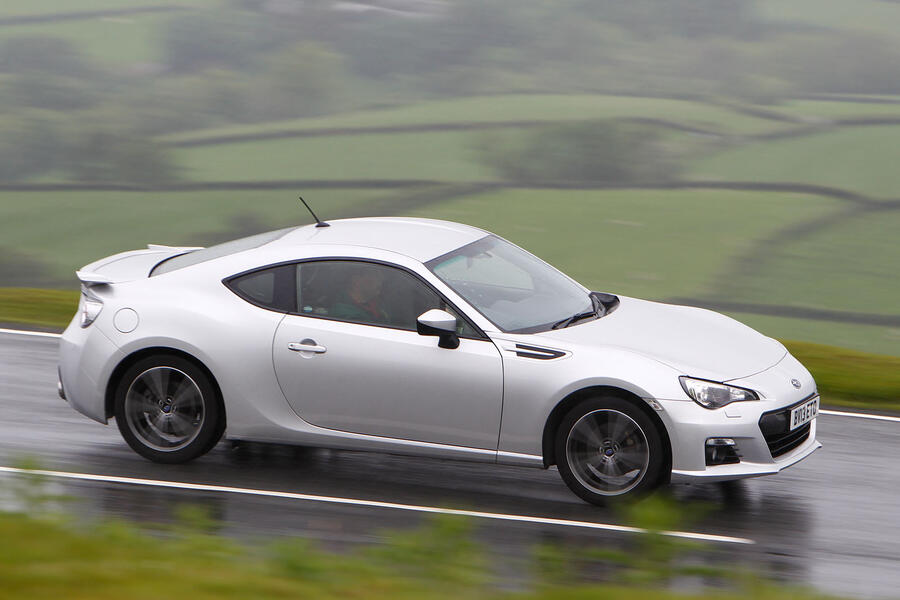 You will also find that, due to slightly different suspension setups, the BRZ is a tad firmer and thus sharper in the bends than the GT86. While the GT86 sold in greater numbers in the UK, mostly due to Toyota's larger dealer network and longer warranty, the BRZ's rarity could solidify it as the more appealing choice for you. Just keep in mind that this is reflected in marginally higher prices.
But back to the driver's seat now, because we must talk about the BRZ's six-speed manual gearbox. Not only does it add another layer of engagement, but it's also simply a joy to use. An automatic is available, but choosing that would be like joining a rock band with the triangle as your instrument. 
Another reason to avoid the auto is because it actually makes the BRZ slower: it has a claimed 0-62mph time of 8.2sec, while the manual can complete the sprint in 7.6sec. 
On the subject of performance figures, let's talk about power. The BRZ's 197bhp is a decent amount, on par with what you'd get from hot hatches such as the Ford Fiesta ST.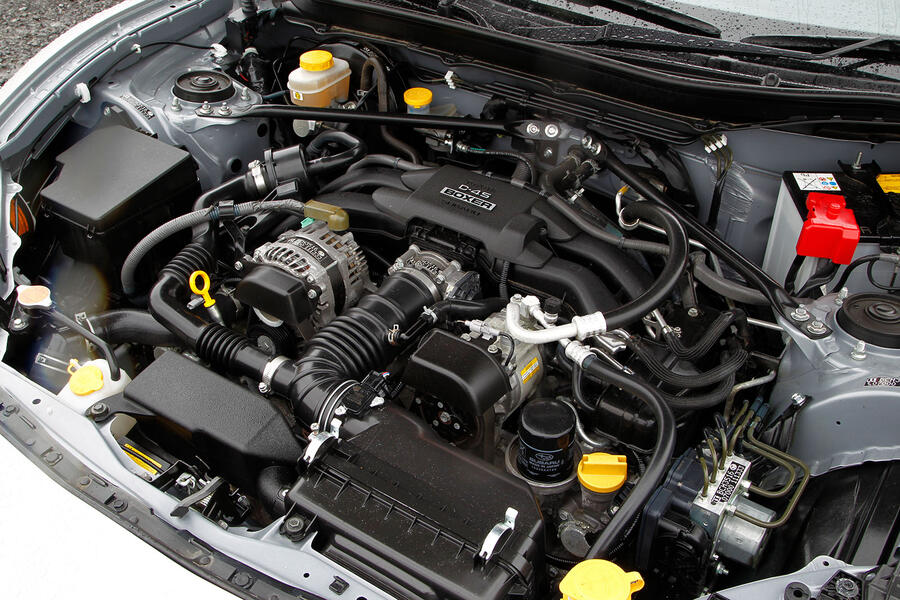 Torque is a different story, though. With its 2.0-litre flat four's lack of a turbocharger or supercharger working against it, this engine produces only 151lb ft. Fortunately, this peak arrives way up at 6400rpm, hence there's an incentive to rev the BRZ out. And let us reiterate: this car was never meant to be a speed demon.
Of course, you can add power via modifications, although obviously this won't be cheap, when another aspect at the heart of the BRZ's appeal is affordability. 
When it arrived back in 2012, the BRZ had a £26,000 price tag, undercutting rivals from premium brands. Sure, it came in at a higher price than the 2.0-litre Mazda MX-5, but then the Subaru was the more practical and powerful sports car. 
Today you will find used BRZs advertised for as little as £10,000, so they aren't intimidating buys. 
Affordable driver's cars deserve all the appreciation they can get, rare things as they are these days, and the BRZ is one of the very best.
An owner's view
Neil Winn: "I had the opportunity to 'learn how to drift' in a Toyota GT86 at the 2015 Goodwood Festival of Speed as part of a Toyota promotional event. It only involved low speed, second-gear slides on a skid pad, but I loved how playful the car felt and decided that I had to have one in my life. As luck would have it, just a couple of months later, a pristine one-owner Subaru BRZ came up for sale at a local dealer, so I pulled the trigger. 
"It has been absolutely faultless during my time with it, and I still love driving it. Complaints? The standard Michelin Primacy tyres had no grip in the wet, so I fitted wider wheels and upgraded to sticker Michelin Pilot Sport 4 rubber. This upgrade, combined with Eibach lowering springs and stiffer anti-roll bars, has made it feel significantly sharper in the corners."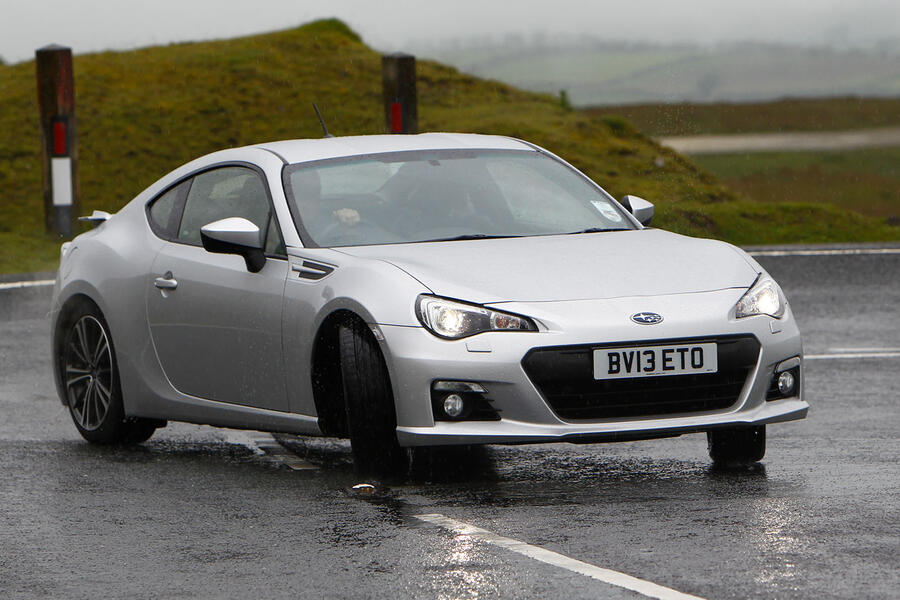 Buyer beware
Engine: If the engine idles roughly or shudders, it could be experiencing an ECU software fault. A remap of the ECU should fix this issue.
Steering: A knocking sound when you're turning at lower speeds could mean the steering damper needs replacing. It's an inexpensive part and one that's easy to install, though.
Clutch: A common issue with early models is transmission throw bearings wearing out, and this can quickly lead to clutch fork failure. Unusual sounds and feelings when you're applying the clutch are signs. It can be resolved by replacing the worn bearing.
Transmission: Check that second gear engages smoothly. The triple-cone synchros can be slow to work when cold, causing an odd-feeling change. Some owners recommend pausing in neutral after first gear, then engaging second with a firm shove. Technicians recommend fresh fluid.
Body: Condensation usually arises in the rear lights after heavy rain. You can apply a seal to prevent this, but if the light has corroded or broken due to the moisture, you will have to replace it.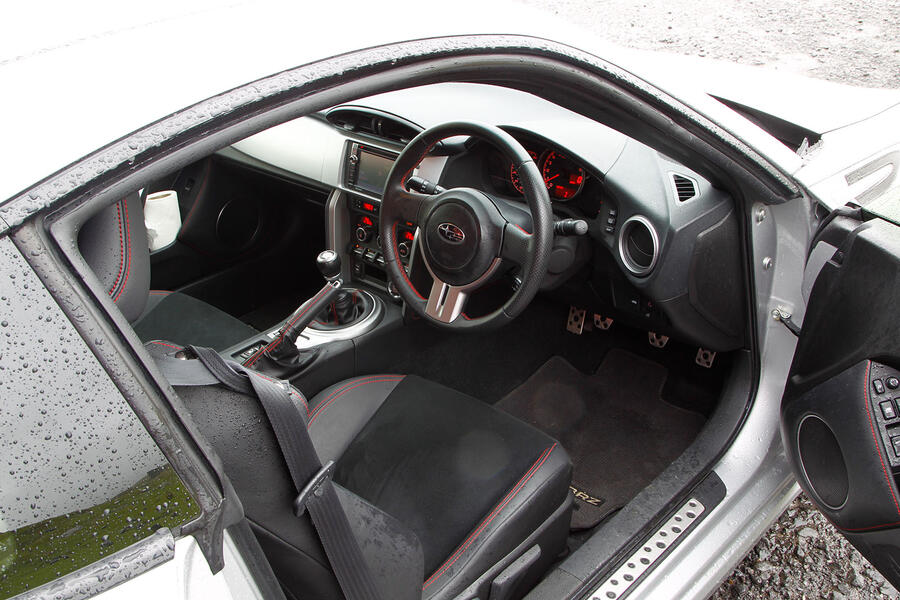 Interior: Complete a test drive and make sure there aren't any rattles coming from the interior (or indeed the rest of the car). The biggest culprits are the rear seats and trim, parcel shelf and lower dashboard. On early cars, a rattle from the gear lever above 4000rpm was a common issue.
Also worth knowing
If you find yourself craving more punch, the BRZ proves a great basis for modification. Tuning companies were eager to make performance packages that boost these cars to new levels. For example, Cosworth managed to get 280bhp and 225lb ft of torque – that's 83bhp and 74lb ft more than standard – out of it using a supercharger, among other upgrades. If you're buying a car that has already been modified, check this was done properly by a reputable company. 
How much to spend
£10,000–£12,999: Early cars mostly from private sellers, some with previous damage. Mileages of around 65,000. 
£13,000–£16,999: A mix of private sellers and independent dealers. Conditions generally improve and mileages waver around 50,000.
£17,000–£19,999: Some 2016 and 2017 models, as well as facelifted 2018 cars. These receive subtle exterior tweaks and improved dampers, plus other alterations, over earlier cars. 
£20,000–£27,000: Late examples in showroom condition with fewer than 20,000 miles.
One we found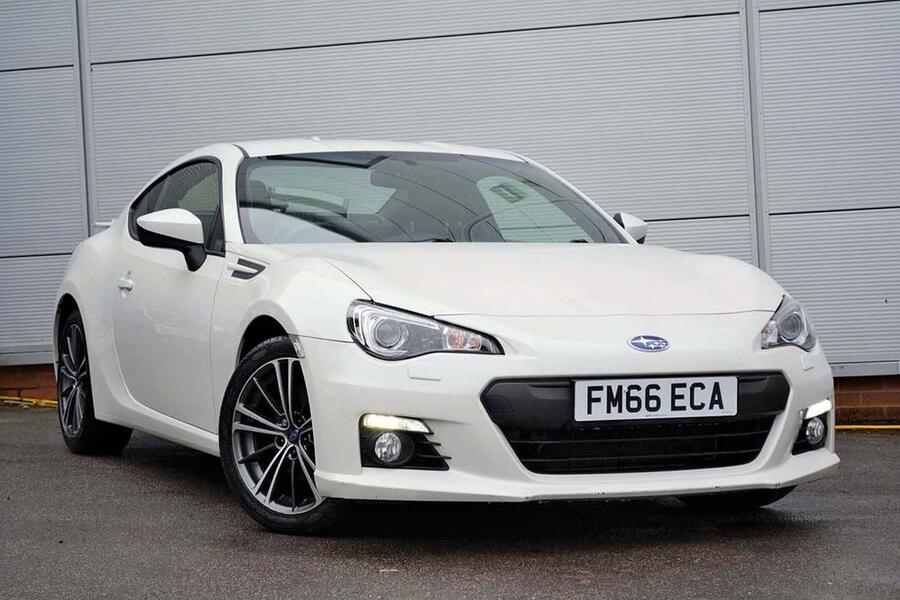 2016 Subaru BRZ 2.0i SE LUX, 43,000 miles, £16,995: This is what you will get from an average BRZ budget. It's a manual car with a good mileage and condition for the year. It also has the optional Pioneer touchscreen infotainment system, which includes sat-nav and Bluetooth connectivity.
Oliver Young
https://www.autocar.co.uk/car-news/used-...subaru-brz