05-16-2022, 07:16 PM
Used car buying guide: Subaru Impreza WRX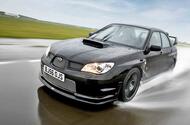 Bugeye, Blobeye or Hawkeye, any fast Mk2 Impreza is fearsome
Whether it rallied its way into your heart or hooked you during Baby Driver's opening car chase, the Subaru Impreza WRX is an icon.
Like the original, the second-generation example is without a doubt a future classic. If its awesome looks and incredible performance have you in a trance, then get one for reasonable money while you still can.
Arriving in 2000, the Mk2 Impreza was popularly dubbed the Bugeye, due to its odd headlight design.
The WRX (available as either a saloon or an estate) has a five-speed manual gearbox and a 2.0-litre flat four making 215bhp, while the WRX STI (exclusively a saloon in the UK) has a six-speed manual and a 261bhp version of that engine, plus quicker steering and a limited-slip front differential. Four-wheel drive is standard for maximum traction.
The Blobeye took over in 2003, so called because of its bulgier face. The output of the WRX rose to 221bhp, but the WRX STI's stayed the same.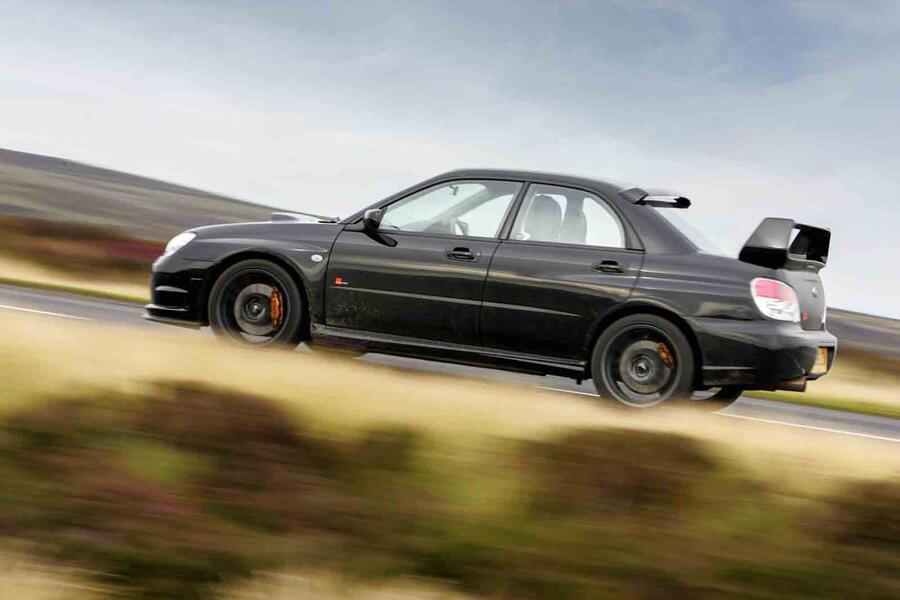 The third and final iteration is the Hawkeye, sold from 2005. Its sharp and aggressive face matches the improved performance from its punchier (although arguably more fragile) 2.5-litre boxer. The WRX rose to 226bhp, the WRX STI to 276bhp.
As if there weren't enough revisions to remember already, the last of the Blobeye cars is referred to as the STI 9. Some reckon this is the best of the breed, because it uses the Hawkeye's running gear and later models' switchable Driver Control Centre Differential (or DCCD, which allows the driver to send 65% of the power to the rear wheels) while retaining the 2.0-litre WRX STI engine.
The Hawkeye also gets a wider track, hence you will sometimes see examples listed as 'widetrack' cars.
No matter which variant you go for, though, performance is plentiful: 0-60mph takes 5.6sec in the Blobeye WRX and 5.2sec in the Hawkeye WRX STI, for example. Even the least powerful version, the Bugeye WRX, is unlikely to see the tail-lights of many hot hatches.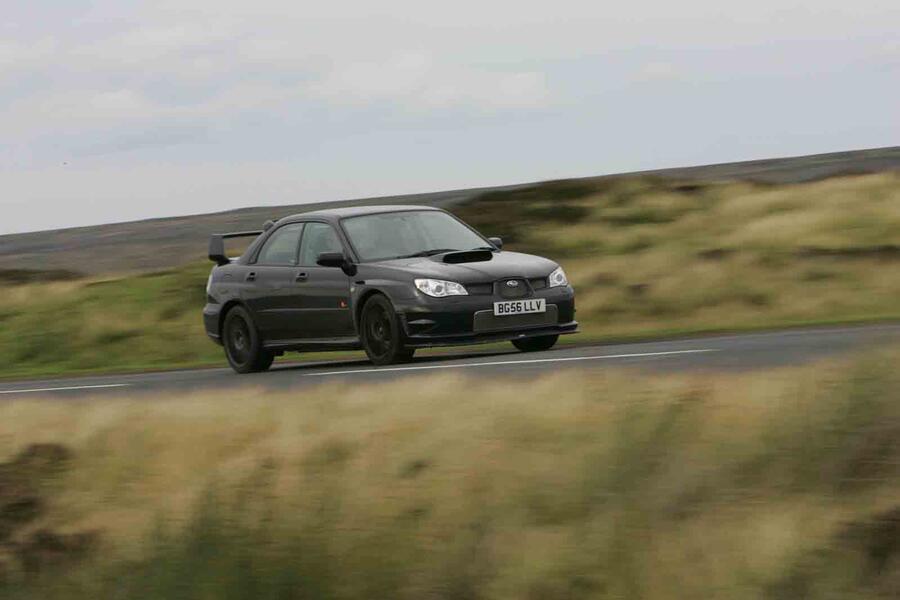 It's worth mentioning that all Mk2 Impreza engines are noticeably old, though, so turbo lag is the name of the game. Little happens low down in the rev range; the fun is to be had up top, where the turbocharger comes on song and you can really enjoy the intoxicating sound and performance of these flat fours.
Grip certainly isn't lacking. Come rain or shine, ice or snow, these four-wheel-drive monsters can show off just how capable they are. Subaru's rally pedigree shines through, so you can enjoy your Impreza every day of the year. On the limit, hot Imprezas do have a tendency to understeer, but it isn't impossible to get the back end to step out, particularly in DCCD examples.
Some might argue that prices are already silly for these cars, with the best of the best exceeding £30,000. There's a mix of UK and imported cars, as well as modified and even some unmodified ones, to be found. However, the Impreza WRX belongs to an increasingly special breed of car. It's one of the honey badgers of the motoring world, along with its lifelong rival, the Mitsubishi Lancer Evolution – but that's a cult hero for another week.
What we said then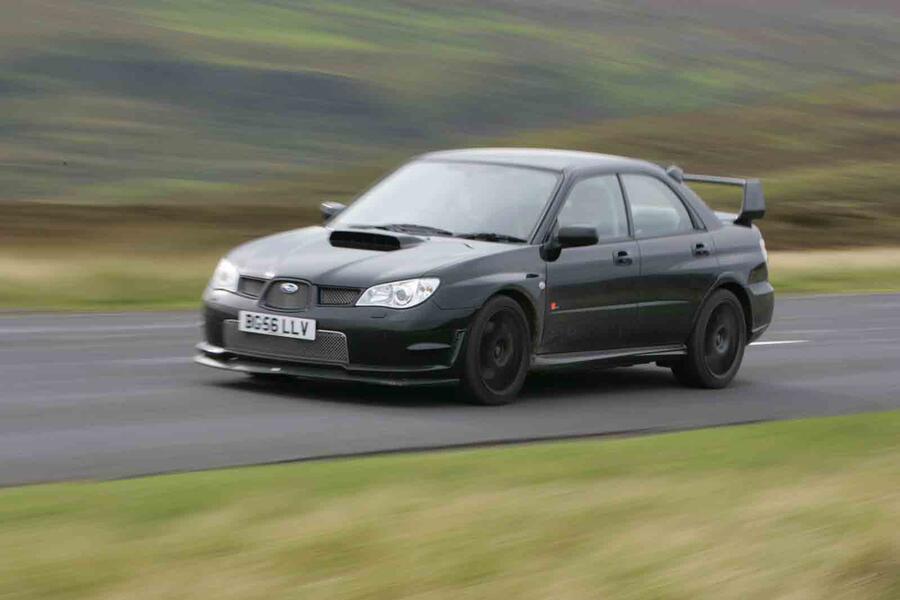 11 April 2001: "Few cars at this price marry such composure and Scalextric-inspired tenacity with such speed. Cross country, the STI accelerates, turns and stops with peerless authority. Above all, it's an abundantly pragmatic car, one which acknowledges the limitations of our environment without giving into them."
How to get one in your garage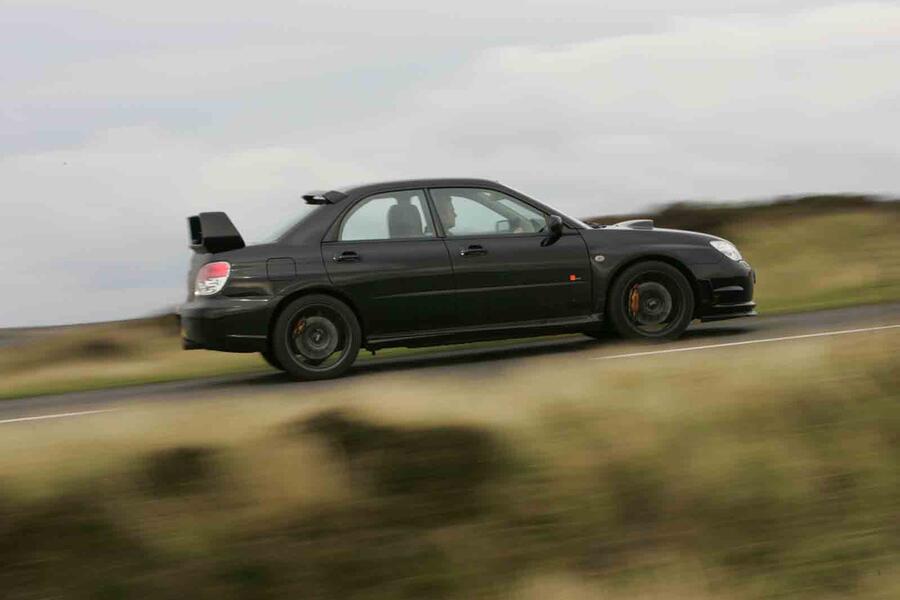 An expert's view
Kevin Knight, Scoobyclinic: "The 2001-2007 Impreza WRX and WRX STI saloons were and still are iconic Subarus with lots of character. However, as they're getting old now, some have been badly modified and lived a hard life. With this in mind, it's best to look for as near a standard car as possible unless it has been modified professionally. The Bugeye and Blobeye WRX STIs are two of Subaru's best creations, thanks to their 2.0-litre engines that will take 400bhp with the correct turbo and mods. They also come with a six-speed gearbox that we've run in race cars at 750bhp without issue."
Buyer beware
Engine: Check for oil leaks from the 2.0-litre engine's cam covers and the sump cover. Cast hypereutectic pistons on the 2.5-litre engine (the 2.0-litre has forged items) suffer damaged ringlands. The head gasket on the 2.5-litre is prone to failure. Engines tuned for 350bhp or more should have toughened internals. Check the claimed power output and fuelling on a rolling road. Ensure the seller allows the oil-cooled turbo to idle. Inspect the condition of the intercooler fins.
Oil and servicing: Make sure there have been regular oil changes and that 10W-40 or 10W-50 fully synthetic oil has been used. The service interval is 10,000 miles. Any WRX will run best on Shell V-Power or similar-grade petrol.
Transmission: Inspect the rear differential for leaks and listen for whines and clunks from it and the centre viscous coupling.
Suspension: The rear struts can suffer stiction as the damper-rod seal dries out and loses lubrication.
Body: The support panels for the front radiator like to rot, as do the front C-subframes (not fitted on imported cars). Look for rust behind the plastic undertrays on Hawkeye models. Uneven shutlines might indicate a crash repair. Check aftermarket headlights for proper mounting and alignment.
Also worth knowing
In addition to the standard WRX and WRX STI, there's a variety of special editions. Chief among them are the RB320 and GB270. You can also find STIs with the Prodrive Performance Pack (PPP), an upgrade that could be specified from the factory. As part of this pack, power is boosted to 316bhp, dropping the 0-60mph time below 5.0sec.
How much to spend
£4500-£5999: Mainly privately sold Blobeye cars. Mileages always exceed 100,000 and conditions are questionable.
£6000-£7999: Some mileages dip below 100,000 here and the cars are generally more presentable. However, you will find the odd previously damaged one.
£8000-£12,999: A variety of respectable WRXs, a fair few from independent dealers, with mileages nearing 50,000 in some cases. High-mileage WRX STIs enter the fold at the top end, mainly Bugeye and Blobeye ones.
£13,000-£15,999: Very desirable WRXs, as well as some special editions, including GB270s. Some showroom-condition WRX STIs with around 70,000 miles.
£16,000-£24,999: Modified high-power WRXs in great nick, as well as first-rate Hawkeye and special-edition WRX STIs.
£25,000 and above: Pristine Hawkeye WRX STIs and special editions. The very best cost around £35,000, unless you're happy to spend £69,990 on a mint-condition Type RA-R from Japan…
One we found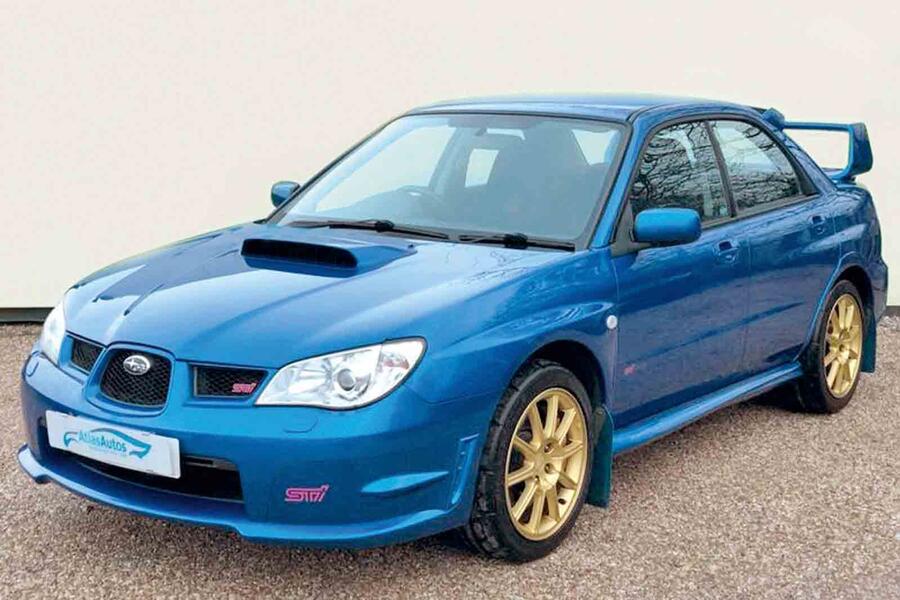 Oliver Young
Subaru Impreza WRX STI PPP, 2007, 39,000 miles, £21,750: This is a real collector's item: a Hawkeye WRX STI that looks the business and has a remarkably low mileage to its name. It has the iconic blue and gold combination, too, not to mention the Prodrive Performance Pack. Look after this one, people.
https://www.autocar.co.uk/car-news/used-...mpreza-wrx