05-05-2023, 06:57 PM
Used car buying guide: Suzuki SC100
The SC100 was powered by a 970cc four-stroke four-cylinder engine
Small-engined coupé born out of a Japan-only Kei car is delightfully analogue
Car enthusiasts of a certain age will remember with much affection the great writer LJK Setright, a frequent Autocar contributor who was much admired for his unparalleled erudition and immense technical knowledge. 
This Bristol-fancying tour de force once owned a Suzuki SC100, bought to see him through a brief hiatus but owned for long enough to influence those for whom his every motoring utterance was gospel. One such person was me, and because Setright had one, I bought one too. 
When it was subsequently written off, I bought his. I bought it when it was 10 years old and kept it for another seven years. Alas, I then gave it away, and when I see how highly prized surviving examples of this charismatic little car have become since, I weep with shame. 
The SC100 was born out of a Japanese-market kei car called the Fronte Coupé. Launched in 1971 and penned by Giorgetto Giugiaro, it looked, if you were to squint and stand a long way back (a very long way back, and possibly even close your eyes), a bit like a Porsche 911.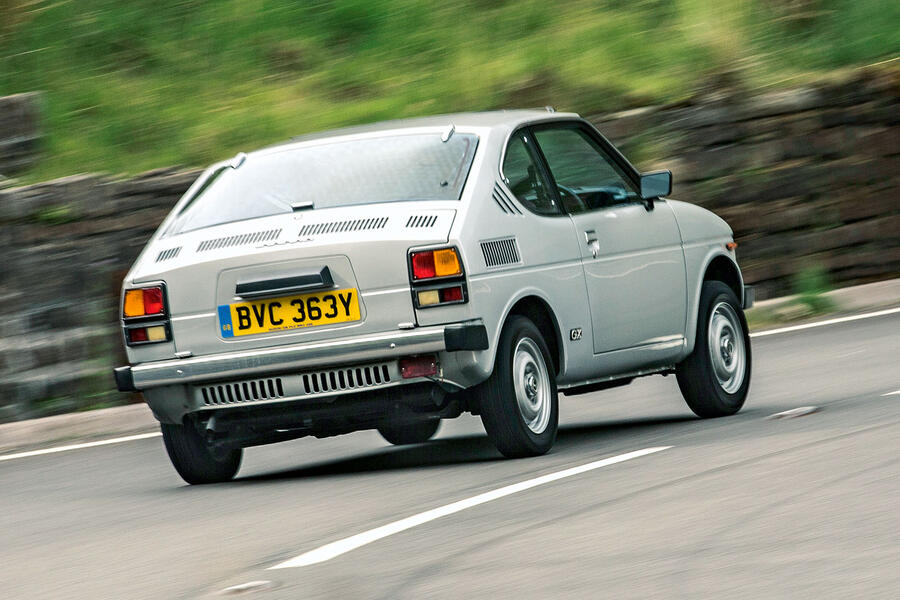 It was a two-door coupé and rear-engined too, but unlike the 911 it was only just over 10ft long and powered by a weeny two-stroke engine. So was the subsequent update, called Cervo, which hit the Japanese streets in 1977. 
In 1979, the Cervo came to the land of the British, where it was known as the SC100 GX, SC100 or, informally, the Whizzkid. 
For the UK, this tiny 2+2 got a 970cc four-stroke four-cylinder engine, transversely mounted and water-cooled. Its maximum power of 47bhp is developed at a lowly 4500rpm, and it produces an impressive 61lb ft of torque at just 2500rpm. It needs that grunt, too, because its four gear ratios are widely spaced, although at just 630kg it's fair to say there wasn't really much Whizzkid to overcome. 
In theory, its top speed is just 82mph, but owners know it can go even faster than that, given a good following wind and the swallowing of a brave pill or two. 
In truth, you need those pills if you're to drive it anywhere, or even sometimes slowly. 
Experimentation with the tyre pressures and the camber adjustments built into the front suspension mean the SC100 can feel eager, up to a point, but it takes time to learn to drive around its not unexpected dynamic flaws. 
In short, its ride and handling are pretty much what you would expect of a tiny rear-engined car with a rearward weight bias of 58% and a fairly high pitching moment.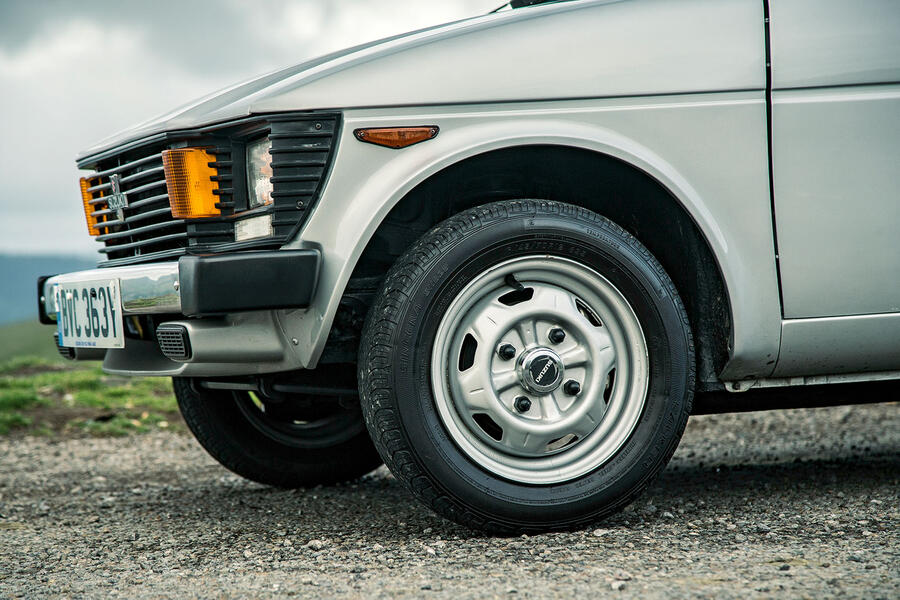 It's pretty unstable under heavy braking, too, such that I once managed to spin my first example through nearly 360deg on the curved approach to a suburban (and luckily deserted) roundabout, which didn't please my two passengers. 
British sales came to an end in 1982, after nearly 4700 cars had been sold. Now there are just 21 left on the road and 81 SORN, according to DVLA data. Many Cervos have been personally imported over the years, though.
In either form, it's eminently collectable and highly prized among a small band of enthusiasts who can still see the immensely likeable virtues of a delightfully analogue little Suzuki. 
What we said then 
8 March 1980: "It can keep up in town and entertain in the country, providing one keeps off motorways. The steering is light and gives plenty of feel. Handling is the biggest entertainer. It doesn't roll much, and it's easy to induce a back-wheel slide. Inside, it is a little too low. If crisp handling and eager response are paramount, there is just as much entertainment to be had from a Mini."
An owner's view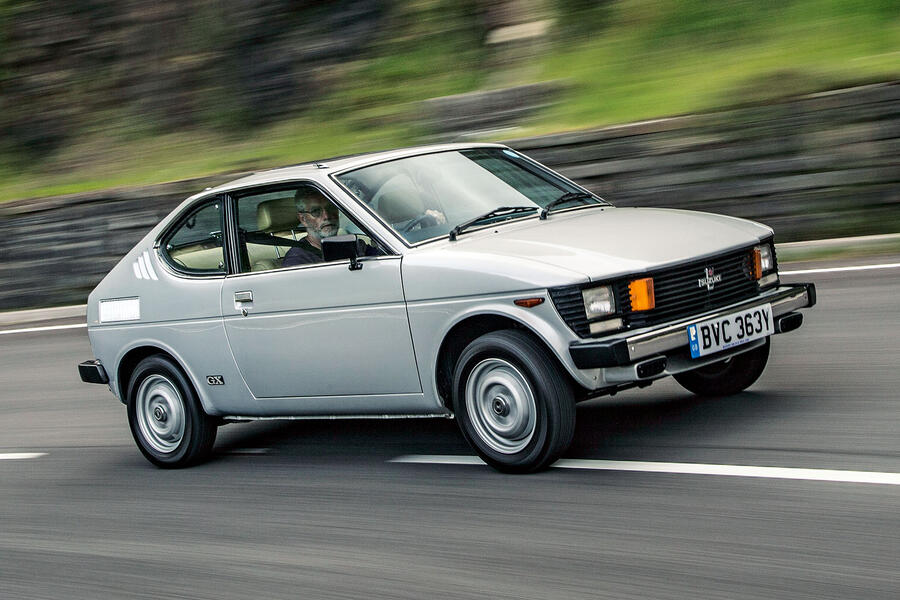 Alastair Clements: "I first saw a Whizzkid when I was 13, and desperately wanted to buy it to do up, but my dad was having none of it. So when I was looking for an economical runabout a decade later, I got one. I loved that car and only sold it to buy an engagement ring. I missed it terribly but realised I had made the right decision when my new wife gave me another as a wedding present. I've still got it, 18 years later. It's like a back-to-front Mini Cooper with even better steering. I've hillclimbed and rallied it, but since stopping the usual rampant rot, I've retired it to gentler duties. I've had four now and can't see myself ever being without one."
Buyer beware
Engine: This engine is hardy and very reliable if properly maintained. Condition is king, so ask how much work has been done on the engine and listen carefully for any unwanted noises. Check the ancillaries carefully, too, as these will be of a good age, especially the cambelt. Fuel pumps need careful maintenance. Exhaust manifolds and back boxes can cause trouble: the only access is through a small panel behind the rear seat and they are no longer available. Take any potential buy for a drive to make sure it doesn't overheat or pump out blue smoke. 
Transmission: This manual isn't the most pleasant to use, although you can polybush the linkage, which helps. It's known to be fairly strong, although clutches can wear quickly and are relatively pricey. 
Brakes: These likewise can be problematic and cost a lot relatively to fix. Discs corrode and are no longer available and the unservoed brakes, handbrake and rear-wheel cylinders can seize. Kits for the drums are hard to find. Check the hoses. Make sure the car doesn't pull to one side under braking. 
Electrics: Although strong when new and of high quality, these can cause trouble now, due to the car's immense age. Fires are rare but have been known. 
Bodywork: Rust could be the SC100's middle name, alas. It can be a huge and toxic and terminal issue, noticeably around the sills, floorpan (check under the rear seats) and rear pillars, which are extremely difficult and expensive to repair. Also check the rear arches, front subframe mounts and door edges. Rear wings cost up to £2000, although Mk1 Ford Fiesta arches can be used, because the profile is similar.
Also worth knowing 
There were some small differences in the bodywork between the Cervo and the SC100, the latter having square headlights and indicators in the grille. In the UK, only one version was offered, the well-equipped GX, while other countries got a CX and a more luxurious CX-G. 
The GX came with a cigar lighter, reclining front seats covered with beige vinyl/cord and independent all-round suspension. It had one update, in 1980, the dash and column switches being modified. You would have to be very young and flexible to get into or out of the rear seats and immensely resilient to stay there for long or travel far. 
Suzuki added ballast in the nose of the SC100 to compensate for its rearward weight bias. Still the front is delightfully skittish or horrendously light, depending on your point of view, although adding shims to the lower front strut mount can help.
How much to spend 
£1000-£3999: Some very nice buys at the top end here but check condition thoroughly. You need some service history and it's well worth putting any potential purchase up on a ramp if you can. Many are imported Japanesedomestic-market Cervos. 
£4000 and above: Well restored, mostly rebuilt and ready to roll. Some imports here too.
One we found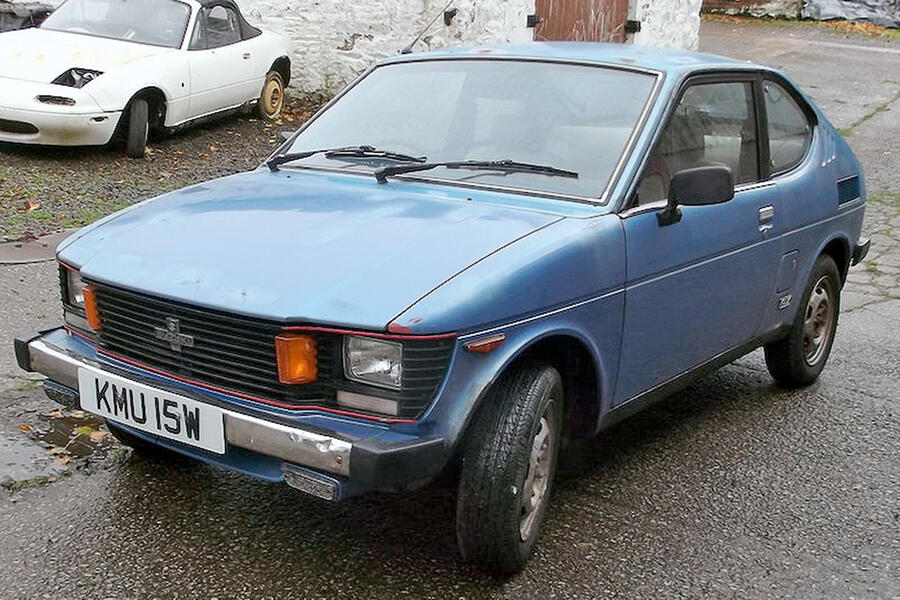 Suzuki SC100 GX, 1981, 47,000 miles, £3500: This has been stored for some years so needs light restoration. It runs and drives and is solid underneath, although the paint is poor and the brakes aren't great. Its window trims were removed some years ago so the little bits of rust could be treated, and they're included. So are quite a few spares, including a bonnet, a wing, a grille, engine parts, trim and badges.
https://www.autocar.co.uk/car-news/used-...zuki-sc100