04-25-2022, 09:17 AM
Video review: New BMW M240i vs Porsche and Mercedes-AMG rivals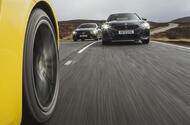 Munich's two-door coupé retains rear-wheel drive for its latest generation. How does it fare against the competition?
BMW, you may have heard, has launched a new version of the 2-Series and it is, for want of a better term, a proper BMW.
That means it's natively rear-driven, has the option of a six-cylinder engine, and possesses the traditional, long-snouted form of every fast Munich-built coupe you'll find in the back-catalogue. We're quite excited about it – especially in range-topping, near-400bhp M240i xDrive guise, which is exactly the model we have here.
However, if you too like the sound of the BMW, and have around £50,000 to spend on an everyday sports car that blends practicality with performance and adds more than a splash of handling prowess, is this M240i xDrive really the one to go for? Might you instead opt for a Porsche, specifically the 718 Cayman, which in basic trim costs roughly what the M240i xDrive does? Or should you spend a little more and plump for the animalistic Mercedes-AMG CLA 45 S, whose 2.0-litre engine is the most powerful of its kind? All three cars have immense pedigree, and plenty of appeal.
It's a nice problem to have, and to help with the decision-making process, we've assembled all three cars in Snowdonia. Join James Disdale, Richard Lane and Matt Prior as they set out to find the best way to spend £50,000 on a new and usable performance car.
https://www.autocar.co.uk/car-video/vide...amg-rivals