06-01-2023, 11:07 AM
Volkswagen Amarok 2.0 TDI 205 Style 2023 UK first drive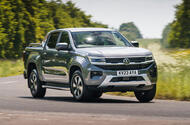 UK-roads testing reveals that mid-range equipment level, and a mid-level engine, are the wisest picks for Volkswagen's well-mannered new pickup.
There is about £2500 between the list price of this mid-range four-cylinder diesel example of the new Volkswagen Amarok and the equivalent Ford Ranger with which it shares so much. Both pick-ups are arriving in UK showrooms at roughly the same time, are built in the same South African factory and have the same ladder-frame chassis, suspension and powertrain hardware.
However, while Ford continues to bowl at the volume pick-up market with the Ranger, its new commercial vehicle bedfellow VW is sticking with the Amarok's familiar 'lifestyle pick-up' premium positioning. And, on the evidence of our first UK drive, the VW may just about carry off that billing.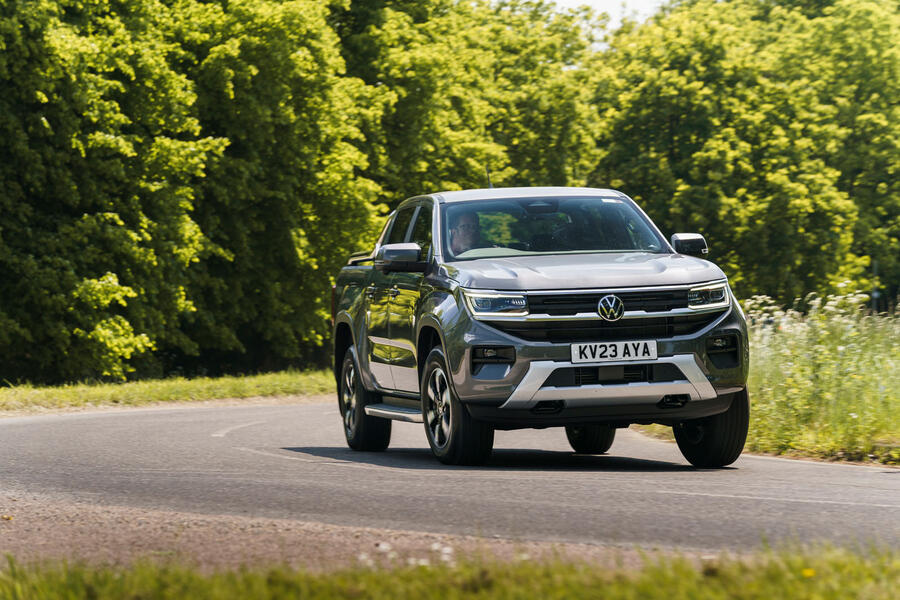 The funny thing is, the Amarok has a broader derivative range now than it did in first-generation form. It's offered as a double-cab only, but you can have one with a manual transmission and a 168bhp 2.0-litre diesel if you like for less than £35k before VAT. Or you can go the whole singing-and-dancing warthog on a £58k Aventura V6 TDI. But even if you only get as far up the range as a mid-level, 202bhp 2.0-litre twin-turbo diesel Amarok Style, you'll still end up with a very pleasant and well-mannered pick-up.
The double-cab interior provides decent space for adults in both rows (VW says leg room has grown significantly with the new-gen model's longer wheelbase) and up front the Amarok Style's electrically adjustable seats offer good comfort and a fine driving position.
The cabin includes recognisable elements from both Ford's parts bin (gear selector, door switches, indicator stalks) and Volkswagen's (steering wheel), but they come together fine. The ambience is quite upmarket by pick-up standards. There's some material variety and richness to it – a faux-leather dashtop and some decorative trim – although elsewhere there are a few hard and shiny mouldings.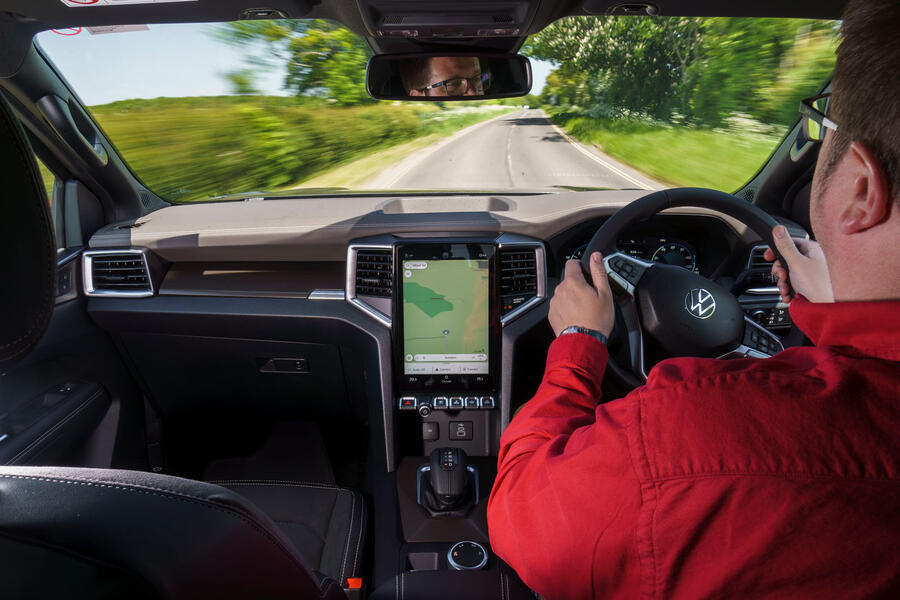 The Amarok uses a lightly reskinned version of Ford's Sync 4 infotainment system and it works respectably well, although it could still use a physical cursor scroller as an alternative to touchscreen operation. The digital instruments are rendered very clearly, and the steering wheel controls for the trip computer menus are proper buttons rather than touch-sensitive ones, which will suit glove wearers.
The 2.0-litre diesel engine isn't as quiet or smooth as the V6, but it's still impressively mechanically refined by pick-up standards. It idles quietly, has only a small amount of a distant clatter under load, and when revving, it's much better isolated than the bigger four-pot of a Toyota Hilux, for example.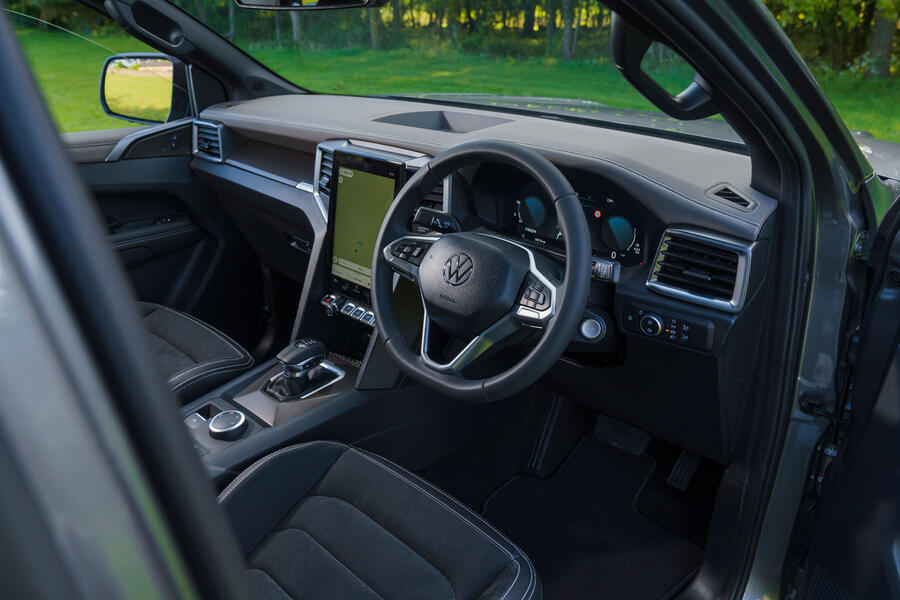 The 10-speed automatic gearbox has some of the feel, on the road, of a continuously variable transmission – that gentle initial engagement (useful when you're carrying heavy loads, towing or driving off road) and the tendency only to rev 500rpm or so between upshifts when accelerating on part throttle. It's smooth, though, and gives the Amarok all the on-road performance that a vehicle of this size and brief really needs.
For ride comfort and handling, since a mid-spec Amarok Style runs on 18in wheels with chunky-sidewalled 'mud and sand' tyres, it deals with UK country roads reasonably well – better, certainly, than the range-topping Aventura V6 TDI we tried (which has heavier 21s and lower-profile rubber). The ride is initially firmer and slightly fussier than that of most pick-ups, but its damping and isolation are better. Body control is quite good by class standards too.
If you want a new flatbed with some passenger car refinement and sophistication, the new Amarok's raised game ought to put it in strong contention, but you would be wise to avoid the priciest engines and trims.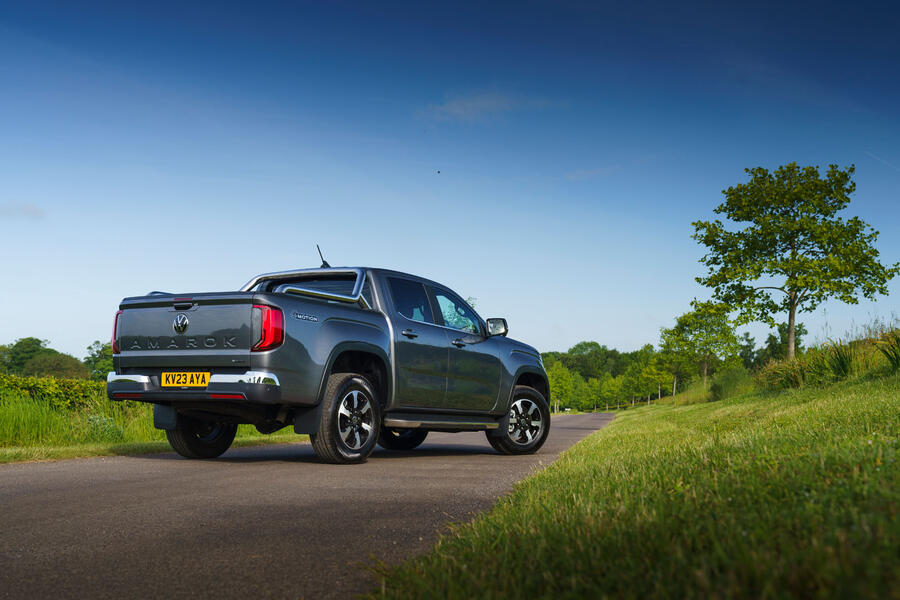 https://www.autocar.co.uk/car-review/vol...irst-drive