03-17-2023, 08:39 AM
Volkswagen Group to invest £158bn in EVs over next five years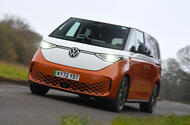 Of the Volkswagen Group's current order book of 1.8 million vehicles, 16% are EVs
Of the huge spend, £13.2bn is earmarked for building new PowerCo battery factory in Salzgitter, Germany
The Volkswagen Group is aiming to further accelerate its electrification efforts with a commitment to invest €180 billion (£158bn) in the next five years, with the majority spent on electrification and software development.
The car giant – whose brands include Audi, Cupra, Porsche, Seat, Skoda and Volkswagen – sold 8.3 million vehicles in 2022, with 7% of those battery-electric. But 16% of its current order book of 1.8 million vehicles are EVs, and it anticipates that such models will account for a fifth of its global sales by 2025.
New Volkswagen Group CEO Oliver Blume has outlined a 10-point growth plan for the firm, which includes revamped product strategies for each of its brands and a major focus on electrification and software development.
The Group is currently developing the SSP, a software-heavy flexible architecture for EVs that will underpin the majority of its future EVs.
Blume said that 2023 will be "a decisive year for executing strategic goals and accelerating progress across the Group" and confirmed that it would invest €180bn (£158bn) between now and 2027. That investment will peak in 2025.
Of that total investment, 60% is earmarked for digitalisation and electrification development, up from 56% in the last five years.
The Group has ringfenced €15bn (£13.2bn) for the construction of the new PowerCo battery factory in Salzgitter, Germany. It estimated that battery sales will generate more than €20bn (£17.6bn) by 2030.
However, the Volkswagen Group will still continue to invest in what it describes as "the last generation of combustion engines".
While total sales were down this year, the Group benefitted from higher margins on models, and it expects production to increase as the impact of the semiconductor shortage lessens during the year ahead.
The increase in earnings was driven by the mix of sales in the Premium and Sport brands (including Audi, Bentley, Lamborghini and Porsche) and by strong sales from the Volume brands (Cupra, Skoda and Volkswagen).
Noting that the Group delivered 571,100 EVs last year and increased its revenues and profits, financial chief Arno Antlitz said: "The order backlog of around 1.8 million vehicles allow us to look ahead to [financial year] 2023 with confidence".
He added that the Group plans to "generate robust returns" this year, "even in a challenging economic environment".
The Volkswagen Group also confirmed it is finalising software development for its premium and luxury brands, which it says it is considering employing across all brands in the future in an attempt to improve economies of scale at its software unit CARIAD.
The software unit, established under Diess in 2020 and based in Wolfsburg, Germany, suffered an operating loss of €2.1 billion (£1.9 billion) in 2022 on revenues of €800 million (£705 million).
Additional reporting by Greg Kable
https://www.autocar.co.uk/car-news/busin...five-years