07-31-2022, 05:18 PM
Volkswagen ID 4 GTX 2022 long term review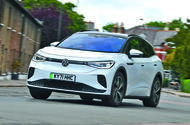 Our hot ID 4 brings 295bhp and 4WD, but what else will come to the fore in daily use?
Why we're running it: To see if the performance version of Volkswagen's all-electric SUV lives up to the firm's grand touring aspirations
We're enjoying our honeymoon, although we've had a few disagreements already - 20 July
I'm not usually one to bother with remote vehicle functions, but I recently spent a short while setting up Volkswagen's We Connect smartphone app.
It wasn't the easiest of processes. I started by downloading the app onto my iPhone, setting up my profile and trying to register the car.
As well as a few connection issues, there was another slight problem here: the car has to be reset to factory settings before you can set up a new 'primary account' if one is already registered.
That won't be a problem for buyers who have just picked up their shiny new electric Volkswagen, but because this is a pre-used press car, it was a problem for me.
As a result, I lost my individual driving mode settings, my favourite radio stations and, importantly, my personally adapted lane-keeping assistance settings and my saved sat-nav destinations. It took a good hour of fumbling my way through the ID 4's confusing touchscreen infotainment system before I was content that everything was back to how it was before.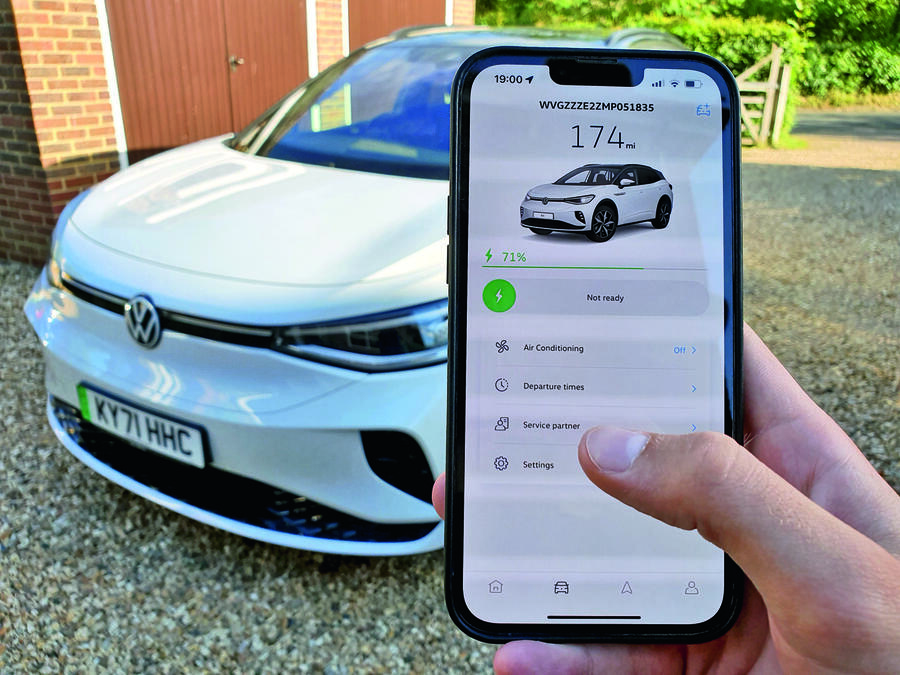 Now that I'm set up, I can see the car's current level of charge remotely and manually turn on and schedule the air conditioning – a useful feature for the muggy months we're now into. I've also chosen a preferred service partner and can request roadside assistance at the click of a button.
The best feature, though, is the map, which displays every public charger in the local area. They are colour coded to show those that are available, in use or fast-charge-compatible. It will no doubt come in handy on longer trips, when I'm out of reach of my home charger.
That said, the ID 4's range is one of its best qualities, especially with temperatures on the rise. I've not yet seen the official range figure of 301 miles borne out, but the 279-mile high recorded so far is exemplary in my experience with electric cars. Unlike in my previous long-termer, a Lexus UX 300e, I never suffer range anxiety, which is also 
partly down to the ID 4's relaxing atmosphere. It rides exceptionally well despite its 20in wheels, ironing out smaller bumps and making light work of most larger potholes.
The seats are also comfy, with lots of scope for adjustment (although I reckon they should be electronically controlled, given that this car costs more than £50,000).
It's also quiet. The powertrain does emit a light electrified squeal when you really put your foot down, but otherwise it's almost silent and actually quite serene.
Road and wind noise are both at a minimum, and the only sort of rattle comes from either my water bottle in the door's storage compartment or from the two loose footballs that I've lazily chucked into the boot.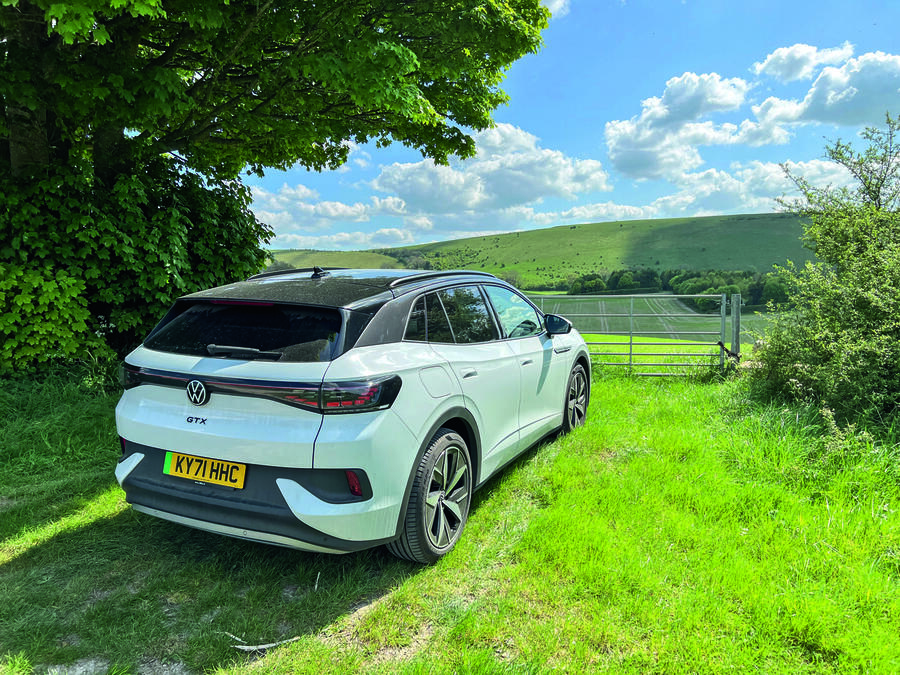 The switchgear is of a peculiar design, though. Perhaps this is my fault, but I've shifted into drive rather than reverse more times than I would like to admit, particularly when attempting to park quickly or make a three-point turn.
Indeed, the ID 4 isn't short of finicky controls. Touchpads are everywhere, controlling all the major functions on the steering wheel, the opening of windows and the car's exterior lights. They're difficult to use and not particularly responsive, either: I often have to tap two or three times before they accept a command.
The most difficult things, though, are the temperature controls. They're not lit, meaning they're nigh-on impossible to use at night. They're also incredibly distracting to use: I really need to concentrate to get them to do what I want, which is far from ideal when I'm trying to focus on safely guiding a two-tonne hunk of metal, especially at high speeds.
I understand why there's a trend of replacing buttons with touchpads in cars. They cut down on parts, they're no doubt cheaper and sometimes they look sleek and reduce cabin clutter. But a lot of the time, they just don't work – and safety should surely always take priority over style, too. 
Love it 
Easy rider
It's finely balanced and composed, soaking up most bumps without being too soft or bouncy.
Loathe it
Lost in translation
The voice assistant has limited functions and rarely understands simple requests. It's good for finding a nearby Nando's, though 
Mileage: 2984 
#Back">Back to the top
Rise of the robots? This car certainly seems to have a mind of its own at times - 13 July
There are some things about our ID 4 GTX that really make me think it's alive. 
For example, when I unlock it, its LED matrix headlights move around creepily like giant eyeballs. And when I get out of it, it emits the trademark Volkswagen noise that almost makes it seem like the car is saying goodbye to its driver.
One way that technology has been used to good effect is when the built-in sat-nav works together with the interior ID Light function to point me in the right direction when I approach a junction.
It isn't all perfect, though. As much as I would be all for a car version of Disney's Baymax in real life, some of the ID 4's systems are irritating at best. Of course, I'm talking about the advanced driver assistance systems (ADAS), which include lane keeping assistance, automatic emergency braking, swerve support and adaptive cruise control.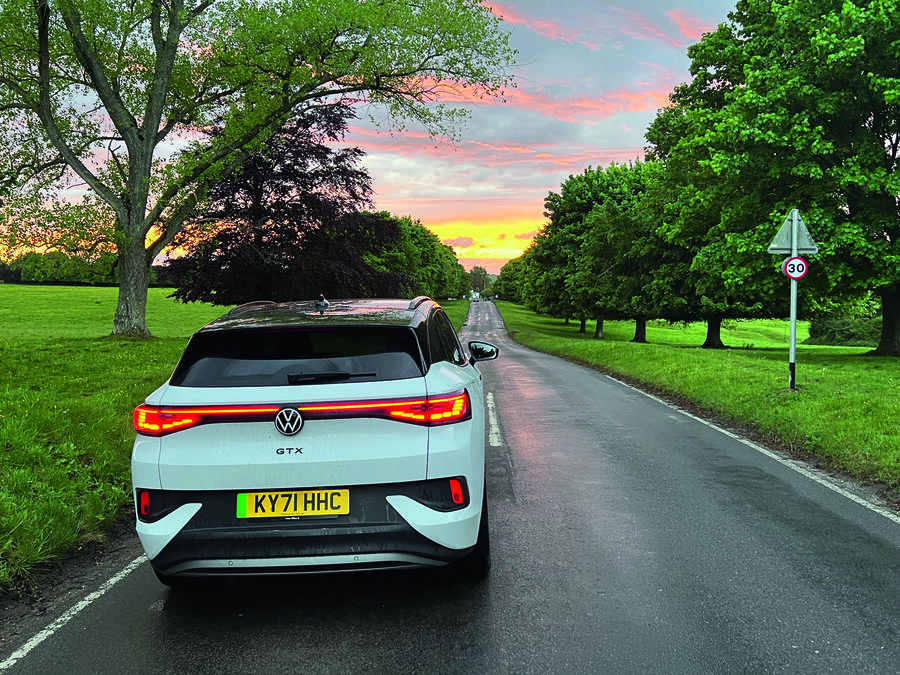 In fairness, the ACC is mostly very good, save for one strange quirk that I encounter frequently, but only ever on the M3 just before Thorpe Park. The car will recognise that a bend is coming up ahead and then slow itself down to 50mph.
This particular bend is nothing more than a slight curve in the motorway over a mile or so, for which you barely even need to turn the steering wheel. The drivers behind me must have been just as confused as I was when the ID 4 assertively reduced its speed from 70mph to 53mph without warning.
Another ADAS blemish is that it annoyingly doesn't include blindspot monitoring on the car's mirrors as standard, which it really should do at this price. The omission means it can be difficult to see if any vehicles are overtaking (or undertaking) me on the motorway, given the length of the car and the A-pillar hampering visibility.
My main gripe, though, is with the lane-keeping assistance. It may be effective on motorways, but on smaller roads you almost have to wrestle with it. Country roads are a particular chore, as the ID 4 will twitch and jerk, often confused as to whether I'm driving too close to the side of the road or too close to the centre of the lane.
The constant bonging and the "stay in the middle of the lane" and "take control of the steering wheel" messages appearing on the dashboard are frustrating when I'm not doing much wrong.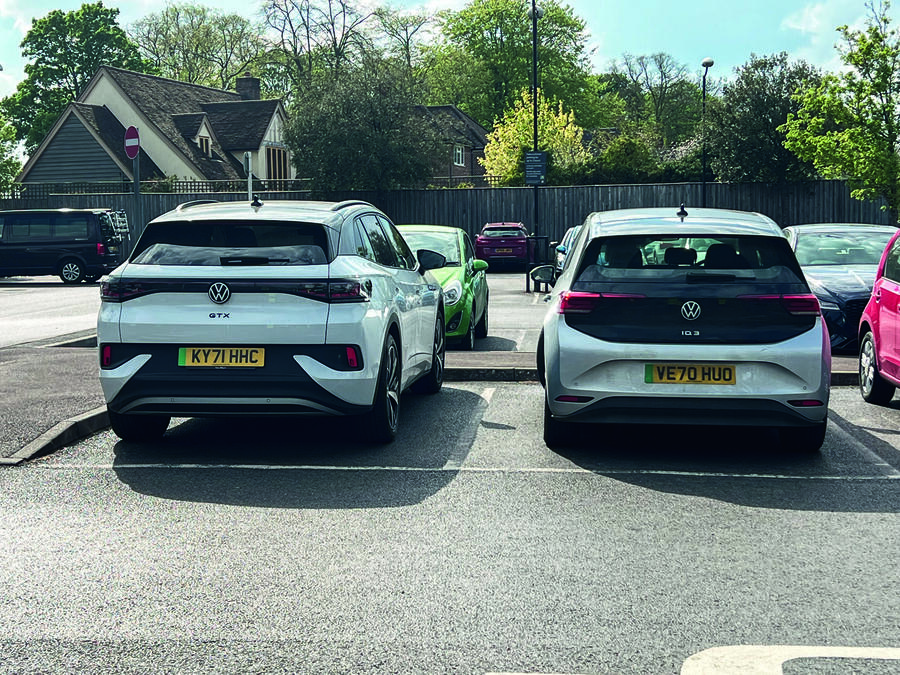 I wouldn't quite call it a robot uprising, but it's often curse-inducing, especially when I have to yank the wheel to get back on the correct side of the road.
I am keen on the ID 4's parking assistance, at least. This is quite a big car, and it certainly feels lit when I'm driving down a country road or squirreling around a multi-storey car park. The reversing camera, included as standard, is clear and the automatic emergency braking saved my bacon in one particularly tight space.
All of this should be made much easier when I find time to fully test the Park Assist Plus system, which is also fitted at no extra cost. This uses data collected from the 'swarm' of similarly equipped cars out there to search for vacant spaces nearby and will then automatically slot you into one by controlling the steering, acceleration and braking. It can also help out if you muck up your reversing manoeuvre. 
Some automated systems in modern cars are great, but others clearly need more fine-tuning. Volkswagen plans to roll out its first self-driving technology in 2025, and will no doubt be busy perfecting these systems and far more advanced ones in the years ahead.
Love it 
Acceleration
With 295bhp, the GTX is fantastic at overtaking on the motorway, and acceleration from a standstill is instant but not jolting.
Loathe it 
Radio headache
It can be a pain to select the station I want to listen to as navigating the touchscreen isn't straightforward. The steering wheel's touchpads aren't much cop, either. 
Mileage: 2133
#Back">Back to the top
Bug-splattered EV is difficult to keep clean - 29 June
This warmer summer weather has made the ID 4's big, wide front end a magnet for insects. I normally wouldn't mind too much, but they really show up on this bright-white paint. And it does make me feel guilty, given insect numbers across the UK have plummeted by 60% over the past 20 years. No doubt they didn't hear the EV coming.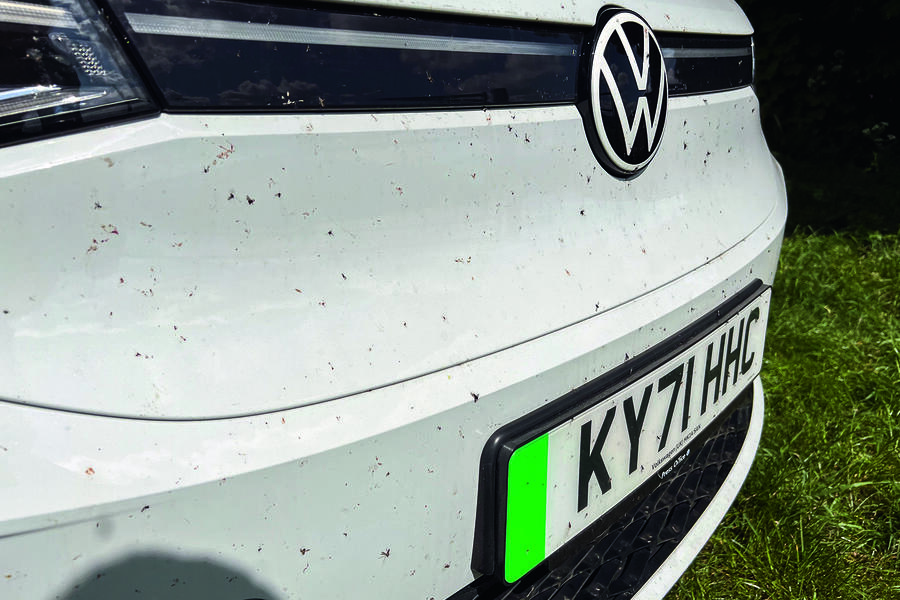 Mileage: 1589
#Back">Back to the top
A ghostly apparition on the ID 4's radar - 22 June 
Volkswagen's radar system is more useful than some because it shows you the type of vehicle in front of you and how close it is to the front of your bonnet (although doesn't the windscreen already do that job?). It does seem to believe in ghosts, though. I parked in my driveway one evening and it displayed a spooky phantom motorcyclist. It hasn't been seen since... 
Mileage: 334
#Back">Back to the top
Life with a Volkswagen ID 4 GTX: Month 1
Welcoming the ID 4 GTX  to the fleet - 15 June 2022
On the surface, the ID 4 has everything you would need from an all-electric crossover: a decent, usable range, a suite of interior technology, a potent powertrain and a particularly spacious interior.
There's also another reason for my enthusiasm – and it comes in the form of three letters on the car's boot: GTX. Is this Volkswagen finally flexing its muscles in the performance EV sector by showing us how it's going to replace the GTI once we move to electric-only power?
Well, not quite. Volkswagen says the GTX is not, in fact, a GTI. Instead, the firm insists the badge represents the addition of four-wheel drive as well as a vast amount of equipment as standard. While GTI models are more for enthusiast drivers, the GTX range is intended for grand touring purposes, with punchy performance an added benefit.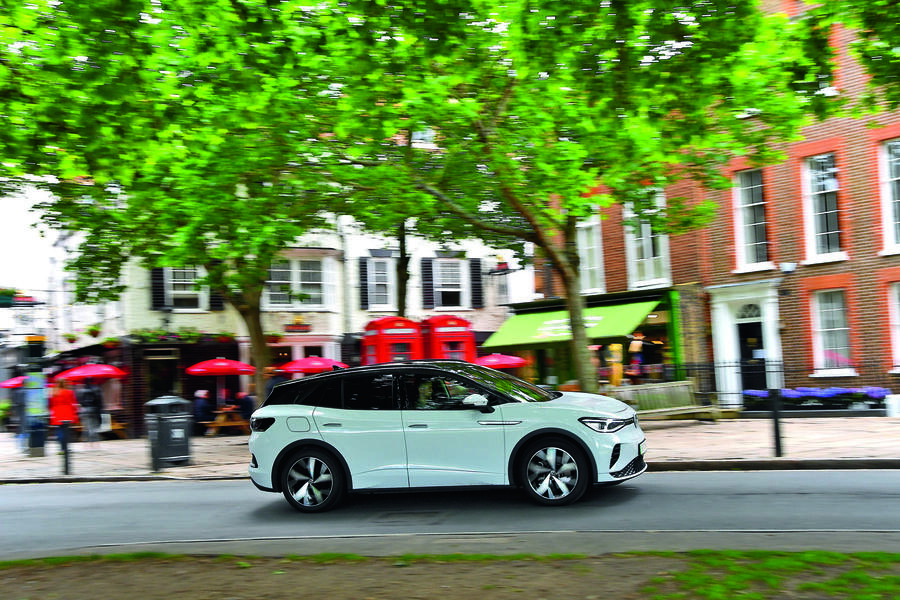 The key changes from the regular ID 4 come under the skin. A second electric motor has been added, located at the front axle, for a total power output of 295bhp and 348lb ft of torque. That's good for 0-62mph in 6.2sec officially – not slow by any means, but outpaced by the Tesla Model Y I tested in February, which completes the sprint in 5.0sec, and far down on the 3.5sec claimed for the Kia EV6 GT.
There aren't many visual differences between the standard ID 4 and the GTX. Our car is painted in Glacier White (a £685 option), but a layman probably couldn't tell the difference between the two on the road, until they clocked the 'GTX' badging on the centre of the tailgate.
The other changes include black air intake grilles, a black roof, a bespoke rear spoiler and anthracite roof bars. The model also has its own LED configuration: the lights at the back of the car are designed to illuminate in an X-shape, in combination with the rear light bar.
The GTX sits 15mm lower than the regular car, too, and has an XDS electronic differential lock and a new Vehicle Dynamics Manager. The specification above this car's – the GTX Max – adds other gubbins such as Dynamic Chassis Control dampers.
Standard kit also includes a host of assistance tech, Volkswagen's clever IQ Light technology, a rear-view camera with park assist, keyless entry, wireless phone charging and wireless Apple CarPlay.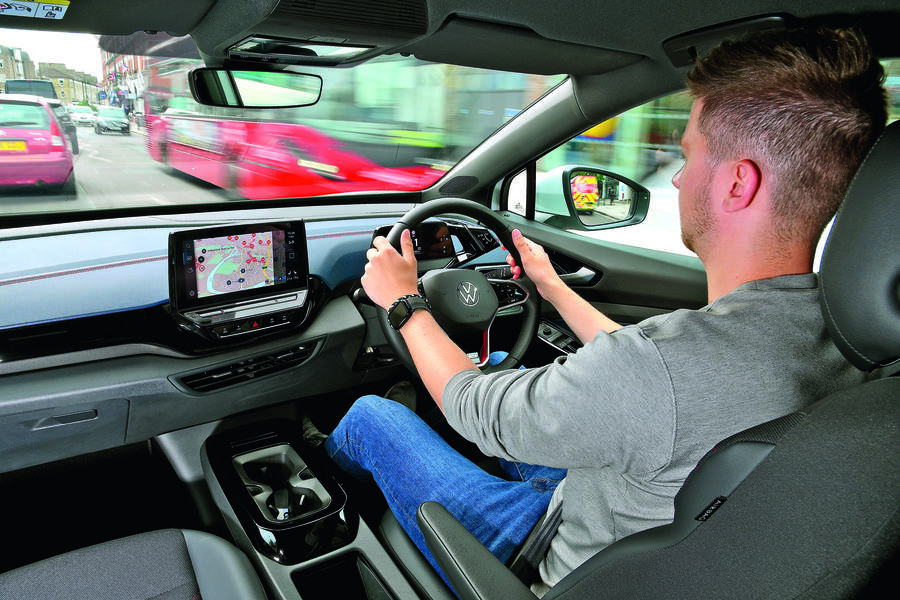 There's Volkswagen's new infotainment system, too. Ours is the larger, 12.0in unit, which is graphically crisp but functionally frustrating. It's the centrepiece of an otherwise fairly barren interior, with all the functions controlled through touchpads and haptic sliders – the latter of which are still not lit, so you can't use them after dark.
The interior tech hasn't received the best response from many testers, so it will be interesting to see how I take to it given my lack of patience, particularly with the new ID 3.0 software, which is said to resolve the latency issues that have plagued the system since the launch of the ID 3.
It's a fairly comprehensive package, but there are some drawbacks to all this extra gear. The GTX is heavier than the standard car, at 2149kg, and its range drops slightly compared with that of the regular car as a result.
The EV's energy is supplied by Volkswagen's biggest battery on the market – an 82kWh pack with a usable capacity of 77kWh. On lower- spec, less performance-oriented cars, it can achieve up to 322 miles of range, but that drops on the GTX to 301 miles. Still, it's a respectable figure that I'm seriously looking forward to taking advantage of on my long work commute.
Having made the journey in the GTX a few times already, I've managed to nurse it home with enough charge to do the same trip again the next day, no doubt helped by the warmer weather of early summer.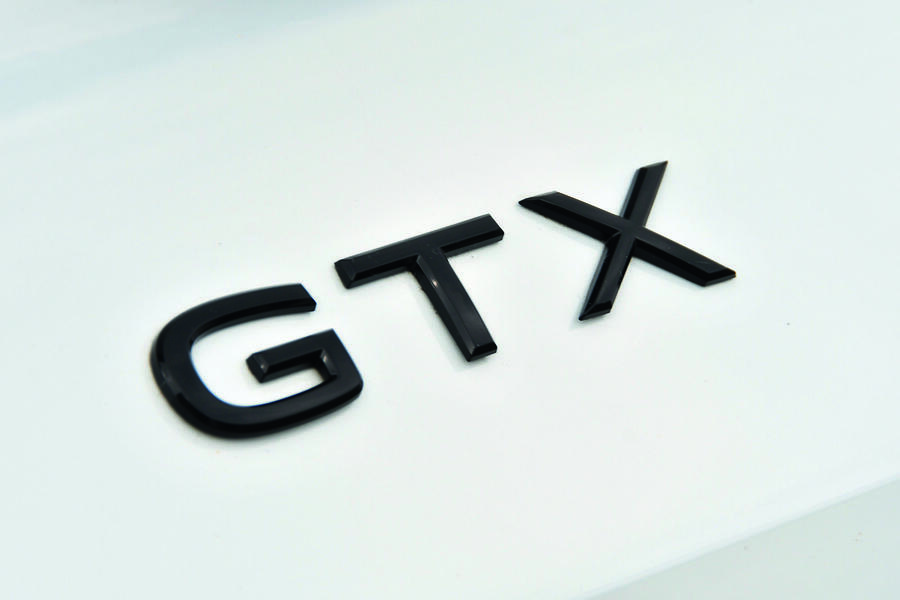 Charging from empty through a 7kW home charger takes around 12 hours and 40 minutes (the car can charge at a maximum of 125kW), although the range of the GTX is so comprehensive that I doubt I'll ever need to consider charging for that long. And with that, I've no doubt jinxed it.
Another area where the ID 4 scores some bonus points is practicality, which will no doubt be a key criterion for many prospective buyers. There's a 60/40 split in the back seat and the boot space is a Labrador-friendly 543 litres. That's just behind the 585 litres offered by the technically similar Skoda Enyaq iV but much bigger than the Ford Mustang Mach-E's 402 litres.
So far, I'm confident in the range, the performance and the space in the back, but will my ownership experience be sullied by software snags? Watch this space.
Second Opinion
Not an easy task, making a two-point-something- tonne battery SUV engaging to drive, but Kia managed it. So has Ford, and Jaguar cracked the code a few years back. So the numbness of the ID 4's helm does jar, slightly, given the GTX badge was always meant to be an indicator of 'sportier' innards. It is mighty relaxing at a cruise, though, which combined with a long range should make it very easy to live with.
Felix Page
#Back">Back to the top
Volkswagen ID 4 GTX specification
Specs: Price New £50,540 Price as tested £51,225 Options Glacier white paint  
Test Data: Engine 77kWh battery, two electric motors Power 295bhp Torque 229lb ft Kerb weight 2149kg Top speed 112mph 0-62mph 6.2sec Economy 3.4mp/kWh Faults None Expenses None
#Back">Back to the top
https://www.autocar.co.uk/car-review/vol...erm-review