06-10-2022, 03:04 PM
Volkswagen Multivan Life 1.4 TSI eHybrid 2022 UK review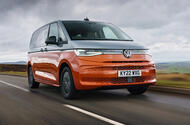 The plug-in hybrid version of the VW Multivan has an electric range of 31 miles
Impressive new MPV tested with standard wheelbase and plug-in hybrid powertrain
Given the MPV market has pretty much evaporated to zero thanks to the rise and rise of the SUV, it's been a smart move for VW to retain a presence within it with a model that replaces not only the VW Volkswagen Touran and VW Sharan (2010-2021), but the VW Caravelle at the same time. After all, nobody really wants to be seen in an MPV these days, but many of us will pine for that beach lifestyle the VW Volkswagen Caravelle (and VW vans before it) seemed to come with as a no cost option.
Despite trying to cover off such a broad brief for what are admittedly niche market segments, we've been impressed by our experiences so far with the VW Volkswagen Multivan, which is very much an MPV wrapped in the body of a VW van you'll find in many a Cornish gift shop.
It's one of those more than the sum of its parts models that comes along when you least suspect it. The Multivan looks like a van (albeit the coolest one you've ever seen), has the interior space of a van, has van in its name even, but it very much drives like a car thanks to its MQB underpinnings, which are of course used on so many VW Group models, including the VW Volkswagen Golf.
Such underpinnings also open it up to the full range of MQB-compatible powertrains, of which this plug-in hybrid variant is one. It mixes a 148bhp turbocharged 1.4-litre petrol engine with a 114bhp electric motor (the combined output is 215bhp), driving the front wheels through a six-speed DSG gearbox. The range from the 10.4kWh battery is quoted at 31 miles.
We recently sampled the 200mm-longer 'Long' version in the highest of the two trim levels, Style with a non-hybridised 2.0-litre petrol-engine. This time, we're sampling the standard 4973mm-long version in the entry-level Life trim, with that intriguing hybrid option.
There's little difference between the standard and Long versions. You get a bit more 'boot' space (it's more like a large storage area behind the third row of seats in the latter, which you can lay a flimsy parcel shelf on top of to keep things out of view below the back window) as the extra length comes after the rear overhang.
The incredibly flexible interior remains, meaning five or optionally four rear seats over two rows that can be slid for and aft, swivelled 180 degrees in the case of the middle row, or removed entirely. A centre console is also on rails that can slide from beside the driver all the way to the back row. Clever stuff, that's easy to use and reconfigure, turning the Multivan from minibus to generously-sized West London studio flat in no more than a couple of minutes.
Dynamically, there's nothing between the pair: predictable but not engaging handling (it's still a van, after all, and predictably is key here), an acceptable enough ride and light steering, all delivered from a commanding driving position (a very van-like one) that offers an excellent view of the road and fine visibility.
To drive, the hybrid powertrain feels a bit underpowered for such a large, heavy vehicle. It's brisk enough off the line thanks to the extra torque of the electric motor, but progress is a bit more laboured as speeds rise. And while it's smooth, quiet and all rather refined when you're making use of the 20-25 miles of real-world electric range off the battery, the engine cuts in with a more of a grumble when the battery is depleted and can whine and whirr a bit under heavier throttle loads.
But all this is more judging it through car standards, and our experiences of the powertrain in models like the Golf. Judged by typical van standards, it is more than acceptable, and the powertrain revels in more the easy-going progress you're far more likely to be making given the Multivan's positioning.
Given how stressed the engine felt and how heavy the Multivan is, I was expecting far worse economy than the indicated 35mpg when the battery ran out. But this is a good figure for a car of this size, and should help keep running costs down, providing you charge regularly to make use of the electric range, and stick to the typically lower mileage such models are likely to do.
Indeed, this version of the Multivan could represent somewhat of a sweetspot of the range. It's around £4500 more than a non-hybrid petrol version, yet running costs will be lower, and its futureproofed against any future legislation against non-electrified cars should you buy it and decide to keep for a very long time. And if a fleet manager is generous enough to put one on a company car list, or you can pick your own company vehicle, then the 12% BIK is not to be sniffed at.
The Multivan retains the VW van's classic style and famous usability and image, then, but in this particular hybrid version is a very much a vehicle for the here and now.
https://www.autocar.co.uk/car-review/vol...-uk-review