06-22-2022, 08:37 AM
Volkswagen Taigo 1.5 TSI 150 R-Line UK review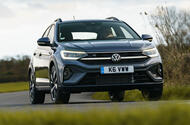 Has a practical cabin, pleasant dynamic character and grown-up feel, but there are more charismatic and interesting rivals for the money
This top-of-the-range version of the Volkswagen Taigo crossover coupé betrays a lot about the positioning of one of Wolfsburg's newer model introductions. While the Ford Puma might sell on its sporty driving dynamics and the Vauxhall Mokka on its chiselled looks, the Taigo takes a more balanced approach at conjuring that extra dose of relative desirability that a car like this needs in order to stand out – and I'm not sure that it really manages it.
Like a lot of Volkswagens, this one doesn't really catch your eye, but it has quite a full set of strengths underneath the rather understated styling. While it has a sloping roofline, the Taigo is hardly rakish or bold looking. It counters with more cabin and boot space than some pint-sized SUV imitators; with a smartly presented cabin; with a slightly broader range of engines than rivals; and with plenty of equipment, on-board technology and electronic active safety and convenience features for what's still a fairly compact and affordable car.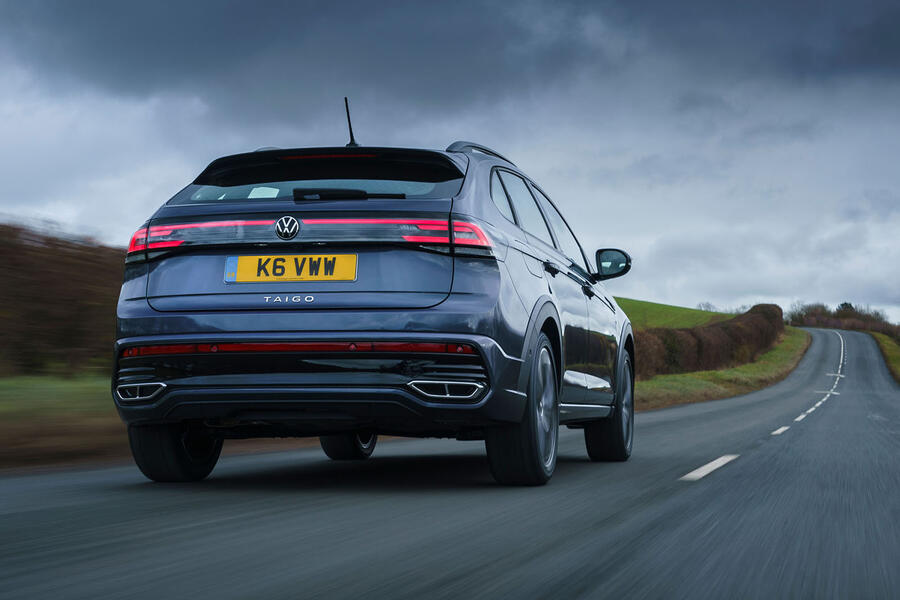 And so, if you like, you can have a Taigo with a 148bhp 1.5-litre TSI petrol engine (which is a chunk more power than some rivals offer) and a two-pedal DSG automatic gearbox, as we've got it here. There's R-Line trim, too (with its sportier-looking bumpers and seats, and boosted interior specification), although if you'd sooner forgo the sportier touches, there's a Style trim at an equivalent level in the range, which can be had with the same engine. 
On either, you get active LED matrix headlights as standard, as well as semi-autonomous parking via Park Assist, and a suite of active safety systems complete enough to beat some cars a couple of vehicle segments higher up the market. You can also add Volkswagen's 'SAE Level Two' semi-autonomous Travel Assist option, via which this car will mostly drive itself along the motorway, through heavy congestion, across lane changes, and monitor and adjust its own speed according to posted limits. And that's a pretty long list of gadgetry for a pumped-up supermini.
In range-topping form, the Taigo is a very grown-up compact car with a rounded character, and plenty of practicality. There's a dose of SUV-typical ruggedness in its styling, but not so much as to attract your attention. 
The car has a more gently sloping roofline at the rear than crossovers typically do, but not so much as to compromise second-row head room. The interior styling is smart and quite digitally sophisticated, but not overly colourful or extroverted. Some might say the Taigo lacks a bit of personality, or any one particular selling point; that its identity is a little wishy-washy, perhaps, and it doesn't offer much beyond the remit of a fairly average compact modern hatchback. To others, though, the slightly raised seating position and enlarged boot that it brings no doubt will be valued.
Although the car's driving position is slightly raised, this doesn't look from the kerb particularly like a car with much ground clearance, and it has a fairly normal entry routine. The cabin's one of both slightly above-average cabin quality and a fairly generous equipment level if you go for R-Line trim. There are plenty of soft-touch cabin mouldings, and you get a 10.3in Digital Cockpit Pro digital instrument screen as standard, a digital touchscreen infotainment system and two-zone climate control. The car's front seats don't accommodate bigger, taller drivers as well as most bigger SUVs would, but there's room in the back for smaller adults and older kids as well as younger ones (more than you might say of some cars in the smallest crossover hatchback set) since the car's wheelbase is longer than that of either a Polo or a T-Cross supermini.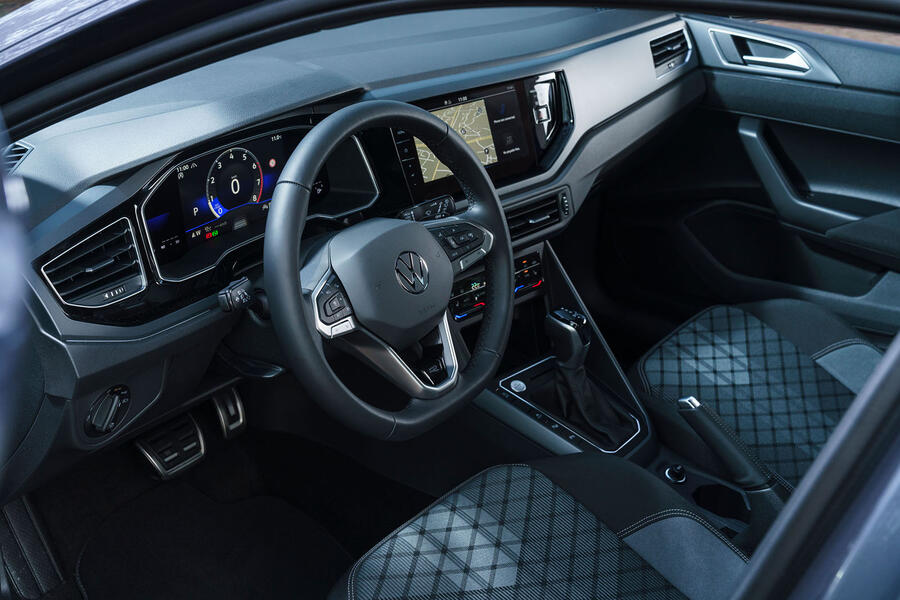 Boot space is surprisingly generous thanks to a double-height floor. Drop the board to its lowest setting and you'll find 440 litres of room, which is 20% more than the Golf hatchback currently offers, and just about enough for a busy family weekend away (as this tester found out).
The range-topping Taigo's 1.5-litre TSI engine doesn't offer 48V mild hybridisation, and so it doesn't raise any eyebrows on efficiency. Neither does it give the car a performance level or motive flavour that's particularly worth savouring. If you like a more assured amount of torque and response than some smaller cars with smaller engines provide, though, you should find it more than adequate.
The engine pulls through higher intermediate gears pretty easily, moves the Taigo's bulk along similarly easily, and allows you to move with the traffic in relaxed, unstressed and broadly refined fashion. The standard-fit dual-clutch automatic gearbox slips between ratios very smoothly under light loads, although it's a bit slow and more clunky-feeling under heavier ones and with manually cued shifts, and isn't always as quick to kick down as some drivers might like.
Under harder driving, the car's four-cylinder engine becomes a little strained and booming at high revs. It's not an engine to take pleasure in extending beyond about 4000rpm, and nor is it very keen-revving beyond that point - although, when called on to really buckle down, it performs well enough. So, if there's a dividend to spending top money on a Taigo, it's more likely to be delivered with the car's everyday ease of use and a certain sense of bigger-car drivability. Real-world economy isn't bad, ranging between miles to the gallon in the high 30s around town up to just below 50 on a longer run.
The car has medium-light controls, handles predictably, rides comfortably and is typically moderate-feeling on the road, declining to impose much character on what it's doing, but always remaining assured and easy to control. If mid-range Volkswagens had a dynamic persona, that would be it.
The Taigo doesn't lope along like a bigger SUV, and isn't interested in entertaining or involving like a Ford Puma might. But it's consistent in everything it does; is easy to place and guide; is comfortable with it; and can handle a fairly heavy load without heaving around at speed.
This is one of those cars that could so easily have been classified in any one of several market segments if had been launched 10 or even 20 years earlier. Think of it as a fresh alternative to a normal Golf-sized family hatchback if you prefer, or even a B-segment MPV like a Citroën C3 Picasso. It's fairly spacious for something of its size, and smart-looking; quite well furnished and equipped, too; it's pleasant, if a bit forgettable, to drive; and it's modern, of course. If that sounds like the kind of small family car you'd be happy to spend £30,000 on, VW will be happy to take your money, but mine would probably go on a version a little simpler and cheaper.
https://www.autocar.co.uk/car-review/vol...-uk-review