04-11-2023, 10:04 AM
Volvo C40 refresh to bring boosted 342 miles of range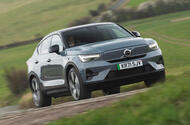 Volvo's entry-level EV gets a raft of efficiency tweaks that boost range and power
Range-topping dual-motor Recharge Twin to arrive in summer with larger battery, pushing output to 402bhp
The refreshed Volvo C40 Recharge Twin is claimed to have a WLTP range of 342 miles, following official tests by the Swedish firm.
It will arrive later this year, along with its refreshed Volvo XC40 Recharge Twin sibling, which is claimed to have 334 miles of range.
The 64-mile improvements are thanks to a larger 82kWh battery and improved cooling efficiency.
The Twin models now get a 148bhp motor at the front and a 254bhp motor at the rear, changed from 201bhp electric motors on both axles. Power remains the same at 402bhp.
The single-motor variants get a range boost too, with the standard C40 Recharge now achieving 297 miles ( and the standard XC40 Recharge 290 miles (up 26 miles).
Switching from front-wheel drive to rear-wheel drive has boosted efficiency, with the pair now capable of achieving 3.7mpkWh, up from 3.5mpkWh for the C40 and 3.4mpkWh for the XC40.
The standard models get a 234bhp powertrain using the first electric motor to be developed by Volvo in-house. This replaces the 228bhp motor introduced in 2019.
The update also includes a faster charging rate for the XC40 Recharge Twin, reducing the 10-80% time by nine minutes to 28 minutes when using a 200kW DC rapid-charger.
Ssmaller-battery standard models keep the same 130kW maximum charging speed.
All of the new EVs are now available to order. The Twin models will enter production next month, before the single-motor variants arrive in the autumn. 
Volvo will soon introduce EX90 and EX30 electric SUVs, with the EX30 - to be revealed in the summer; the name has not yet been confirmed – designed to attract younger buyers to the brand as it continues to reinvent itself for the electric age. The EX90 will arrive in 2024 as a flagship rival to the BMW iX, with a 360-mile range and a £96,255 starting price.
https://www.autocar.co.uk/car-news/new-c...iles-range