04-22-2023, 10:10 AM
Volvo XC40 Recharge 2023 long-term test
Stylish and slightly different electric compact SUV steps up for fleet duties
Why we're running it: To see if the Volvo XC40 Recharge, Volvo's smallest battery-powered SUV, can be a motorway commuter and weekend companion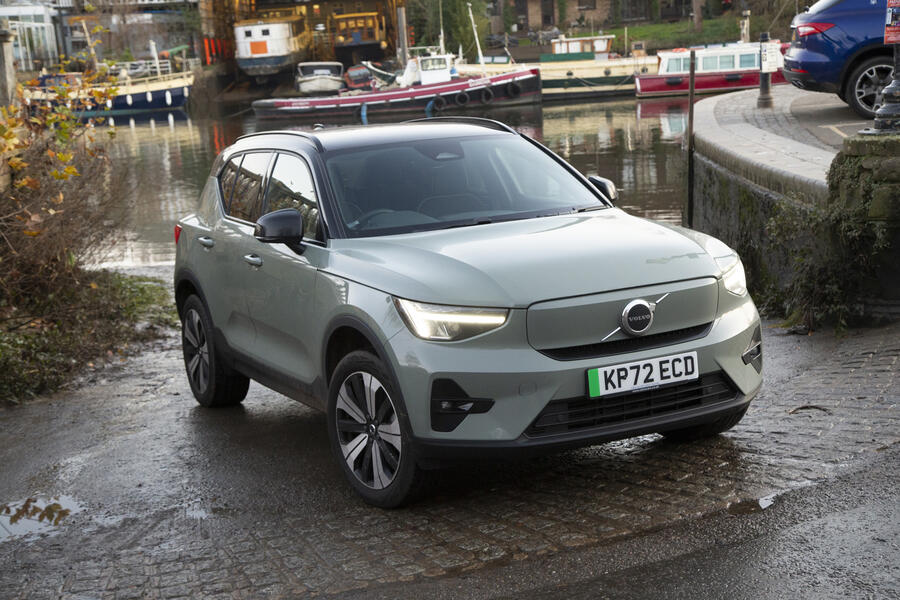 Life with a Volvo XC40 Recharge: Month 3
We're getting ready for spring with some outdoorsy add-ons - 12 April
It's now three years since we were first told to lock our doors and stay two metres away from everyone. Wow, that flew by. Gone are the days of looking out the window at your unused motor, longing for an escape from the once-loved home you suddenly despised.
Well, kind of. The start of 2023, with its freezing temperatures, battering wind, endless rain and intermittent snowfall has proven difficult for those who like to spend their time outside doing outdoorsy things when the working week ends.
With spring now here, though, the XC40 Recharge outside my flat is really pulling me to join them and do more than go cycling in the New Forest every few months.
As I've reported before, this electric SUV has enough room in its 452-litre boot (1289 litres with the back seats down) for a bike, camping gear or a couple of dogs.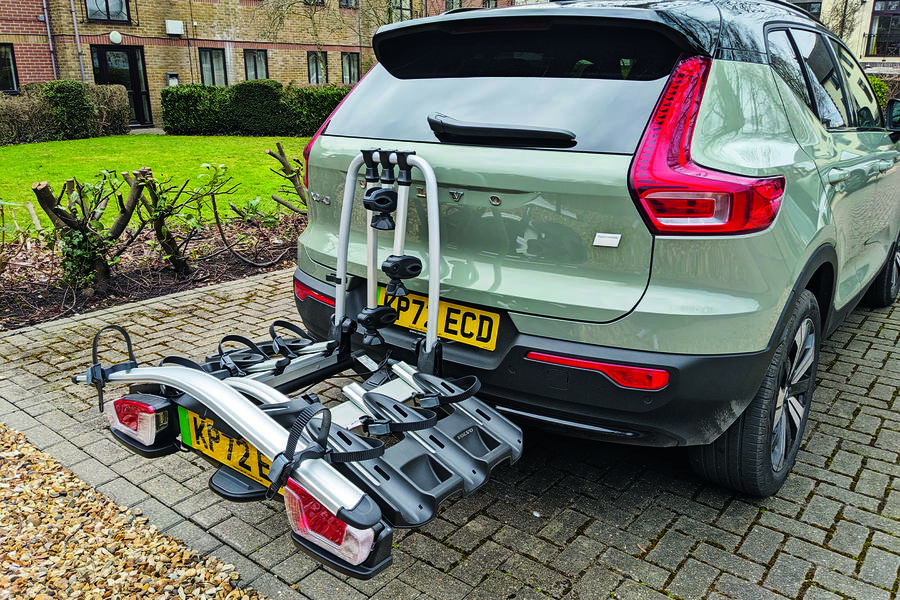 But I wanted to dial it up a notch for this test. It's now fitted with a towbar, so the door has been well and truly swung open for some caravanning or even horsebox-pulling. My mum was very excited.
Hold your horses, though. (Sorry, couldn't resist.) We will get to that. I'm starting off simple. As you've seen above, a bike rack is the first move. And it's a proper one at that.
With slots for four bikes (enough for a small family, whom an XC40 would suit nicely), this towbar-mounted rack from Thule comes in at £446. Not cheap, but as the £1250 towbar can be optioned and added to the monthly rental cost (£21 per month over four years directly from Volvo), it makes the pair a bit more of an affordable proposition.
When the bike rack is fitted, you certainly know it's there: the added 1030mm in length bumps the XC40 to nearly 5500mm, which is longer than the very stretched BMW i7.
Given such length, I thought that I would find myself second-guessing during low-speed tight cornering, but the great visibility from the XC40's superb driving position means manoeuvring around the car park of my city-centre flat is a relative doddle, even if learning where the new pivot point is needs some thinking.
Extra bonus points are awarded for the trick step that tilts the rack forward for easy boot access and the fact the rack fits in said boot, albeit snugly, if needed.
There's obviously some impact on range, due to the aerodynamic disruption and extra load. The rack weighs just under 22kg on its own, and the average bike weighs around 10kg. So my 220 miles per charge soon dropped below 200.
The XC40 has impressed me with how it can be packed full of kit and people yet still deliver a comfortable ride and a stress-free driving experience. There are cons too, most notably the limited range (not helped, of course, by the UK's sub-par charging infrastructure or my lack of a driveway).
However, this issue won't be quite so bad for future XC40 buyers, with updated cars (due in late 2023) getting a host of significant tweaks to extend the range to 290 miles.
While I'm on the subject, an amendment. In my last report, I cited a fellow XC40 driver who noted "abysmal" economy of 1.88mpkWh. The reason, it turns out, was poor maths (theirs rather than mine, I'm glad to say). Instead, they came closer to 3mpkWh.
Love it 
Okay, Google
The infotainment is superb, and the voice assistant is a plus, especially for getting a weather forecast.
Burning eyes
There's no dark mode for the map, and as the sun pokes out, on comes a distractingly bright backlight.
Mileage: 4161
#Back">Back to the top
Life with a Volvo XC40 Recharge: Month 2
Who can spare 30 minutes during their daily commute? Well, we have no choice - 29 March
Range: it's a word many of us dread. And it is a word, dear reader, that I'm about to use a lot.
I've been running a Volvo XC40 Recharge EV for a few months now, so I'm in a good place to report on how much zap you get for your tap (yes, I'm coining that phrase).
For any prospective EV owner, knowing if you will be able to get to where you need to go on a full charge is key. Gone are the days (for now, at least) of quick fill-ups. Factoring an extra 30 minutes into journeys is the new normal – one that I and many others don't enjoy.
So how is the XC40 faring now that the weather is the right side of freezing? In a nutshell: I wish the 69kWh battery gave more range. Currently, on a 100% charge, this £53,525 car shows between 180 and 200 miles of driving available (the recommended 80% charge giving only about 155 miles). Go anywhere near a motorway and that lower end drops to 150-160 miles – and that's with my sensible brain engaged.
Still, over nearly 3000 miles of 'ownership' (out of a total of 3866 miles), for which I've used the car for my 120-odd-mile commute, plus some short bursts on weekends, I've averaged 3.0mpkWh. Volvo quotes up to 3.3mpkWh, so I've done well.
With public fast-charging prices at 65p per kWh (I use my local Pod Point charger), it costs an eye-watering £40-£45 for a complete fill-up (my usual 30-100%: £32). It would be much cheaper, of course, on a home charger, but sadly I don't have access to one in my city centre flat.
I've seen fellow XC40 Recharge drivers note much worse economy: one as low as 1.88mpkWh – during "sensible" driving, apparently – which he labelled "abysmal". I would have to agree with that.
But what should I realistically be expecting from a blocky SUV that weighs just over two tonnes? Using the same bodyshell and chassis as its ICE sibling, this isn't a car that was designed for maximum range. If it had been, something more sleek (even more so than the rakish C40 Recharge) would have been the result. See Tesla's edgeless Model Y, for example.
With all that said, though, use this XC40 as I believe it was created to be used – as a town potterer, kid ferrier and short-journey plodder – and that top-end range will give you days between charges.
Love it 
Chilled out
The XC40 is clearly designed for comfort. Its soft springs negate our many potholes and its lovely interior makes long trips pleasant.
Loathe it
The latest fad is starting your EV with just your bum. The downside? Hop out to grab something and the radio and climate control turn off.
Mileage: 3866
#Back">Back to the top
There's a reason for the mismatch of name and photo here. Let us explain... - 1 March
This week we have a real-life game of spot the difference. Sitting on the drive above is, to my neighbours at least, the car that is usually there albeit sporting a new paint job. But keen Autocar readers may have spotted a bigger discrepancy than the change in colour: this is the XC40 Recharge's C40 coupé sibling.
You'll be wondering where the green SUV has gone. If you read the last report (15 February), you'll know that a nasty crack appeared in the driver's side of the windscreen, and it was growing by the mile. So while the car was back with Volvo to get a replacement screen, we had the C40 – in, most importantly, the vastly more powerful Twin guise.
This gave us a chance to judge whether that extra oomph (402bhp versus 228bhp) and slippery rakish body make a difference. Our stand-in was also in top-rung Ultimate spec (£61,950, as tested) so a proper comparison test was truly on.
Two things sprung to mind as the C40 arrived: I'd have its Fjord Blue over the XC40's Sage Green (both no-cost options) and the body shape makes it look a lot bigger, especially on city roads, despite just a 15mm difference in length.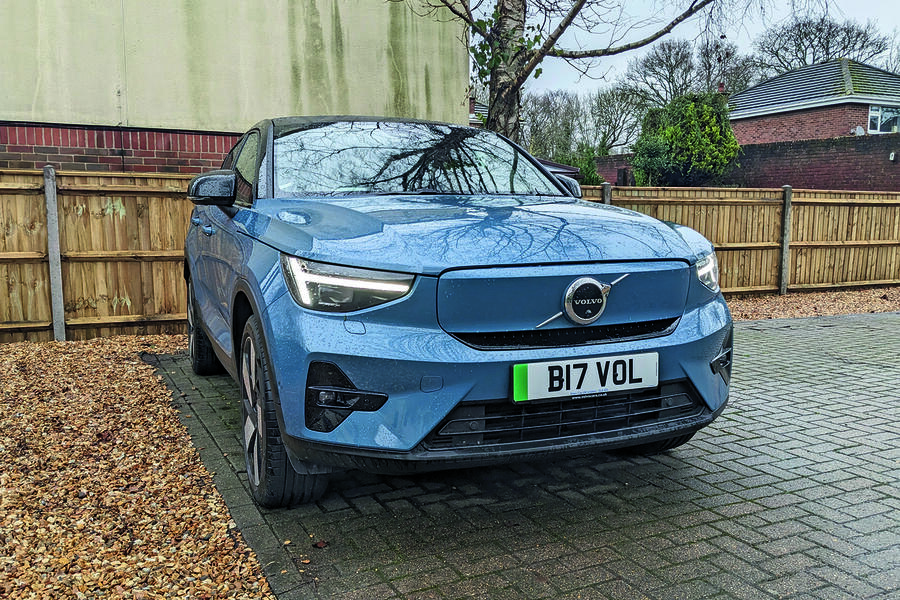 What became immediately apparent on C40's first run was the additional blindspots over its SUV sibling, warranting greater attention at junctions and while parking. And, although a great-looking feature, the sloping roof means a tiny rear window that is difficult to see properly out of unless your seat is positioned lower than you might otherwise like.
The C40 also loses out on interior space, especially for rear passengers, who take the brunt of its rakish roof. Boot space is another area to suffer compared with the SUV: 413 litres plays 452 litres.
But the all-wheel-drive C40 has a trick up its sleeve: 0-62mph in 4.7sec, which is Ford Focus RS fast. In a two-tonne-plus crossover, such propulsion feels outrageous, especially next to our single-motor XC40's modest 7.4sec sprint time.
But, in this writer's opinion, the C40 Twin doesn't bring that much more to the party. Fast forward to the end of my 14 days with the car and I never found a real-world use for its extra grunt, even on motorways. The SUV's 228bhp is sufficient; its electric powertrain always gives more than enough out-of-junction/overtaking acceleration.
As for range, the XC40 has a claimed 262 miles from a 69kWh battery, the C40 278 miles from a 78kWh pack. During real-world use in rather chilly January/February weather, this equated to around 180 miles for the XC40 and 200 for the C40. So, in truth, not much more usability for a car that, when specced in the same Plus trim, is around £9000 more for the extra power and bigger battery.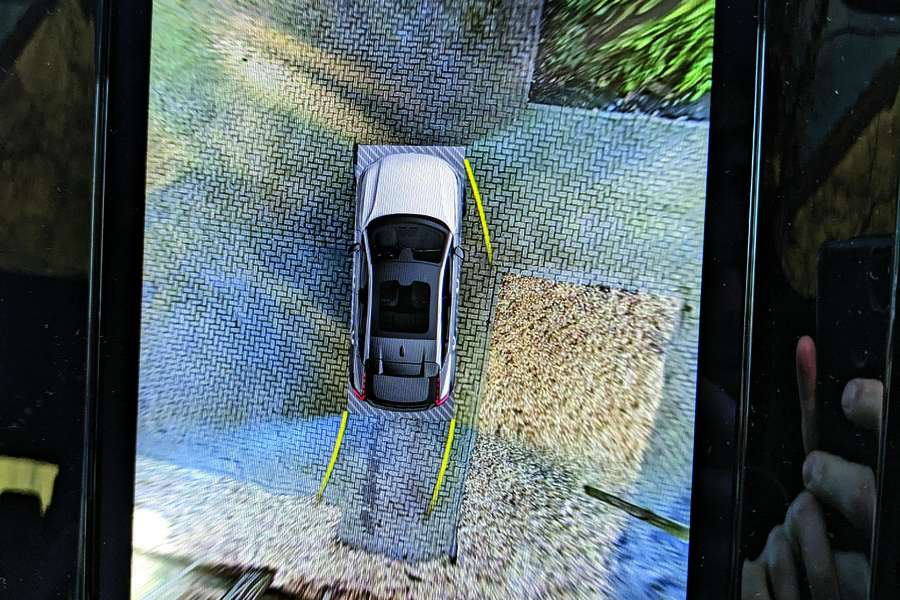 This C40's Ultimate trim is a £3000 bump over Plus, bringing extras such as the fantastic bird's-eye Surround View parking assistant and great-sounding Harman Kardon speakers.
Despite those luxuries, it wasn't a teary goodbye. The recently repaired and returned XC40 SUV feels more refined than the C40, and without the identity crisis that haunts the rakish coupé. It has a superior seating position, too.
Next up, we're getting a towbar fitted and bolting on a bike rack. Let's see if the SUV really is the all-round family/lifestyle machine we hope it can be.
Love it
Pilot assist 
Volvo's slightly autonomous, advanced lane-keeping cruising aid makes motorway and A-road driving a doddle…
Loathe it 
Pilot assist
…but the system can get confused, such as with temporary road markings, and it pulls the car to where it thinks (sometimes incorrectly) it should be.
#Back">Back to the top
Life with a Volvo XC40 Recharge: Month 1
A crack causes a recall - 15 February 
Gothenburg, we have a problem! Just a short while into the XC40's tenure and disaster has struck, a sizeable crack in the windscreen having appeared. I called Volvo once the fissure doubled in size 30 minutes after first being spotted and we're booked in for a replacement vehicle. The more powerful C40 Recharge Twin will be standing in for the next two weeks. 
Mileage: 2601
#Back">Back to the top
Welcoming the XC40 Recharge to the fleet - 8 February 2023
"You're kidding; that's my dream car!" my partner said as news of the incoming Volvo XC40 came in. I had at this point failed to inform her that it would be electric, and given that we live in a city-centre third-floor flat, I felt that was the right call for the time being. More on that to come.
Volvos have long been a divisive choice, especially with the lingering stigma of being antique dealer/old man/dad wagons. Even now I'm getting the "Really? A Volvo?" response. Yes, really. And I'm excited. This is my second, having previously owned from new a 2015 V40 D2 (in R-Design specification, of course), which I absolutely adored and hated having to sell.
The new model in question is the baby electric SUV of the current Volvo line-up. The XC40 Recharge is a gorgeous thing to look at (ours is finished in Sage Green) that holds its own on the road as well as any SUV currently on sale. It has a presence akin to that of the also tall and stubby new Land Rover Defender 90.
With a starting price close to £45,000, it's also well and truly in the premium bracket of electric SUVs. For the money, though, you get a decent amount of standard kit – cruise control, parking cameras, Google's excellent infotainment system – and about the best ride you're going to find in this price bracket or even the one above.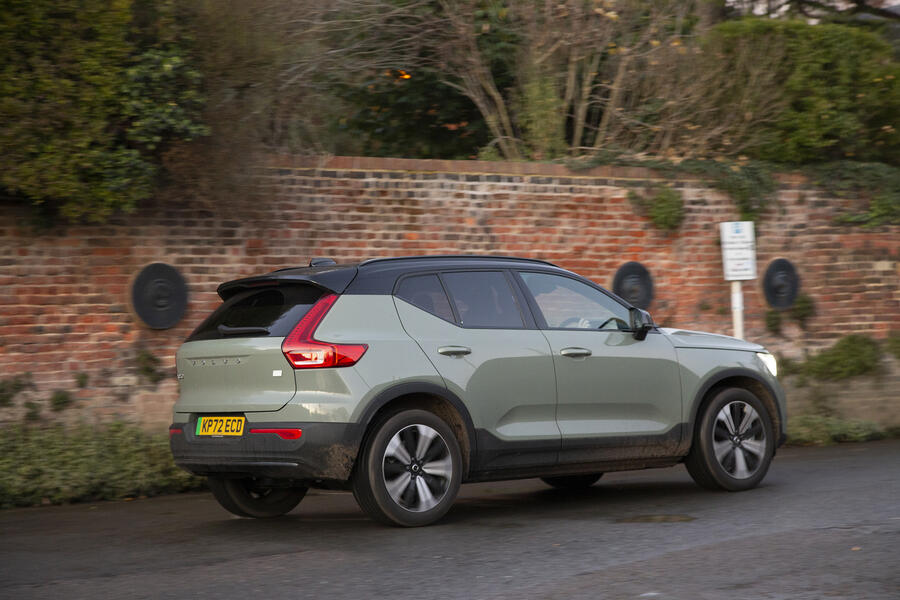 Other people clearly agree, because this was Europe's ninth-best-selling EV last November and Volvo's best-selling model (in both powertrain forms) overall last year, with a total of 84,132 cars shifted.
Our test model is in mid-level Plus trim (a nicer interior and some neat exterior touches), which bumped the entry price by just under £8000. It also came fitted with some lovely suede-like leather-free microtech upholstery, albeit a £925 option.
Volvo promises a 262-mile range from the XC40's 69kWh battery for that price. Not bad. However, that dream was shot down straight away after my first 100% charge – that had to be undertaken a 10-minute walk away, given my lack of a driveway/home charger – with the range reading 170 miles. Granted, it was 6deg C outside, but that is a big chop. And with a 120-mile commute, the plan to charge every other day seemed to be in tatters.
On the driving side, the XC40 passes with near-flying colours. Its smooth ride and easy-to-use one-click cruise control, assisted by the advanced (but weird to get used to) lane keeping Pilot mode, make motorway use a breeze. Just a touch too much road noise lets it down.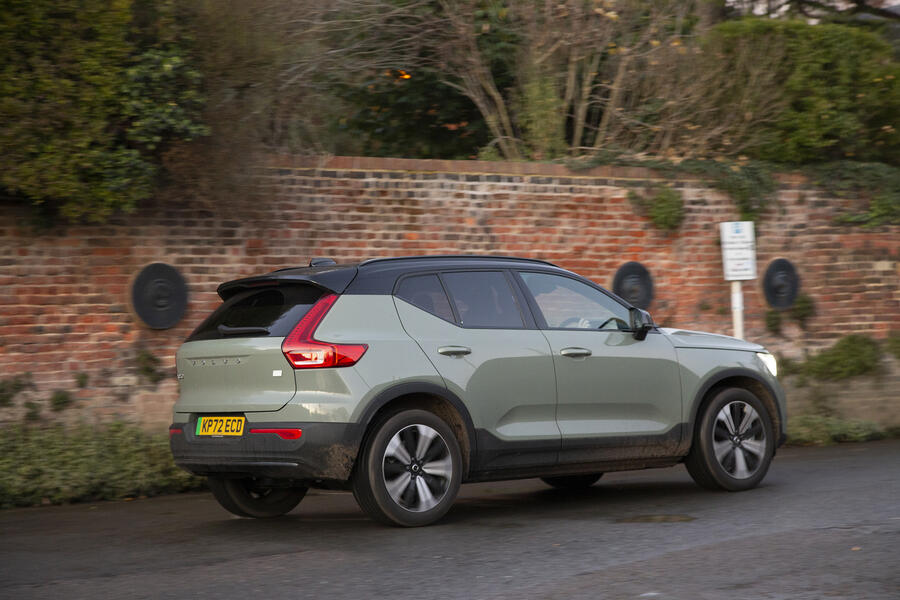 The range is once again zapped when you hit 70mph (I returned home with fewer than 30 miles on the clock), showing that this car – the 228bhp single-motor version – was designed more as an inter-town shuttle rather than a longer-distance commuter.
Yet if you order any EV variant of the XC40 now, waiting times mean the model you get will come with a new rear-wheel-drive set-up rather than the front-wheel-drive one of this model. Volvo says that change improves efficiency and therefore range, which rises to 286 miles.
Other plus points in our test car come from the Google-derived infotainment system (it works just like Google Home with speech assistance: 'Okay, Google…') and vertically oriented, Google Maps-friendly central screen. But just a week in and disaster struck: the sound stopped working. And not just the radio but the indicators and sensor warnings too; it all comes out of the speakers. Not great. Luckily, YouTube provided the solution and a system reset fixed it.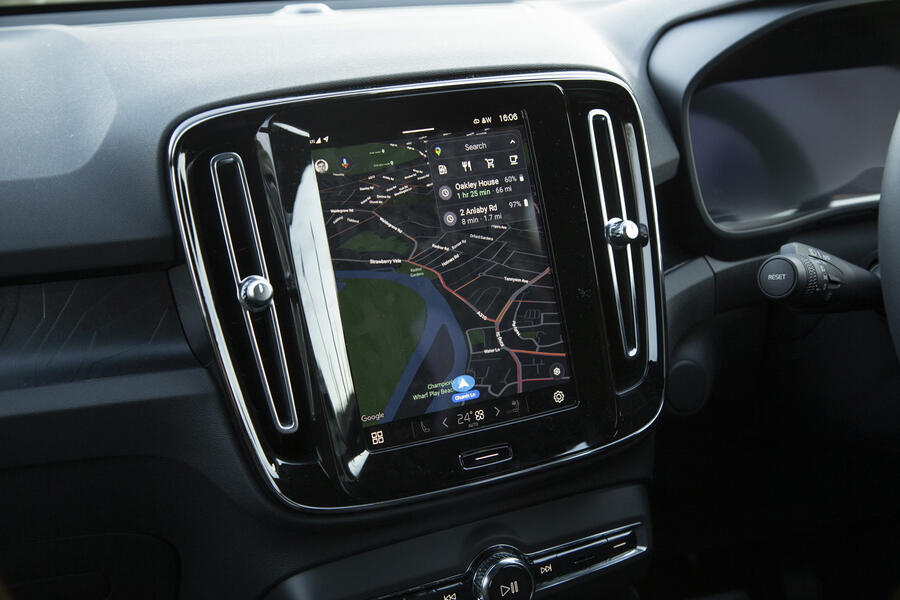 This wasn't the only infotainment hiccup. Cold weather makes it slow and buggy, which was particularly infuriating in the recent biting weather when I was attempting to adjust the climate settings or switch my heated seat on (controls for both of which now, of course, lurk on screen). Last gripe: you can turn the one-pedal drive mode on or off only in the on-screen settings menu, which compares unfavourably with the Volkswagen ID 4's fly-stalk switching.
Regardless, these are minor problems in an otherwise problem-solving car. With space for five adults (four in maximum comfort), a trip from Southampton to Bristol was a doddle and no leg room gripes were heard. The heated rear seats were particularly loved by passengers.
Christmas, the time that always comes around far too quickly and which requires too many trips back and forth across the country, also felt easy in the XC40. I'm more used to my BMW Z4, with its boot about the size of a kitchen drawer, so the Volvo's 452-litre offering is Tardis-like in comparison. It swallowed presents for two families without a fuss (although the rear seats were dropped to assist with Dad's new golf putting mat). And if you need more space, those rear seats can be flattened with the pull of a lever and without the need to faff about with seatbelts. It really is a practical, family-friendly vehicle.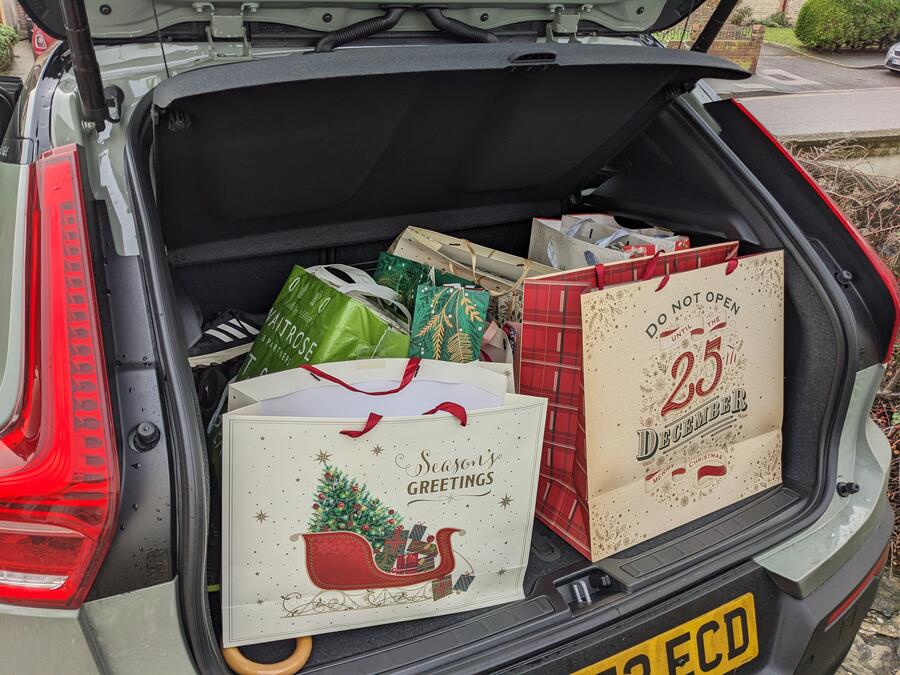 In short, it feels like a car made to make life easier, and so far that really is proving to be the case.
Second Opinion
This XC40 is a car that should reassure people about the change from ICE to EV, because it remains so typically a Volvo. It's comfy, quiet, supple over bumps and as practical as ever. Sure, the range needs management (mostly by judicious containment of open-roads cruising speeds), but in every other way it's reassuringly true to its marque values. 
Steve Cropley
#Back">Back to the top
Volvo XC40 Recharge Plus specification
Specs: Price New £45,750 Price as tested £53,525 Options Connect textile and microtech upholstery £925, premium metallic paint £850
Test Data: Engine RWD single motor, 69kWh battery Power 228bhp Torque 243lb ft Kerb weight 2030kg Top speed 99mph 0-62mph 7.4sec Range 262 miles Economy 3.3mpkWh CO2 0g/km Faults Infotainment snags Expenses None
#Back">Back to the top
https://www.autocar.co.uk/car-review/vol...-term-test