01-19-2023, 06:41 PM
Volvo XC40 Recharge and C40 Recharge get more range, power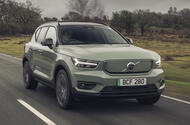 Volvo's entry-level EV gets a raft of efficiency tweaks that boost range and power
Range-topping dual-motor Recharge Twin to arrive in May with larger battery, pushing range beyond 300 miles
Volvo has bolstered the line-ups of two of its electric SUVs for 2023, improving their range, efficiency and performance. 
The headline change is the introduction of a new rear-wheel-drive powertrain for the Volvo XC40 Recharge and the Volvo C40 Recharge. Replacing the 228bhp front-wheel-drive powertrain, it has a 234bhp electric motor at the rear axle.
As a result of improved cooling efficiency, Volvo says the EVs benefit from improved range despite retaining the same 69kWh battery. The XC40 Recharge is now capable of 286 miles of range, compared with 264 miles previously, while the C40 Recharge is boosted from 272 miles to 296 miles. 
The more powerful rear-driven C40 Recharge gets 248bhp and a larger 82kWh battery, making it capable of 331 miles (an increase of 11 miles over the previous car), although this version won't be sold in the UK. 
Changes have also come to the four-wheel-drive variants. Previously powered by two 200bhp electric motors, they now combine a 245bhp motor at the rear axle with a 156bhp motor at the front for a total of 401bhp. 
An 82kWh battery means the XC40 Recharge Twin is now capable of up to 311 miles of range, a 39-mile increase, while the range of the C40 Recharge Twin jumps 35 miles to 315 miles. 
The update also includes a faster charging rate for the XC40 Recharge Twin of up to 200kW, slashing the 10-80% charging time by 10 minutes to 27 minutes. This matches the charging time of the smaller-battery standard models, which keep the same 150kW speed.
All of the new variants are now available to order. The Twin models will enter production in May, before the single-motor variants arrive in the autumn. 
News of the update comes several weeks after Volvo pulled the covers off its new EX90 flagship, which will arrive in 2024 with a 360-mile range and hefty BMW iX-rivalling £96,255 price.
https://www.autocar.co.uk/car-news/new-c...ange-power